Paint a wooden stool using a paper doily as a resist instead of a stencil! Incorporate your favorite paint colors, then seal with Mod Podge.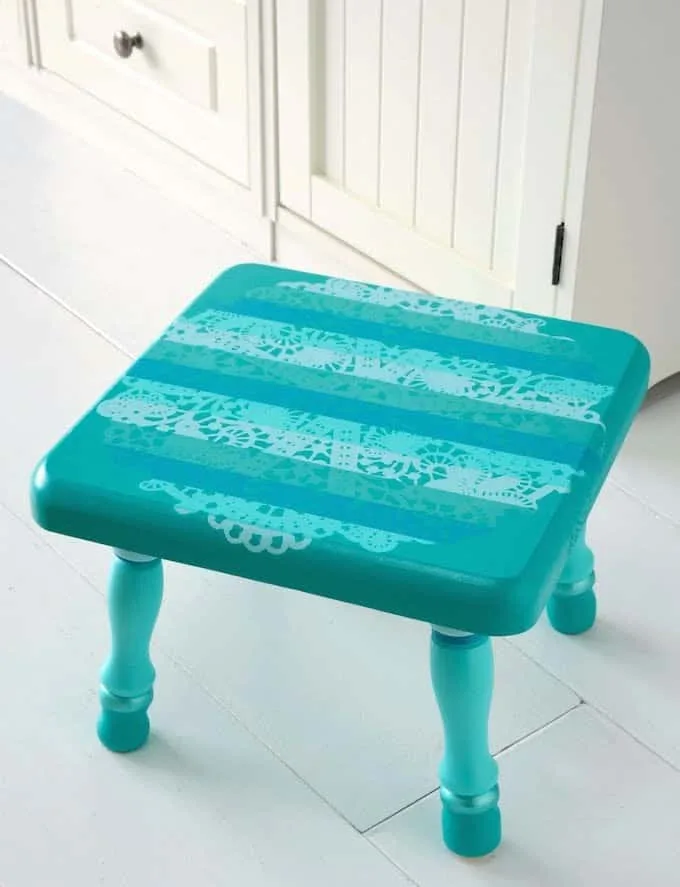 You may think me tricky – this is a painted wooden stool I did using a paper doily as a resist. "Ok Mod Podge lady," you ask, "where is the Mod Podge?" I knew you were going to ask me that. It's right here: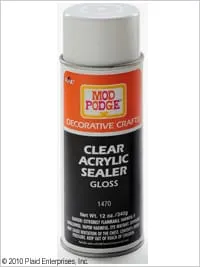 I used my spankin' new Mod Podge BRAND acrylic sealer on it! Cool huh? I actually use this all the time to seal my Mod Podge projects, and I used it to seal this stool too. So it totally counts.
I wanted to make something with doilies, but I didn't want to glue doilies on anything. So I had this great idea to use a doily as a paint resist, and I like this stool because the top was exactly the size I needed. Let me walk you through the steps to make my doily stool.
Painted Wooden Stool
Gather These Supplies
Unfinished wood stool
FolkArt Acrylic Paint: Patina, Aqua, Jamaican Sea, Metallic Aquamarine, Turquoise
A few paintbrushes including a stencil brush
Pen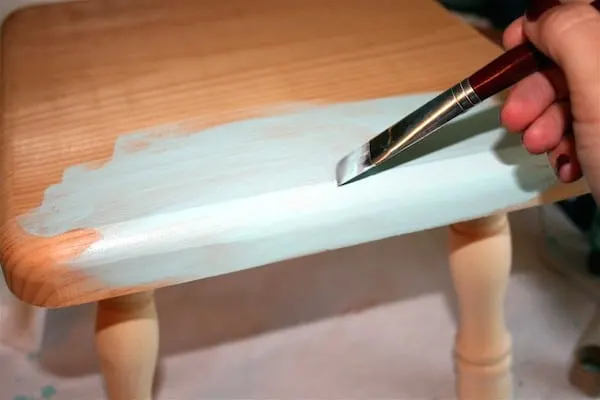 Choose a color and paint your stool – but just the top. I used Jaimaican Sea for my base color. I'm going to tell you right now that you are best off using the LIGHTEST color as the base from your stripes. You'll see what I'm talking about in just a minute. Allow to dry.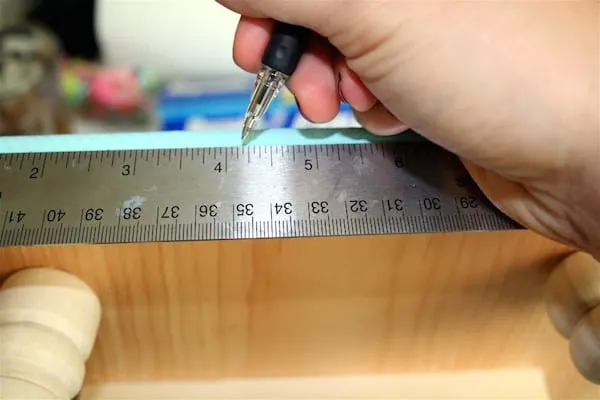 Measure your striping. I wanted to have four color striping, and my stool was 10.5″. I decided that I would have 12 stripes, each would be 7/8″ wide.
It's called "mathmagic" my friends. Make tick marks where each stripe will go on BOTH sides of the stool. This will help with tape placement.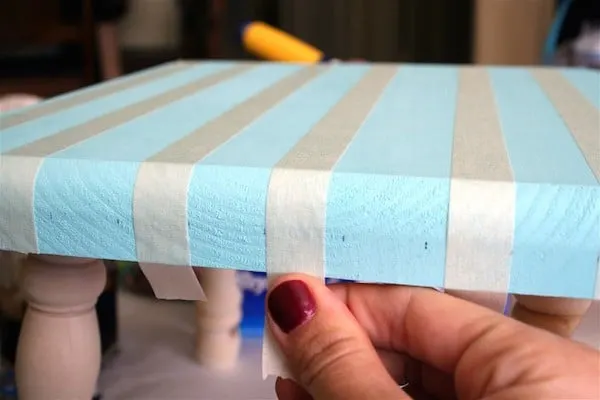 Use the stencil tape to make your stripes. Remember, if you use four colors like I did, and you want twelve stripes, you are only going to paint three of each color. Secure the tape . . . securely. Ha!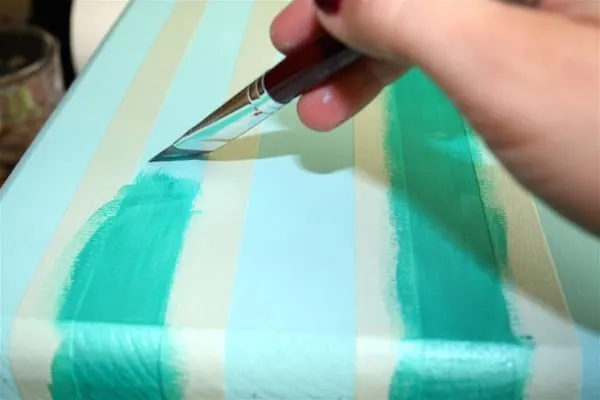 Paint your three stripes. You will probably have to do more than one coat. This is my Metallic Aquamarine striping.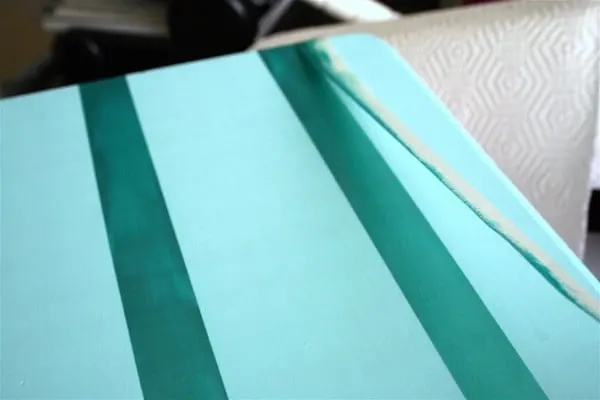 Remove the tape immediately. Allow to dry completely, because you are about to put tape over the stripes again. You want the paint to be completely dry.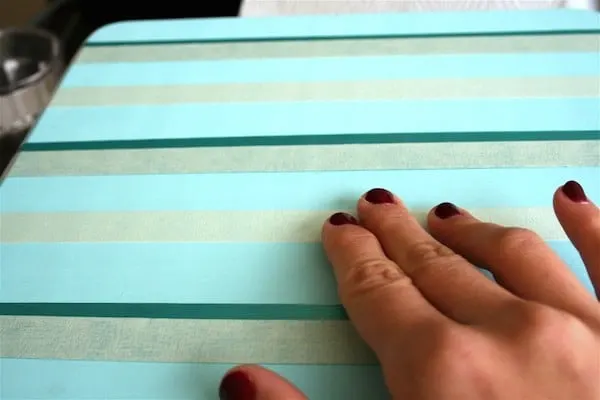 Next stripe – Aqua. Secure your tape down for your next three stripes. Remember to use your pen tick marks as your guide.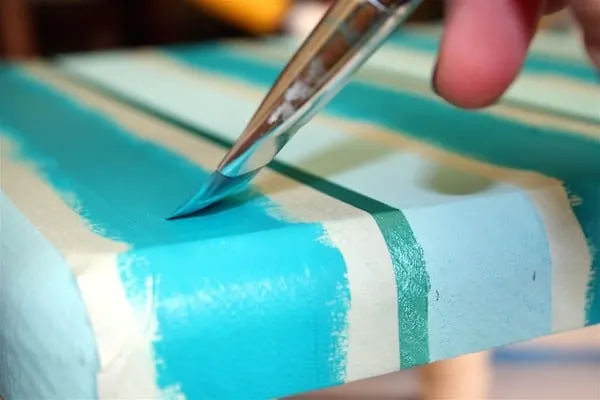 Paint your stripes, remove the tape and then repeat with your final color – mine was Patina. Remember that the first color you painted is your fourth stripe. That's the reason you used the lightest color – because all the darker colors went over it.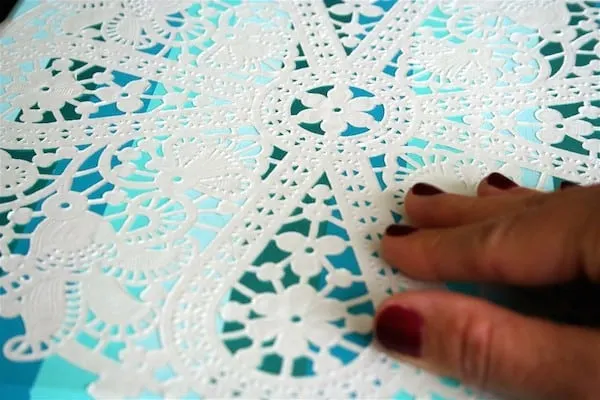 Spray your paper doily with stencil adhesive (follow the instructions on the bottle). Smooth it down to the top of the stool.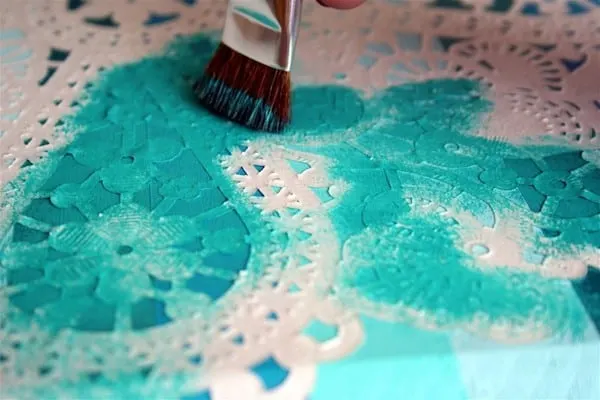 Use your fifth and final color to paint the doily. I chose Turquoise. Don't load your brush with too much paint – you want your brush to have very little paint on it while you are stenciling.
It will take some time, but it's worth the wait. Remember to also paint around the edge of your doily. You'll see why . . .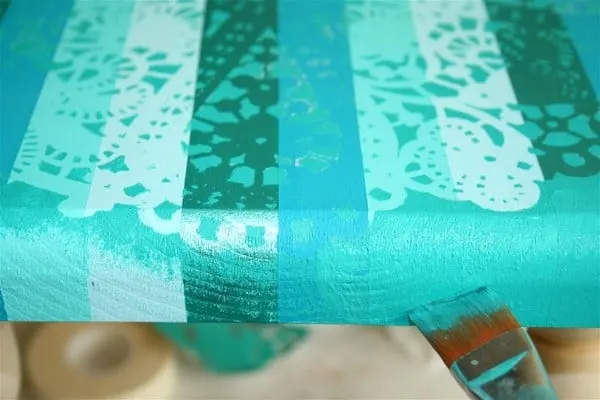 Peel the doily off and check it out! Cool, huh? Now fill around the edges with Turquoise, or whatever your fifth and final color was. You just want the stripes to show through the doily impression, not around the edges. Allow to dry.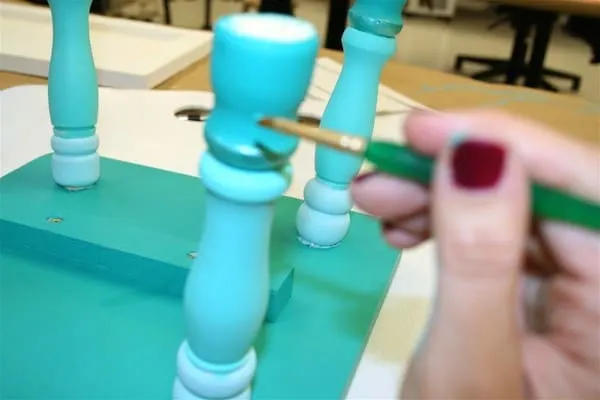 Paint the bottom of the top of the stool with Turquoise. Use your five colors to decorate the legs of the stool in whatever way you would like. Check out my gel manicure – didn't it hold up nicely during this process?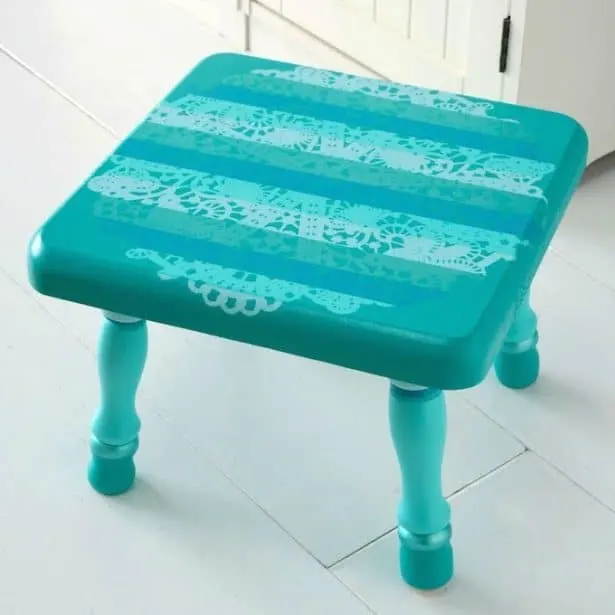 Once you are done with the painted wooden stool, spray it several times with your Mod Podge Gloss sealer to finish. You've now fully contributed to the doily trend, and you can be proud.
---
What else can you do with doilies? Find out here: 25+ doily craft ideas! I'd also love for you to check out these other project ideas: