I needed something small to reach the tops of my kitchen shelves – so I decorated this DIY step stool in my favorite fabric colors!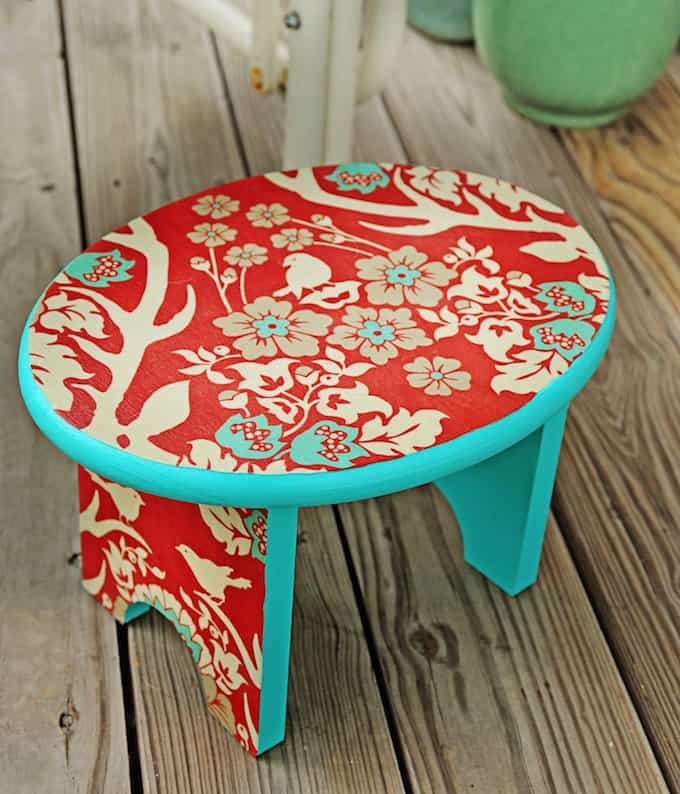 I love my new DIY step stool! How did it come about? Mod Podge Command Central was not designed with me in mind. The nerve, right? You see, in the kitchen I can't reach the top cabinets (even though I'm 5′ 6″) and I have nowhere to keep a step stool unless I want to ditch some craft supplies.
Not going to happen. When presented with a problem such as this, I'm sure you can guess that I always turn to Mod Podge. I also turn to my fabric stash, which had another colorway of the Joel Dewberry fabric I used in this project.
The instructions for my DIY step stool are below – this is how I solved the problem with the help of my good friend Mod Podge. You'll be pleased to know I'm now reaching the upper cabinets with ease, and all is right with the world again.
DIY Step Stool Makeover
Gather These Supplies
FolkArt Acrylic Paint – Patina, Parchment (optional)
Mod Podge Fabric and Mod Podge Gloss
Small Wood Stool
Joel Dewberry "Deer Valley Antler" Fabric, Terra Cotta – 1/2 yard
1" Flat Paint Brush
Pencil
Ruler
Scissors
Wax paper
Acrylic Sealer (optional)
You will first want to prepare the fabric before painting. To do this, wash and dry the fabric (do not use fabric softener). Iron and then lay out on a covered work surface. Wax paper is preferable for covering your table. Using a brush, paint a light coat of Fabric Mod Podge onto your fabric. Allow to dry. This will allow you to cut the fabric like paper without frayed edges.
Time to cut out your fabric pieces. Lay the stool top down onto the fabric and trace. Cut out using the scissors. Do the same thing with both of the stool sides. Set aside.
My stool came unassembled, so I painted it before I put it together. I basecoated the sides and top with Patina. You can paint the whole thing with Patina, but I painted the crossbar (which you can't see in the photo) with Parchment. Depends on how many paint colors you want to buy. Allow these pieces to dry.
Assemble the stool following the included instructions. Touch up any paint as needed.
This is my favorite part! Adhere the top and side fabric using the Gloss Mod Podge. Completely smooth out all air bubbles and allow to dry for 15 – 20 minutes.
Coat the entire stool with at least two coats of Gloss Mod Podge. Allow to dry.
Go back to the top and trim any excess fabric around the edge with a craft knife.
Allow the stool to dry for at least 24 hours before using. I recommend spraying with several coats of acrylic sealer to completely finish your project and add durability.