These DIY magnets are SO easy to make with decoupage medium and scrapbook paper! They have a fun nautical theme and make great gifts.
Skills Required: None. You don't need any prior crafting skills to make these magnets – they are simple enough for anyone to make, including children.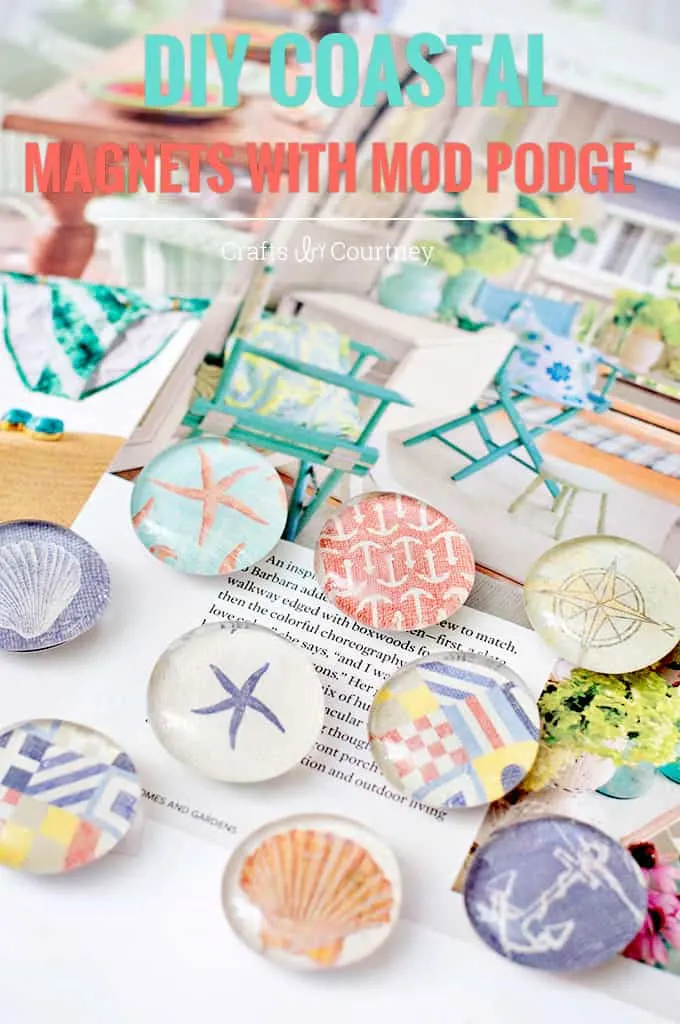 Hello, it's Courtney again with Crafts by Courtney! This time I wanted to share with everyone these easy, cute DIY Magnets I made using scrapbook paper. The best part about these glass magnets you can customize them any way you want! It's an easy craft for kids – not just adults.
I of course pulled out my "trusty" pack of coastal theme scrapbook paper for this decoupage idea so that I could use them as beach decor. But the scrapbook paper possibilities are endless out there! Learn how to make these fridge magnets below.
DIY Magnets with Mod Podge
Gather These Supplies
Scissors
Circle punch (optional)
Magnets
Marble accents
Glue (like E-6000)
Foam brush
Getting Started
Ever since I found these great packs of coastal/nautical theme scrapbook paper at Hobby Lobby I knew I wanted to make some magnets for the refrigerator.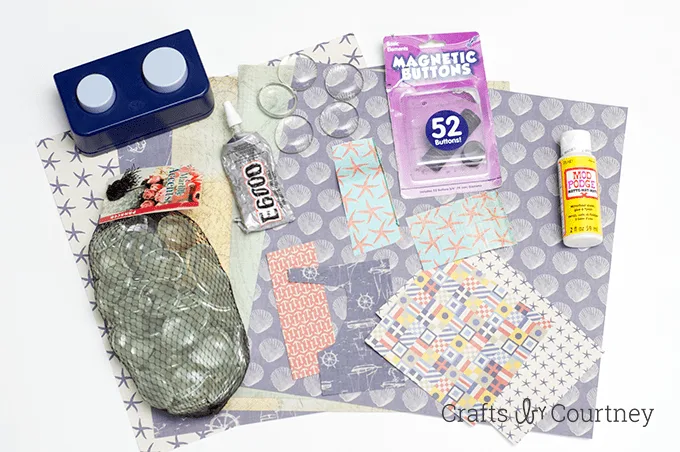 I already had all the supplies on hand except the marble accents. I found those at JoAnns for $6.00 a pack. Of course I used my "Handy Dandy" 40% off coupon!! A couple days later I did stop by the Dollar Tree and saw they have smaller packs there as well.
I was super excited to get started on my DIY magnets!
Step 1 – Punch Out Circles
I have a couple circle punches left over from my scrapbooking days. So I had a circle punch that fit perfectly.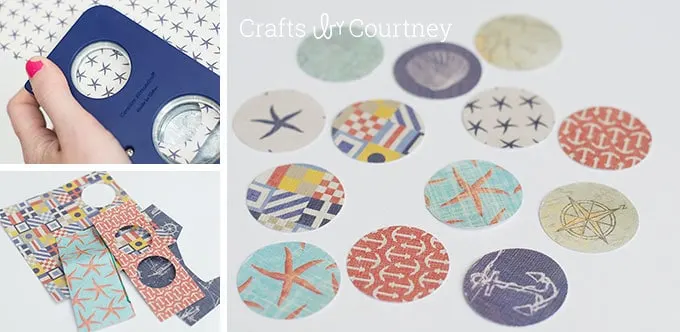 But my second option if the circle punch didn't work was to trace out the circle with one of the glass pieces and cut out. SO, you don't necessarily need a punch for this step.
Step 2 – Add Circles
Now it's time to add our scrapbook paper. YAY!!
I painted on a little Mod Podge to the back of the glass pieces and gently placed my scrapbook paper on top. I made sure to smooth down with my fingers to keep any air bubbles from popping up.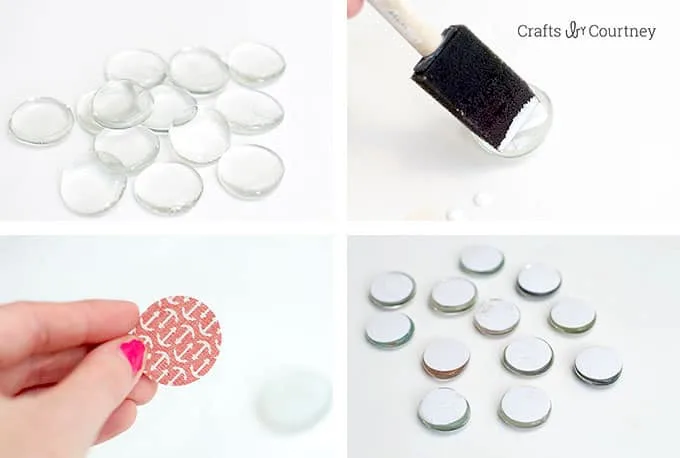 Step 3 – Seal in Circles
Next I added a little Mod Podge to the backs of my DIY magnets and let dry 20 minutes.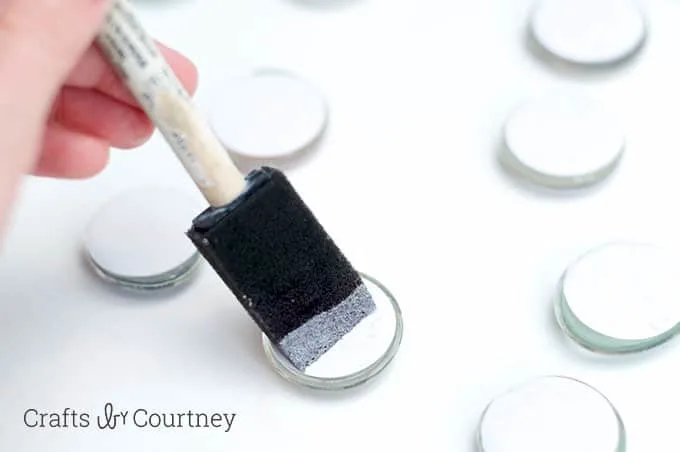 Step 4 – Add Magnet
Finally it's time to add the magnets! I found this pack of magnets at WalMart about two years ago. I needed them to hang my son's chore chart up on the fridge. They are pretty awesome! Just add a dab of E-6000 glue to the back and then firmly press on your magnet.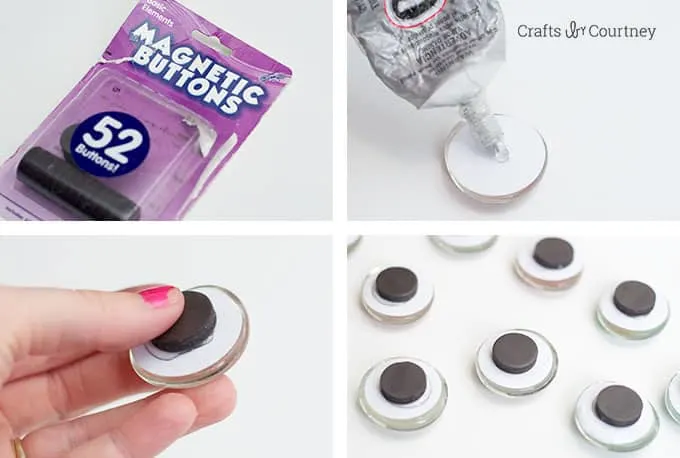 My son thought they looked like giant googly eyes.
Finishing Touches
Now just let your magnets dry for about three hours and then you're ready to start using them!!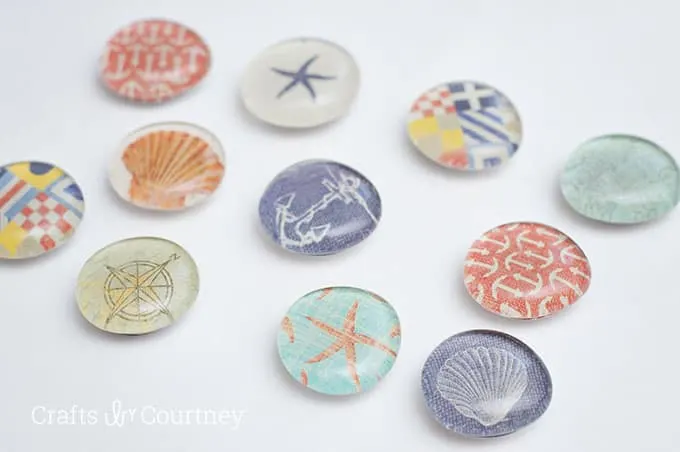 These nautical Mod Podge magnets are great. I can start displaying my kids artwork or important papers I get from their school. Plus they are pretty heavy duty and can hold several pieces of paper. I hate getting magnets that can only hold 1 or 2 pieces of paper.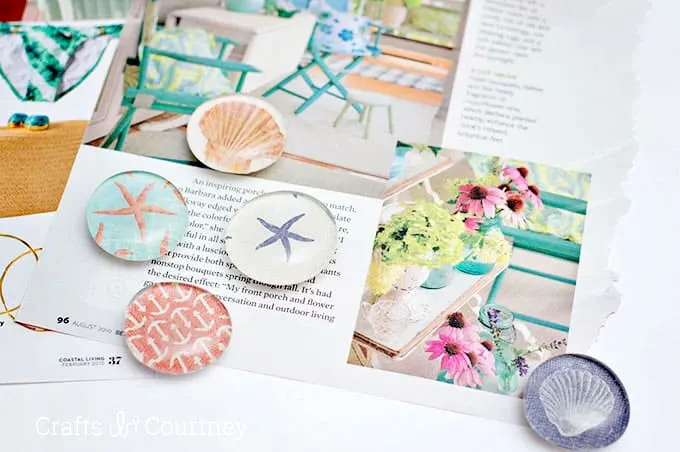 Thanks for stopping by and checking out my latest project! These really were such a easy project to work on. I think I want to make some with a kids' theme next.
Yield: 12 magnets
DIY Magnets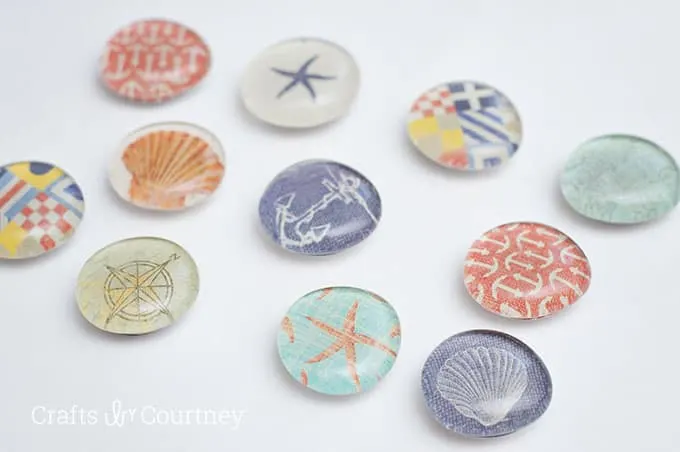 Make cute magnets using this simple tutorial! This is one of those DIY magnet ideas you're going to love making for every gift giving opportunity.
Materials
Mod Podge Matte
Scrapbook paper
Magnets
Marble accents
Glue
Foam brush
Tools
Scissors
Circle punch (optional)
Instructions
Punch out the circles using a circle punch. If you don't have a circle punch, trace the magnets on the scrapbook paper and cut out with scissors.
Paint Mod Podge on the back of the marble pieces with a foam brush. Gently place the scrapbook paper on top and smooth down.
Add more Mod Podge on the back and let dry for 20 minutes.
Add a dab of E-6000 glue to the back and then firmly press on your magnet.
Let your magnets dry for several hours before using or gifting.
Recommended Products
As an Amazon Associate and member of other affiliate programs, I earn from qualifying purchases.
---
If you enjoyed this summer craft project, I'd love for you to check out these other ideas: