Comic books remind me of growing up in a house of brothers! If you are fond of them too, check out these 15 comic book crafts you'll love to make.
There is something great about comic books. I don't know if you grew up in a household of brothers, but I did – four of them.
I don't even know if my brothers still have those old ones, but they were everywhere! Seeing comic books gives me some good memories.
Comic Book Crafts
I've noticed that I'm not the only one who loves comic books, especially decoupaging with comic books. Some of the most visited projects on this site are comic book crafts!
When I noticed that, I had to put together a collection of the best decoupaged comic book crafts I could find, and here it is.
You're going to love it – just scroll down to see them all!
Simple Letters
Comic book letters make a great shelf or wall display. This post has a video to show you how.
Learn more at Being Geek Chic
Chair Makeover
You can do a makeover just like this one with any wood chair – check your local thrift store.
Learn how to do it at Just a Little Creativity
Comic Compact
Decorate a regular drug store compact using scrapbook paper with a comic book theme.
Find out the how-to here at Mod Podge Rocks
Glittered Starburst
If you like comic book crafts with glitter, this fun star can be used for wall art or as a unique gift topper.
Canvas Art
Turn comic books into decor using one large canvas, and add your favorite superhero words with smaller canvases on top.
Find the step-by-step here at Mod Podge Rocks
Outlet Covers
In terms of comic book crafts, this is REALLY easy! Add a bit of subtle comic decor to a room by decoupaging the outlet covers.
Geek Shoes
This project shows that girls can display their love of comic books too, and on their feet.
Find out how to make them at PS Heart
Coat Rack
This cool coat rack is perfect for an entry way or a boy's room.
Conversation Tables
If you want to make a statement, this is the way to do it – cover an table in comic books!
Learn more about it at I Fork Lightning
Colorful Dresser
Transform a boring dresser with bright paint and Mod Podge.
See how it was done at Real Life Notes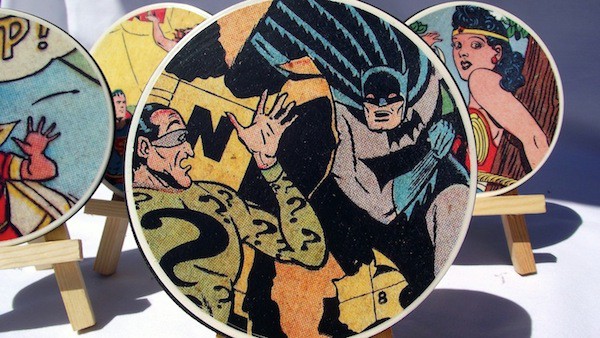 Easy Coasters
Use electrical covers from the hardware store to make these simple coasters – that also make a great gift.
See how they were made here at Mod Podge Rocks
Covered Pumpkin
This one is perfect for Halloween, but you could do it with any gourd.
Find out how to do it at Ode to Inspiration
Cuff Bracelet
Comic books get fashionable by adding them to a cuff bracelet using Mod Podge.
Learn how to do it at Something Monumental
Flower Pot
Decorate a series of clay pots using comic books. Wouldn't these look great in a variety of sizes?
See how it was done at Plucking Daisies
Unique Jewelry
It takes awhile to add small pieces of comic books to beads, but the finished project is worth it!