Need some fantastic DIY teacher gift ideas? These are easy to make, and based on a list of things that teachers REALLY want! No coffee mugs here. Try one of these cute teacher appreciation gifts today.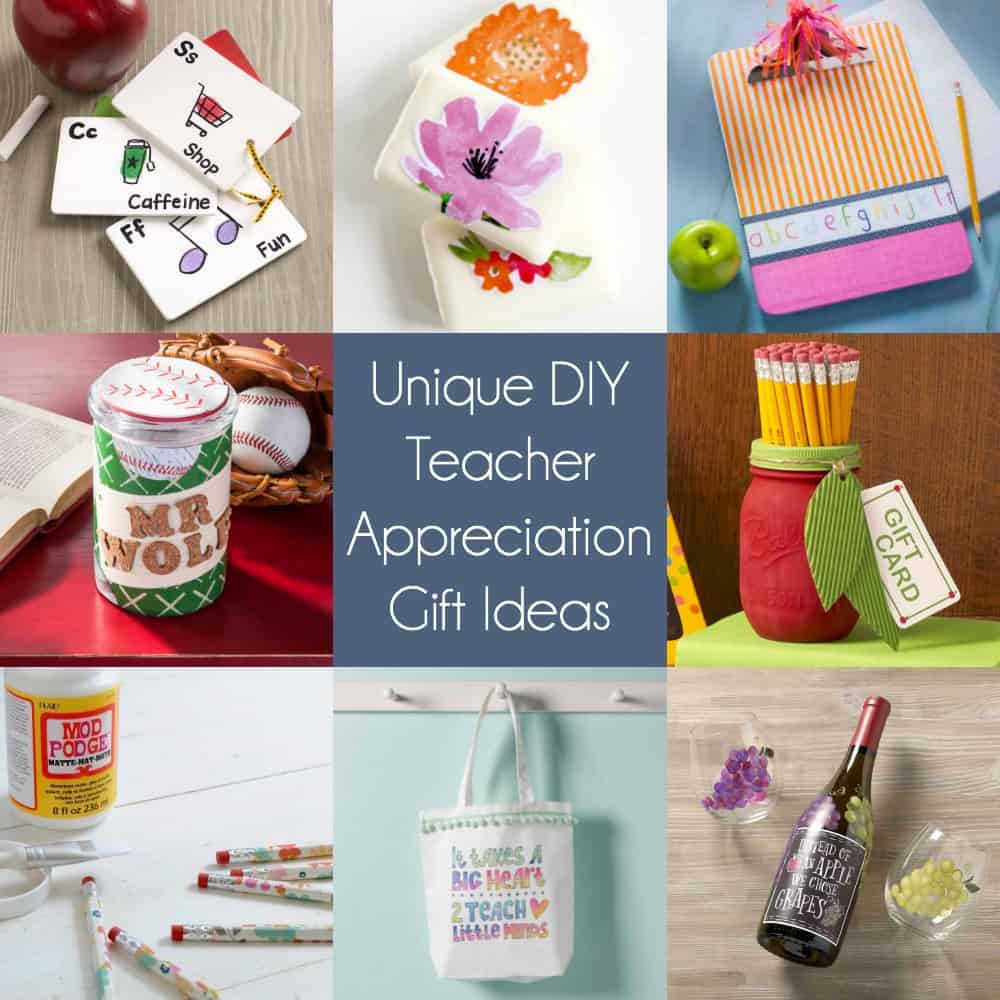 Do you have a special teacher in your life? One that made a big impression? I do – it was my own mom! My mother was a fifth grade teacher for many years, and I thought I was never in her class, she's still the most important teacher in my life.
She showed me how to tie my shoes and taught me to sew and knit. My mom also showed me how to do a variety of things that have ended up being useful life skills, like how to organize and do a budget.
There's nothing I can really give my mom to show her how much I appreciate and love her. Did you have a teacher like that in your life?
Teacher Appreciation Gift Ideas
Teachers are truly amazing in my opinion! Teacher appreciation gifts have always been on my list for the end of the school year, but there's another option besides purchasing – you can always DIY as well (a combination is nice too!).
What Teacher Appreciation Gifts Do They Really Want?
So I actually surveyed my mom and some other teachers online to find out what teacher appreciation gifts are best. There was a resounding "no more coffee mugs" and a big "yes" vote for handmade cards, DIY presents, and gift cards.
Which totally makes sense to me. I did Junior Achievement with a second grade class and then a third grade class, and the third graders made me handmade cards. I still have those cute cards, and I'm not even a teacher! They were just so precious and some of the students drew pictures of me. They made me smile!
And really, who doesn't love gift cards? The teachers said they enjoyed being able to shop for what they wanted. Gift cards are especially great for end of year teacher gifts, so I've got some ideas that will help there too.
If you're looking for those perfect teacher gift ideas, I've got a great list for you below. Check out these 15 easy handmade projects that they're going to love!
End of Year Teacher Gifts
Michaels has plain wood clipboards that are perfect for decorating to your heart's content! This is one of those teacher gift ideas that anyone can do.
You're simply Mod Podging cute scrapbook papers to the front of the clipboard (perfect use for your brayer). Tie a sassy colored ribbon at the top and your present is good to go (you can always tie a gift card at the top too!).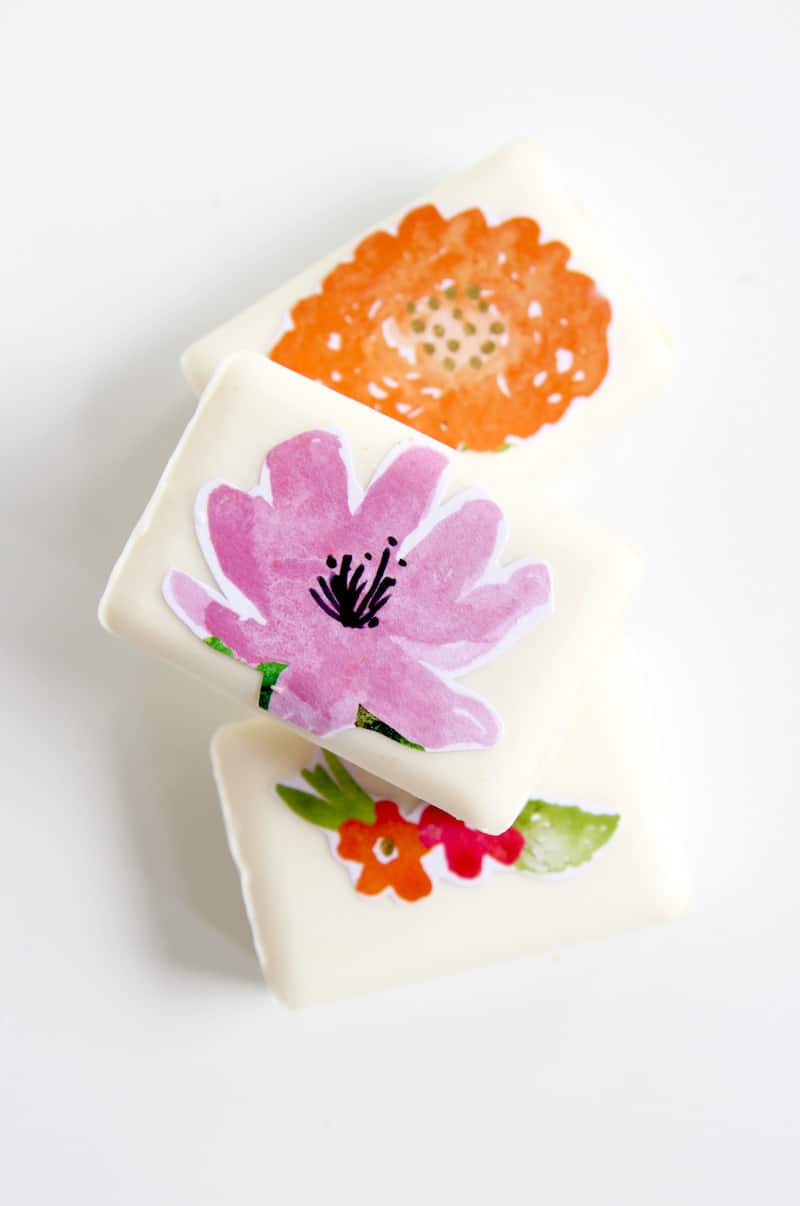 My group of teachers said that the best teacher gifts are those that are utilitarian. So I thought soap would qualify!
Did you know that you can Mod Podge any paper design onto soap and it will stick around for the life of the bar? Yes. This is a genius idea that has been around since the 50s and is perfect for teacher appreciation.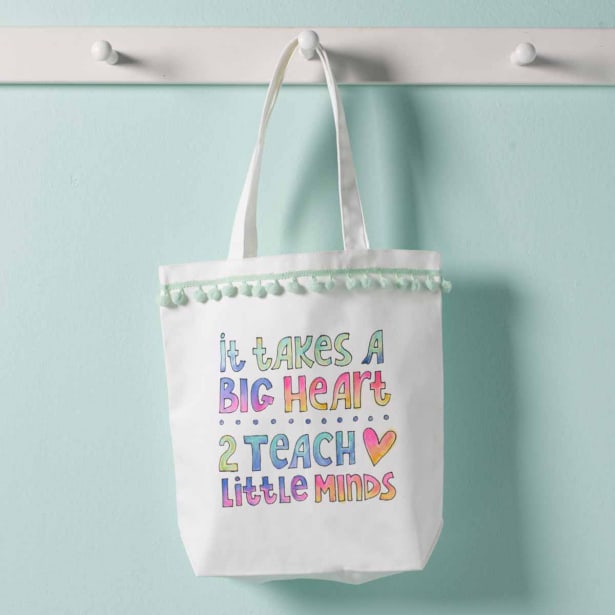 Teacher appreciation gifts with quotes are always a huge hit! If you click the link to the tutorial above, there's actually a free pattern that you can access to iron onto the tote. Then you will fill the letters in with watercolor paints for fabric. So pretty and sweet.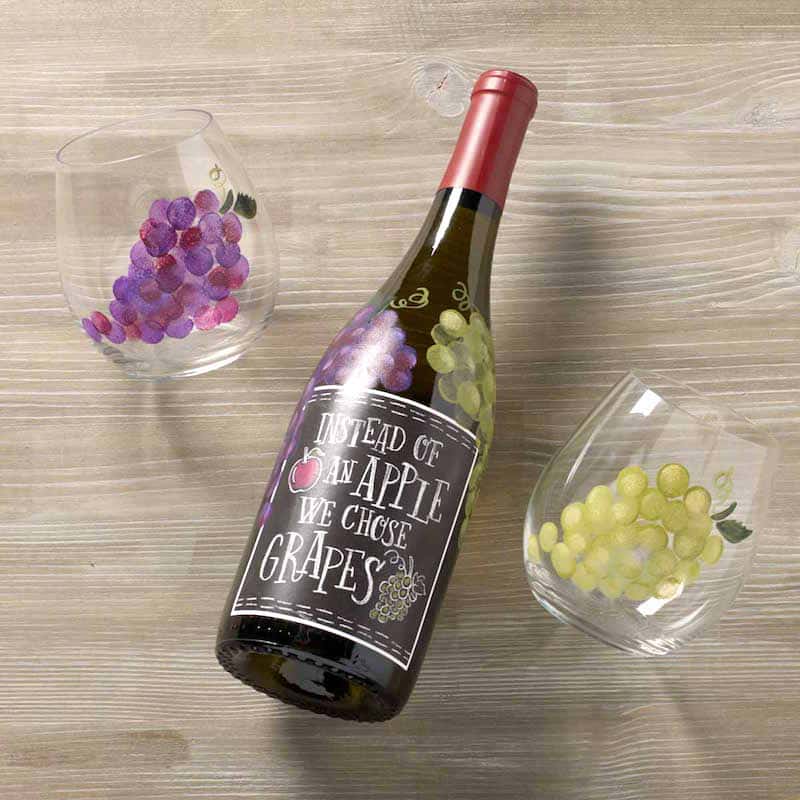 These wine bottle and painted wine glasses are perfect as end of year teacher gifts! The school year is over, their job is done, and now it's time to drink (just kidding – sort of!).
There's a free label you can Mod Podge onto a wine bottle in the post link. And painting the glasses is pretty easy with Enamel paint and a spouncer to make the grapes.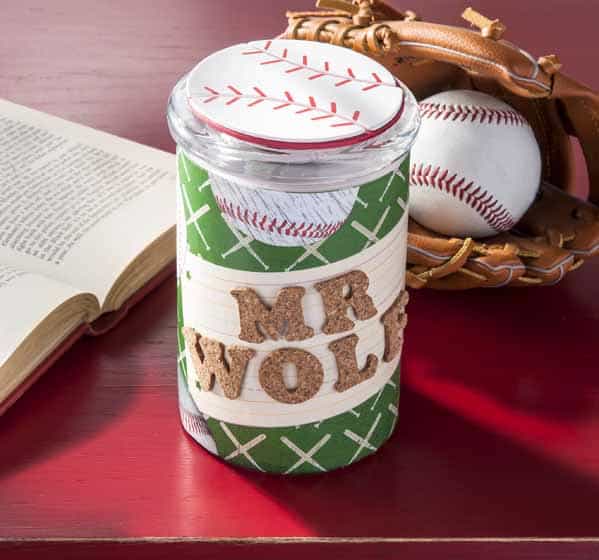 Personalized teacher appreciation gifts are always hit, and this candy jar is great for just that. This particular candy jar is decorated for a coach, so you'll just need to personalize it for your teacher.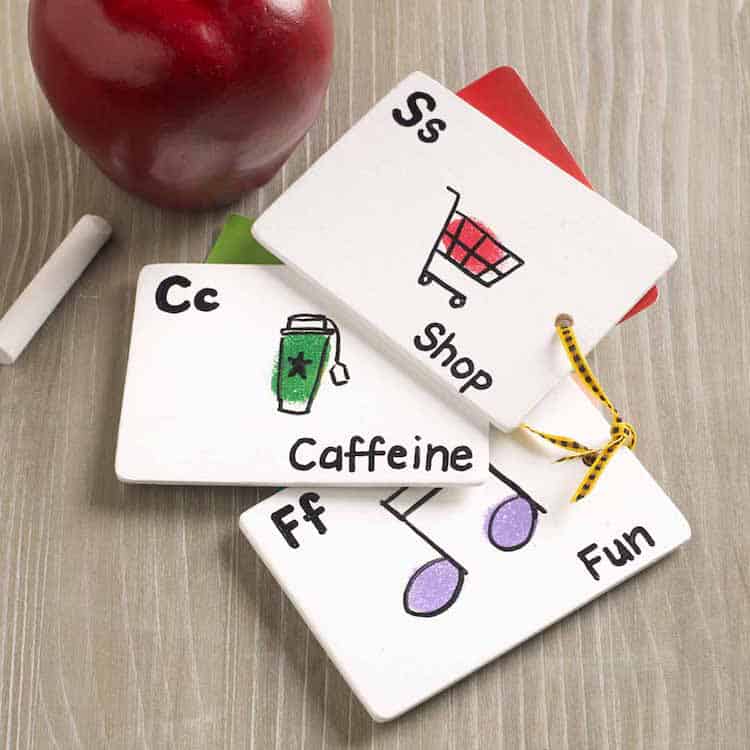 This is truly a unique idea, and the kids get to participate too! Buy three $5 gift cards (or more!) and then make three flashcards, with one flashcard representing the theme of each gift card.
Use fingerprints and ink with inspiration shown. This is perfect for end of year teacher gifts. What a fun, personalized way to deliver gift cards!
This door letter is great because it's one of those teacher gift ideas that not a lot of people would think of! It's super cute, and you could even replace the name area with chalkboard paint so that messages can be written on the plaque.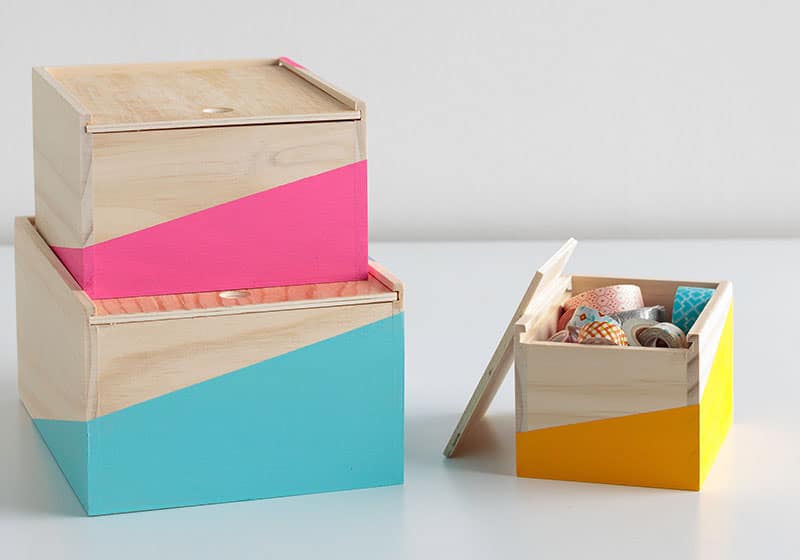 These colorblock boxes are for the modern teacher that has everything! They are perfect as the gifts themselves or to house other teacher appreciation gifts, such as candy and gift cards. If you've never painted before, these are very easy!
Music teachers are so hands-on with the kids that hand sanitizer is the perfect gift for them! Generally speaking teachers are exposed to germs regularly, so this would be a great teacher appreciation gift for anyone. Pick a saying that goes with their area of expertise to Mod Podge to the front.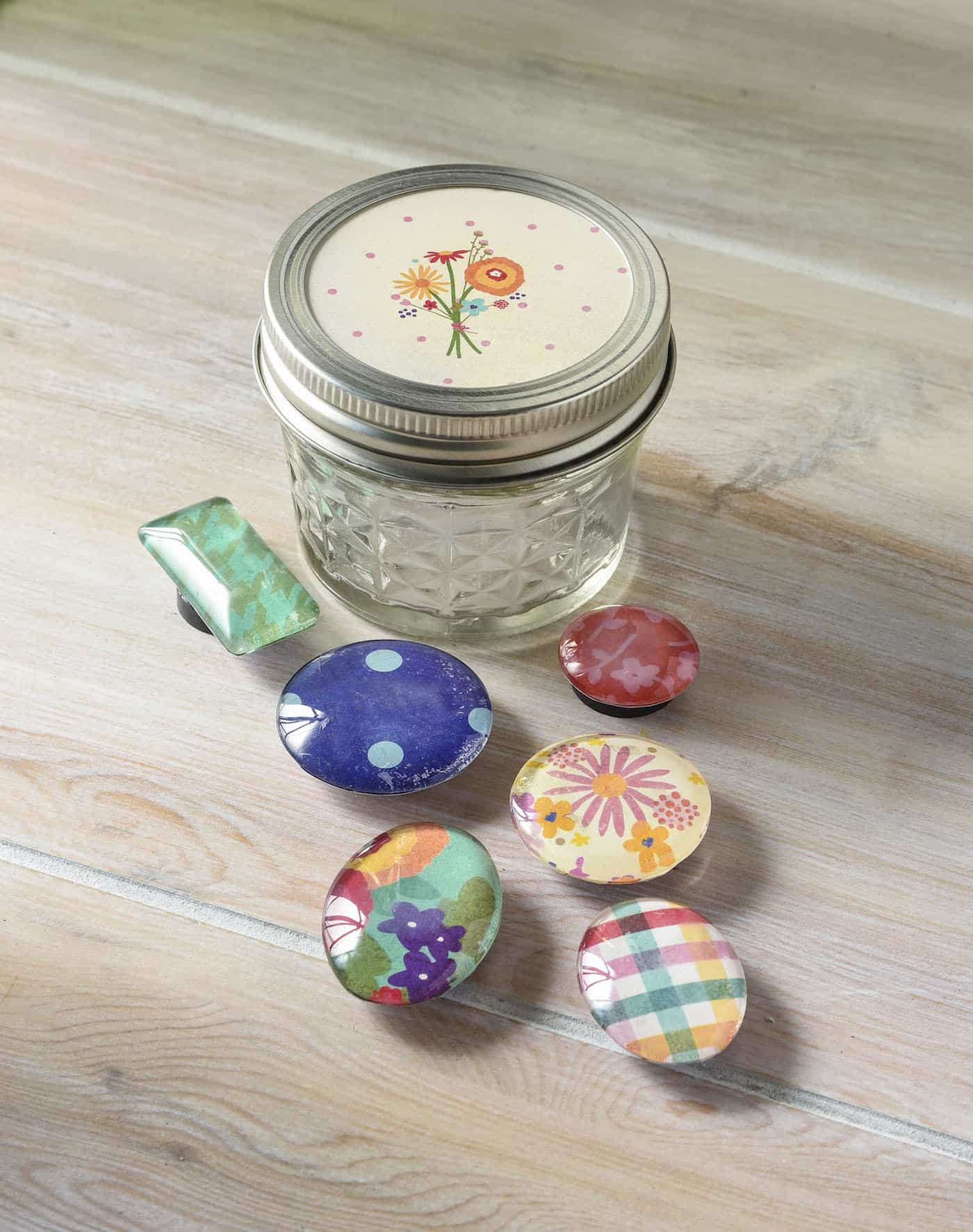 Magnets make great hostess gifts, but they make great teacher appreciation gifts as well. Turn them into end of the year teacher gifts by taking a picture of the student and placing it in the lid instead of the scrapbook paper.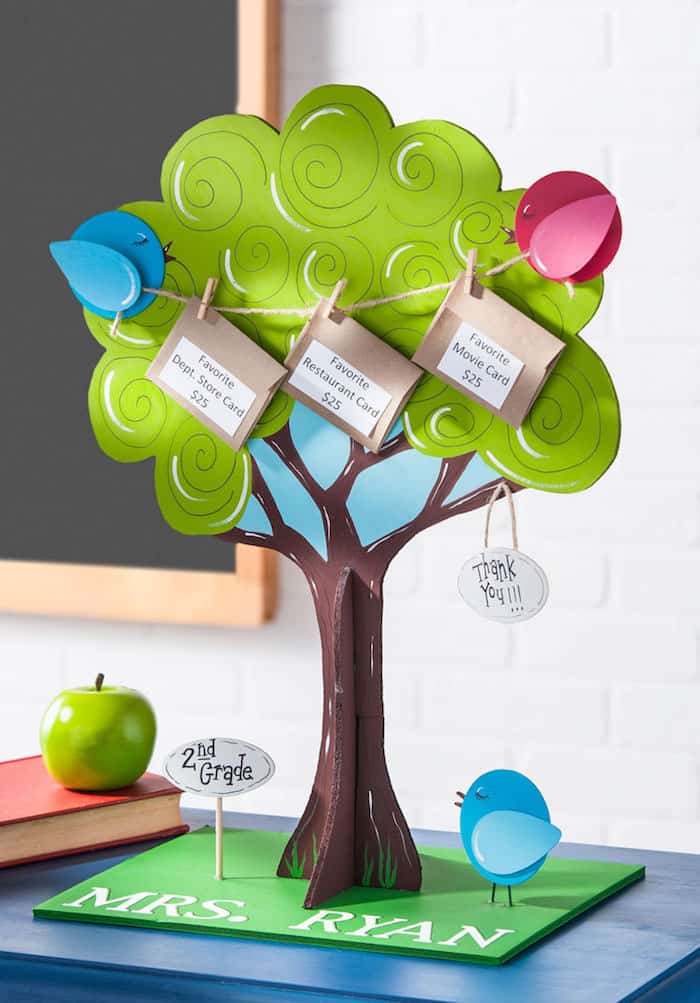 My sources told me that gift cards make fabulous teacher appreciation gift ideas, so if you need a unique way to deliver them, this painted gift card tree is it! I think it's so cute – and once the teacher removes the gift cards, it can be used for a classroom decoration.
I think end of year teacher gifts should always tell the teacher how fabulous he or she was. This coffee/water tumbler gift does just that! Also it's personalized with scrapbook paper and Mod Podge Dishwasher Safe. So it can be washed!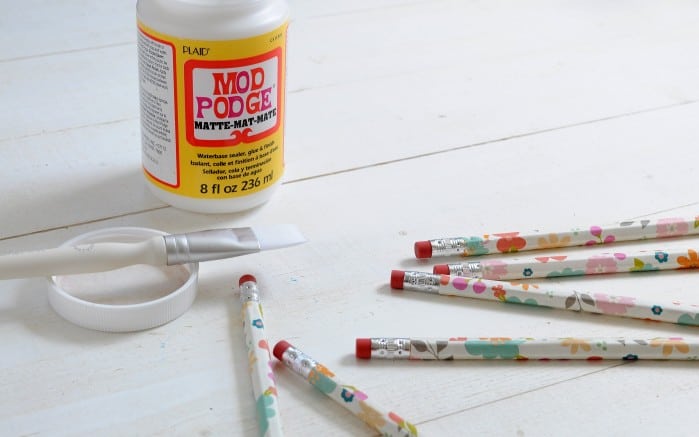 Teacher gift ideas often include clipboards (which I showed you), pencil holders, notebooks, planners . . . give them a little something to write with by making these personalized pencils. Students can make them for teacher but also for other students in the class as an end of year favor.
Grab a mason jar from the dollar store and some paint! This works for either back to school or end of year teacher gifts. Throw in a gift card with a kind message to make your teacher smile.
Sometimes I find the coolest part of teacher appreciation gift ideas is the packaging they come in! This mini gift basket is yet another way to deliver those fabulous teacher appreciation gifts like candy, gift cards, etc.
Decorate the basket so that they can reuse it all year long – make it non-teacher themed (like these owls!) so they can use the basket at home.
---
If you enjoyed these teacher appreciation gifts, I've got a treat for you! Click the image below to be taken to 20+ unique teacher appreciation printables – perfect for giving with gift cards and other little gift ideas.