DIY earrings are fun to make for fashion or gifts! Grab over 40+ easy projects you can create on a budget, with no skills required.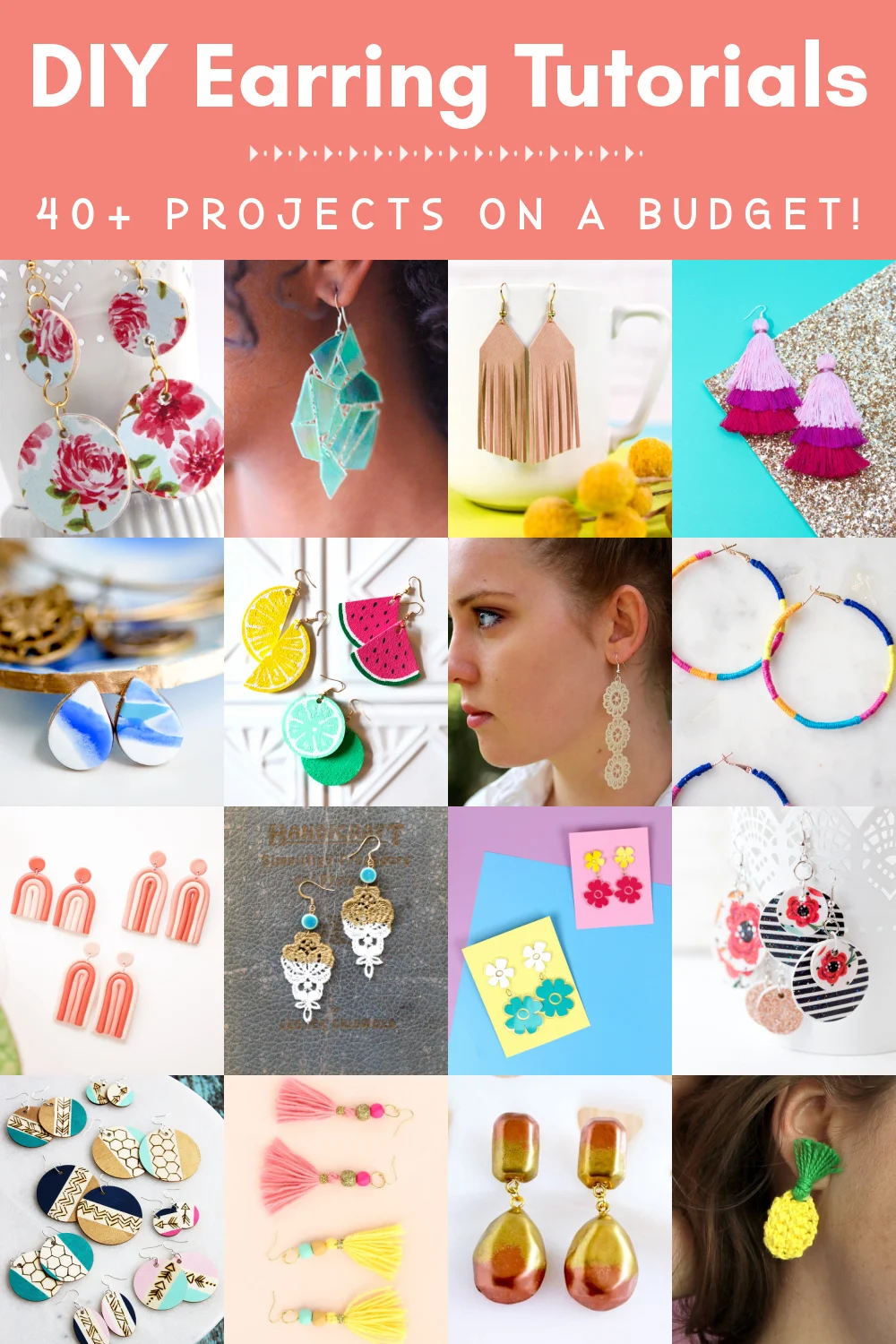 Have you ever tried homemade earrings? It's a lot easier than you might imagine. I took my first jewelry class about 20 years ago, and I'll admit that I was scared to death. I felt like I would need an advanced degree in metalwork to make anything that looked halfway decent.
What I discovered is that while there are earrings that are more complicated to make, there are also lots of earrings that aren't difficult to make at all! It was a very pleasant surprise. Which is why – if you're a beginner like I was – I'm so happy to share these DIY earrings with you.
Tools for Making Earrings
This is a big collection of jewelry you can make without your PhD in metallurgy! Having said that, you might want to consider getting some jewelry tools if you're planning on making a few things. Here are the tools I have in my arsenal for making basic earrings like you'll find in my roundup below:
Used for opening (and closing) jump rings, bending wire, bending thin sheets of metal. You can even make a right angle easily because these bad boys have smooth jaws. These are my go-to tool.
You'll use these to make consistent bends and loops with wire. The pliers are solid and round, thick at the base and thin at the tip. That means wherever you work on the pliers determines the size of the loops you make. These also have smooth jaws like the flat nose pliers.
You'll be working with jewelry wire more than likely, so you're going to need to trim it at some point. These get in close to your work and really come in handy!
Hole Punch
You'll need to make holes in your project so you can attach earring wire. There are a few types of hole punches. There is a type for paper and leather like this, and then there's a type for metal like this. I'm always punching holes, even if I'm not making earrings, so I have both styles.
Jewelry Glue
In addition to the tools, I'd also have good jewelry glue on hand. I like E-6000 or Aleene's jewelry & metal glue. Mod Podge is perfect for decoupage, but you won't want to use it to glue on an earring back (for example). It's not strong enough; you need something stronger for this purpose.
---
While there are plenty more jewelry tools available, these are the basics. You can purchase tools like these at the craft store or even buy in a kit off of Amazon. How much you invest really depends on how far and long you want to take your jewelry making career!
Are you ready to dive into the DIY earrings? Keep scrolling down to see my picks!
DIY Earrings
Do you love making jewelry? Earrings are one of the easiest projects because they are so small! Here are 40+ DIY earring tutorials - pick your favorite and get started. Perfect for beginners or those with more advanced crafting skills.
---
If you enjoy these projects, I'd love for you to check out these other posts I think you'll enjoy: