Try this no-sew tote decorating – just use your favorite fabrics and Mod Podge to make appliqué patches! Learn how to make it your own.
Skills Required: None. Even if you've never crafted before, you should be able to accomplish this project. You'll be cutting fabric and applying it to a bag with Mod Podge.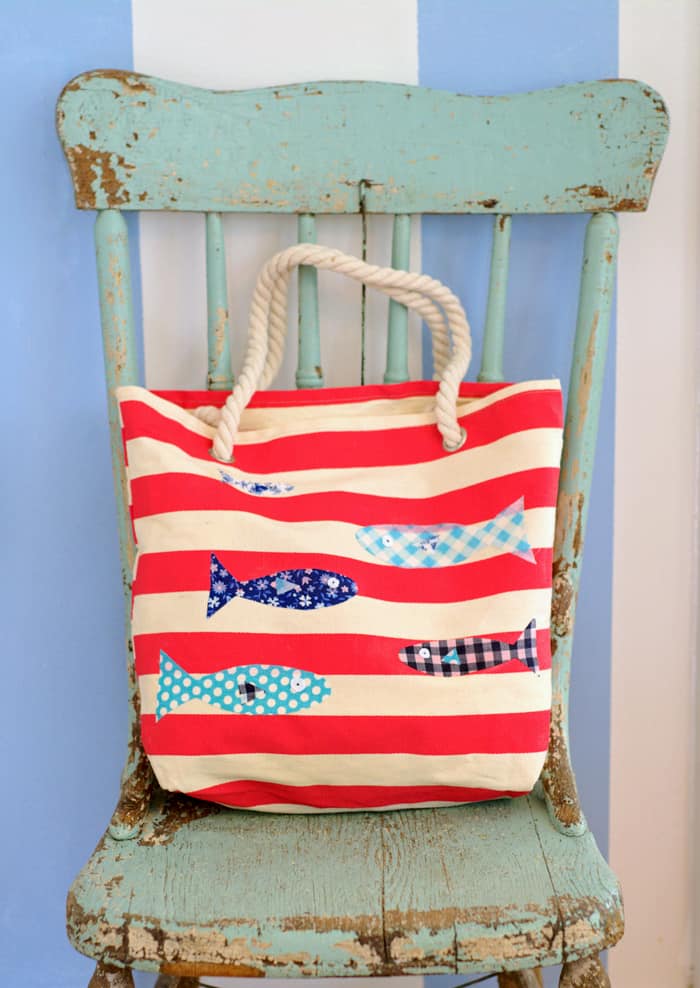 Hi guys, it's Ashlee from My So Called Crafty Life, and I'm back today to share another fabric Mod Podge craft with you all! Today I am going to show you how to make a fun summer tote with no sew appliqué fabric patches.
I had so much fun making my little fish beach tote, that I ended up making another bag too! This is a really easy and cute bag to whip up for warmer weather.
It's a fun summer craft for kids, teens, or adults, and also makes a great teacher appreciation gift (teachers always need bags for back to school!).
I also love that you can make one in under an hour. It is a great week night craft, and it is kid friendly, so your kiddos can make their own tote for the beach or pool.
No-Sew Tote Decorating
Here's What You Need:
Tote ( I bought my stripe tote in the dollar section at Target, the blue was a clearance bag at Walmart)
Brush
Fabric in different patterns
Fabric Scissors
Cardstock
Buttons, Trim (optional)
Fabric Glue
Instructions: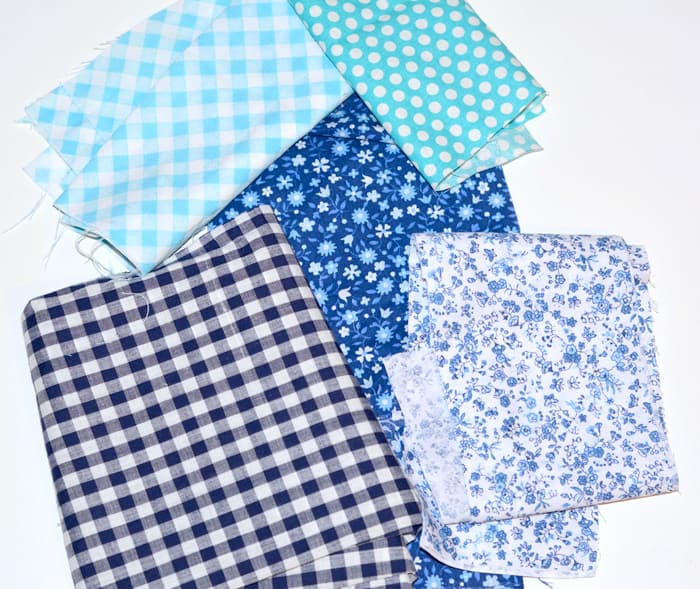 First decide on a design to use and pick out several small prints of fabrics. I decided to go with a fish theme for the beach.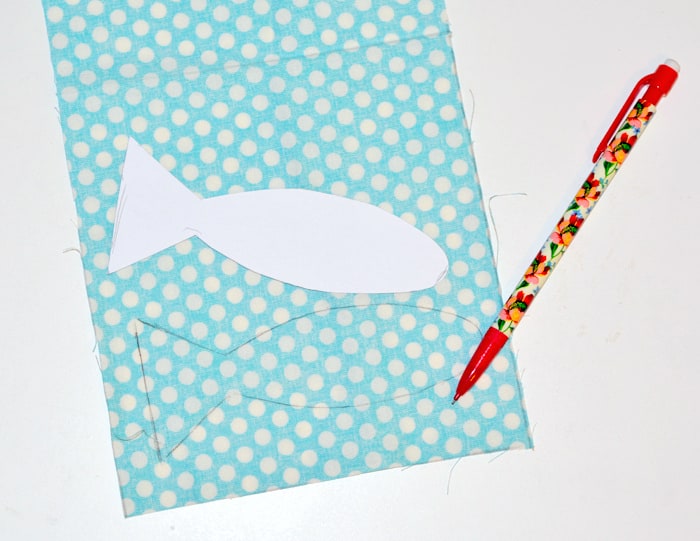 Draw up your design on cardstock and cut it out to use as a template. You can also use stencils if you don't want to draw it yourself. Mark your template on the backside of your fabrics.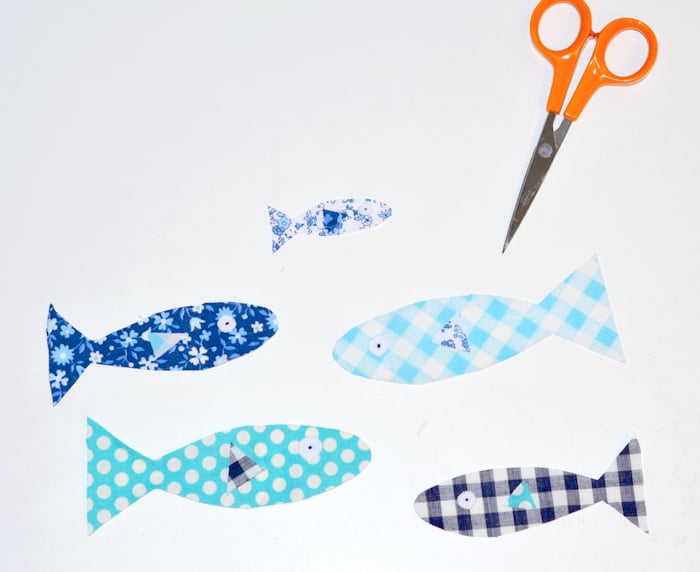 Cut your fabrics out. I like using these small precision scissors since they are good at cutting tight corners smoothly. Once I cut out my fish bodies, I cut small white circles for the eyes and little triangles for the fins.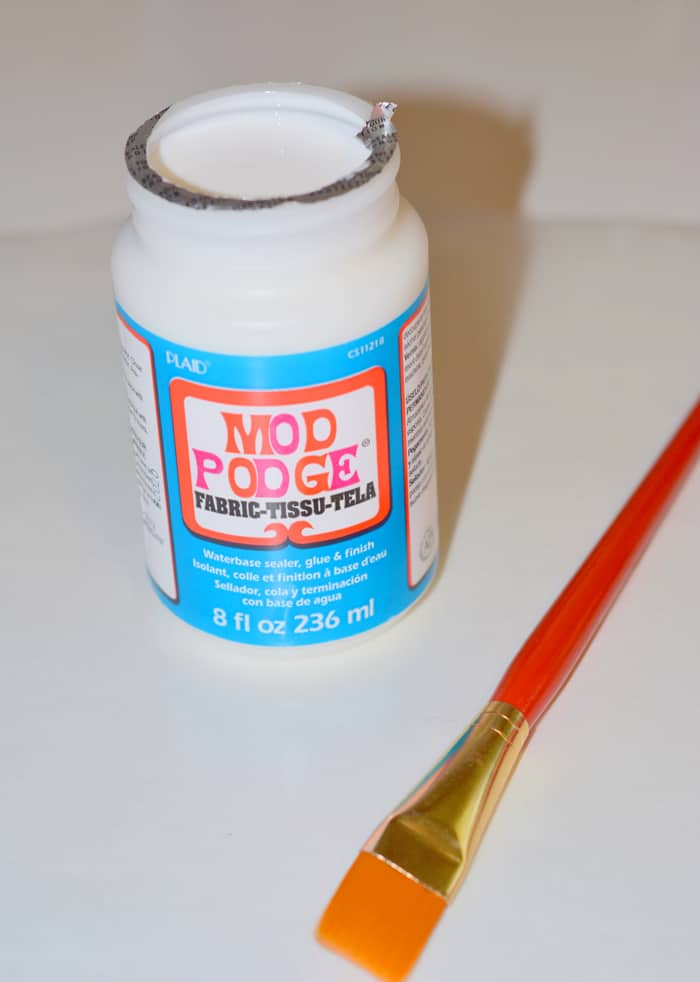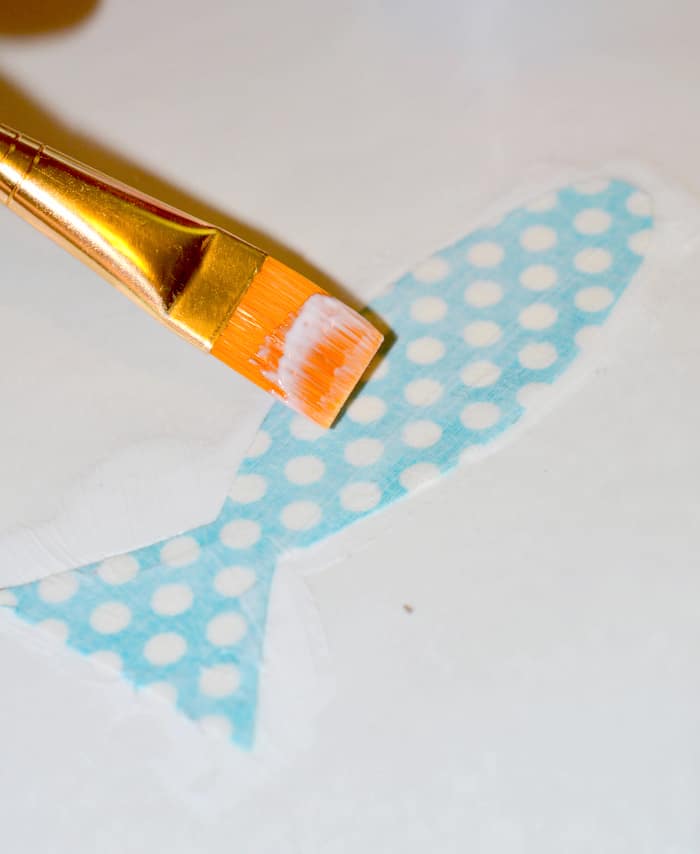 This bottle is the secret to your no-sew tote decorating! Grab your Mod Podge Fabric and load some up on your brush. Brush the medium onto the back side of your fabric. Apply liberally.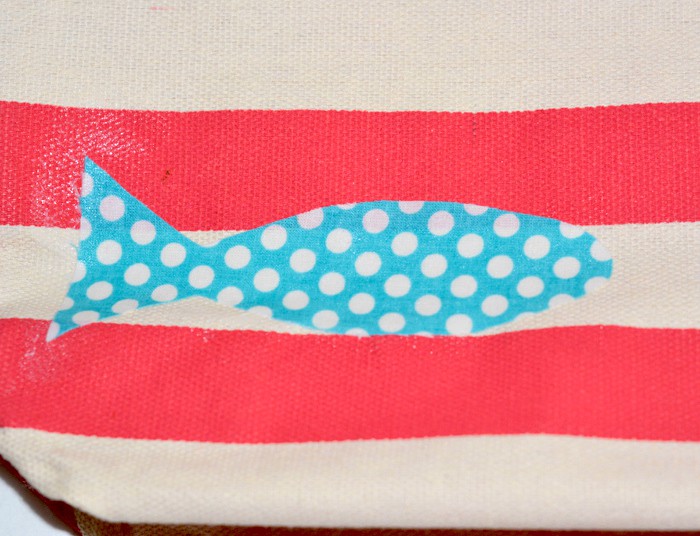 Place your fabric piece onto your bag and smooth the fabric out. I smoothed it out with my brush. Make sure there are no bubbles or creases, you want it nice and flat and adhered when it dries.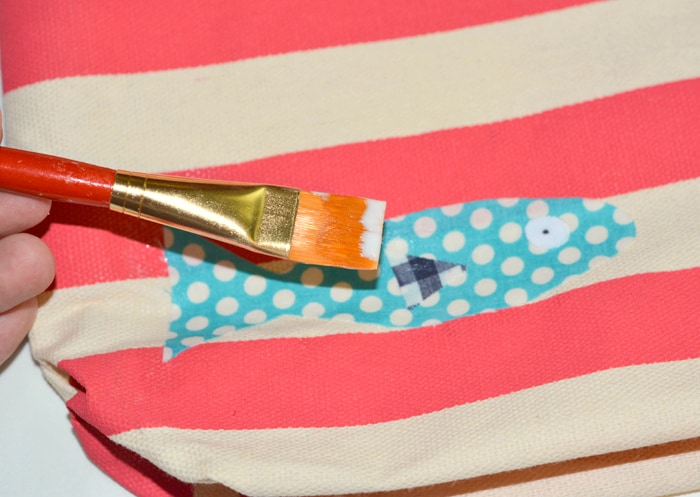 Dab some decoupage medium on the back side of your accents if you are using any, in my case the eyes and fins. Lay them onto your shapes how you like. Smooth them down with the brush or your finger.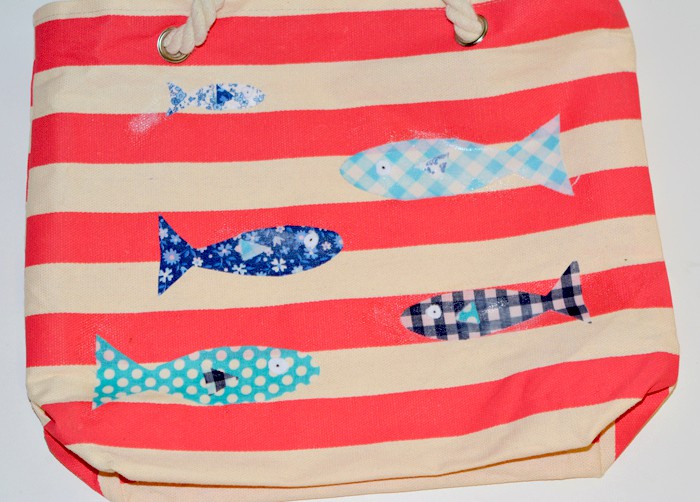 Let the patches dry, then go back over them with a thin layer of medium to seal the fabric up nicely if you like.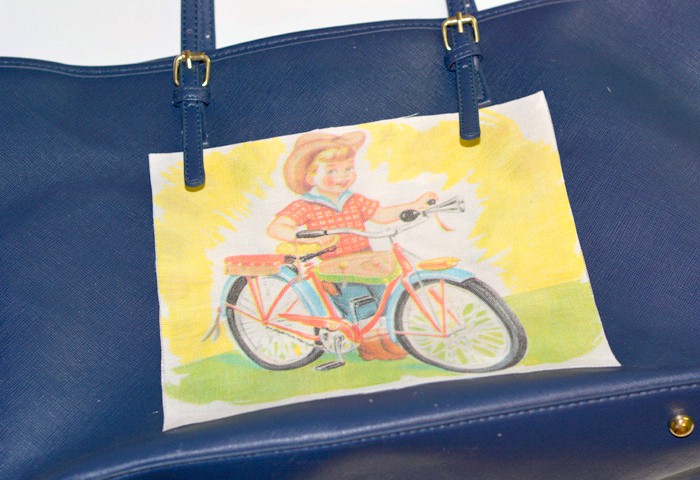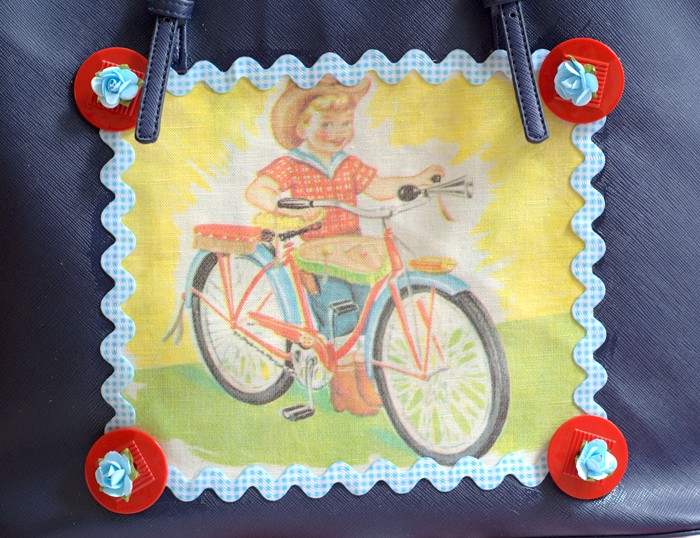 * For my second bag I applied a large patch of fabric onto my vinyl cheapie. Once it dried I applied ric-rac trim around it with fabric glue, then glued on some buttons in the corners and added some paper flowers to cover the button holes.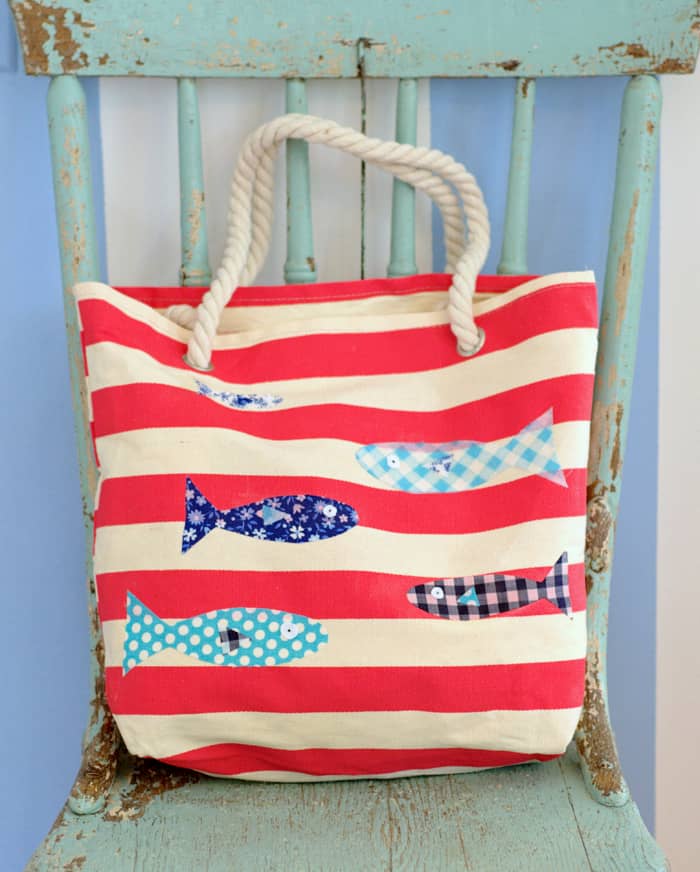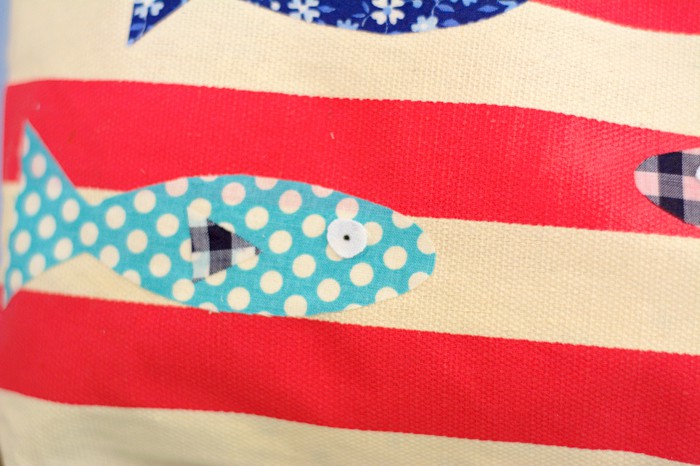 I love how my tote decorating turned out! I used scraps for my fishy tote. For my blue vinyl tote, I used a piece of a vintage fabric baby book, framed with ric-rac and embellished with buttons and flowers.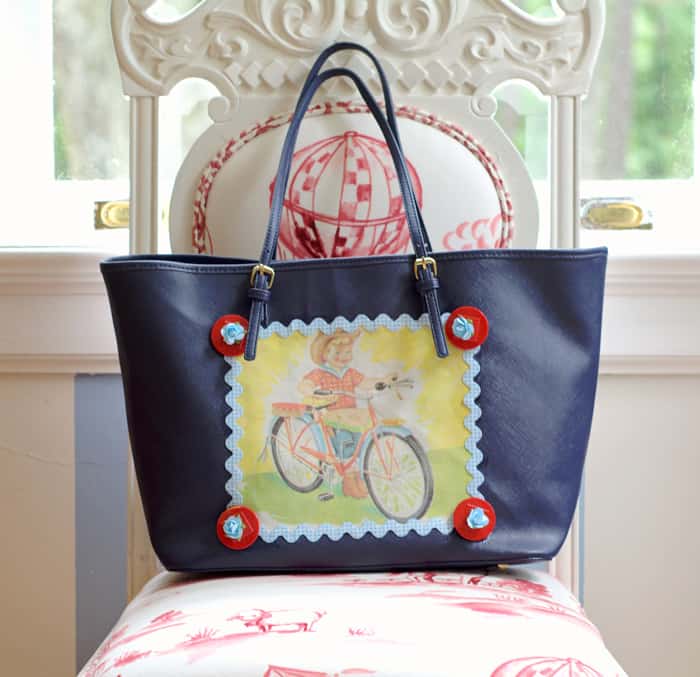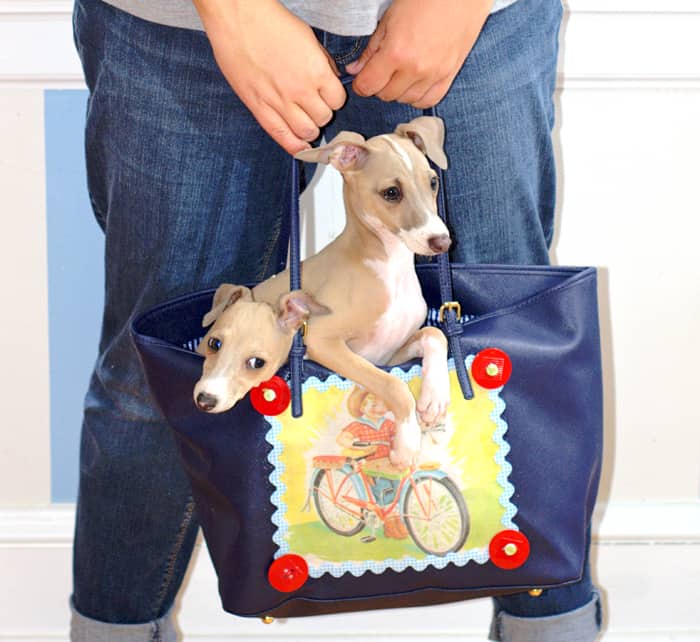 I have been loving making Fabric Mod Podge projects; this formula is so fun to use! I hope you all will give this tote decorating a try this summer, because I think you'll love it.