Looking for some easy holiday decor? These Halloween cones are so simple that even a kid can make them. Perfect for a spooky mantel!
Skills Required: None. These paper cones are very easy to decorate even if you've never Mod Podged before. You don't have to worry about wrinkles.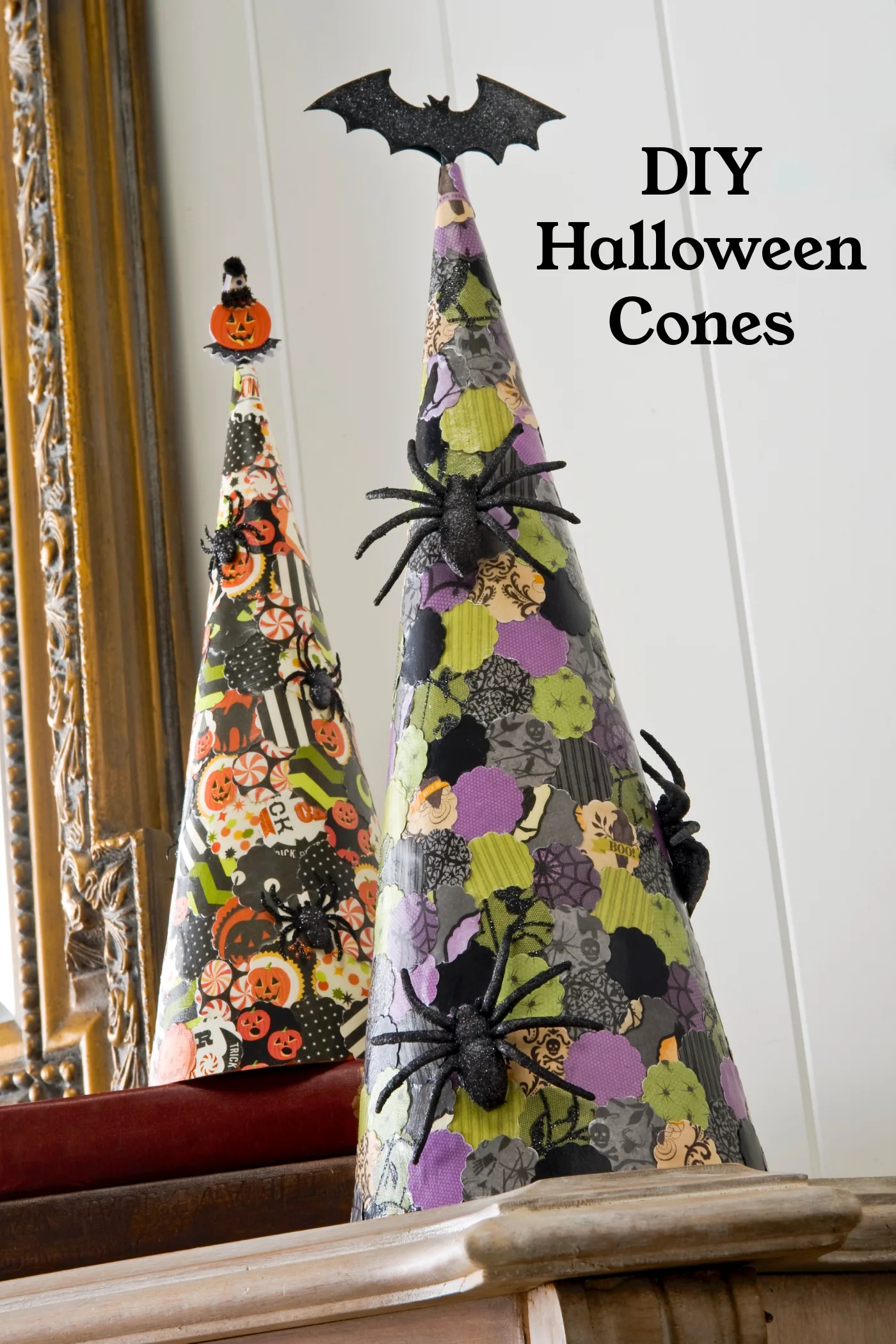 If you are new to my blog then you should know one thing right away – I love Halloween. It is without a doubt my favorite holiday, and I believe in going all out for it. Who doesn't love candy and spooky Halloween decor?
I decided to decorate paper cones this year, and turn them into Halloween paper spider cones. I decorated a doily cone last year for Christmas, and I definitely needed a few for my Halloween decor.
So how did I make them fancy? With some scrapbook paper and a pile of new EKSuccess tools that I got in the mail.
I'm a huge fan of paper crafting tools, and EKSuccess was nice enough to send me a set of theirs to use. I'm always using tools with paper and Mod Podge. Here's what I got – and these products are available at select Walmarts (FYI):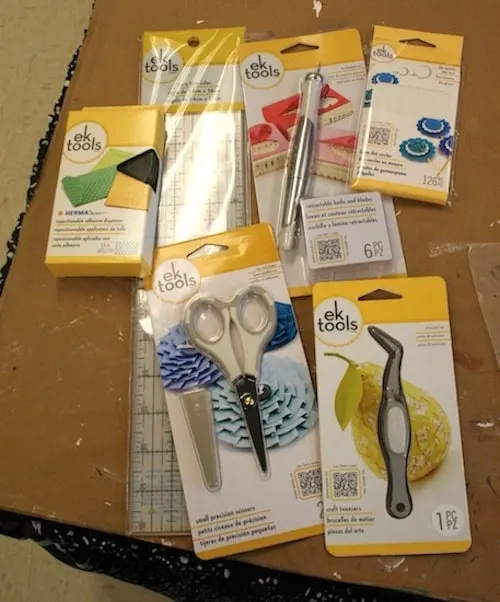 This is new packaging for EKSuccess and it looks fantabulous. There are project ideas on the packages and also QR codes. If you have a smart phone, you can scan the QR codes to go to educational videos about the product. Cool, huh?
If you are a fan of Halloween decor like I am, take a peek at my tutorial for these cones. These are so easy to make. Here's how it's done.
Halloween Paper Cones
Gather These Supplies
EKSuccess Tools including the 1″scallop punch, retractable knife and titanium scissors
Paper mache cones – available from the craft store
Halloween scrapbook paper – Halloween (I chose two themes)
Black scrapbook paper – 1 sheet
Embellishments – spider stickers and other stuff to put on/top the paper cones
FolkArt acrylic paint – orange and black
Dowel rod – 1/16″
Paintbrush
Craft glue
Optional: spider stencil and black glitter paint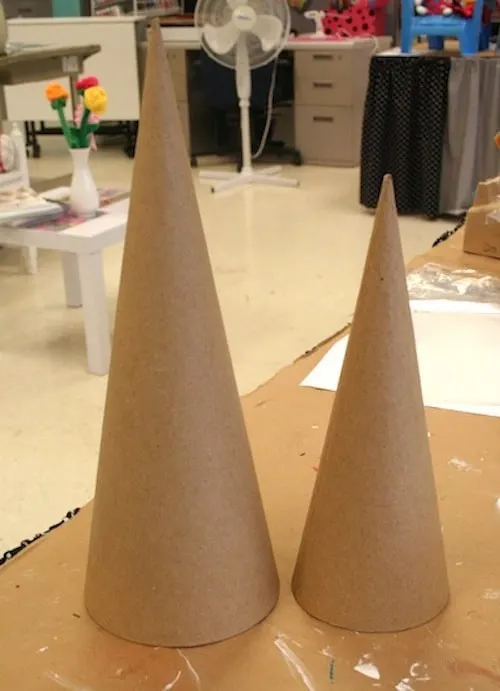 If you were wondering what the paper cones look like when you are shopping, here they are. Very paper. Very cone-like.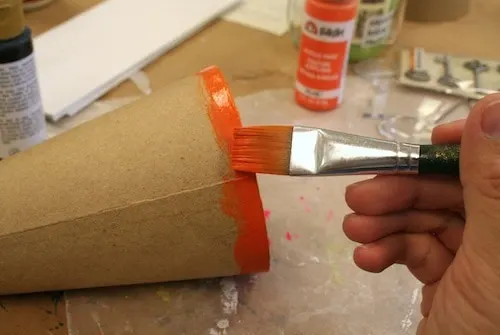 Your first step is to paint the bottom of your cones. You don't HAVE to do this, but I like to in case a little bit of cone ends up peeking out. Let the paint dry.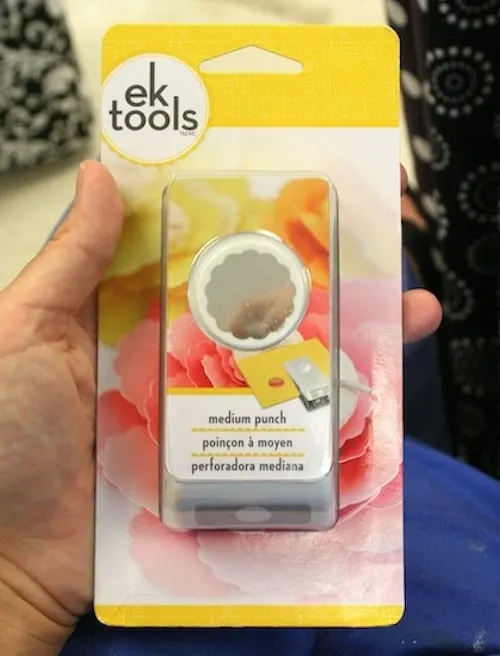 This tool is going to be your best friend in this project, and is actually one of my favorite tools in the whole world. This isn't the first project I've done with the 1″ scallop punch. I love this thing.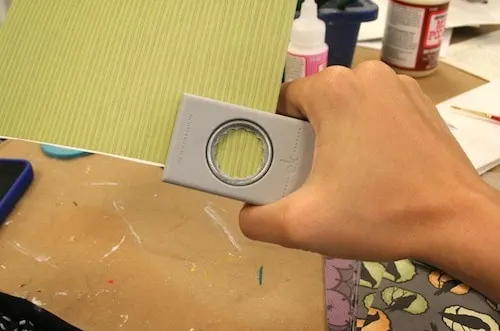 You are going to need a television or radio for this part – you need to punch out quite a few scalloped circles from your paper. You'll be covering both cones with them.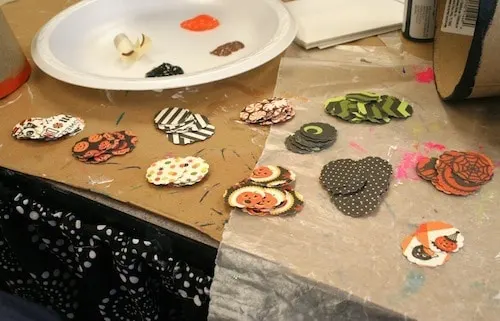 This is the best I could organize – I sorted my little scalloped punched papers into piles, so that I could make sure to know what I have (and get even numbers of each).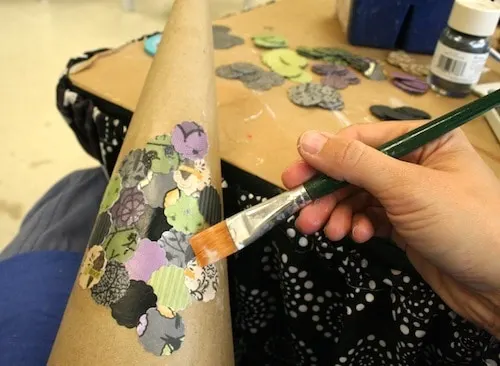 You can start wherever you want to on the cone – you just need to paint some Mod Podge down, smooth a circle down and then Mod Podge over the top. You'll want to overlap your circles.
You'll probably also want to bend the circles a little bit before Mod Podging them down if the paper is thicker. I did this and it really helped.
Cover both Halloween cones and let dry – then paint a layer of Mod Podge over the top. Let that dry.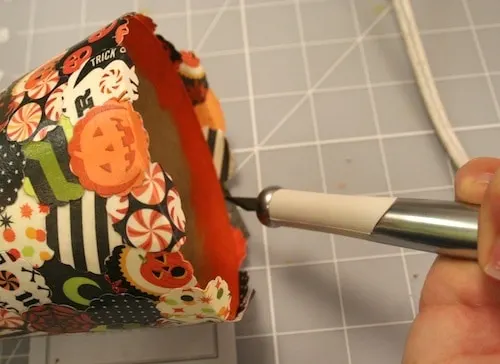 Use the retractable knife to trim the paper that overlaps the bottom.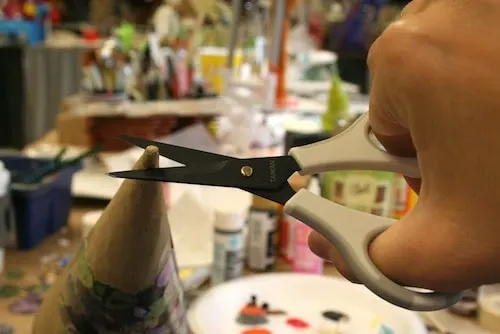 At some point I decided I would add toppers to my paper cones. I used the scissors to cut off the ends.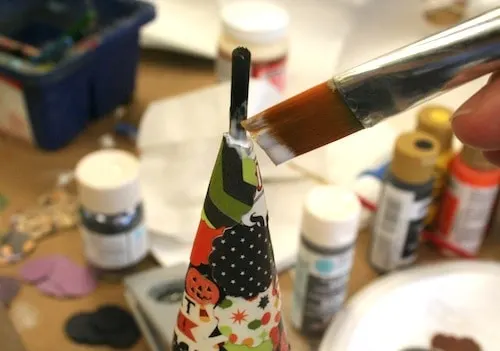 I then painted small pieces of dowel rods with black paint, inserted them into the ends and glued them in. Then I glued embellishments on either side of the dowel rod.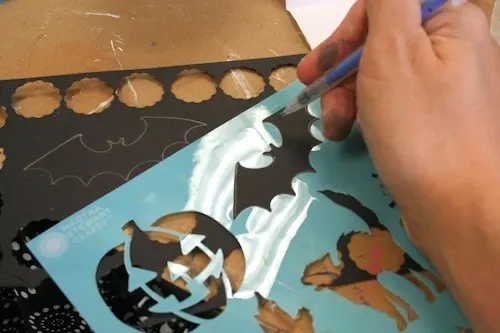 One of the embellishments was a bat that I traced on the black paper with a stencil and cut out – then added black paint.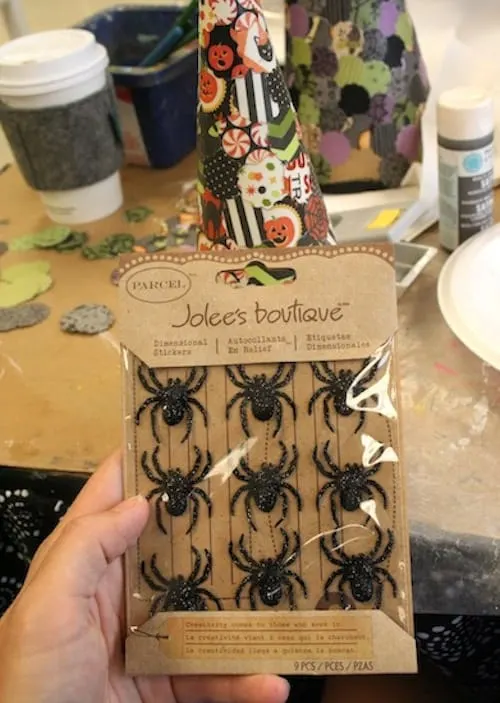 To finish off my cones, I added spiders. I used these spider stickers and some larger spiders that I glued to the sides.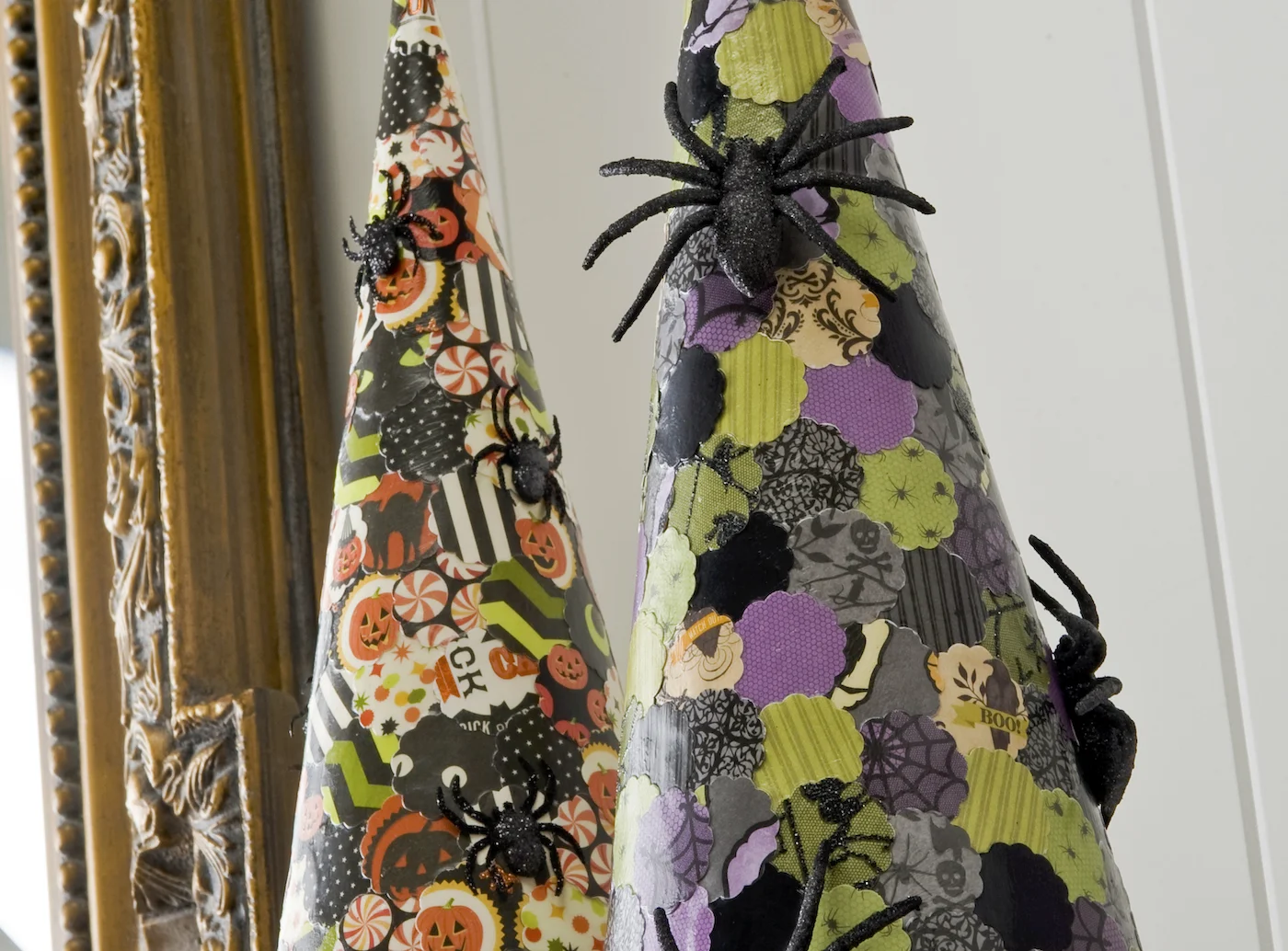 Here's some detail of my Halloween craft . . .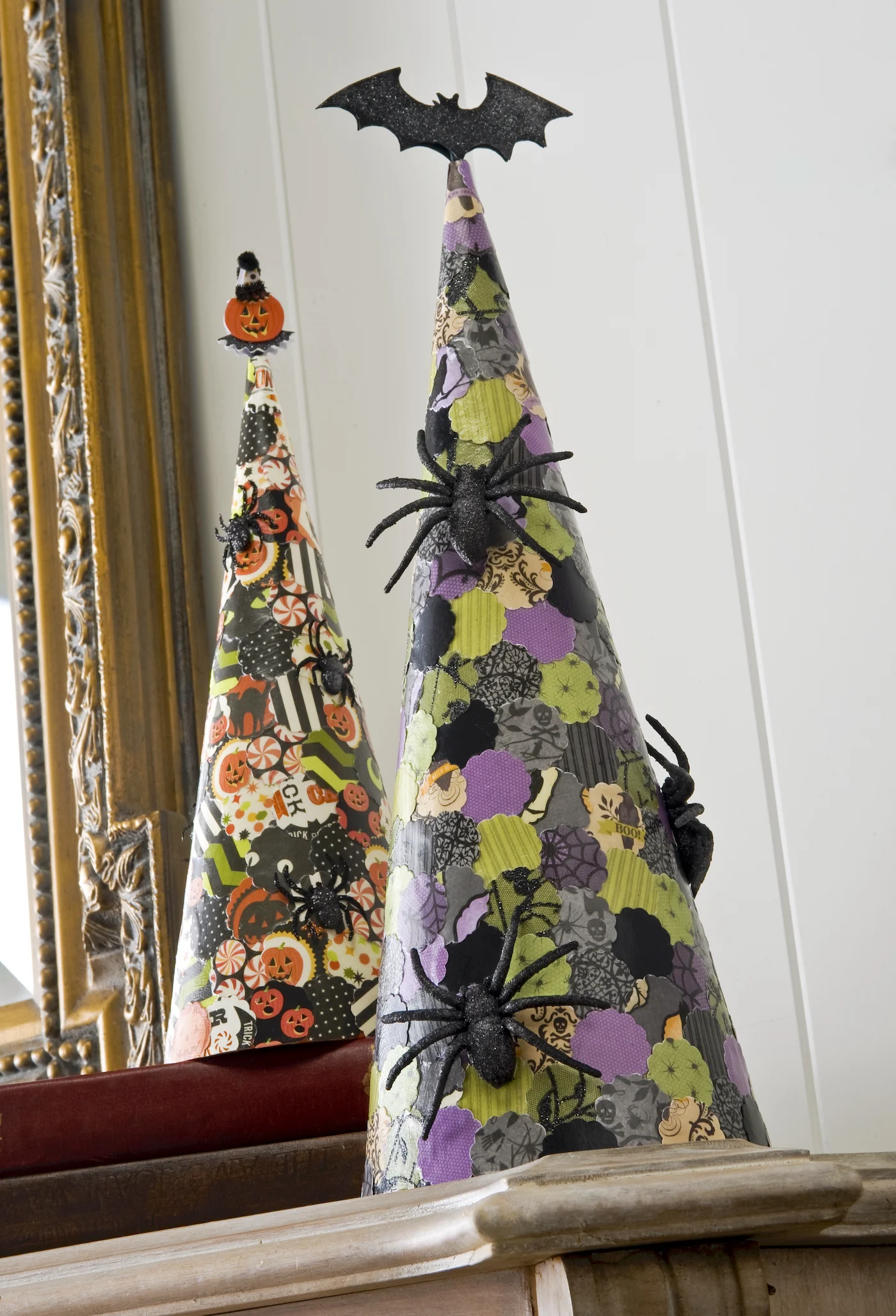 And the Halloween cones one more time. I'm sure by now you are convinced that you need paper cones, a scallop punch and of course, Mod Podge.
---
Are you ready to check out some other Halloween craft ideas? I'd love for you to check out these projects: