If you want to try painting for kids, I have just the projects for you. Try these acrylic paint crafts with your little ones – so much fun!
Skills Required: None. All of these ideas are perfect for beginners, as well as children of any age. I believe adults will have just as good of a time making these as the kids will.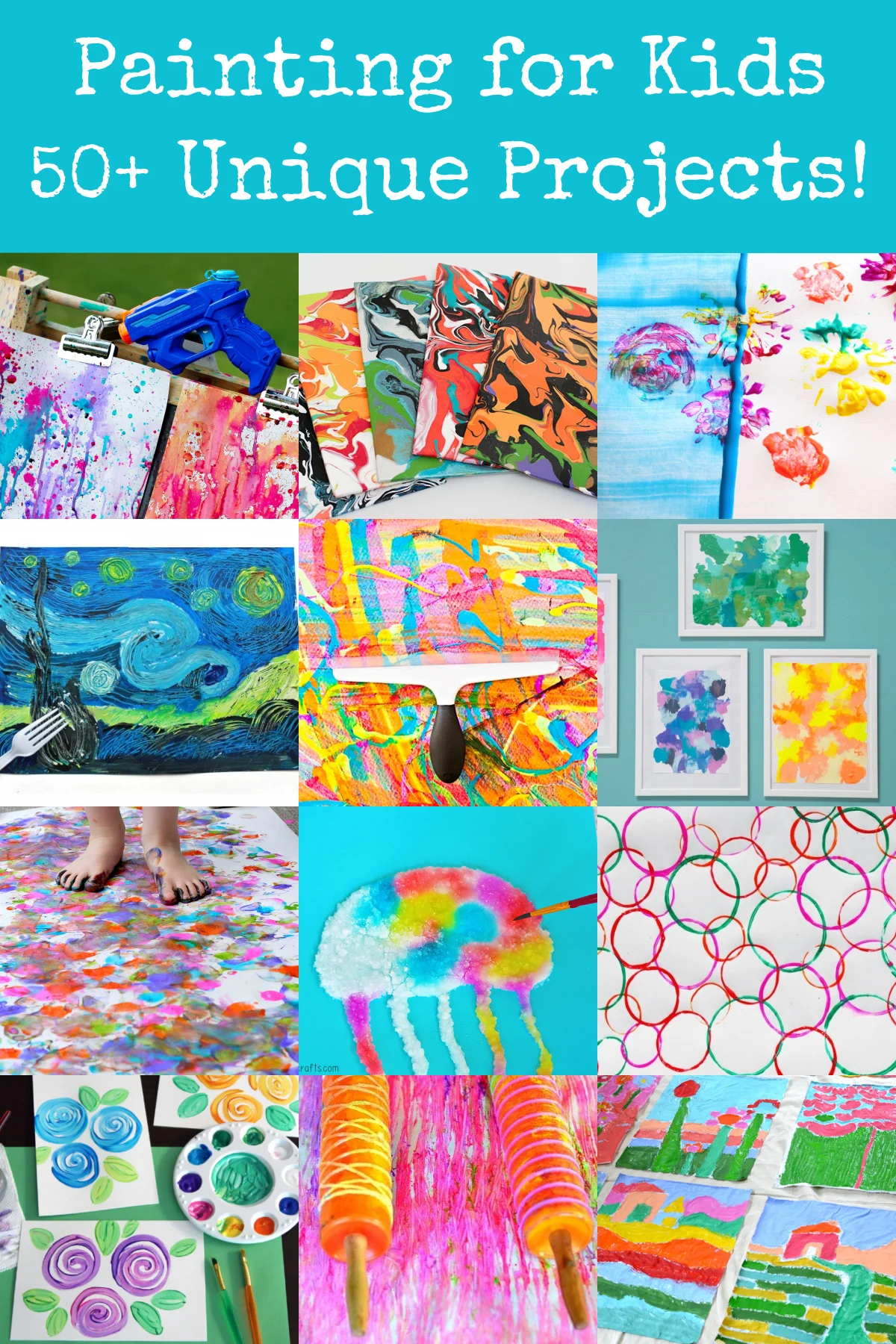 One of my earliest memories of doing crafts of any kind is taking painting classes in second grade. I also remember exactly what I wanted to paint that year. My first muse was named Claire, and she was my Cabbage Patch Kid.
I remember her little pink jumper, blonde braids, blue eyes, and tiny pig nose. And how I tried to paint them so diligently and accurately. I think the nose was a little too big, the head misshapen, and the braids definitely too thin.
But that's not the point, right?
Painting for kids isn't about being the next Van Gogh. At least from my perspective. What I was painting didn't matter, because I was learning to express my creativity and add my own interpretation of the world to paper with paint and a brush.
Painting is a fun art activity for kids that promotes not only creativity, but fine motor skills. And it's never too early to start.
Painting Ideas for Kids
If you're ready to dig into some painting ideas for kids, I've got a ton for you. And you're going to love them. Before we get started though, I want to go through some frequently asked questions about painting for kids.
To get to the projects, simply scroll down to the list. Otherwise, here are the top questions answered!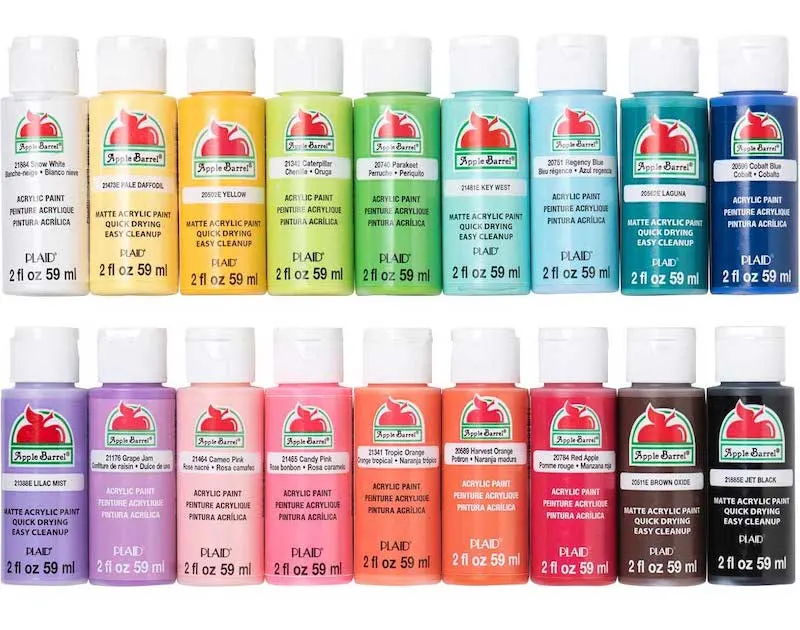 What kind of paint do you use for kids?
You can use a variety of paints with children's crafts. Here are the most common paints that I recommend to you:
Acrylic Paints – you'll find inexpensive sets in the kids' section of the craft store.
Craft Paints – these are typically sold as individual bottles in the paint section of the craft store. My favorite brand is Apple Barrel.
Tempera Paints – this paint is thinner and more liquid than acrylic. It's harder to control when you want a really sharp looking project, but it's inexpensive (and typically washable!).
Watercolor Paints – made from a pigment and a binder, and the thinnest of any of the paints. For kids you'll buy these in a tray, and they're very budget friendly.
You can also make homemade paints, which are featured in some of these projects (for example, puffy paint!).
For any paint type you select, make sure the label says "Conforms to ASTM D-4236." Conforms to ASTM D-4236 means that the label will indicate if there are any hazardous substances within the paint. It's typically required of art supplies.
You're going to be looking for paints that don't list hazardous substances as ingredients – waterbased, non-toxic paints. That way if the paint gets on the skin or (oopsie) in the mouth, you don't have to worry.
What does painting do for a child?
I believe this quote says it best!
Painting is a way for children to do many important things: convey ideas, express emotion, use their senses, explore color, explore process and outcomes, and create aesthetically pleasing works and experiences.

–Penn State Extension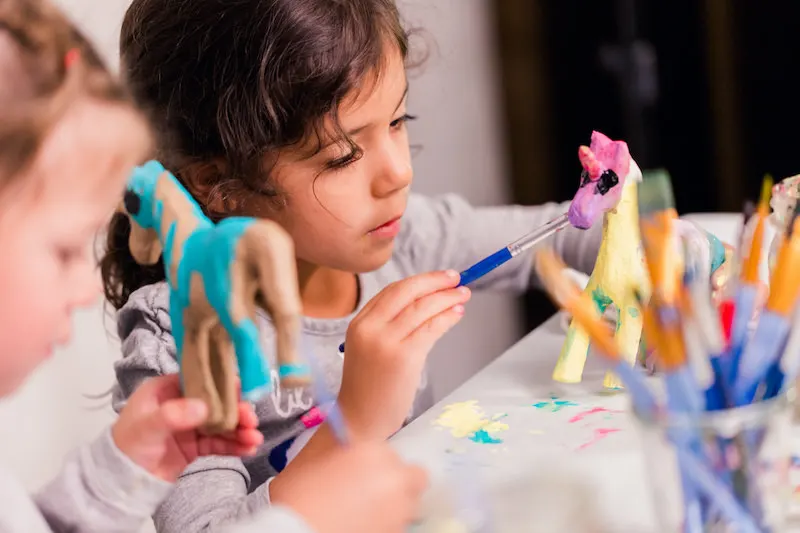 What kind of paint is best for beginners?
I recommend starting with acrylic paint. Specifically, look for craft paint at Michaels (or your local favorite craft chain), in the painting section of the store with all the individual bottles.
Use Apple Barrel or something similar. Apple Barrel is a non-toxic craft/acrylic paint that is perfectly pigmented and just the right price. It's really easy to use and the color palettes are great.
How do I teach my child to paint?
I would say there is more a parent needs to do to prepare a child for painting than the kid! Get mentally prepared for a bit of a mess and cover your workspace (and your child) accordingly.
More than teaching them to paint, let your child be creative. Walk them through a lot of the projects below – there are several techniques and lots of different tools that kids will enjoy. Don't try to control the process; let your littles have a good time and go in whatever direction the project takes them.
---
Ready to jump into painting with kids? Check out the great list of projects below!
If you want some smart kids painting ideas, check out the following projects! There are 50+ great tutorials here, and lots of them use supplies you already have on hand.
---
Did you love these easy painting ideas? Want some additional creative ideas for kids? Try the following posts: