Kids are going to love these poinsettia crafts for Christmas fun! These are great for children of all ages from toddlers to preschool to elementary.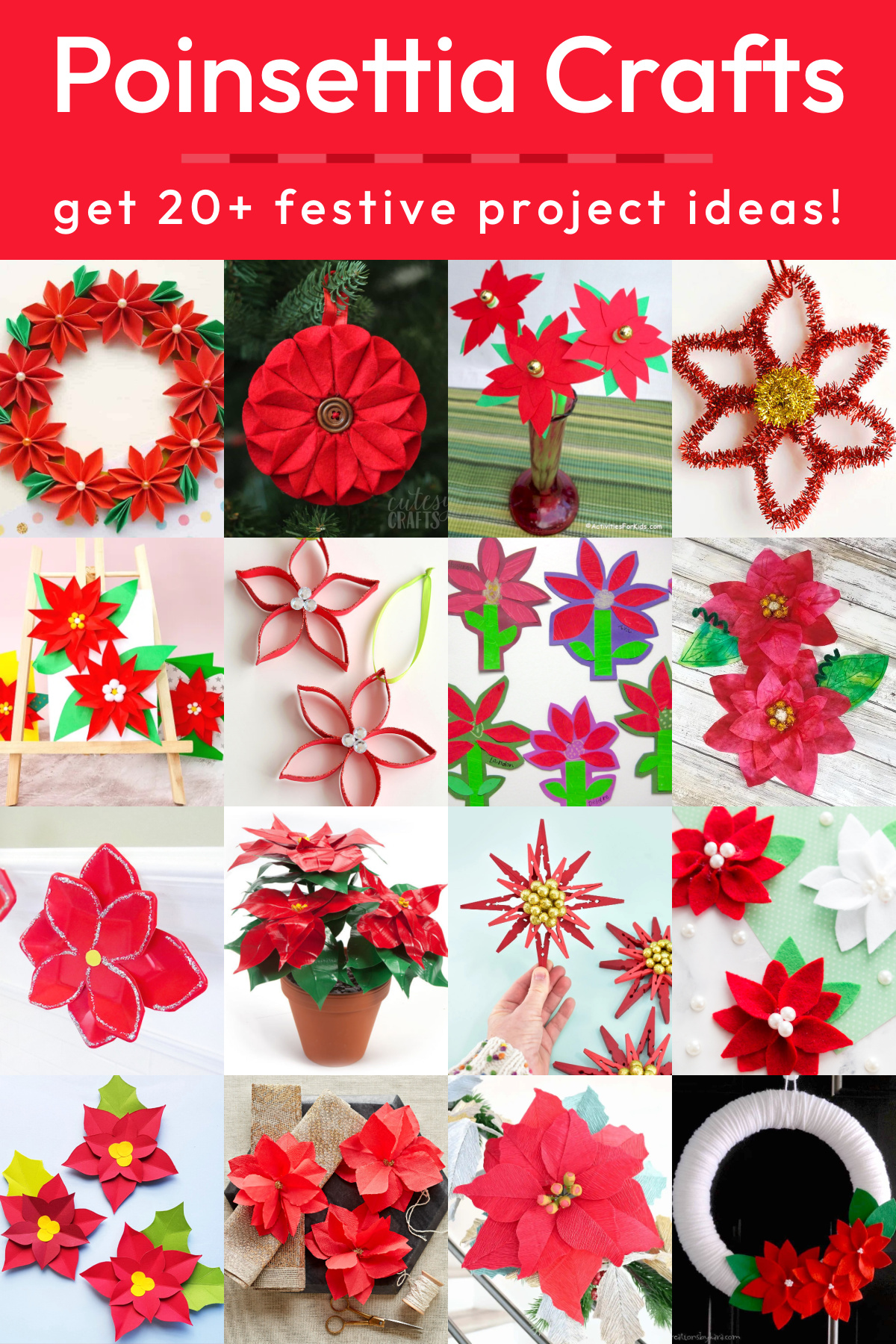 Whenever I think of poinsettias, I'll be honest – I laugh. I know that isn't the typical reaction to poinsettias. They're supposed to be a serious floral for Christmas decorating. They're beautiful and elegant. And totally not funny.
BUT many years ago, when I was in high school, a neighbor of my parents went on vacation around the holidays. An extended vacation. So this neighbor was unable to water their poinsettia for several weeks.
So they trusted me to do it. Or rather, I was told that I need to care for this poor plant.
Well let me tell you my friends – that poinsettia barely hung on the entire time. Right when it moved into its new temporary home, it started getting wilty. A few times I thought I'd almost lost it and then it would perk back up for a few hours.
Finally the neighbor gets back and takes their poinsettia home. I think the flower was hanging on that entire time so that it could say goodbye to its original owner. Because shortly after that? The poinsettia was gone forever. Shuffle off this mortal coil to the great greenhouse in the sky.
And I think we all know deep down that it was my fault. But who trusts a teenager to take care of a poinsettia? I think that's the lesson here. You just don't do that. It's not going to turn out well for your flowers!
While I may have a questionable past with poinsettias, I do love them during the holidays. They're so pretty, with a deep red color and beautiful soft texture to the petals. It's truly a flower to be admired!
If you love poinsettias too, I think you're going to love these cute poinsettia crafts for Christmas that are perfect for both kids and adults (can you say family activity?).
While most of these are definitely for little children, there are projects for a wide variety of ages here. Whether you have a toddler looking for something fun to do during the holiday break or an elementary kid that wants to make decor, you'll find something on this list.
So take a peek at the kids' Christmas crafts below and let me know what you think! I'd love to know if you try any on this list or have some ideas that you don't see here. Leave me a comment! Happy holidays, and happy crafting!
Poinsettia Crafts
You're going to love these 20+ poinsettia themed crafts for Christmas! There are cute ideas for both kids and adults here.
---
If you enjoyed these poinsettia themed crafts, I'd love for you to let me know in the comments. Don't forget to check out these other posts as well: