What can you do with holiday cards once the Christmas season is over? Recycle them! Check out these 25+ Christmas card decor ideas.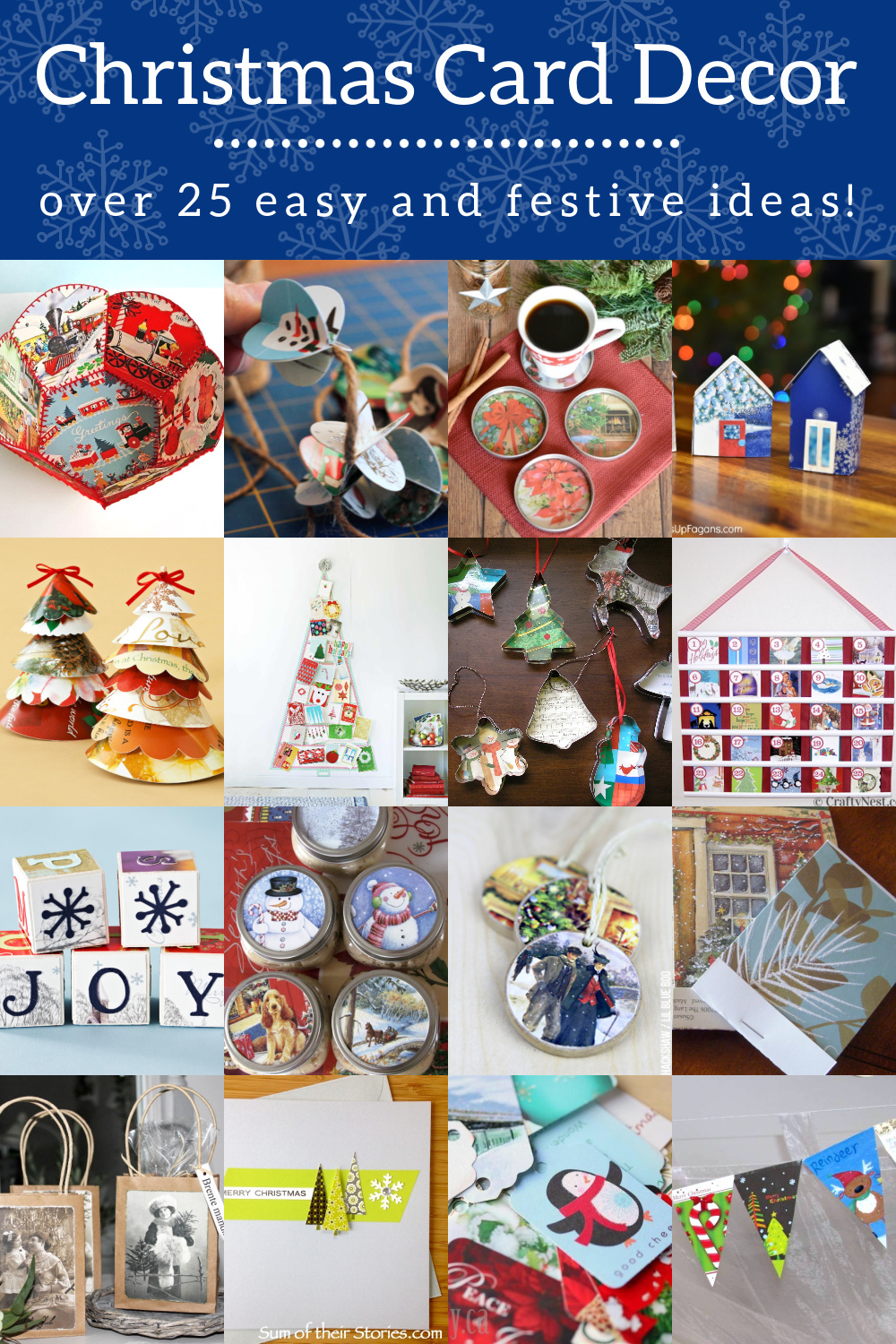 I'll be honest – and don't hate me because I say this – I don't really keep cards. Occasionally I will hold onto one that I feel is very special, but for the most part I don't have anywhere to store them. My house doesn't have a lot of storage, and I know that I won't go back to them often anyway.
This is very different from my grandparents, who kept every card they ever received. Including cards we sent to them as children! I actually thought it was kind of cool. But again, those cards just sat in a box, and they were never really looked through.
With the holidays coming, it's Christmas card time. I have to wonder if there will be more or less cards this year due to what's going on in the world. I have to imagine there might be more? Everyone is looking for a little cheer in their life!
Here's the thing . . . you have to wonder if those Christmas cards would be brought out more if they were used in some way . . . like maybe . . . crafts?
So I'm happy to share with you these great ideas for Christmas card decor! There are over 25 projects that will show you how to recycle your Christmas cards into stuff you can use around the home, primarily for decorating. I can't believe the cute DIYs that some people have come up with.
So instead of throwing out the cards out this holiday season, I think I'm going to try some of these Christmas card decor ideas. Not only is it fun to keep the cards around in some manner or another (memories), but you can also use them to make free festive decorations.
Genius, right??
If you're ready to see the crafts, go ahead and scroll down. I'd love for you to let me know if you've tried any of these projects. Also let me know if you have some smart ideas for recycling cards that aren't included. Leave me a comment on this post. And Happy Holidays!
Christmas Card Decor
Once the holiday season is over, what are you supposed to do with all of your Christmas cards? Turn them into unique decor with one of these 25+ ideas!
---
If you enjoyed this Christmas card decor, I'd love for you to check out these other ideas: