Learn how to make DIY recycled Christmas decorations that are not only are budget friendly, they're easy! Get over 35 unique decor ideas.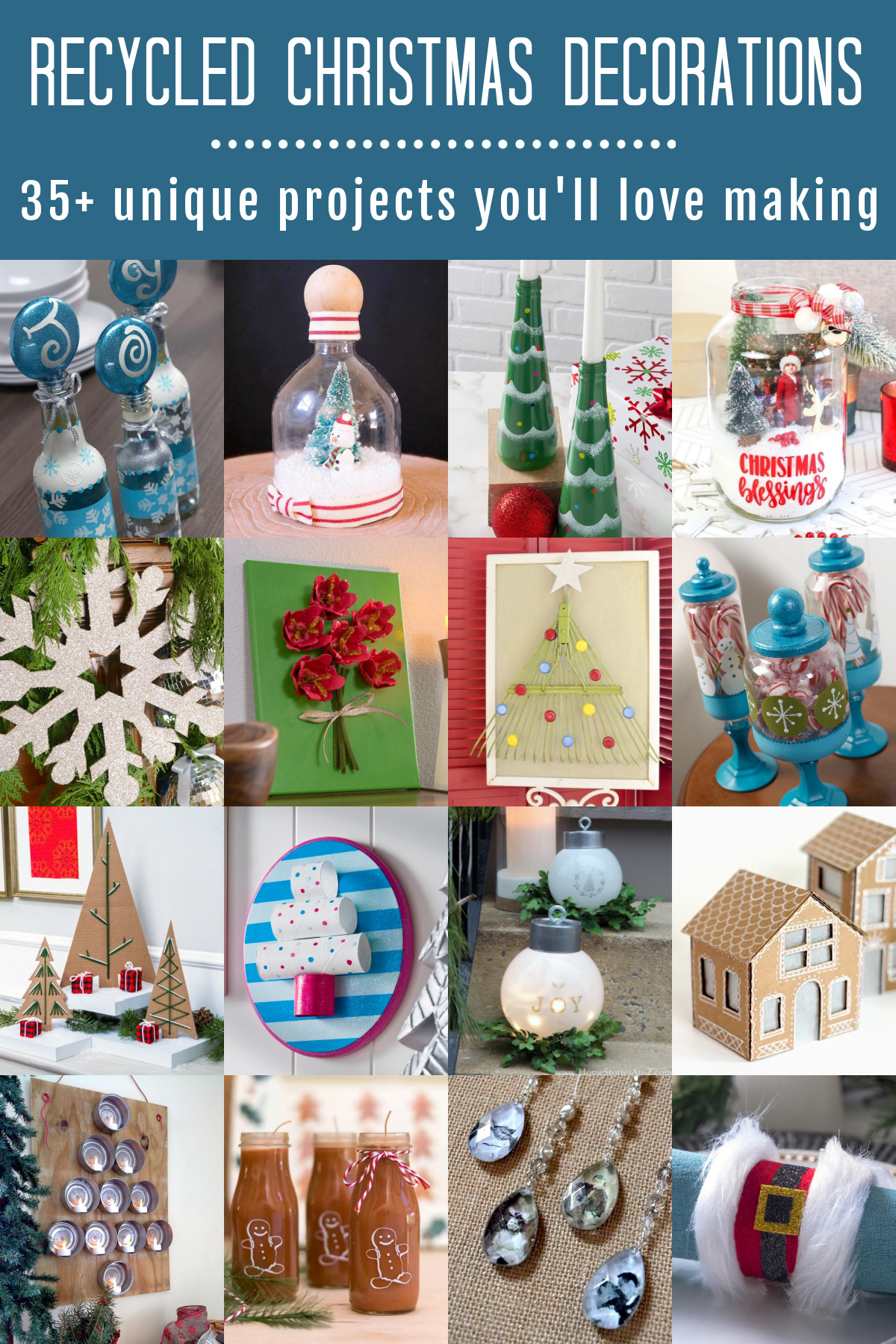 If you've been around here for awhile, then you know how much we love recycled crafts! It's always a fun challenge to see what you can make out of garbage, in my humble opinion. Especially when it comes to the holidays!
I've been making lots of homemade Christmas decorations this year, and I've been trying to do them on a budget. Because honestly? I want to save money. And right now there's a lot of garbage around here.
By that I don't mean actual dirt or junk; I mean shipping BOXES from Christmas gifts! My guess is that you did a lot of online ordering this year just like I did. And with that comes a lot of packaging including the cardboard shipping boxes.
Before the holiday is even over you've got stacks of cardboard, greeting cards, wrapping paper scraps, metal tins, and a whole bunch of other stuff that at one time housed a gift or goodies.
Don't throw it in the garbage. OR the recycling bin. Not before you take a look at this list of DIY recycled Christmas decorations that you can make with all of it!
Yes, I've put together a list of all sorts of Christmas decor you can make with free stuff around your home that would otherwise be tossed out. The surfaces range from paper to cans to glass bottles, and there's something for everyone!
Whether you want to make ornaments or something to decorate your Christmas mantel, there are some great projects on this list. What'd I'd love for you to do is take a peek at them and let me know what you think!
Even if you're a beginning crafter, you'll find a project you want to tackle in this list. I promise! Leave me a comment letting me know what you decide. Merry Christmas and happy crafting!
DIY Recycled Christmas Decorations
Learn how to make unique Christmas decorations from recycled materials! These are budget friendly and perfect for beginners.
---
If you liked these Christmas decorations from recycled materials, I'd love for you to check out these other posts: