Use Mod Podge and wrapping paper to create this unique wine bottle Christmas craft! This is the perfect budget friendly project for the holidays.
Skills Required: Beginner. I'd have some previous experience with Mod Podge to avoid wrinkles; otherwise you'll just be gluing and cutting.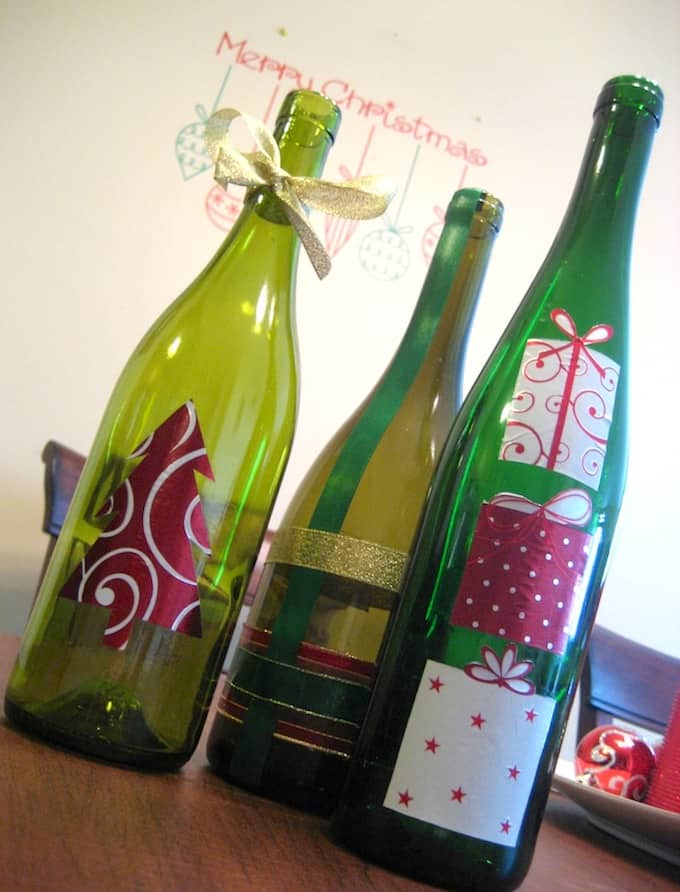 Hello everyone! My name is Katie, of Food, Wine, and Mod Podge and I'm here with a fun wine bottle Christmas craft for you today. I live in Chicago with my wonderful husband Chris and adorable cat Simon.
We love living in a big city, and even love the winters! My blog is about exactly what the title says: food, wine, and Mod Podge! My husband and I love to cook, so I post recipes and life experiences we've had with food. We also are HUGE wine-o's.
Everything about wine is wonderful, and we love sharing a bottle any chance we get. Actually, that topic even gets my husband to post every once in a while! And finally, last but certainly not least, Mod Podge!
I fell in love with Mod Podge at the age of 14, and though we fell out of touch for a couple years, I am back and at it now with passion!
And since I live downtown, I don't have a car, so I get to be extra creative with things I have lying around the condo. This is actually a good thing because all the projects have very few materials and anyone can do them in a snap!
So all that talk now brings me to my little wine bottle Christmas craft for you today! Now being that Christmas is only one week away, there's not very much time left to make a big, time-consuming craft. But you may want to spruce up your place with some new decorations before the family comes.
This Christmas craft includes two of my favorite things: wine and Mod Podge!
Wine Bottle Christmas Crafts
What you'll need:
Wine bottles (need to be empty, so I guess you'll have to have a glass or two!)
Wrapping paper, ribbon, and any other Christmas decoration you want
Paintbrush
Wine bottle lights (optional)
That's it!
So here's the first step, which is a great little trick. You know how it's not exactly easy to get a wine label off a bottle?
Soaking works sometimes, but if you actually wanted to keep the label (which you don't for this project but you may want to for another one!) it gets all wiggly and lumpy when it dries.
So here's the key: don't soak it, bake it!
If you put a wine bottle in the oven at 175 degrees for 10 minutes, you will be able to take out the wine bottle (with an oven mitt of course) and in my experience, 9 out of 10 labels will peel right off, leaving the label intact and the bottle free and clear!
If there is any sticky residue left on the bottle, just put your decoration over it, or wipe it off with a little Goo Gone (you can also check out our DIY sticker remover).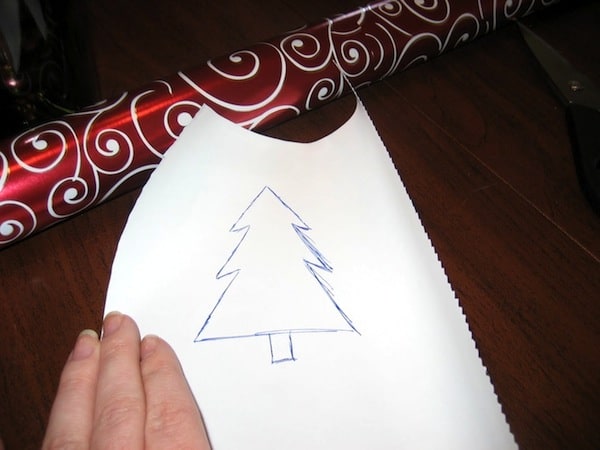 So now that you have your bottle ready, it's time to get creative! Figure out any Christmasy design you can think of — do whatever you want! I played around with some wrapping paper I had, cutting out a tree out of one swirly type.
I also cut out the presents from another roll that already had presents on it. And finally I got creative with layers of Christmasy ribbon. The possibilities are endless!
I simply brushed a little Mod Podge on the back of the design I cut out, placed it on the bottle, let it dry, then gave a quick topcoat just on the design. Simple and quick!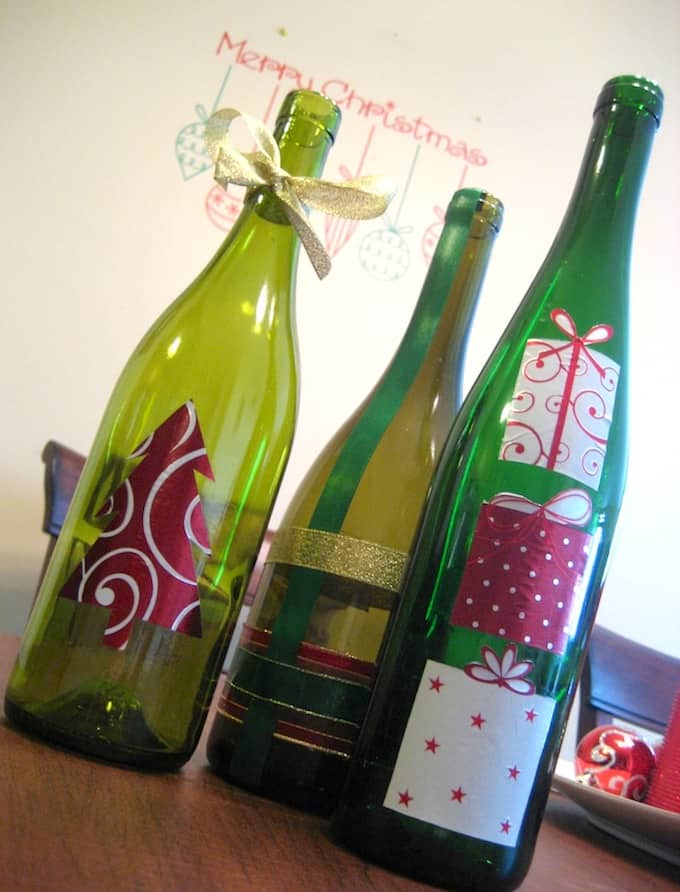 This wine bottle Christmas craft looks great as a centerpiece or lined up on a mantle. Also have fun experimenting with different bottles, because there are plenty of different shapes, sizes, and shades out there!
I found the riesling bottle had the brightest green color, but I liked varying the bottle types for more of an eclectic look.
Overall, just have fun!
Thanks everyone for checking out my post, and feel free to visit me at Food, Wine, and Mod Podge!
---
Want another recycled Christmas craft idea? Take a peek at this easy Christmas tree plaque!