Dress up some Coke bottles with this fun Santa and elves gift! Makes a perfect gift idea for a neighbor; easy to make with this free template.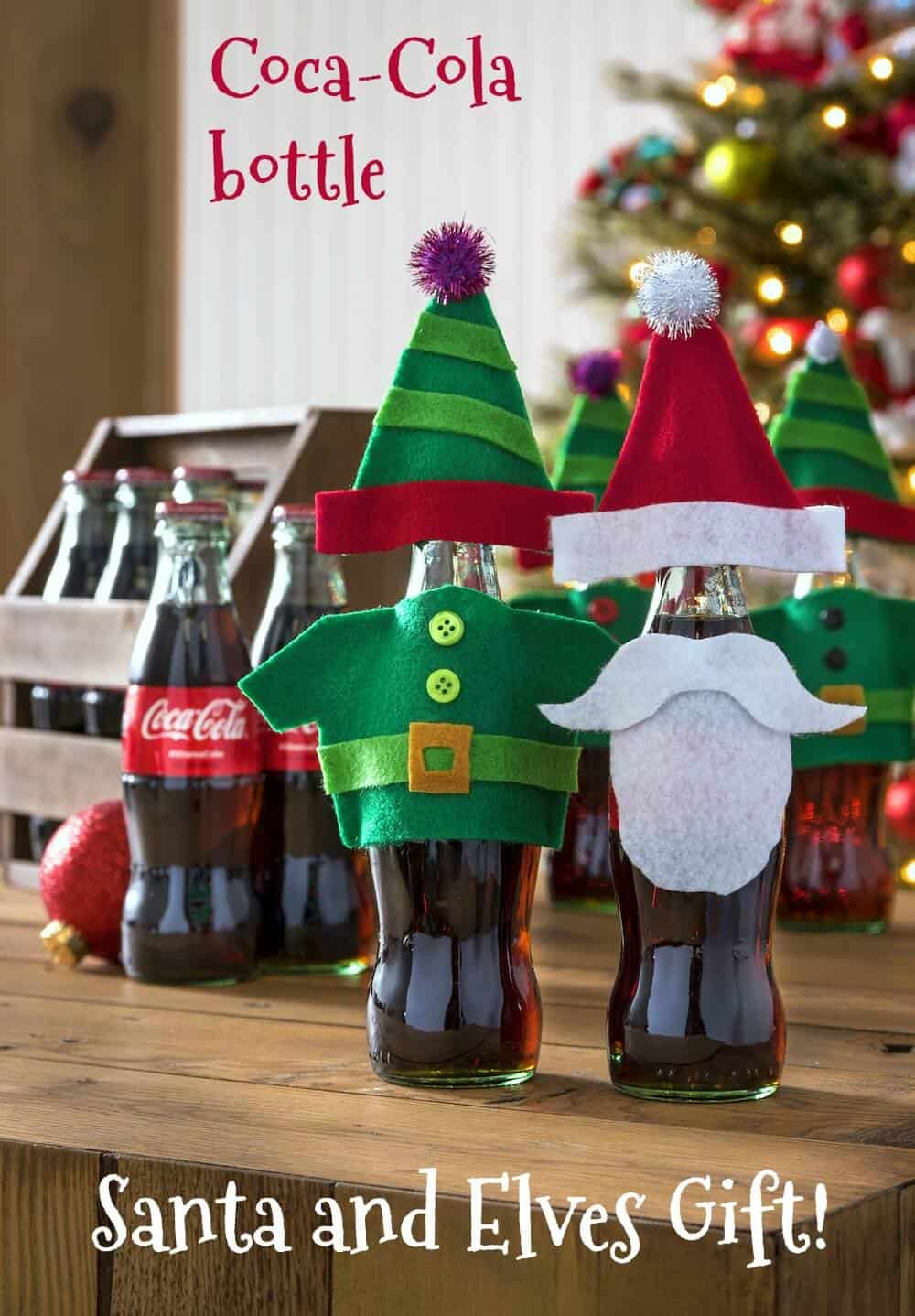 Are you ready for the holiday season?! It seems to come more quickly every year. I feel like I'm always behind as I'm sure a lot of you do too! You know who I appreciate? Those people that are always on top of it each year to make everyone in their lives feel special.
They give thoughtlessly and endlessly to make sure that people have a great time! For me, this "unsung hero" is my mother: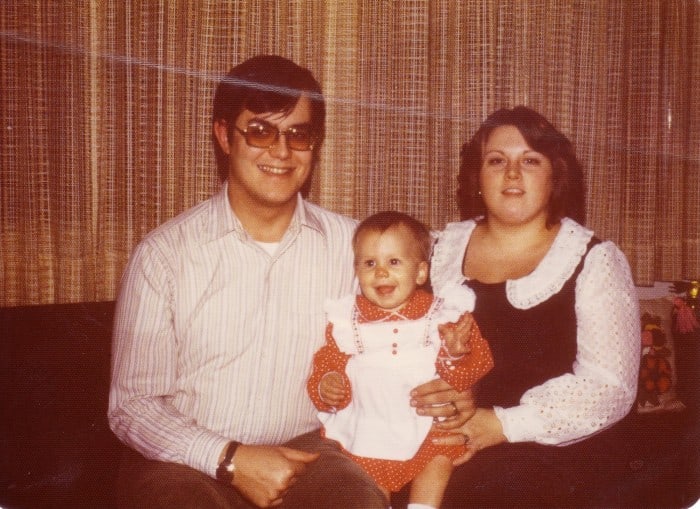 She's the woman that always made sure that me and my four younger brothers (even when times were tough and money was tight) always had a little something under the tree. She got us craft supplies and wore old clothing and sacrificed things for herself instead.
And she did one of my VERY favorite things that I will never forget and want to continue when I eventually have my own child: the Giving Tree.
The Giving Tree was an event organized by a local charity when we were growing up in Louisville, Kentucky. They set up a large tree in the mall and on the tree were names of children in need.
Each year we would go to the giving tree, pick a name, and get the list of the child who was less fortunate than we were.
We would be given some money (and sometimes use our own) to purchase the things on this child's list: coats, gloves, shoes, school supplies. . . . and even some toys too! I thought it was a wonderful way to celebrate the true meaning of the season, and we did it every year.
That's the kind of woman my mom is.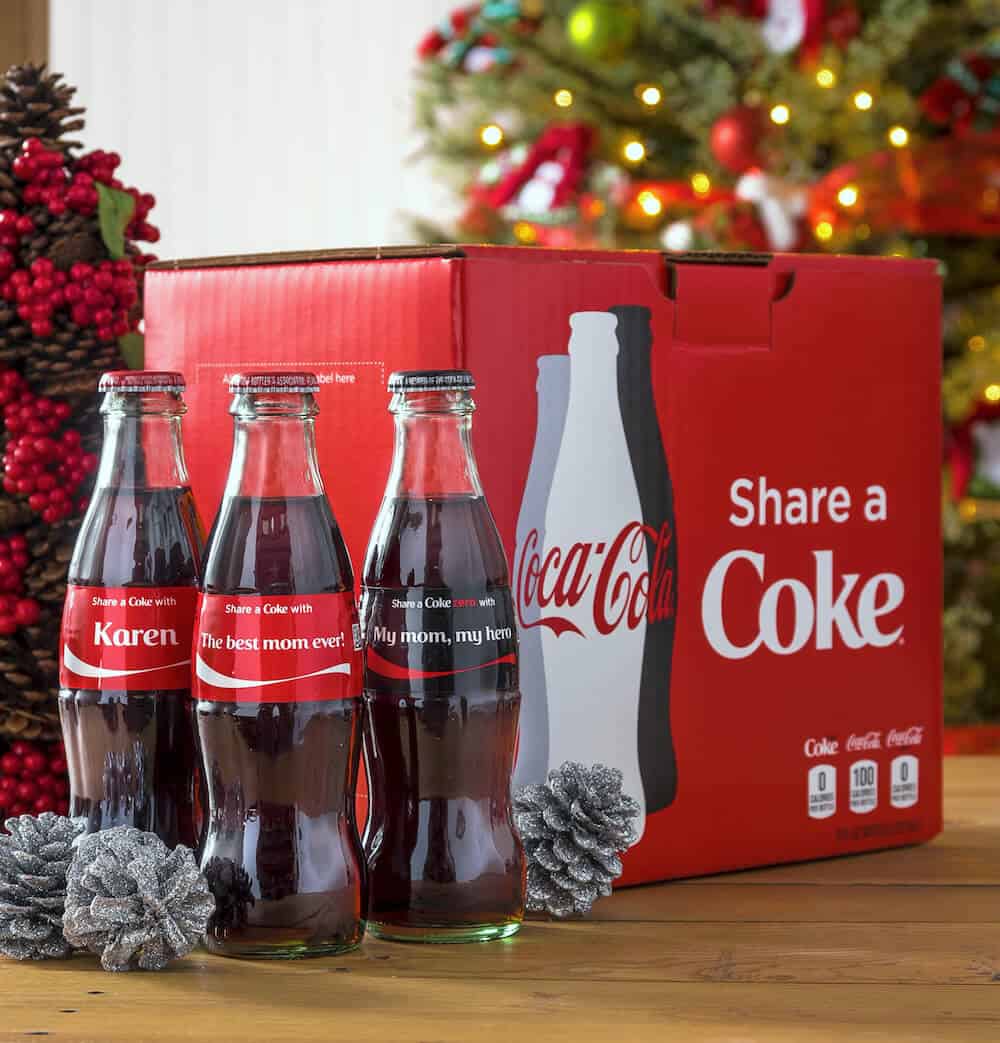 And so to celebrate my hero, I bought her a little something special this year. You see, I know that one of my mom's very favorite desserts is a Coke float!
So I bought her some Share-a-Coke bottles with HER name and some sweet messages to show my appreciation for who she is and what she has done for me over the years!
I chose three personalized messages: Karen (her name), "the best mom ever!", and "my mom, my hero." I ordered these from the Share-a-Coke website.
And then I took it up a notch!
My mom is the one who taught us to be creative, so I decided to dress my bottles up for her! I know she's going to be tickled.
I created these little Santa and elf costumes for my Coca-Cola bottles, and this is how I'm going to present my gift. When she pulls the costumes off, she'll see the fun messages revealed underneath!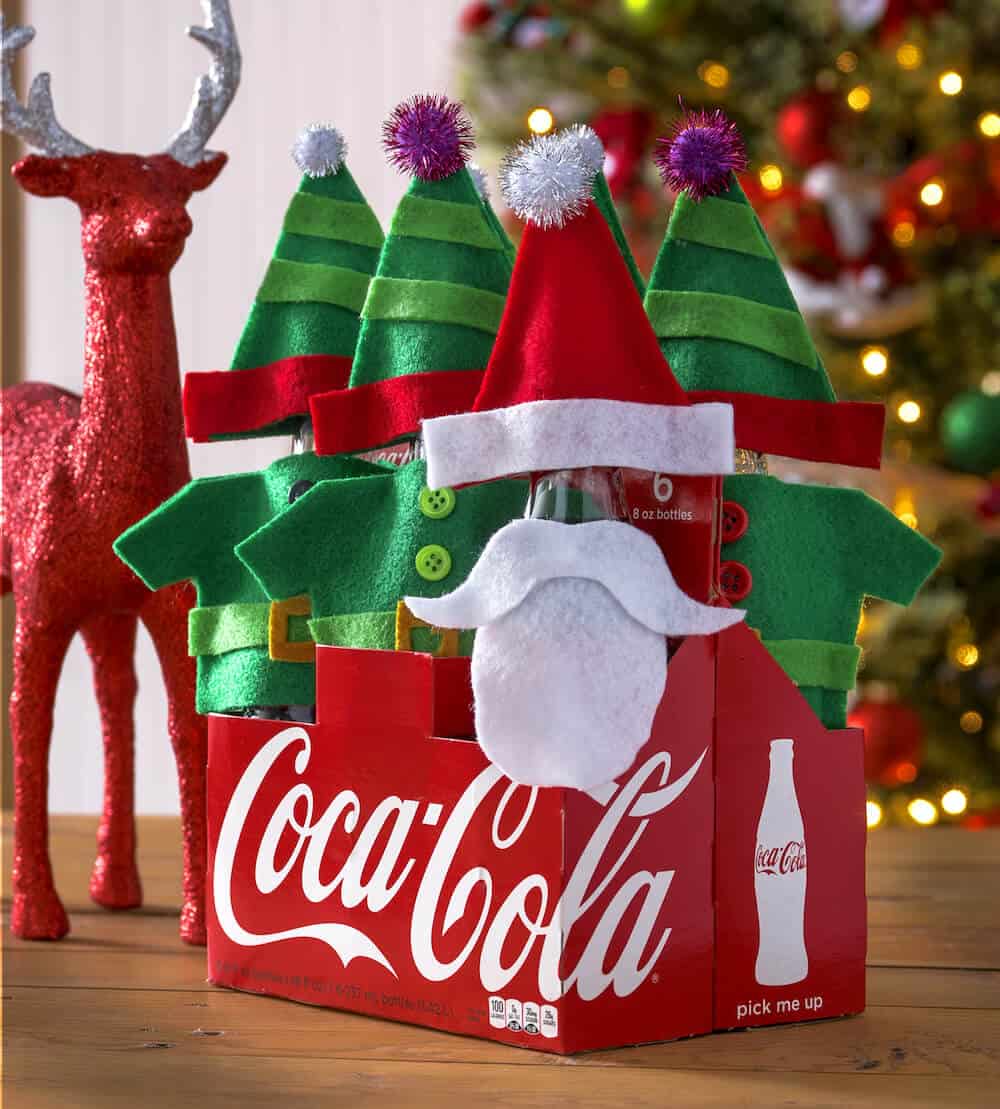 I'd love for YOU to order something special for the unsung hero in your life and create costumes for the bottles to present as a gift just as I did.
So here's the tutorial! I've also got the FREE templates for you to use to create them. This is a very easy project even if you've never crafted in your life.
Coca-Cola Bottle Christmas Gift
Gather These Supplies
Felt – one sheet white, one sheet red, one sheet golden, five sheets dark green, two sheets light green
Santa and elf costume template – this template makes one elf and one Santa (print out additional copies for additional elves)
Scissors
Double stick tape
Hot glue gun and glue sticks
Embellishments such as buttons and pom poms for the coats/tops of the hats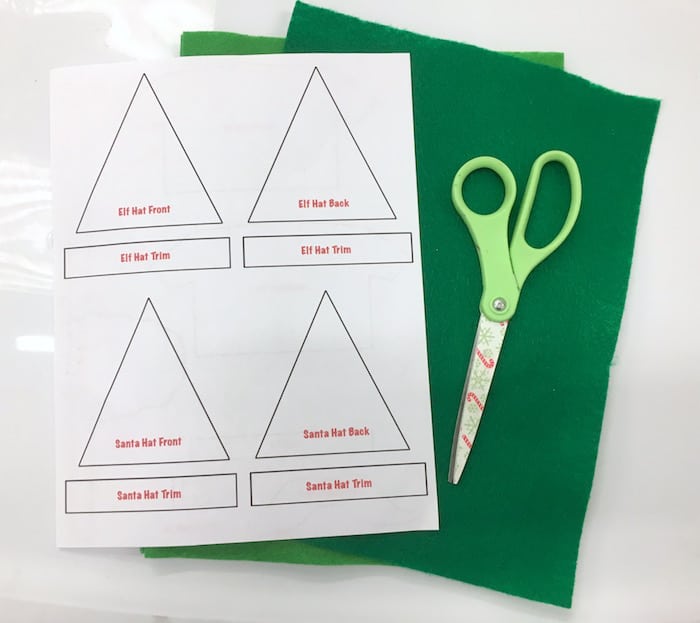 Step One: print out the number of copies that you need and prepare your supplies.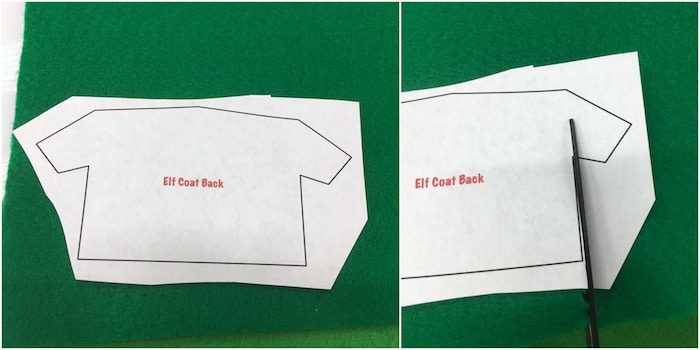 Step Two: cut out the various individual parts of the costume. Double stick tape them to the felt and then cut out. You can remove the template (and double stick tape) when you're done.
Step Three: continue to cut out all of your parts. Each elf will have: two coat pieces, one waist band, one belt buckle, two hat pieces, and four hat band pieces (two will be stripes across the hat, two will be actual hat bands).
Each Santa will have: one main beard piece, one mustache piece, two hat pieces, and two hat band pieces.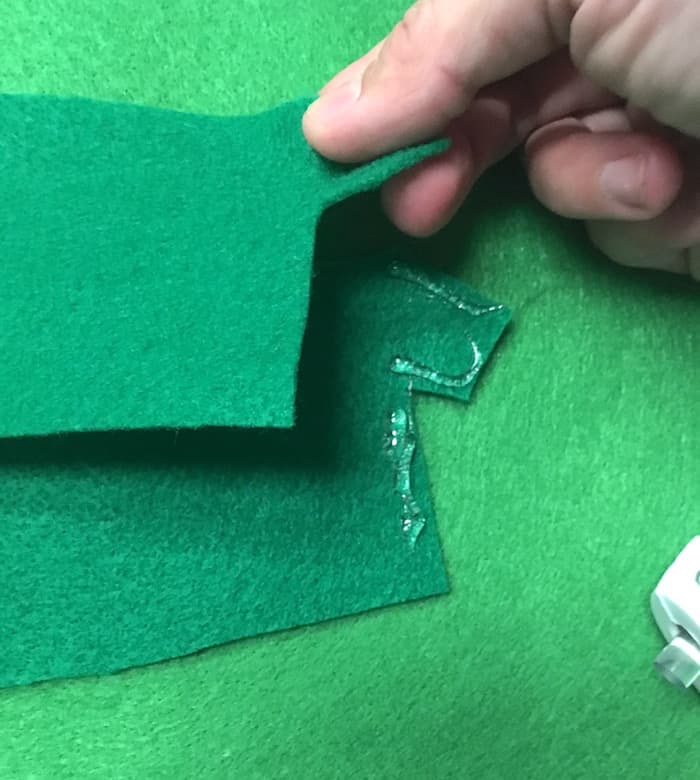 Step Four: Hot glue everything together. Here's how you'll do it!
Elf coat – hot glue down the sides and on the sleeves. Hot glue the shoulders slightly on each edge but don't completely glue across the top or bottom – your bottle needs to fit through this hole. Glue the belt across the middle of the coat and the little belt buckle on top of that (be careful with the small pieces not to burn your fingers!).
Elf hat – glue the triangles together on both sides but not across the bottom. Glue the light green hat bands diagonally to make stripes; glue the two red hat bands across the bottom of both sides.
Santa hat – glue the triangles together on both sides but not across the bottom. Glue the two white hat bands across the bottom of both sides.
Santa beard – glue the mustache to the top of the beard piece. Attach the strap across the back to make a circle.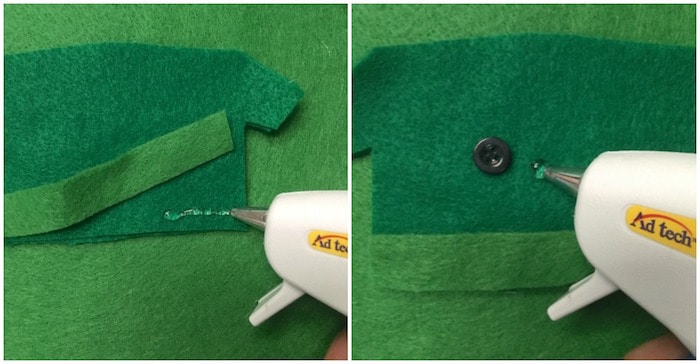 Once you've attached all the pieces, you'll add buttons and embellish the front of your elf costumes. You could also do this with mini rhinestones or anything else you like.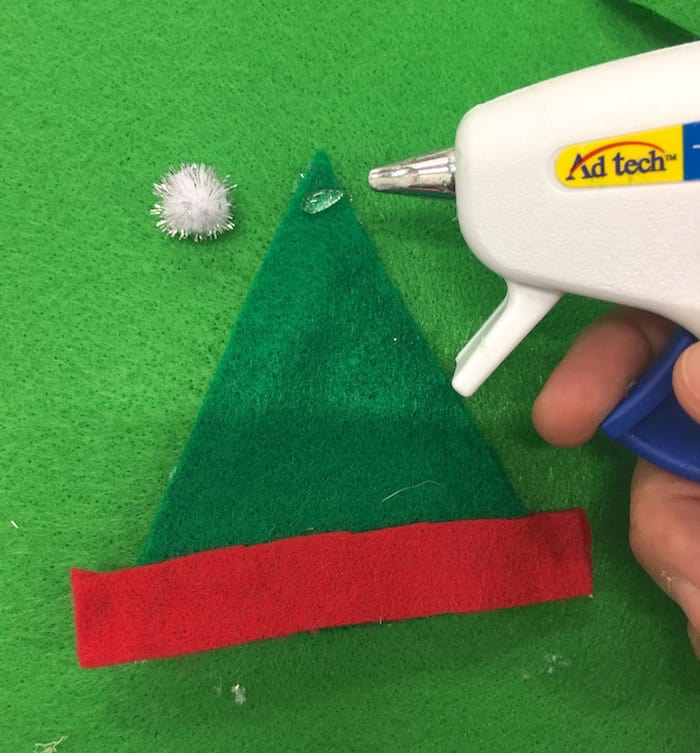 Don't forget the pom poms!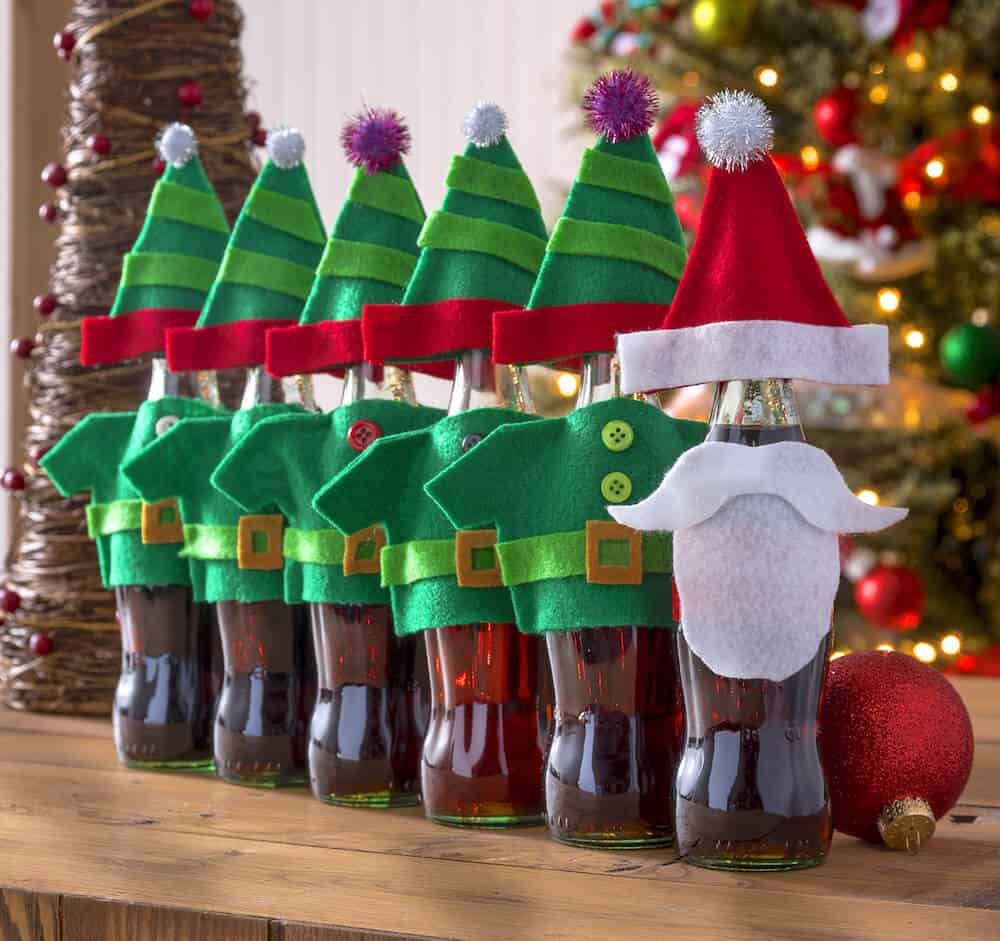 I'm ready to give my Santa and elves gift to my mother. I can't wait to see what she thinks! I hope you'll order some Share-a-Coke bottles for a special person in your life and make these costumes, too.
If you enjoy this Christmas gift craft, I'd love for you to check out these other ideas:
Disclosure: The Coca-Cola Company partnered with bloggers such as me for their Share a Coke program. As part of this program, I received compensation for my time.