Make this simple watercolor collage by cutting up watercolor paintings and decoupaging them to canvas. This wall art project is SO easy!
Skills Required: Beginner. You'll be cutting up watercolor pieces and attaching them to a canvas with Mod Podge.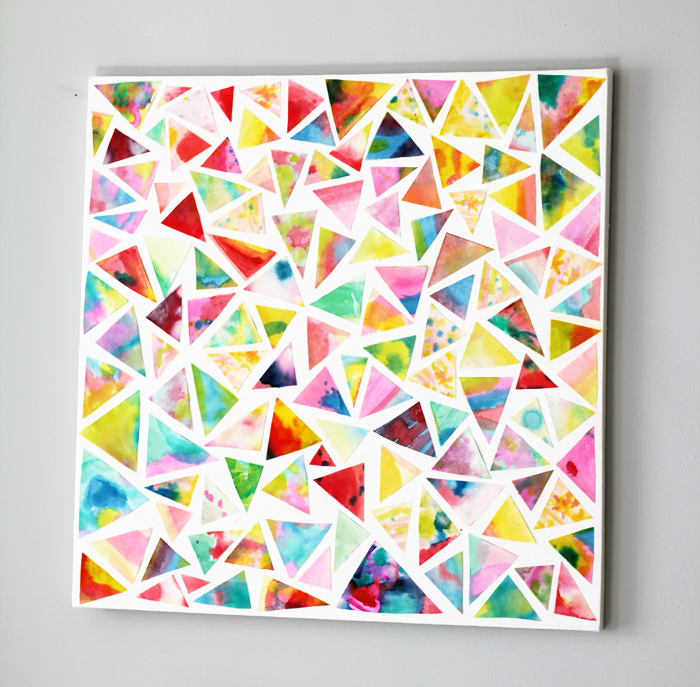 I'm absolutely in love with this watercolor collage. I never thought of cutting up watercolor paintings (just done on that cheap paper) and Mod Podging it to a canvas. Isn't it lovely?
Kate was able to get these drawings from her studio job that people left behind and make something from them. That is the ultimate form of reuse – and a perfect budget project!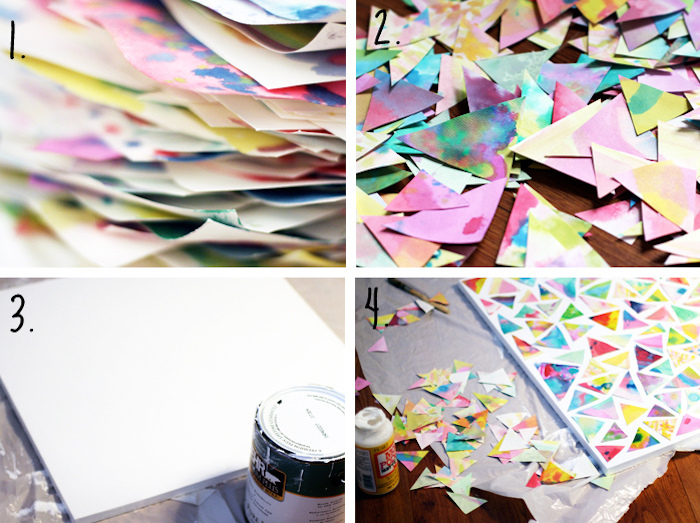 And you know what – children can help too (because you know you have some children's drawings laying around).
I am totally inspired to start decorating my home after looking at this crafty wall art. You can make it yourself . . . learn more below.
Watercolor Collage
Active Time:
1 hour
30 minutes
Learn how to make a collage with watercolors - using a canvas and Mod Podge.
Materials
Watercolors
Watercolor paper or cardstock
Acrylic paint
Square canvas - 24"
Mod Podge
Instructions
Create watercolor art to begin. Wet the paper with water first, then apply the watercolors for a tie dye look. Let dry.
Haphazardly cut all of the small paintings into triangles of various sizes.
Paint the canvas with white paint and let dry.
Lay out all of the triangles on the canvas for placement. Apply Mod Podge to the back of the triangles and to the canvas and attach.
Repeat until the canvas is covered and let dry.
Apply two final coats of Mod Podge to the canvas, letting dry inbetween. Allow to dry for several hours before hanging.
---
If you like this easy collage art, I'd love for you to check out these other projects: