Get inspired to decorate your outdoor space with these 40+ unique garden crafts! You'll love the variety of DIY garden decor you can create, from markers to pots to furniture.
Scroll down to the bottom of the post for a special video to show you how to make three bonus garden ideas using Mod Podge!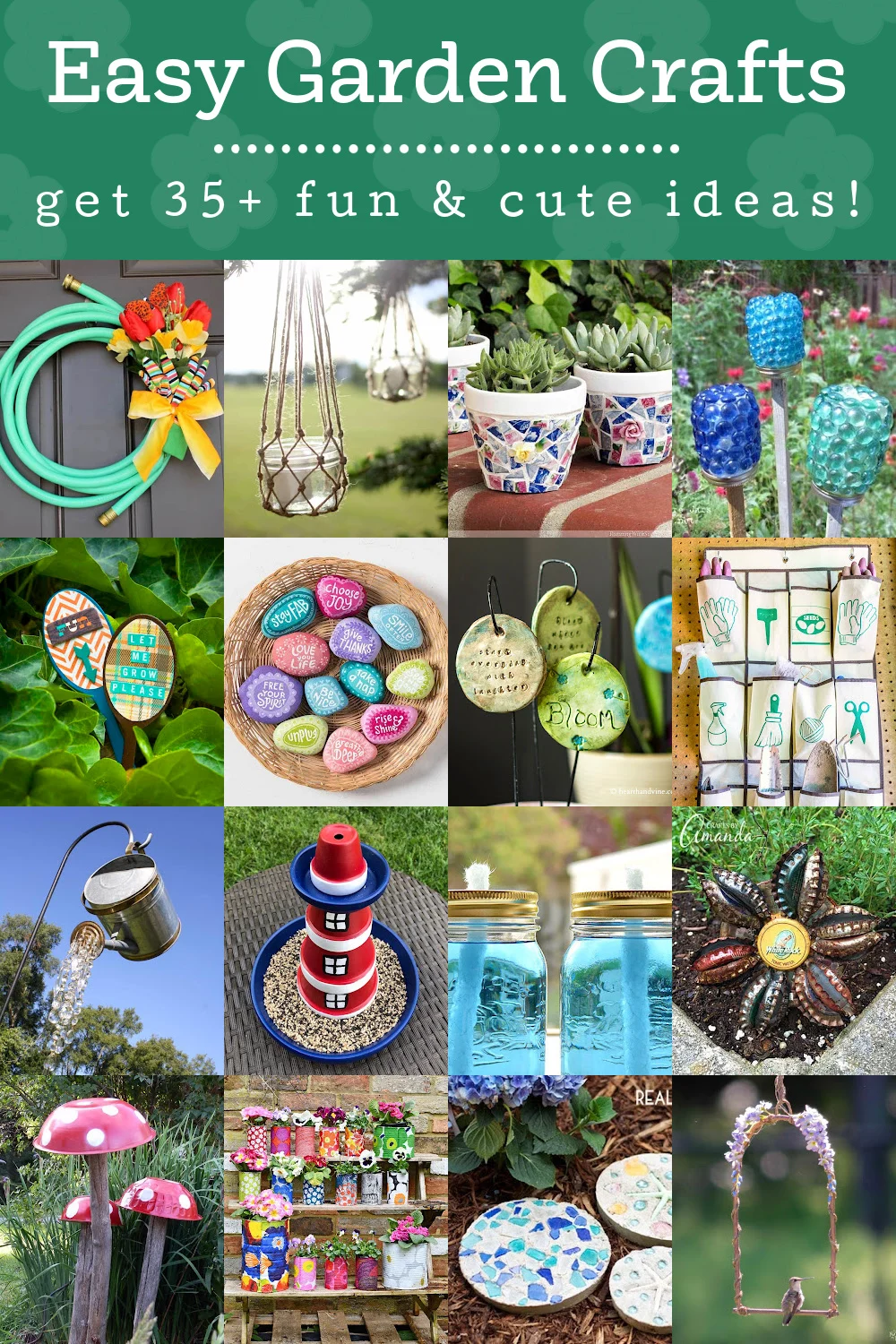 I love tooling around outside, especially in the summer. I find calm in pulling weeds and spreading bark mulch. Does anyone else feel that way? Of course it's better when it's not blazing outside (I like warm, but not hot), but this is one activity I can even enjoy in the heat.
Protecting Your Outdoor Crafts
Given that warm weather is around the corner and the Mod Podge Outdoor is ready to roll, I'm sharing over 40 garden crafts with you. Not all of these garden craft ideas use Mod Podge Outdoor, but they could (and should if they are going to be sitting outside).
Mod Podge Outdoor
I have an entire blog post devoted to the Mod Podge Outdoor formula, but I'll give you a bit of information here. Mod Podge Outdoor is a special formula that is way more weather resistant than the standard Mod Podge formulas.
As a result of being tougher, the formula is thicker, which is normal. But it makes it just a little bit different to use. Also Mod Podge Outdoor is highly water resistant, but not completely waterproof.
While, it's not UV resistant, it's durable. You can still make lovely (and durable) DIY garden decor with this formula, but you may need to purchase an additional sealer.
Mod Podge Ultra
Mod Podge Ultra can be use on both indoor and outdoor project surfaces as it is water-resistant and offers UV protection. It is also formulated to dry non-tacky and will not leave a sticky finish.
If you want to complete some projects for your outdoor space and seal them, the Ultra is a great option! It is more expensive than MP Outdoor – just so you're aware.
---
Are you ready to check out these awesome garden craft ideas? Scroll down to get inspired!
Garden Crafts
You're going to love these garden decoration projects that are easy to make! There are a variety of ideas from clay pots to yard art and more.
---
Now that I've shared this garden decor with you, are you ready to see the three additional garden crafts? Just press play on the video in this post!
What do you think about these garden craft ideas? I'd love to hear your favorite projects in the comments!