Get inspired to decorate your outdoor space with these 20+ unique garden crafts! You'll love the variety of DIY garden decor you can create, from markers to pots to furniture.
Scroll down to the bottom of the post for a special video to show you how to make three bonus garden ideas using Mod Podge!
I love tooling around outside, especially in the summer. I find calm in pulling weeds and spreading bark mulch. Does anyone else feel that way? Of course it's better when it's not blazing outside (I like warm, but not hot), but this is one activity I can even enjoy in the heat.
Outdoor Crafts
Given that warm weather is around the corner and the Mod Podge Outdoor is ready to roll, I'm sharing 22 Mod Podge garden crafts with you. Not all of these garden craft ideas use Mod Podge Outdoor, but they could (and should if they are going to be sitting outside).
Mod Podge Outdoor
I have an entire blog post devoted to the Mod Podge Outdoor formula, but I'll give you a bit of information here. Mod Podge Outdoor is a special formula that is way more weather resistant than the standard Mod Podge formulas.
As a result of being tougher, the formula is thicker, which is normal. But it makes it just a little bit different to use. Also Mod Podge Outdoor is highly water resistant, but not completely waterproof.
While, it's not UV resistant, it's durable. You can still make lovely (and durable) DIY garden decor with this formula, but you may need to purchase an additional sealer.
Mod Podge Garden Crafts
Are you ready to check out these awesome garden craft ideas? Scroll down to get inspired!
1. DIY Drink Holder
Amy made this useful outdoor drink holder using an old tin can and some fabric scraps. I need to make a whole bunch of these for my yard.
Find the step-by-step at Positively Splendid
2. DIY Outdoor Chair Revamp
Viv completely made over an outdoor chair chewed up by the dog. She used fabric, which is so fun to use in your DIY garden decor!
3. Terra Cotta Pots for Kids
This is one of those indoor garden craft ideas that your children are going love! Kids can decorate terra cotta pots using the Mod Podge Washout formula. There's some simple painting involved as well. Very easy.
See how they were made at Pink and Green Mama
4. Decorate a Citronella Candle
Turn a plain tin container into a pretty outdoor lantern with fabric scraps. You don't have to worry about the flame and the fabric as long as you decoupage on the outside of the container.
Get the tutorial at The Frugal Girls
5. Decorate a Gazing Ball
Tamara made this unique garden globe out of a light fixture. This DIY garden decor features paper butterflies and even a little bit of Mod Podge Sparkle in addition to the Outdoor formula.
6. Farmhouse Style Address Number Sign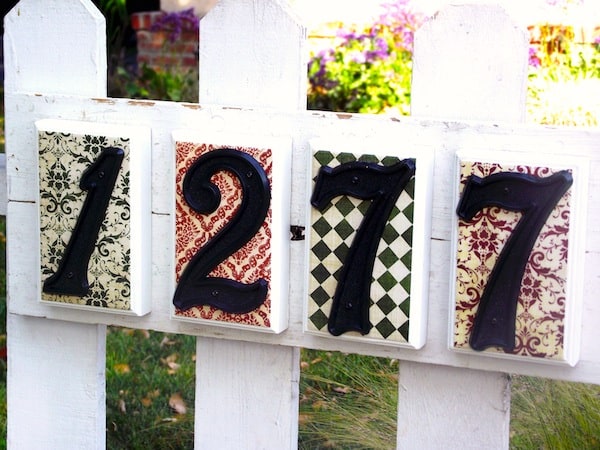 Use this project idea for not just a house number, but any garden sign. You can use metal numbers or words for this DIY garden decor.
Learn how to do it here at Mod Podge Rocks
7. DIY Solar Lights
This is one of those garden crafts that you can do on the cheap! You just need Mod Podge – food coloring – a mason jar – and a dollar store solar light.
Find out more about the project at The Hand Me Down House
8. DIY Tablecloth Weights
Keep your outdoor table setting from getting picked up by a breeze with these decorative weights. I love that they are made from hardware store materials.
Learn how to do it at Make It Do
9. How to Mod Podge on Rocks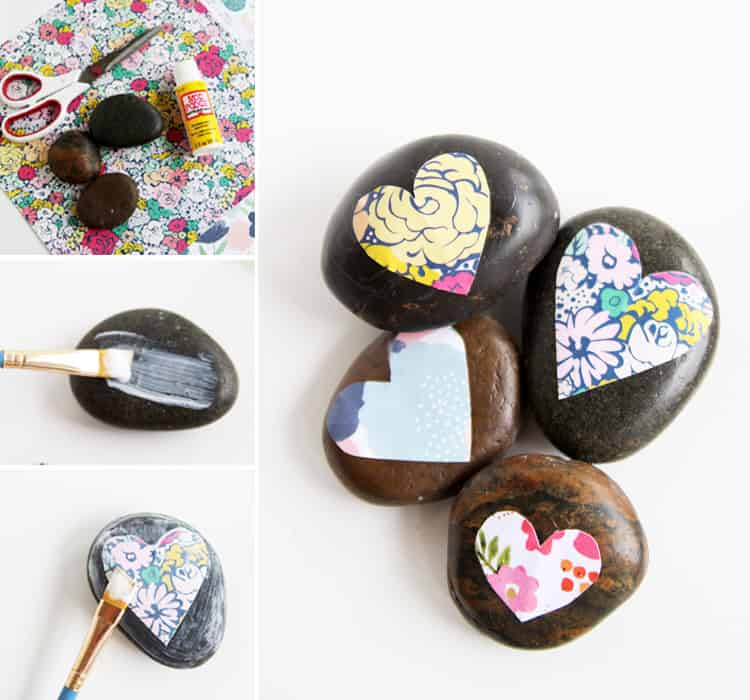 These sweet little decoupaged rocks would look pretty dispersed throughout your garden. If you're looking for garden craft ideas for kids, this one is perfect – plus you can use up all your small pieces of scrapbook paper.
10. DIY Plant Stands
Make these easy DIY plant stands using spray paint and items from the craft store. This is one of those garden crafts that anyone can do – in any colors – and they'll last a long time.
Get instructions here at Mod Podge Rocks
11. Build a Mini DIY Plant Stand
If you don't have room for a large garden, this DIY plant stand is the perfect way to display pots. Display other garden crafts (like fabric covered pots) on top of it!
Find the step-by-step here at Mod Podge Rocks
12. Cover Terra Cotta Pots with Fabric and Mod Podge
No clay pot should ever be naked – cover your terra cotta pots with Mod Podge and fabric. This is one of the most popular garden craft ideas that people do with Mod Podge Outdoor.
Learn how to cover pots in fabric here
13. DIY Garden Markers from Spoons
Use old silverware to create unique plant markers. These DIY garden markers are one of my favorite garden crafts because I love taking out aggression on flattening spoons!
Find the tutorial at Domestic Simplicity
14. Decorate an Outdoor Lantern
Amanda used food coloring and Mod Podge to turn a light fixture into a pretty outdoor lantern. This project is fun to add a bit of color to your garden or outdoor eating area.
Learn how it was done at The Hand Me Down House
15. Decorate a Watering Can
A plain watering can gets a makeover with fabric and Mod Podge. Is it necessary? Of course not. But it makes that watering can just a bit more fun.
See how it was done at My Repurposed Life
16. DIY Windchime from a Birdhouse
Cathie and Steve turned a plain birdhouse into a pretty DIY windchime that uses garden tools. This is one of my favorite garden crafts because it's so unique.
17. Scrapbook Paper on a Lantern
Apply scrapbook paper to a pretty outdoor lantern using Mod Podge. You'll get a chance to use paint in this DIY garden decor project as well.
18. Decorate a Planter with Paper
Turn a plain planter box into a fun plant display with paint, paper and Mod Podge. This DIY planter matches the lantern you decorated above!
19. Decorate Outdoor Placemats
Shannon used Mod Podge to turn these clear plastic chopping mats into DIY placemats for her porch. I love the idea that you can use dollar store supplies to make these.
20. DIY Birdhouses with Mod Podge
When I think of garden craft ideas, I always think of DIY birdhouses! Jen decorated some birdhouses using fun and trendy fabric – along with Outdoor Mod Podge.
See how it was done at Tatertots and Jello
21. Decorate Outdoor Chairs
Don't throw away those old magazines! Use them for DIY garden decor. These wooden garden chairs were decoupaged with magazine strips. It's so easy to do.
22. Decorate Garden Tools with Fabric
Add fabric to your garden tools to make them a little bit prettier. It might make you feel a lot better about the backyard work that awaits you!
See how it was done at 2 Little Hooligans
---
Now that I've shared this garden decor with you, are you ready to see the three additional garden crafts? Just press play on the video in this post!
What do you think about these garden craft ideas? I'd love to hear your favorite projects in the comments!