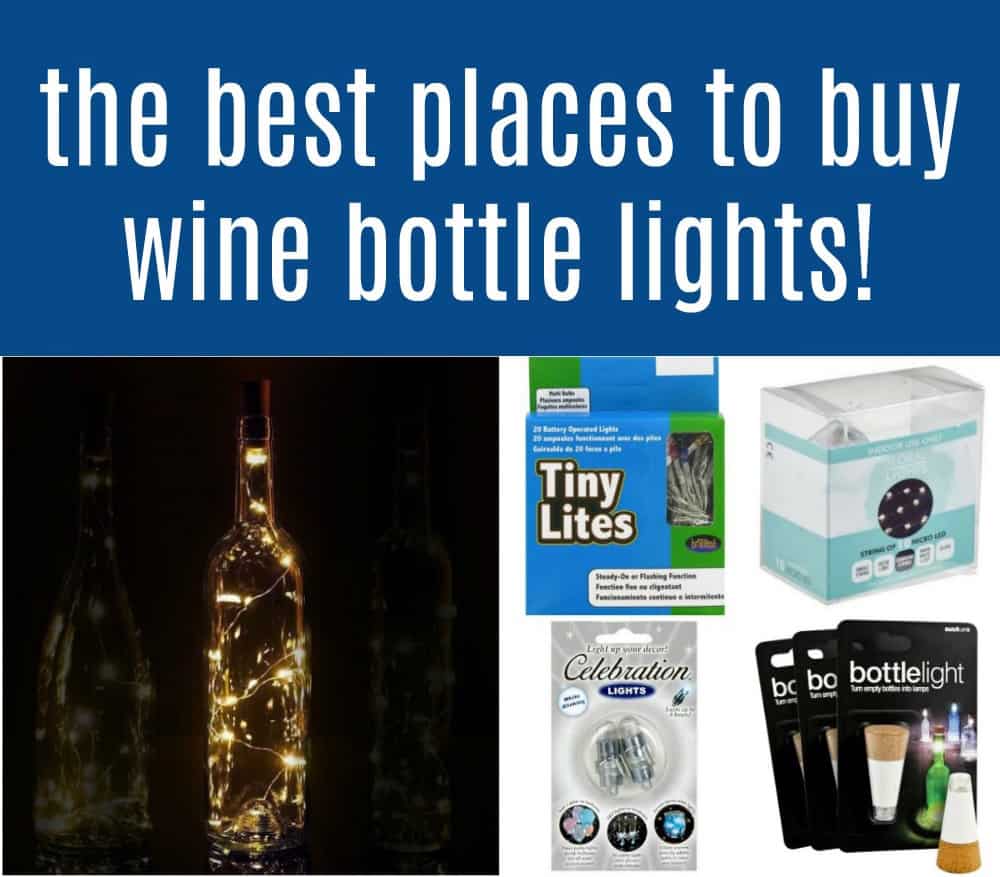 In the world of decoupage, decorating wine bottles (and old liquor bottles, recycled glass jars, etc.) is huge right now. Wine bottle crafts are currently the most popular decoupage craft in our Mod Podge Facebook group, and the same question comes up again and again: where do I get wine bottle lights?
It turns out there are a lot of places to get them online, and I've pulled together a collection for you so that you can find the best (and cheapest) wine bottle lights to fit your project. You'll see that they are available in marketplaces and then individual stores – I've also separated them out by type. Cork lights typically have one (bright) light bulb in the cork while fairy lights have a strand that lights up. There are also types that have battery packs separately instead of having them in the cork. The type that you choose to buy completely depends on your preference.
As of this writing the most popular place to get bottle lights is Wish.com. They have a variety of styles for $1 – $2 each. So far most of the lights on Wish have good ratings, though Wish features multiple vendors so be sure to check the ratings of the lights in your cart before your purchase. Some are ranked more highly than others. Continue on to see the full list of recommended places with links!
Where to Buy Wine Bottle Lights
Marketplaces
————–
Cork Bottle Lights
LED Cork Bottle Light, rechargeable via USB. You can get this well known brand at WalMart or Bed, Bath & Beyond.
——————-
Fairy Lights
—————-
Battery Pack String Lights
HOBBY LOBBY
JOANN
MICHAELS
————–
INTERNATIONAL
AUSTRALIA
Emporium fairy lights at Spotlight Stores (does not show if it is a cork or battery pack type light)
UNITED KINGDOM
Where are wine bottle lights available online in your country? Where are your favorite places to buy them? Let me know in the comments!
Disclosure: this post contains affiliate links. If you make a purchase with one of these links, I receive a small percentage at no additional cost to you. Thank you for your support!