Do you want to make your own DIY sticker remover? Learn how to remove sticker residue the non-toxic, all-natural way. These adhesive remover methods WORK!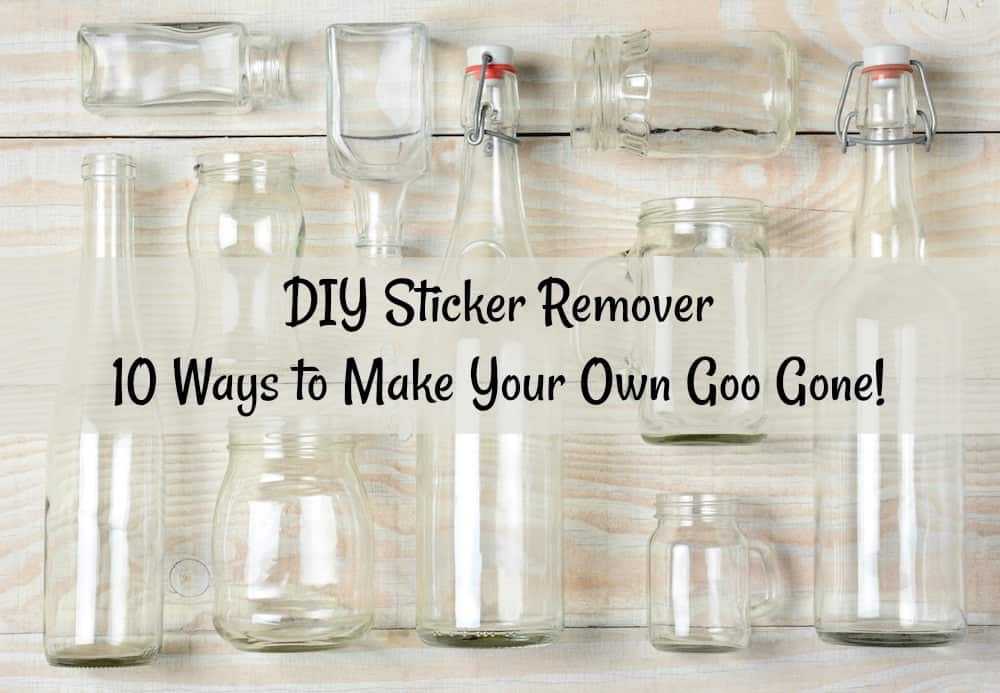 DIY Adhesive Remover
I think we've all been in this position. You go to the craft store and pick out your surfaces (whether they be glass, ceramic, wood, etc) and place them in your basket.
You have all sorts of ideas for what you want to make, and can't check out at the register and get home fast enough.
You're ready to begin your first project so pick a glass jar out of the bag and remove the tag – or at least try to.
You end up pick-pick-picking only to have the tag partially rip off or leave sticky reside behind. That's when it's time for a DIY sticker remover.
How to Remove Sticker Residue
Before I get into the methods to get stickers off of glass, I wanted to go over a few questions I've gotten from readers. Remember that my focus is natural methods – let's jump in!
Why Not Use Goo Gone?
I'm going to be honest, I have always used Goo Gone in the past and it has never bothered my skin or respiratory system. However, the material safety data sheet (MSDS) for the product lists the hazard statements as: "Combustible liquid. May cause an allergic skin reaction. May be fatal if swallowed and enters airways."
Without getting too scientific, some people might not feel comfortable using Goo Gone, especially if they are in sensitive groups or are pregnant. In that case, it's probably a good idea to consider a DIY sticker remover.
What About WD-40?
When I asked my Facebook group about their preferred methods for DIY sticker removal, one of the suggestions was WD-40 (basically you'd use it the same way as Goo Gone). I did a little research and found the MSDS for that product as well.
The hazard statements are: "Harmful or fatal if swallowed. Combustible liquid. If swallowed, may be aspirated and cause lung damage. May cause eye irritation. Avoid eye contact. Use with adequate ventilation. Keep away from heat, sparks, and all other sources of ignition."
So from first glance of the hazards listed, WD-40 is even more problematic than Goo Gone. If you aren't in a sensitive group, you may want to consider WD-40, but otherwise I'd avoid it and stick with the natural DIY sticker removal methods below.
How to Remove Stickers from Glass
After surveying my audience for their favorite DIY sticker remover methods, I'm presenting them below in order of preference. You absolutely need to do a test first in an inconspicuous area to make sure that the products below won't stain the surface. This is especially true for wood (and I wouldn't recommend any soaking.
Note that the oil methods should be used sparingly on wood and especially fabric as they might leave stains (which doesn't matter if you are painting the wood). Removing stickers from glass and ceramic is the easiest and usually doesn't cause a problem.
I feel confident about this list of options for DIY sticker remover because those surveyed have USED them and proven that they work! The common thread in a lot of these DIY sticker removers is that there is an oil in them.
Tells me that there is something in oil that reacts positively with the adhesive in terms of its removal. Learn how to remove sticker residue below; these are in order of preference:
Mayonnaise – remove as much of the label as possible. Spread mayonnaise over the remaining adhesive and let sit for ten minutes. Then scrape with a credit card.
Peanut butter – you'll use this the same as mayonnaise.
Soak in hot water – you'll want to either boil water or run really hot water from your tap. Place the item into the hot water and soak for at least overnight. Follow up with a scrubber pad. Do not use this method on wood!
Oil – leave a household oil (coconut oil, olive oil, baby oil). on the label for a few minutes. Scrap off the existing residue.
Hand lotion – this seems to work the same way that the oils do. You'll want to remove as much of the label as possible before trying this method.
Hair spray – spray on, leave sit for a few minutes, and wipe off.
Rubbing alcohol – wet a paper towel or rag with rubbing alcohol and rub where the adhesive is. If the sticker is stubborn, lay an alcohol soaked rag on the area and let sit for several minutes.
Eucalyptus oil – this works like the other household oils from #4.
Hair dryer/heat gun – I've tried this method with a heat gun and I have to say, it works very well. All you'll do is point the hair dryer or heat gun at the area with adhesive and – like you'd imagine – get it really hot. Rub the sticker reside off with a rag or your finger (but remember the surface is hot!).
Baking soda and coconut oil paste – you're going to mix 1 tsp of each together in a small container and apply to the sticker residue. Leave it on for several minutes and then use a hard edge to scrape off the remaining residue.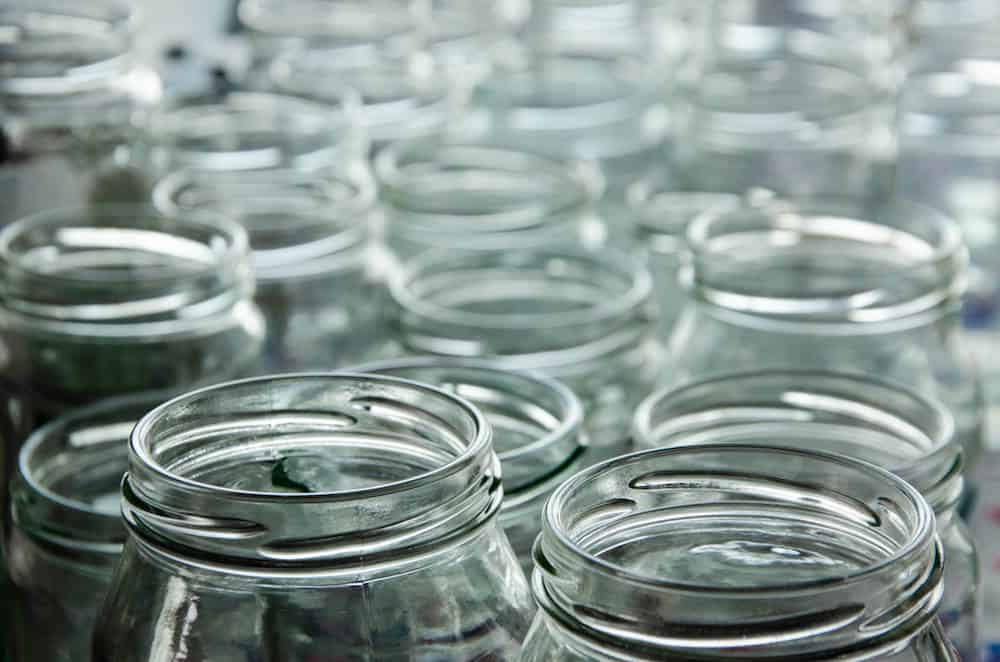 Note: several other sticker removal methods were suggested to me after this post was published. They are as follows:
Exhaling on the label
Placing in the freezer overnight
Purel hand sanitizer
Pure Citrus Air Freshener by Blue Magic or Real Citrus Air Freshener by OdoBan
Bug spray
Butter
Orange oil
De-Solv-It – available overseas. This product is not expected to be a hazard to the environment, however it is extremely flammable
Crafter's Companion Stick Away – available in the UK. I can't find an MSDS on this product.
Un-Du Adhesive Remover
Pumice powder
Skin So Soft – the Avon product
Wallpaper remover – while it is not a hazard to the environment, it is flammable and could generate vapors
Lighter fluid. Lighter fluid is toxic to aquatic life so I don't personally feel comfortable washing it down the drain
If you are ready to jump in with an adhesive remover recipe, I've got one for you below. It works every time:
Yield: 3 tablespoons remover
DIY Sticker Remover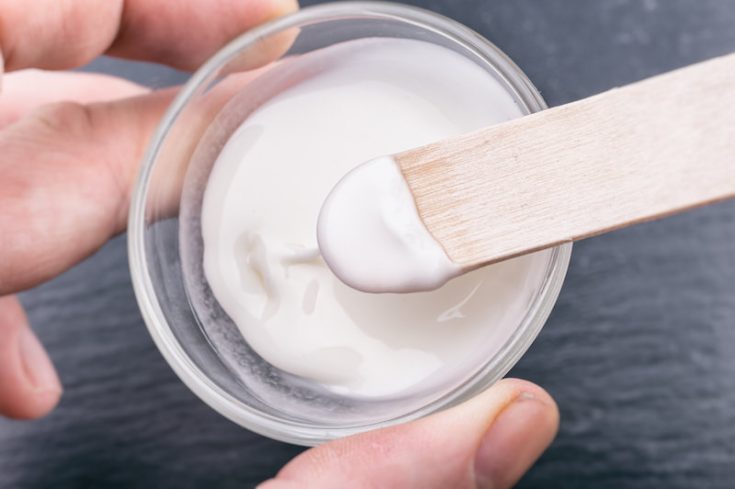 Learn how to remove sticker residue with a natural adhesive remover! You probably have the ingredients in your cabinet to make it. Get sticker residue off for good.
Materials
2 T baking soda
1 T coconut oil
1 drop orange essential oil
Tools
Small bowl
Stirring spoon
Instructions
Begin by soaking the jar for several minutes, and removing as much of the label as possible
Stir the ingredients - the baking soda, coconut oil, and essential oil - together in a small bowl. It should form a paste.
Place the paste over the adhesive and let set for several minutes.
Rub the paste into the adhesive - keep rubbing until it's gone.
Rinse the bottle with warm, soapy water and let dry.
---
Have you tried any DIY sticker removers that you use regularly? I'd love to know how you remove sticker residue in the comments! I'd also love for you to check out these other crafting tips here on the blog: