Use Mod Podge photo transfer medium to create these awesome Mod Podge photo transfer Christmas napkins – complete with a vintage holiday graphic!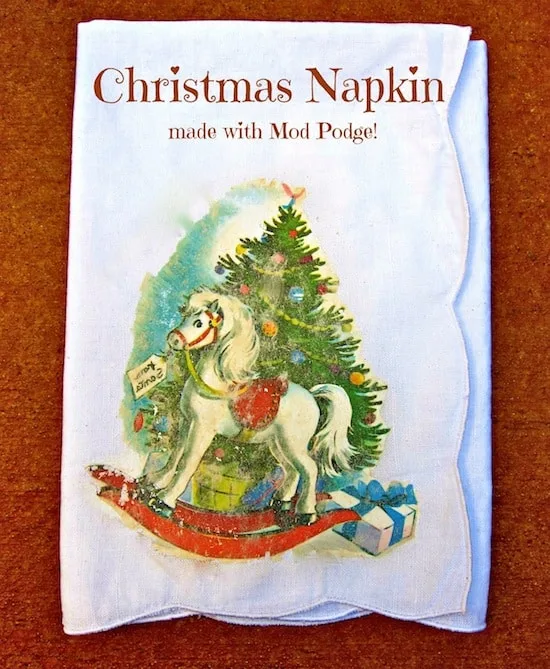 Ciao! My name is Morena and I am the crafty mind behind the tutorials at Morena's Corner, here to show you how to make these Mod Podge photo transfer Christmas napkins.
I love to share ideas for projects that are fast, frugal, and fabulous: easy on time and money, and great to look at! I am a stay at home mom to four young children, and crafting is what helps me maintain my sanity.
If you've seen my work then you know that I have a "thing" for retro and vintage images. There's just something about the color and whimsy in them that makes me smile.
So I combined vintage images and Mod Podge, two items that I love to craft with, to make fun Christmas napkins! These will fit in perfectly with my family's "A Christmas Story" marathon watching tradition.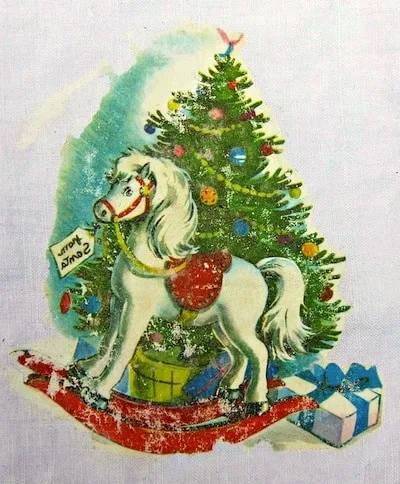 Homemade Christmas Napkins
Supplies needed:
Cute image cut or photocopied from a book – laserjet
Cloth Napkin
Wax Paper
Scissors
Foam brush
Step 1: Choose the image you wish to use for your Christmas napkins. I cut mine from a book that was falling apart.
Step 2: Apply a generous amount of Mod Podge Photo Transfer Medium to the image. It should be thick enough that you can barely see the image underneath.
Step 3: Place your cloth napkin on wax paper. Place your image face down onto the fabric and press down firmly. Remove any excess that seeps out. Let it dry for 24 hours.
Step 4: Use a wet washcloth to get the paper damp. Rub gently to remove the paper and expose the image underneath. Work in small sections.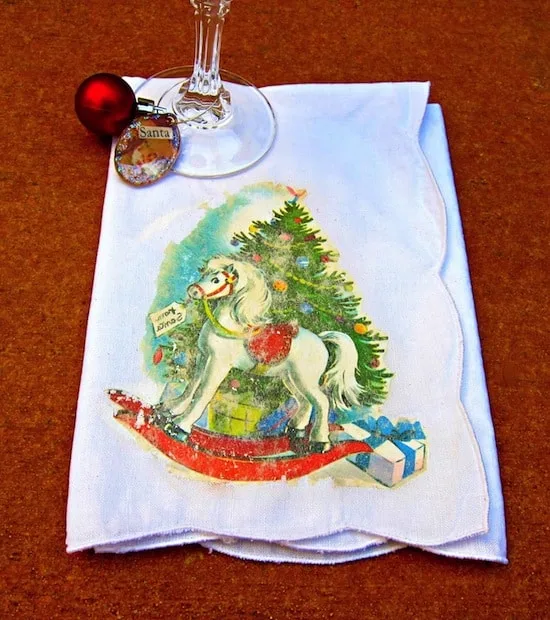 You're done with your Christmas craft! Allow your Christmas napkins to dry for 72 hours before washing. I threw mine in the washing machine and it still looked great when it came out!
I even ironed right on top of the image with no problem. The picture is there for good. Amazing, I tell ya! One down, seven napkins to go. . .
---
If you enjoyed these DIY Christmas napkins, you might also enjoy these other projects: