One of the most loved ways to decoupage is to do a Mod Podge photo transfer – here are 30 ideas to get you inspired, from fashion to home decor!
Skills Required: Advanced Beginner. A photo transfer to wood takes some knowledge of how to apply mediums as well as a little bit of practice.
Scroll down to the bottom of the post to get a bonus video! Cathie and Steve show you how to use the clear and standard photo medium as well as give you tips and tricks.
I waited far too long to do a Mod Podge photo transfer. Because they are, in my humble opinion, one of the coolest Mod Podge crafts ever! When I set out to find some cool Mod Podge photo transfer crafts, I didn't know what I would find.
I only wanted to round up 20 . . . and as you can see, there were so many great ideas that I had to pull even more together. You aren't going to believe what you can do with Mod Podge when it comes to transferring images! Check out these great craft ideas.
PS – A lot of these use Mod Podge Photo Transfer Medium. If you're looking for an easy way to do a transfer, this is your ticket. If you are going to attempt a photo transfer with the medium, you definitely need to check out my top five tips for using Mod Podge photo transfer medium. These are my most important tips and tricks that I can't live without.
Mod Podge Photo Transfer Crafts
Spice up your next party with cool images transferred to the back of clear glass plates. You can do any words, logos, or images!
Make designer inspired fashion by adding your favorite Polaroid to the back of a shirt.
3. Photo Wall Art
Fill that empty space on a wall with dramatic art made using a photo transfer.
A plain pair of shoes gets a new lease on life by transferring a floral fabric print to the toes.
5. DIY Jewelry Holder
Turn a canvas from the craft store into a cool jewelry holder with an image transfer and cup hooks.
This designer inspired DIY wood valance uses wood planks and a cool airplane graphic – but you can transfer any image or photo to your valance.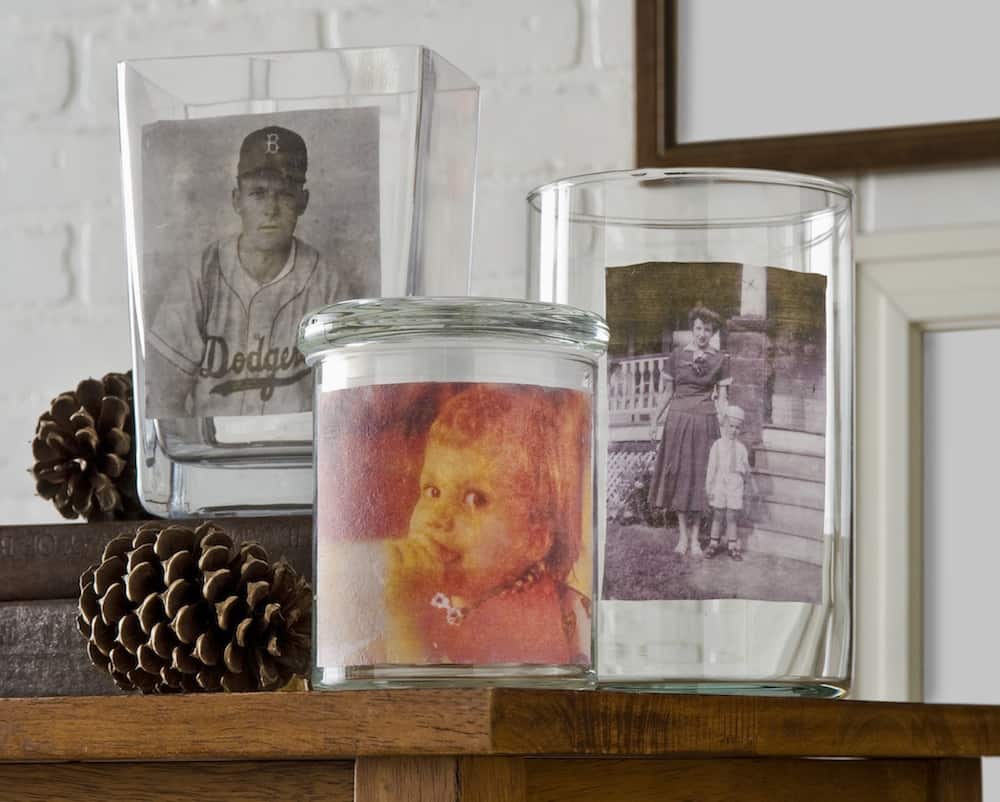 Are you wondering how to transfer photos to glass? You're going to use the decal method I outline in this post. It takes some practice but the results are cool (and the clings are reusable!).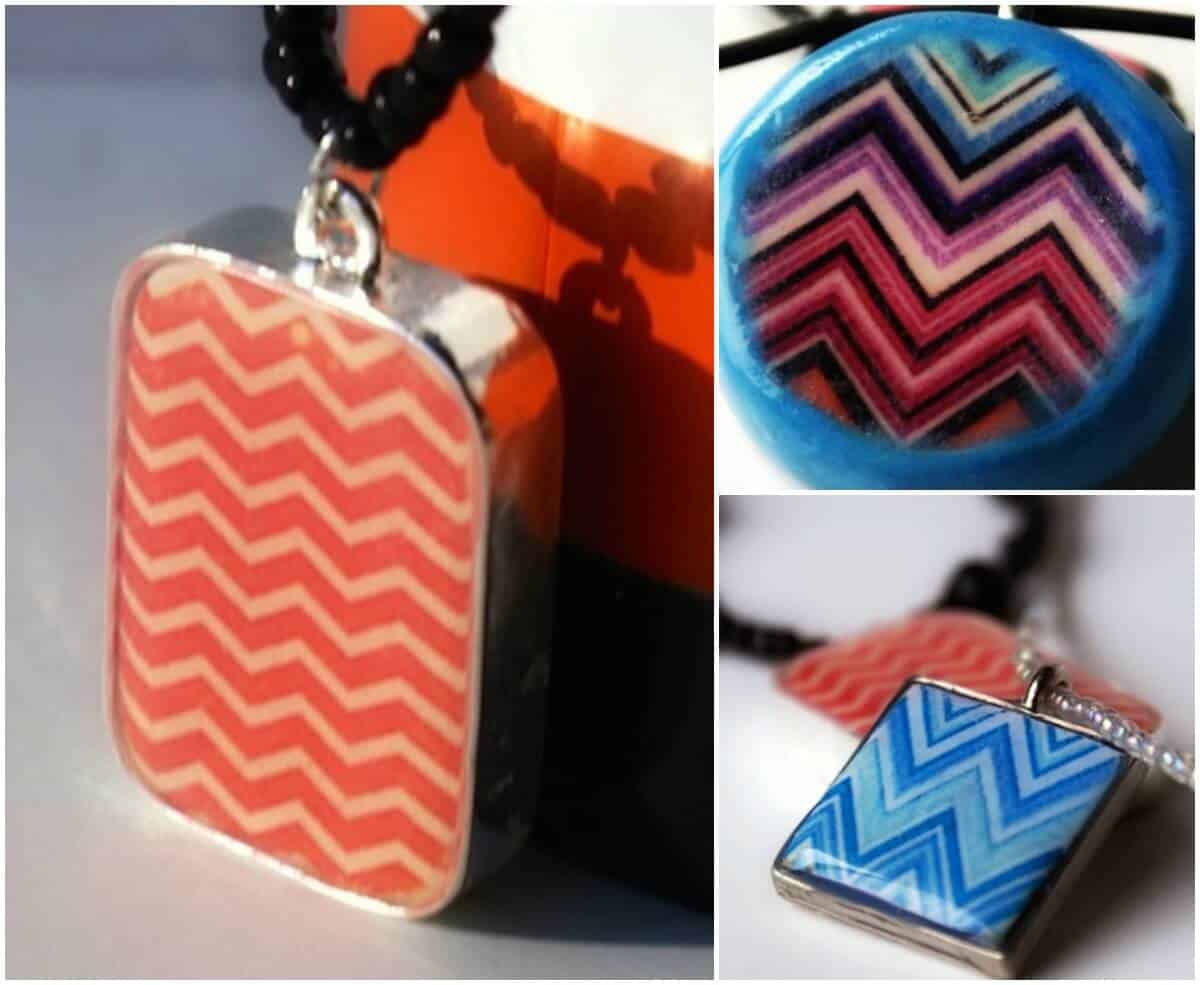 Use photo transfer and Dimensional Magic to make cool chevron patterned necklaces. The process is really easy and fun.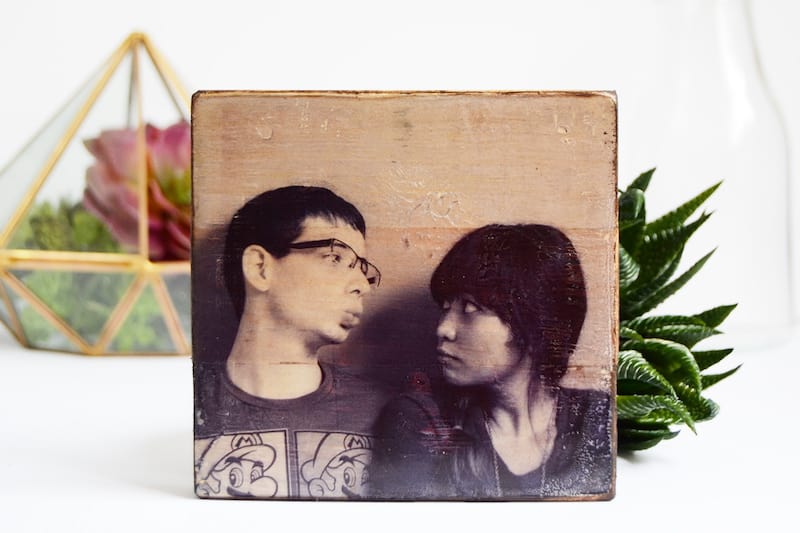 Mod Podge photo transfer medium uses laserjet images, but in this tutorial you can use regular inkjet images along with Mod Podge to make a transparent transfer.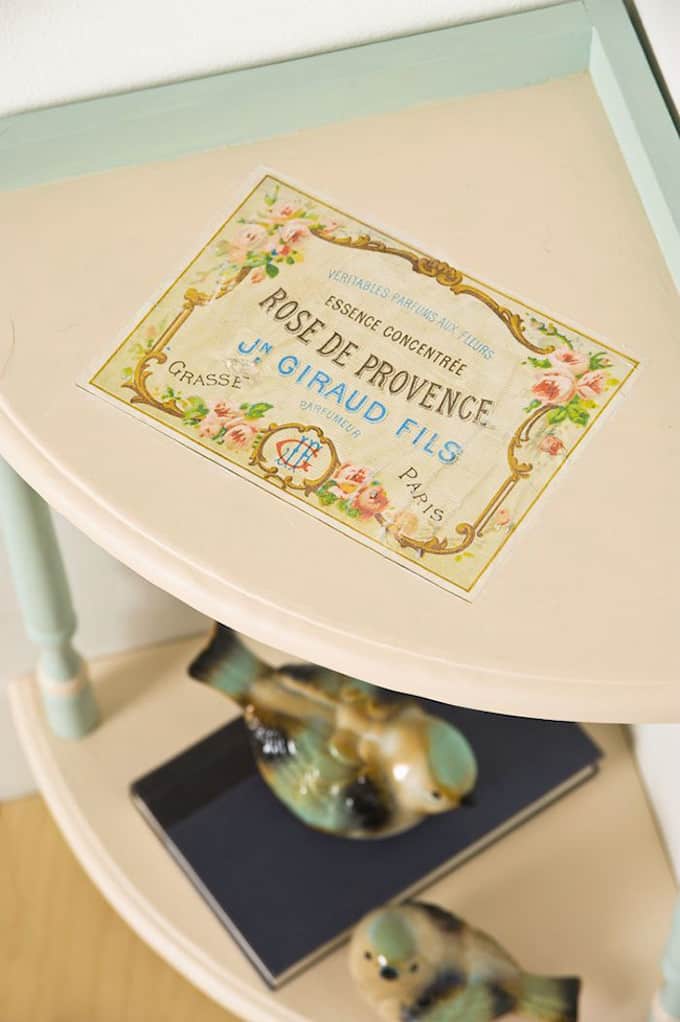 Revamp an old end table or plant stand by painting it and then adding a vintage graphic to the top. This project is so easy!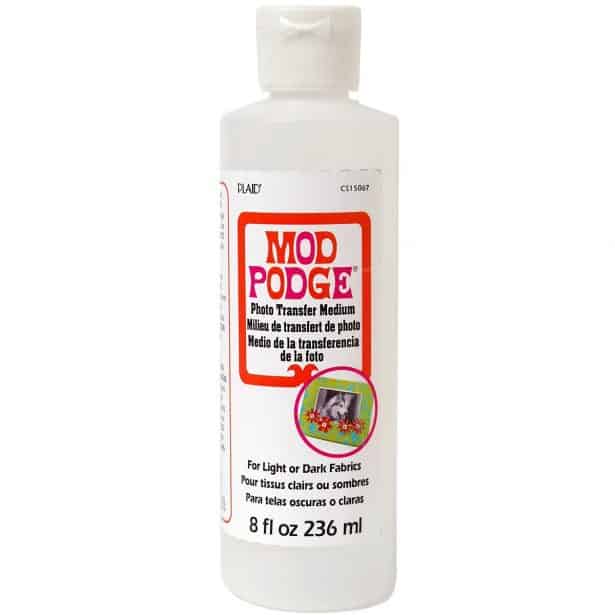 If you want to do a Mod Podge photo transfer, don't forget the photo transfer medium! This product is different than regular Mod Podge. Get it here . . . then keep scrolling for more projects!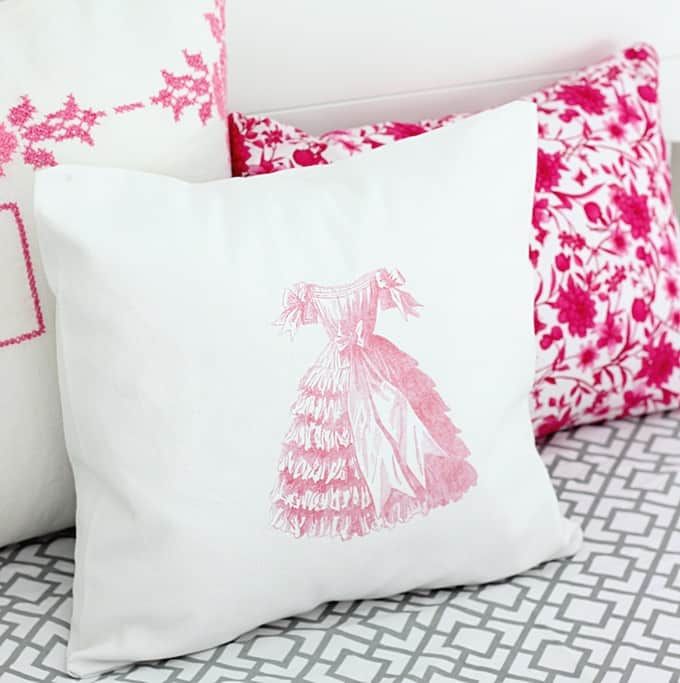 Take a plain pillow and personalize it with the graphic of your choice. This was made for a nursery – I love the vintage dress theme!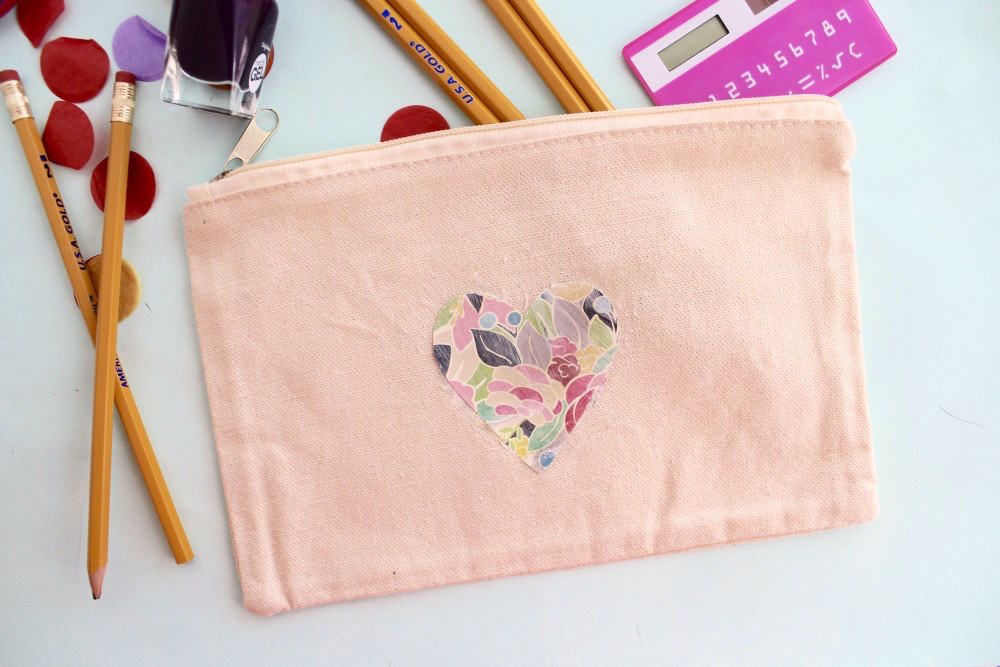 If there is a pretty piece of scrapbook paper you like and you want to adhere it to fabric, you can! Learn how to do it with this tutorial.
Decorate wood hangers with vintage style typography and graphics – and Katie's infamous photo transfer technique using Mod Podge.
You can use images and wood to make a double sided puzzle that your children will love. Wouldn't this make a cute gift idea?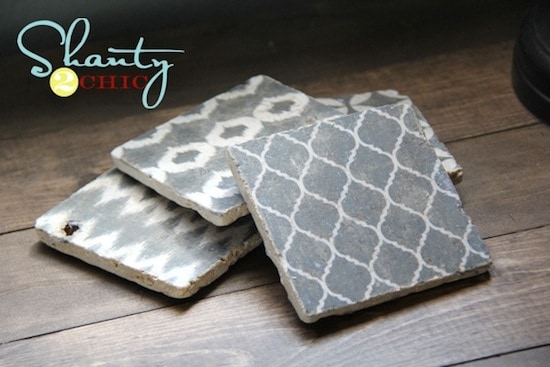 Choose your favorite graphic images or printables and transfer them to the fronts of coasters using this easy method.
You can make these photo books to give as gifts or put on display. This would be so fun to do with vintage photos, black and white, and more.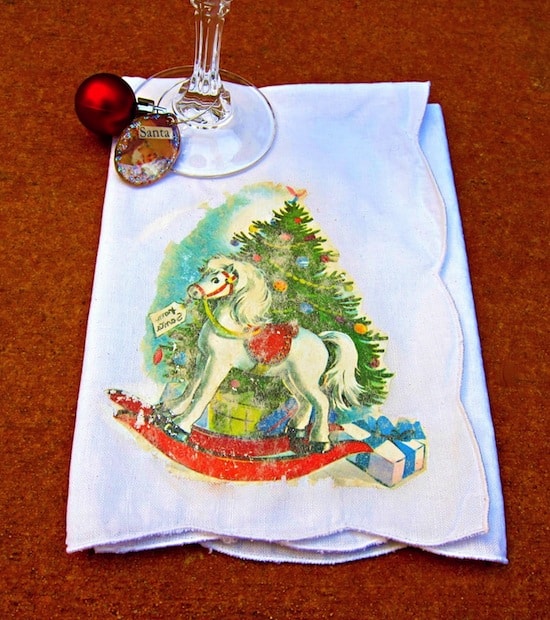 Add a vintage touch to your holiday table with these easy Christmas napkins. A fun twist is color copying an image out of a children's book to make them.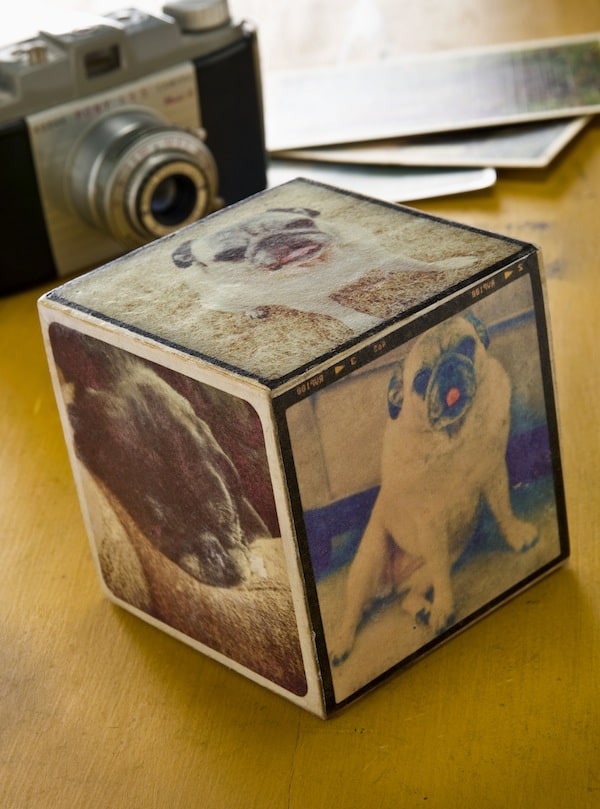 Get your Instagrams off your phone and transfer them to all sides of a wood square block that you can put on display.
Who doesn't want to see their face on a doll? Make this out of a picture of a child or pet.
Find out how it was made at See Vanessa Craft
Don't throw those stir sticks away after a paint project – use them to frame an image transfer.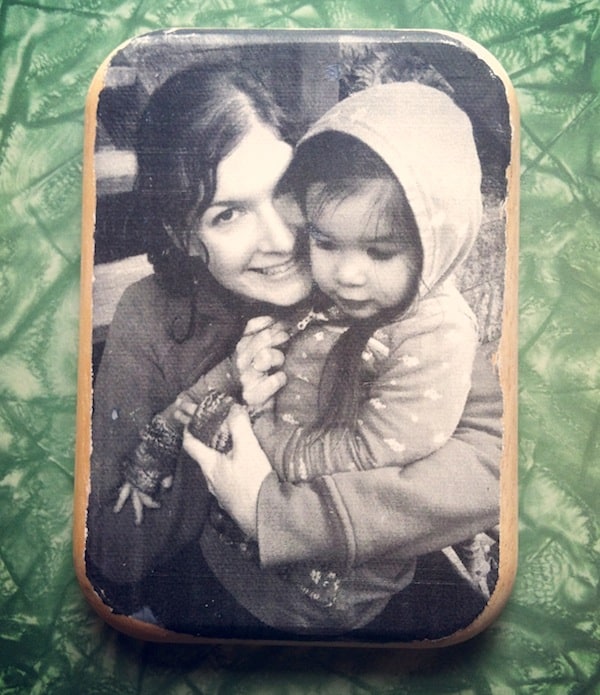 Pick your favorite family image and transfer it onto a wood plaque with Mod Podge.
Plain baby onesies are fine – but they aren't nearly as fun as ones with graphics photo transferred to the front. Wouldn't this make an awesome gift for a baby shower? You have so many options for personalization!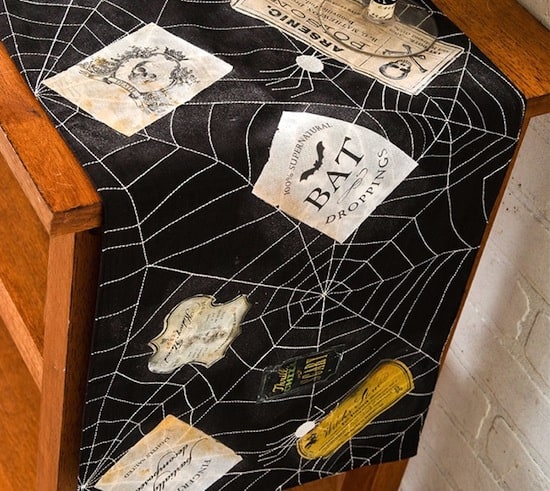 Any table runner can be made that much better with the addition of vintage graphics. This particular runner is awesome because it's Halloween themed – my favorite!
Use fabric, an image and an embroidery hoop to make a personalized piece of wall art. This would look so fun doing versions for each family member!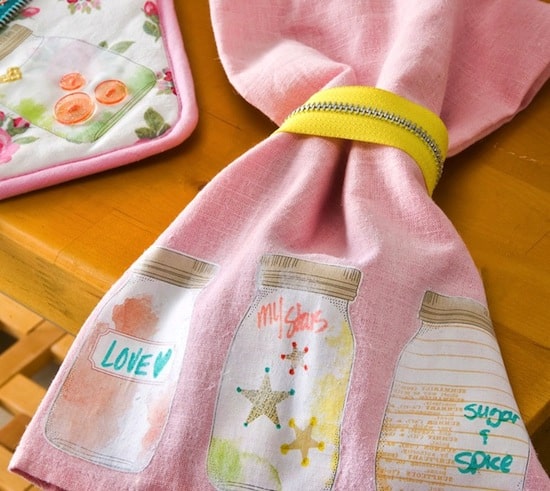 Transfer your favorite scrapbook patterns to dish towels for the perfect hostess gifts! These are so cute for the holidays.
Nitsa will show you how to layer interesting backgrounds with photo transfers on top for awesome wall art. This technique would be beautiful for journal pages as well.
I absolutely love these favor bags that I made for Christmas! You can get the free printable I used at the post above – or you can design something of your very own. Perfect for parties.
I love the look of a Mod Podge photo transfer on raw wood, like these personalized gift tags. Once they are off of the gift, turn them into ornaments!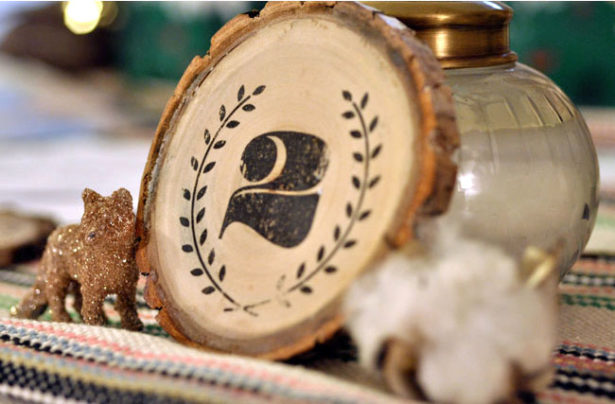 Label your tables at a wedding or party with these cute little wood slices with the numbers transferred on top. Wouldn't these be amazing for a wedding?
Any image can be transferred to wood and put on display with Mod Podge photo transfer medium. Get your plaque at the craft store – it's really easy to do.
---
Are you ready for your bonus video? Get the skinny on using both the clear photo transfer medium and the standard photo transfer medium – with tips and tricks from Cathie and Steve!
Have you ever tried photo transfer crafts? I'd love to know – just leave a comment!