Make DIY wooden photo blocks for home decorating or for gifts! These crafts use a variety of techniques and are perfect for capturing memories. Choose your favorite tutorial to learn how to put photos on wood blocks the easy way.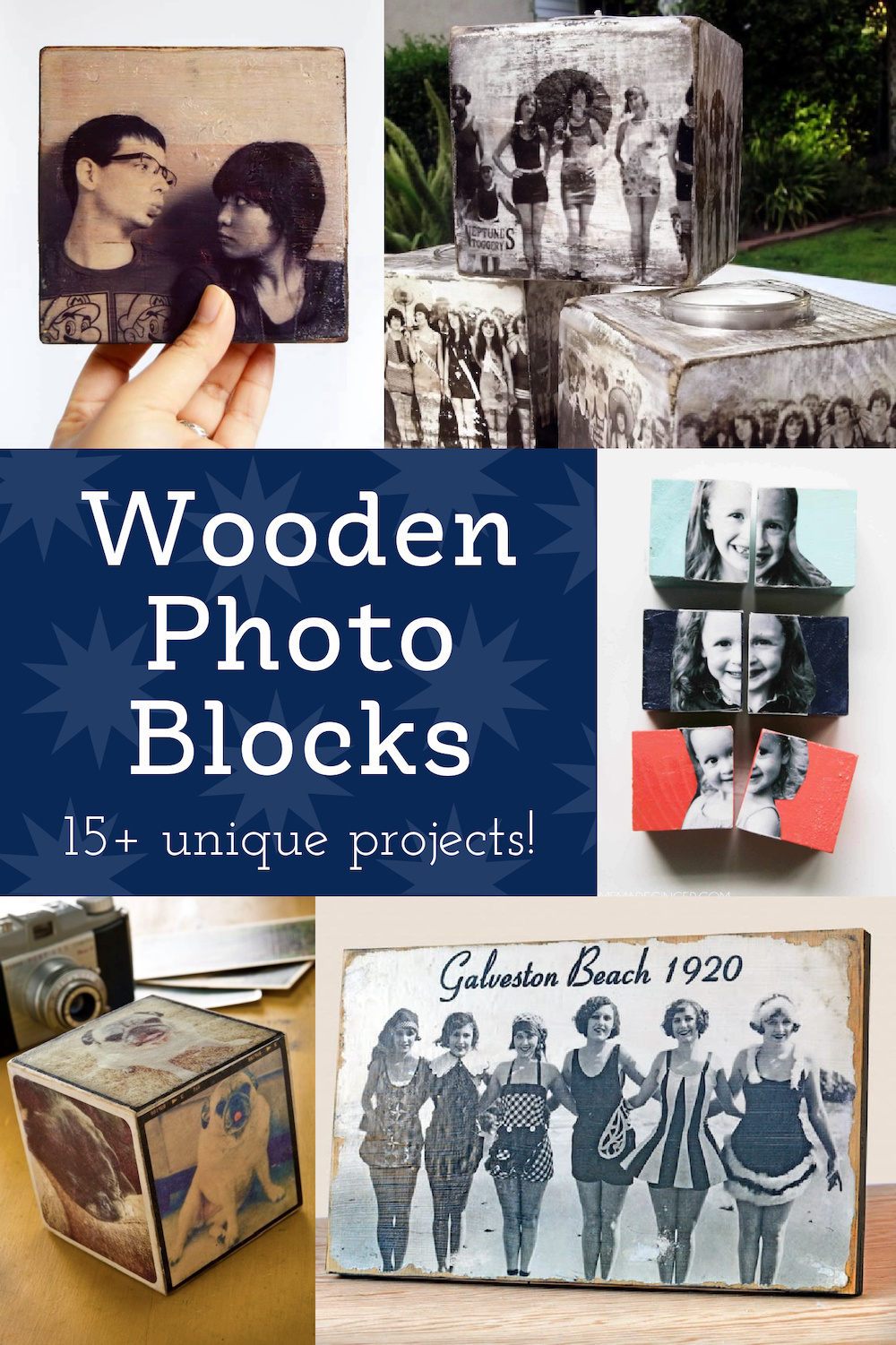 I get asked about so many different styles of crafts on a regular basis, as you can imagine. Everything from making beads with paper to Mod Podging a pineapple. And I love all of it!
One of the most popular crafts that people are curious to try is photo transfer. They want to do it a multitude of ways: on glass, on metal, and on fabric. A photo transfer makes a great handmade gift.
Photos on Wood Blocks
In terms of transferring a photo, one of the easiest ways to do it is on wood blocks. The wood surface is optimal for adhering to the photo transfer medium, and the "vintage" style feel of the resulting project looks great with the wood grain.
The thing is, there are so many ways to create wooden photo blocks that the only limit is your imagination! Do you want to make them for decor or as gifts? No worries, I have DIYs for both.
Things to Remember
If you're just getting started with wooden photo blocks, I've got some things for you to remember. I've done a lot of transfers over the course of time, and I want to make sure you observe these guidelines. Hopefully they help you so that you minimize frustration and maximize fun!
It's always important to note whether a transfer was done with an inkjet or laserjet printer. The tutorial should specify, because different techniques require different types of printing ink.
If your transfer smears or the black ink turns brown or red, it means you used an inkjet image when you should have used a laserjet.
Some printers have ink that is inkjet, but it's "dry" enough to use for a laserjet photo transfer. You'll just have to experiment with your printer. If you want to try it, do a sample project on a small plaque. Let the inkjet printouts dry overnight before using them.
The background of Mod Podge Photo Transfer Medium is white. That means you don't want to go over the edges of your photo on your background, because that will be white too. Not all of these projects use Mod Podge brand transfer medium, so this just applies to the ones that do.
During the rubbing stage, you may let the blocks dry and then find that the image looks fuzzy. In that case, simply re-wet the image and rub again (lightly). Repeat until it's not fuzzy anymore.
Are you ready to see some photos on wood blocks? Whether you're looking for a simple project or something more elaborate, this list has it all. You can't go wrong with these 15+ projects!
Photos on Wood Blocks
Do you have a lot of pictures on your phone that you want to turn into something? Here are 15+ DIYs for wooden photo blocks that will make great gifts or decor.
---
Do you have any other tips you'd like to share for putting photos on wood blocks? Let everyone know in the comments! I'd also love for you to check out these other project ideas: