This pineapple centerpiece idea is SO easy and very unique! I bet you've never seen anything like it. Perfect for a summer party!
Skills Required: None. You'll be pleased to know that anyone can add confetti to a pineapple, no prior crafting skills required.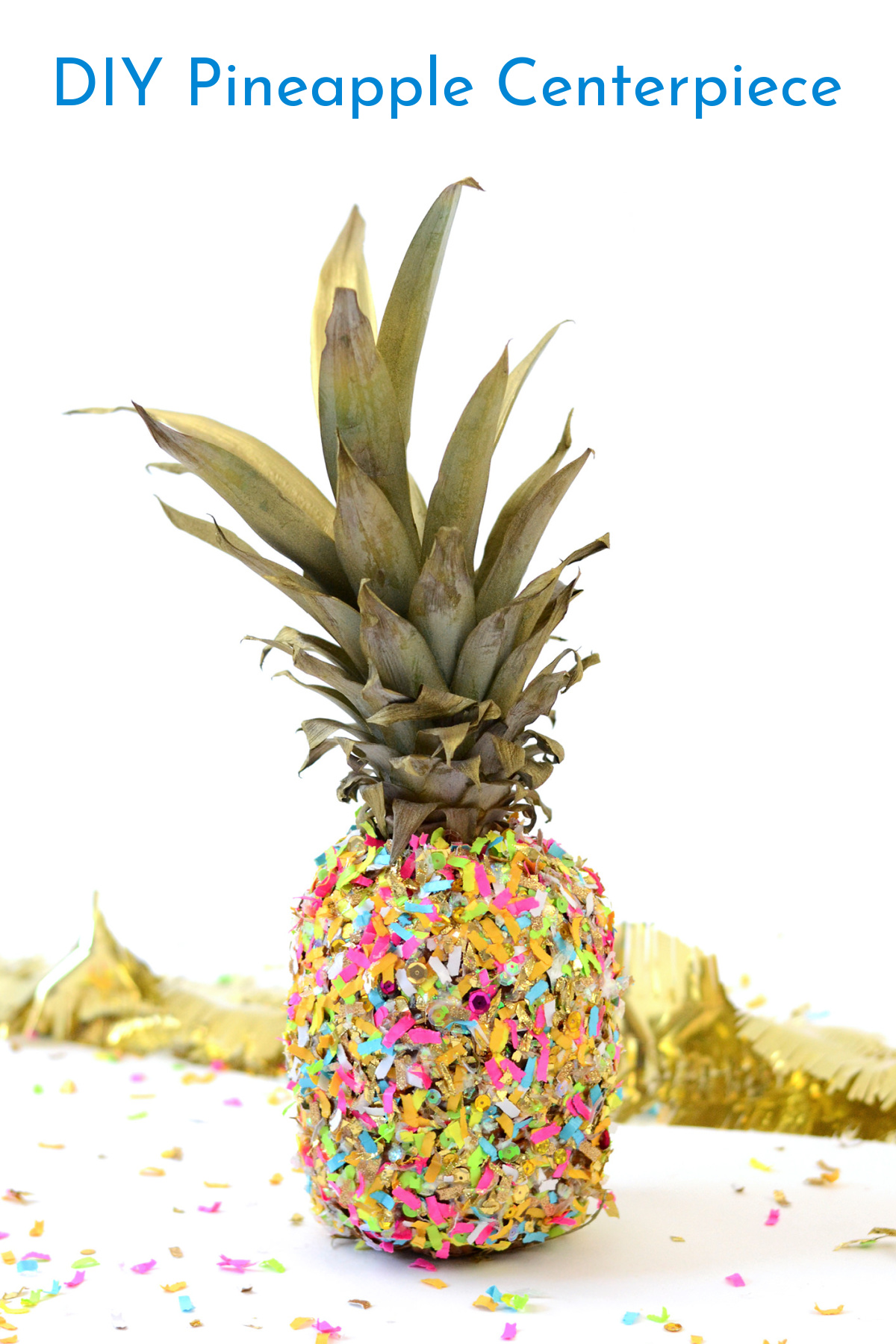 Hi! Jessica here from The Confetti Bar, the coolest confetti shop on the block, where we believe happiness should be celebrated. We've pretty much put together the best confetti party ever with party cups, unique envelopes, goodie bags, and a handmade banner.
We're about to kick it up a notch in terms of party crafts.
Since I believe in taking the ordinary and turning it into something extra colorful and fun, pineapples are no exception.
Hold onto these last days of summer and jazz up your next event, desk, or coffee table with a confetti pineapple centerpiece!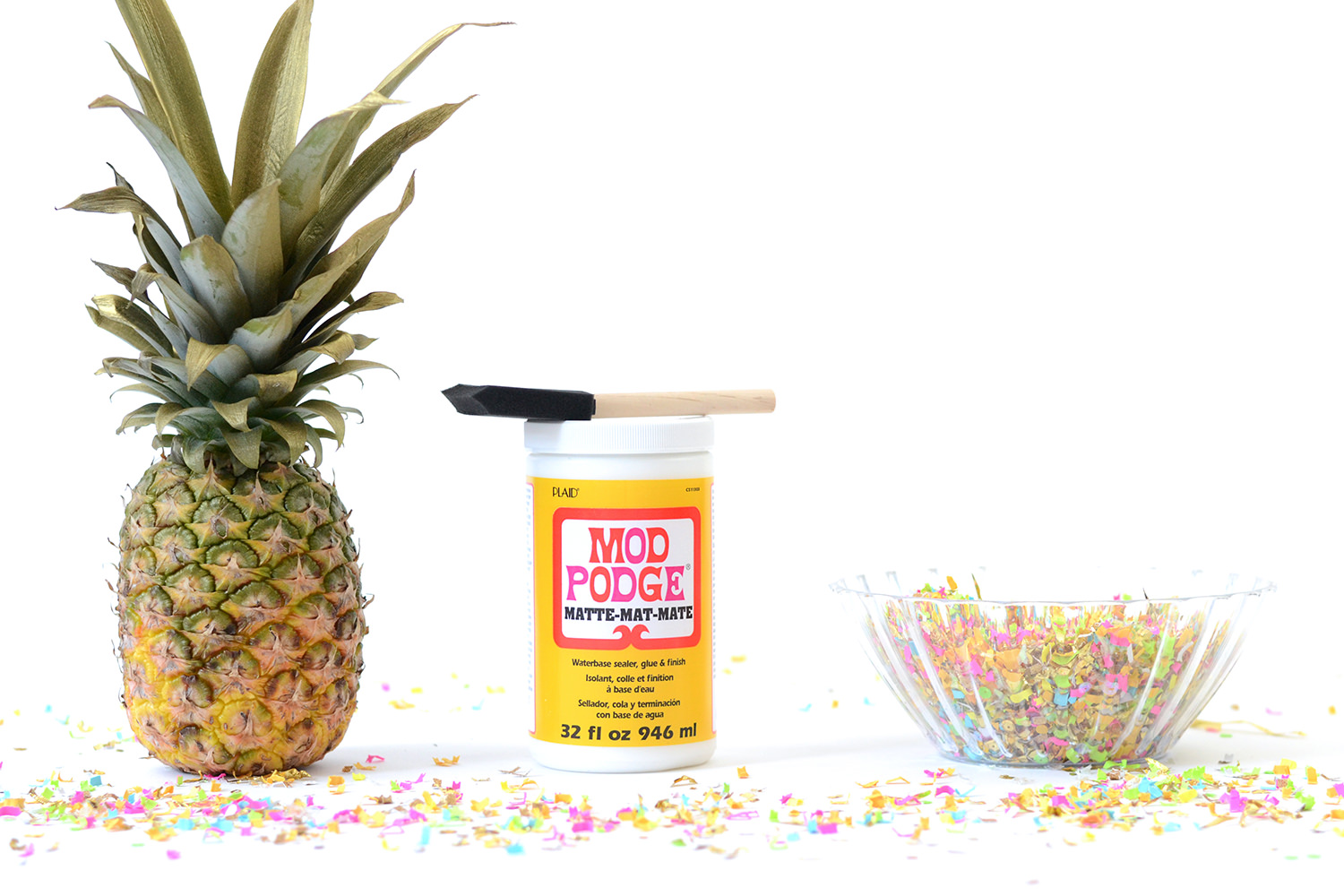 Gather These Supplies
Pineapple
Sponge brush (+ maybe a plate to pour the Mod Podge to dip your brush for easy application)
*Note: before you start in with confetti-fying your pineapple, you might want to use a little spray paint to jazz up the crown. I used just a few sprays of some gold to cover a few imperfections, but still wanted the green to show through.
Start by covering the surface of the pineapple with a medium to thick layer of Mod Podge. You can work in sections, but I actually covered the entire thing with Mod Podge before dipping in confetti. It depends on how messy you want to get.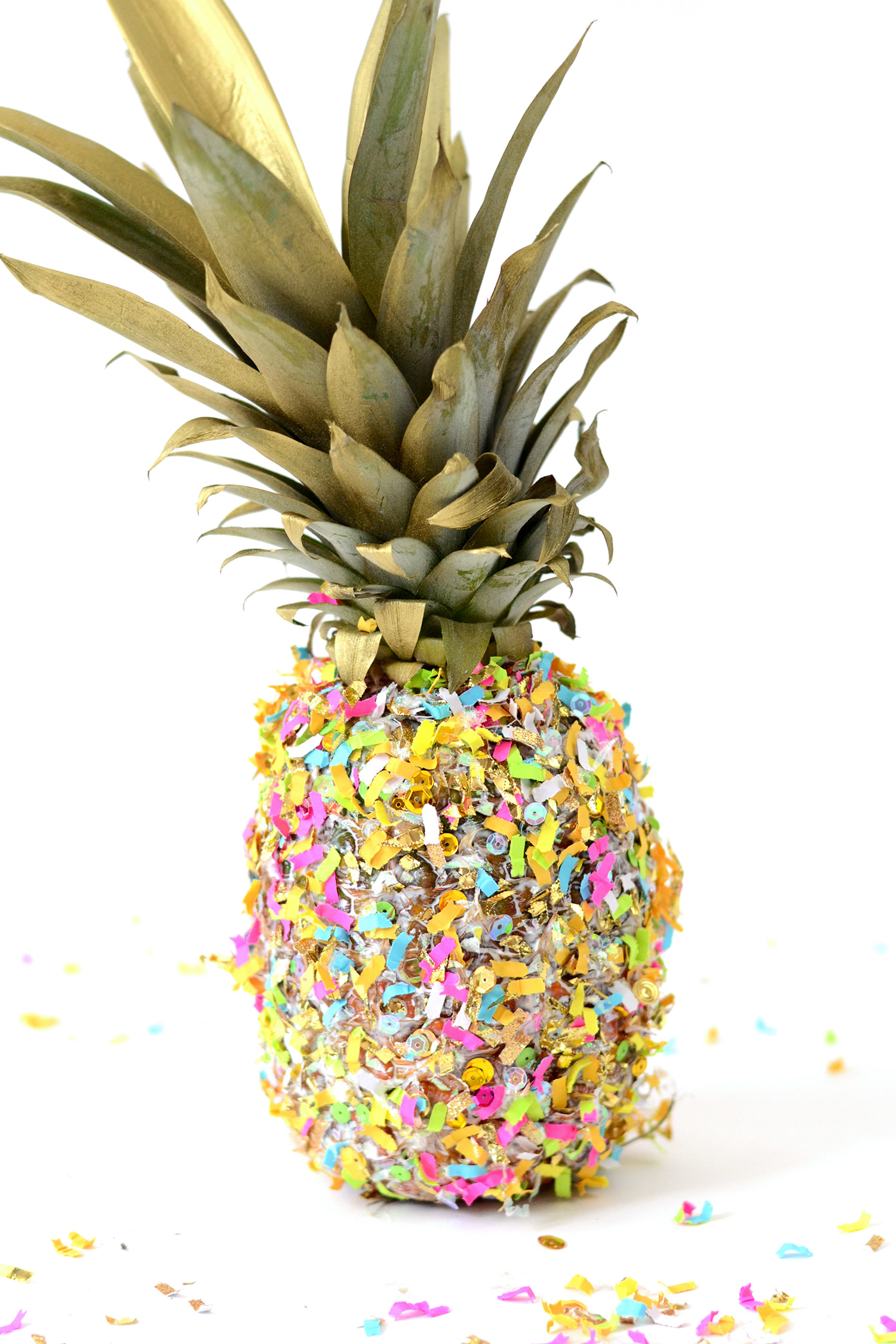 Ta-da! This DIY centerpiece is colorful piece of decor that just screams summer fun.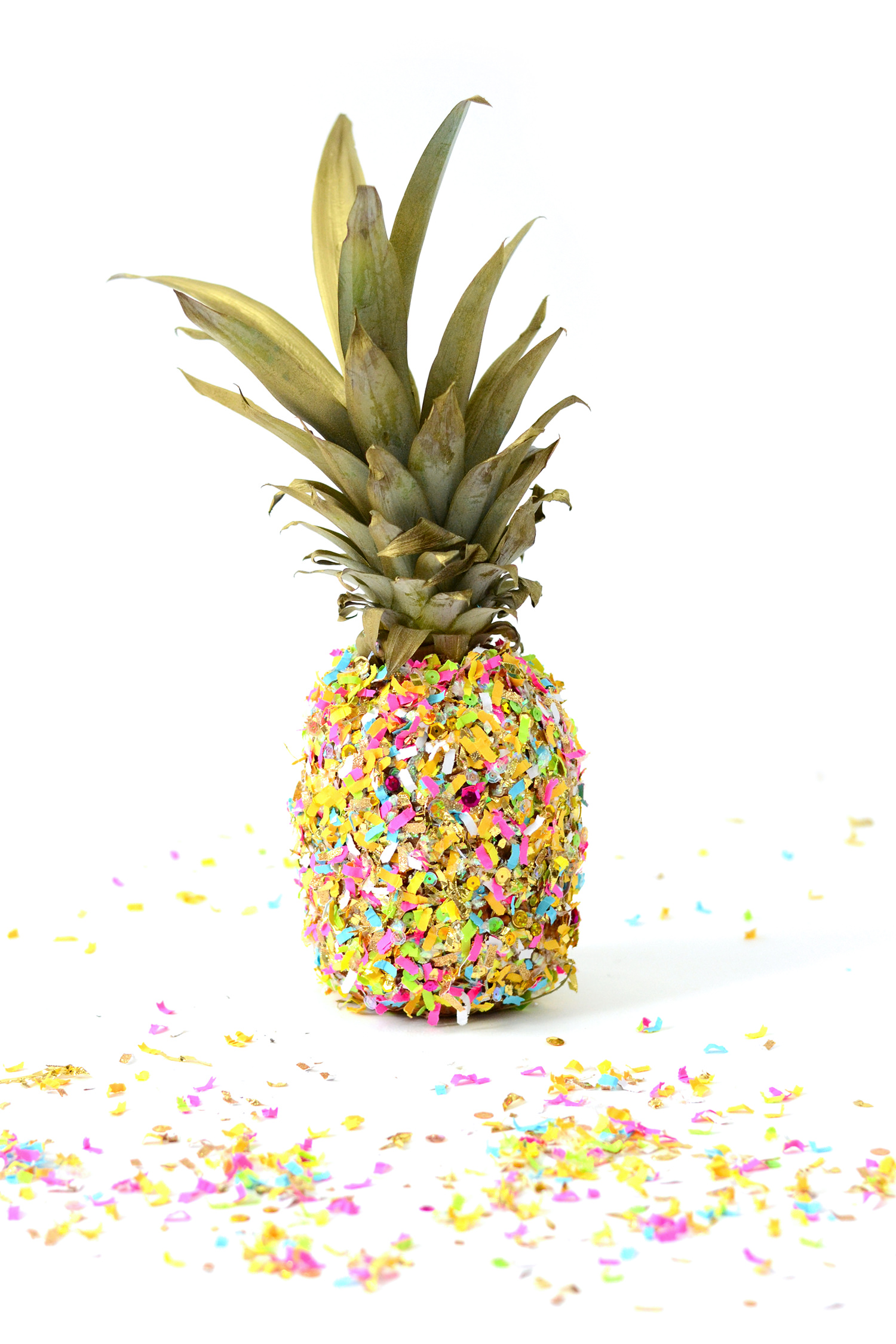 Will My Pineapple Decor Last?
I'm sure you're wondering if your pineapple centerpiece is going to last. Sadly, no – it's only got 3 – 5 days. If you want to make it for a party, you can do it ahead of time and keep it in the fridge.
The Mod Podge may help preserve the fruit for a few days longer, but there are no guarantees, and you certainly don't want fruit flies.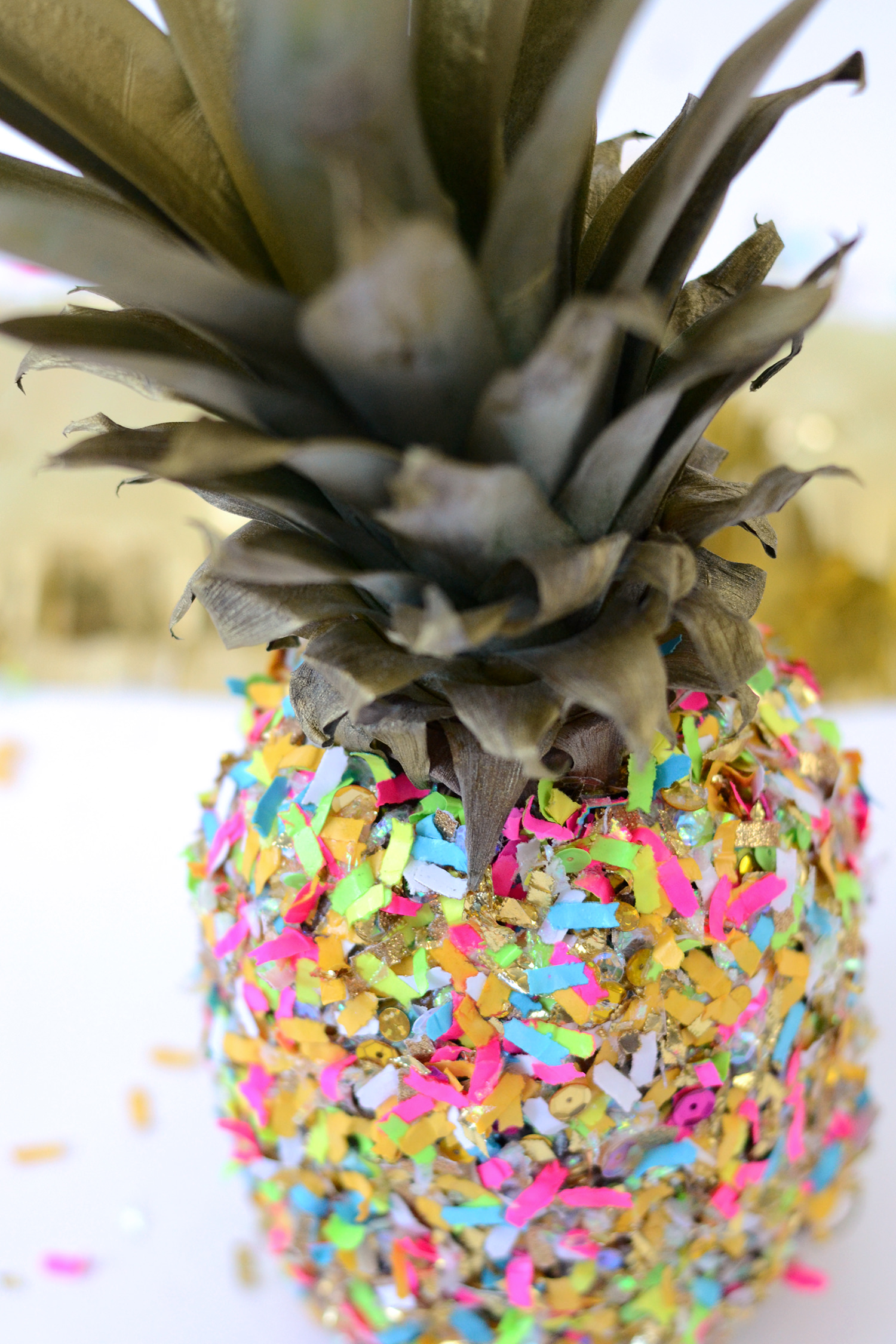 We've got you covered in the whole confetti department in our shop (BONUS: you can even tack on a few custom confetti pieces at the end with a bit of glue!).
Get the printable how-to for this project below.
Yield: 1 pineapple
Pineapple Centerpiece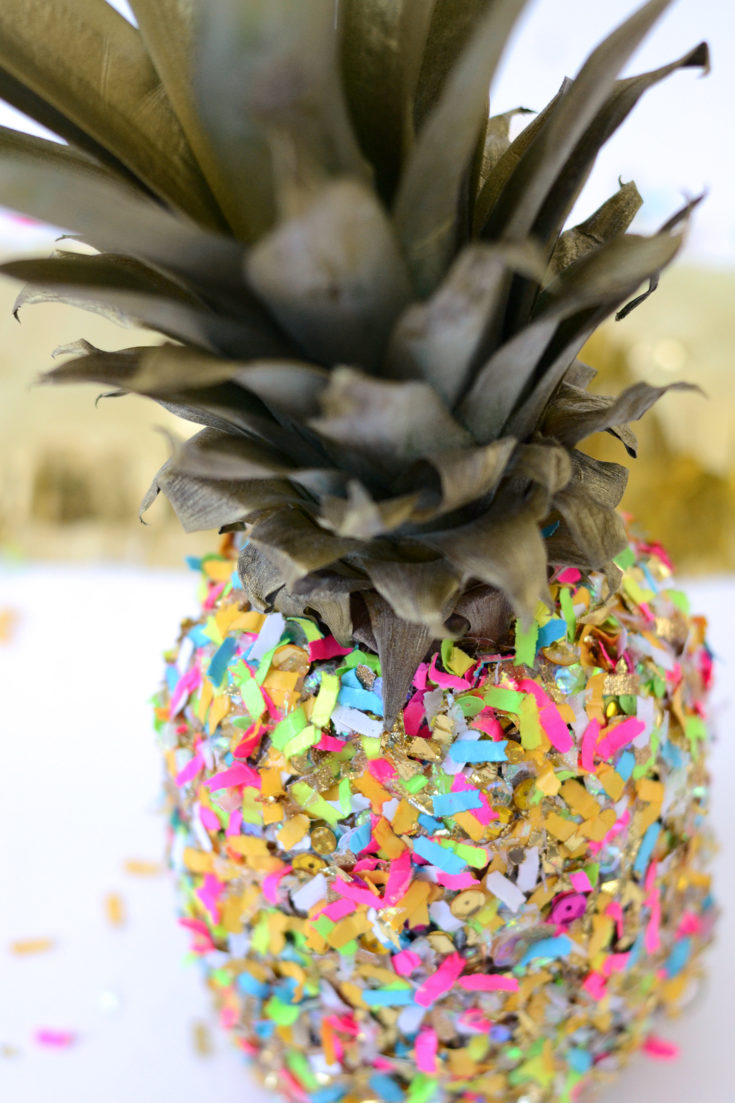 Learn how to make a cool centerpiece using a pineapple! This is perfect for a summer pool party, bachelorette, wedding, and more. It's SO easy - no prior crafting skills required.
Materials
Pineapple
Confetti - lots of it
Mod Podge Matte
Spray paint (optional)
Instructions
Begin by spray painting the leaves on the top of the pineapple gold if desired.
Working one area at a time, apply a medium layer of Mod Podge to the pineapple.
Take a handful of confetti and press into the Mod Podge. Repeat steps 2 and 3 until the entire pineapple is covered and let dry.
After the confetti is dry, go back and and touch up any areas you may have missed. Let dry.
Coat with another layer of Mod Podge and let dry overnight before displaying.
---
Did you enjoy these centerpiece? If so, you might like these other ideas. They aren't quite as wacky, but it's hard to stack up to a pineapple I think: