This fabric coffee table was easy to make with Mod Podge! Buy a piece of furniture from IKEA or the Goodwill and give it a unique makeover.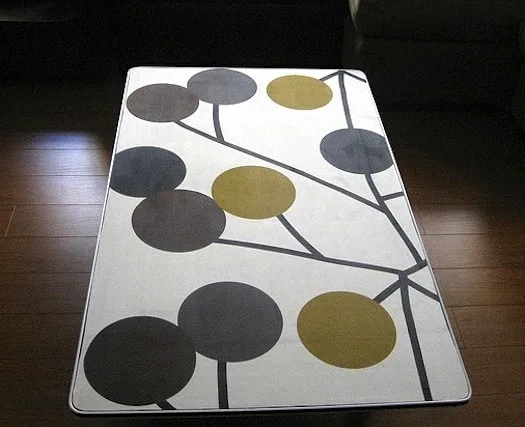 Fabric Coffee Table
There are so many things I like about sillie.smile's table.
1) You would NOT believe how easy this is.
2) The fabric is from IKEA and reminds me very much of Orla Kiely, whom I love.
3) This table is so easy to make.
So? How do you do it? First of all, you need a table. IKEA as some great ones, cheap, but so does your local Goodwill if you are not located near the great IKEA or just want to recycle. Secondly, you obviously need a piece of fabric. You may have a great local fabric shop or live near a Jo-Ann.
All you are going to do – and yes, it is this easy – is cut the fabric to fit the table and then Mod Podge it down. My recommendation to you is that you cut the fabric just slightly smaller than the table, because during your smoothing operation the fabric will expand.
I would work from the middle out – applying Mod Podge to the table as well as to the fabric, and then smoothing outward to the corners. DO NOT put Mod Podge all over the table at one time, as it will dry before you even have a chance to work your way out.
Good smoothers include squeegees, rulers, even a rolling pin. Be careful that the edge of your smoother is not too sharp as you run the risk of tearing the fabric. Smooth gently but consistently and you shouldn't have any problems.
Finally, I recommend Hard Coat Mod Podge to seal any furniture piece, for added durability above and beyond the regular stuff. Now you can wear and tear your finished project!
---
If you enjoyed this coffee table, I'd love for you to check out these other project ideas: