Learn to decorate a tray with this simple tutorial! You're going to love the before and after of this $3 Goodwill find. SO easy to do.
Skills Required: Beginner. If you've only used Mod Podge a little, that's fine – you'll be cutting paper and decoupaging it on a tray.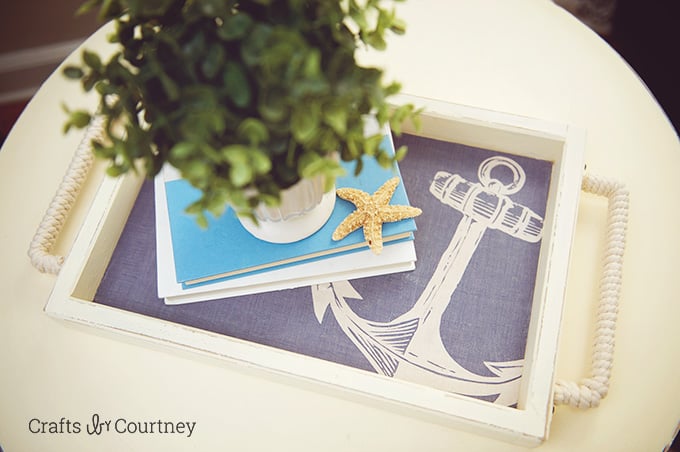 Hi everyone! I'm Courtney, from Crafts by Courtney. This is my first time writing for Amy and I'm so excited to share my newest Mod Podge creation . . . a nautical themed serving tray makeover! It's an easy home decor craft that you're going to love doing.
In case you couldn't tell, I enjoy makeovers (and love Mod Podge crafts even more)!
On one of my many trips to Goodwill, I found this great serving tray for $3.00. I can NEVER pass up a deal or chance for a makeover. At first glance, I knew that I wanted to decorate a tray to go with my nautical theme . . . a coastal inspired upcycle!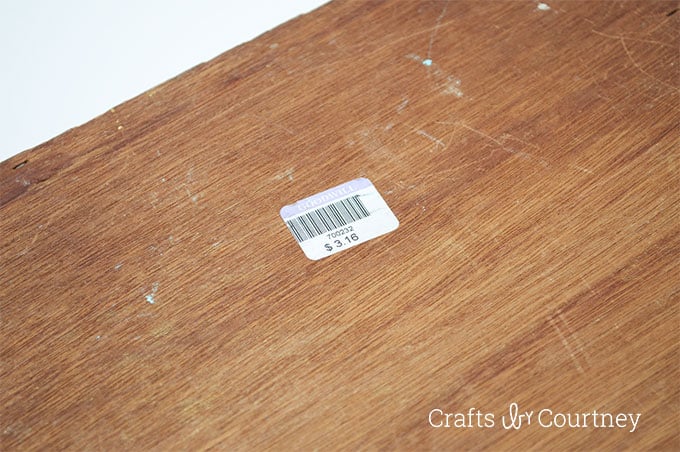 I am infatuated with Mod Podge right now and ANYTHING coastal (call it a sickness, haha). You should see my coastal themed living room . . . I. AM. OBSESSED with beach decor.
I have this pack of nautical themed scrapbook paper I got at Hobby Lobby and knew I would find the perfect design for the bottom of the tray. I went with a classic anchor. (I used another piece on this nautical mirror).
You can never have too many anchors in the house right?! It's a coastal theme staple. So with idea in hand, let's start this painted tray makeover! Learn to decorate a tray below.
Decorate a Tray
For this Mod Podge project, you'll need this stuff:
Supplies
Serving tray
Decorative rope
Sponge brush
Scissors
Ruler
Hot glue gun
Finishing wax – optional
Getting Started
Since I already had the perfect nautical scrapbook paper. All I had to find was my paint. I chose an Old White chalk paint to give my tray that classic coastal look. This is going to be gorgeous!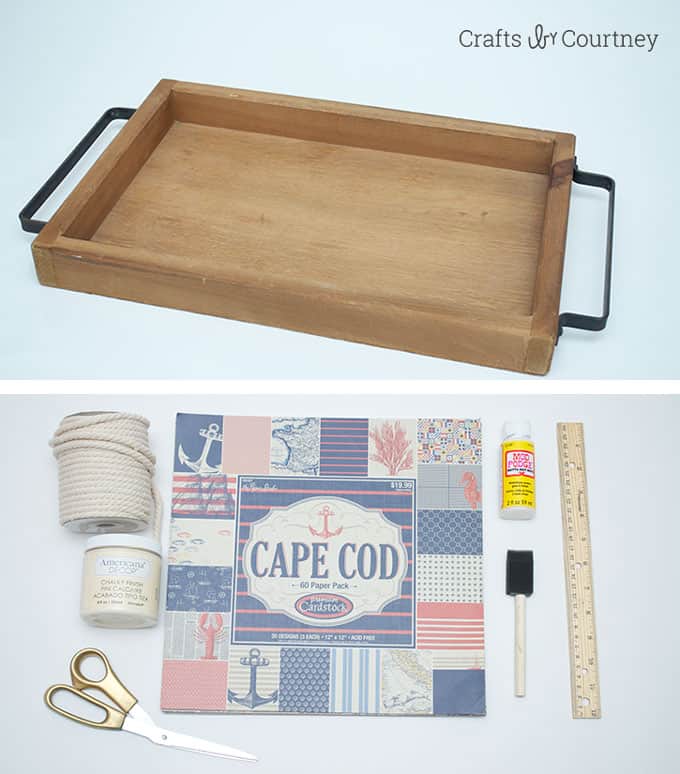 Step 1 – Paint Your Tray
Before decoupaging the bottom of your tray, you'll need to add your paint. Add one or two coats. Let each coat dry 20 minutes.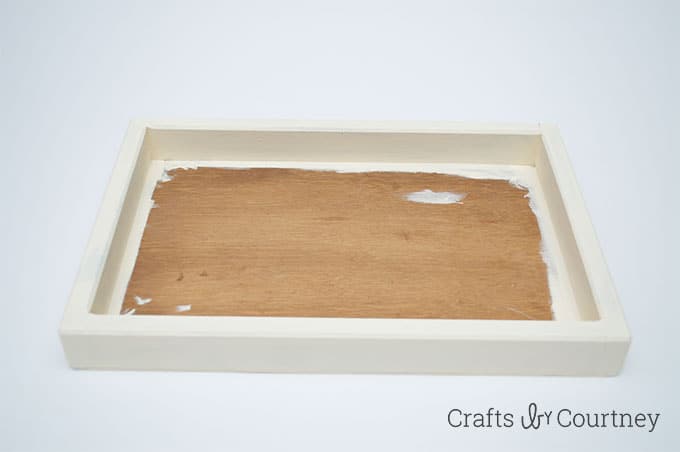 Step 2 – Measure and Cut Scrapbook Paper
Now let's prepare our paper! For a perfect fit, measure out the bottom of your serving tray. Then cut your scrapbook paper to fit.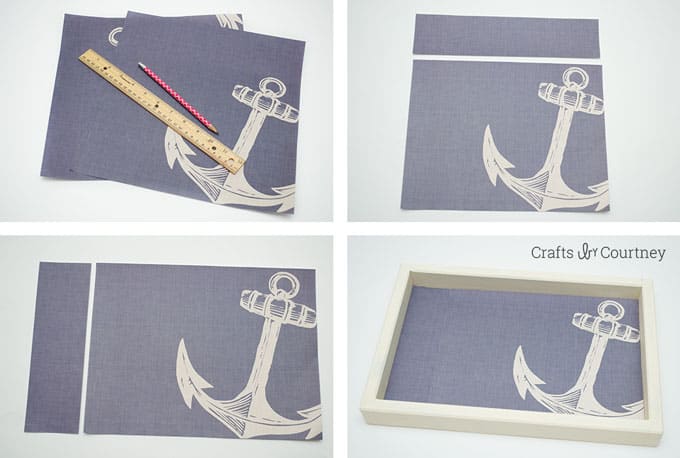 TIP: If you have large scrapbook paper with a seamless pattern, try trimming one of the edges to fill the area of your tray!
Step 3 – Mod Podge Paper to the Tray
For great adhesion, cover the bottom of your tray with a coat of Mod Podge. Now, place the shorter piece of scrapbook paper down first. Then, cover the paper with more Mod Podge. You can decorate a tray with one large piece as well (like wrapping paper).
TIP: If you use one large piece, like wrapping paper, you may want to use the "wet technique" I used here. It's the way to decoupage without wrinkles.
Finally, place your large piece of scrapbook paper. Make sure to cover the entire top of the tray with one more coat of Mod Podge.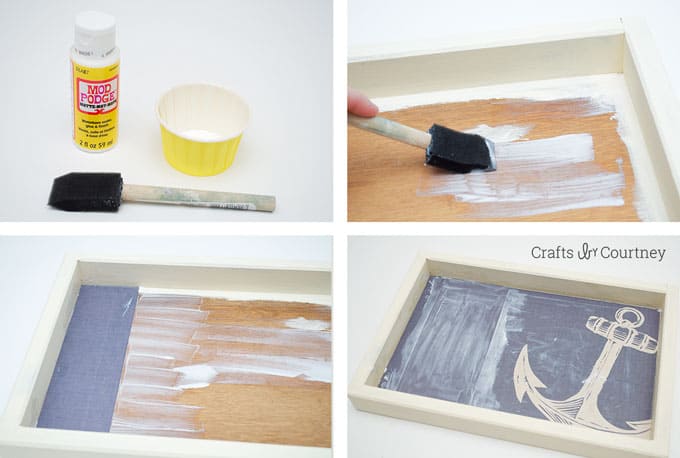 TIP: Be sure to smooth thoroughly when you apply the scrapbook paper. This will remove any air bubbles. A squeegee works great for this and presses the paper into the corners quite well.
Step 4 – Wrap Handles With Rope
Before I painted the serving tray, I took off the handles. I ended up painting two coats on those too! Once they were dry, I wrapped them with my decorative rope and hot glued into place.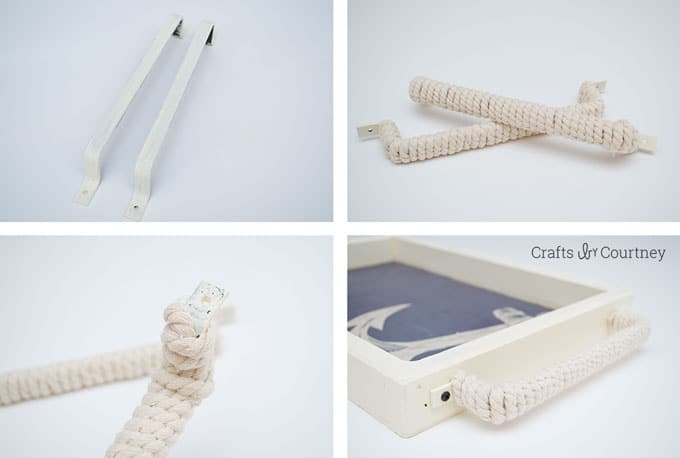 If you decorate a tray, I highly recommend that you try this wrap. These rope wrapped handles turned out . . . Uh – may – zing!
Step 5 – Distress Your Tray
OMG, time to artificially age this project. With sandpaper 🙂 If you've had a rough day, relieve some stress and DISTRESS your tray (to your liking of course)!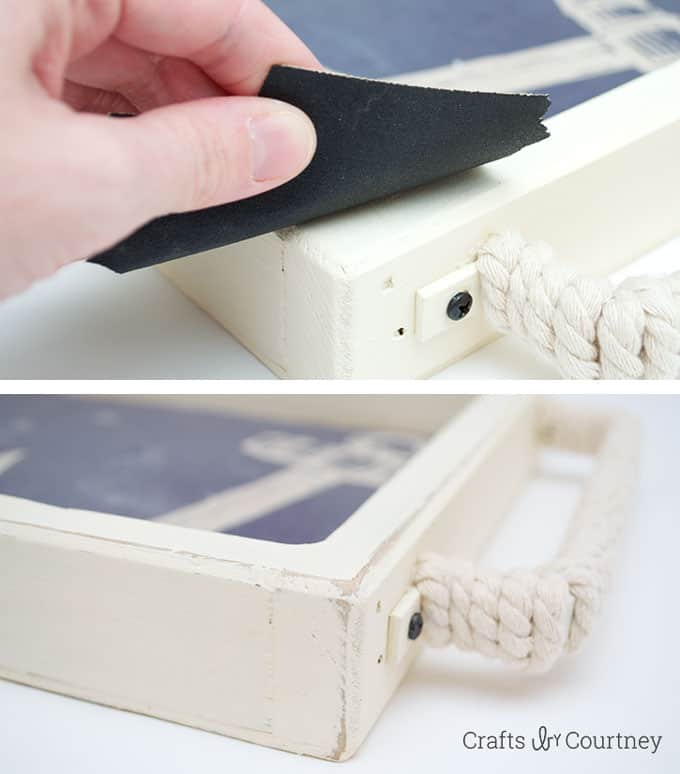 Step 6 – Finishing Touches
Alrighty! We are almost done. If you want to prevent scratching, you can add a coat of finishing wax to the paint (no need to go into the Mod Podge). I'm OK with a few accidentally scratches so I skipped the wax. With that said, we are done!
With our coastal inspired decoupage tray complete, let's decorate.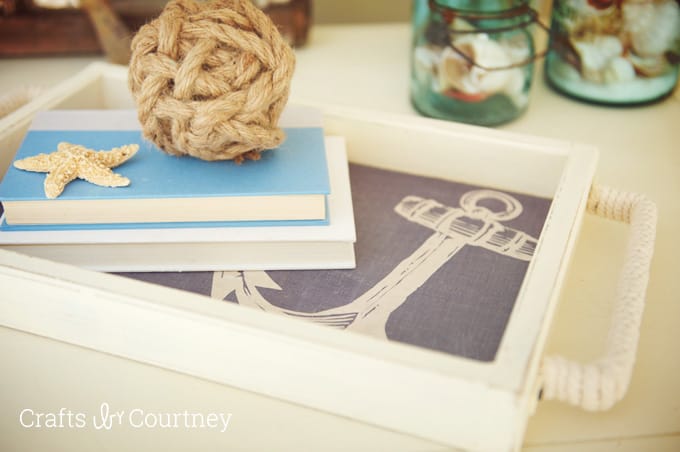 You can put pretty much anything you want on it. I love starfish and braided rope, so I went with that! But the choice is yours!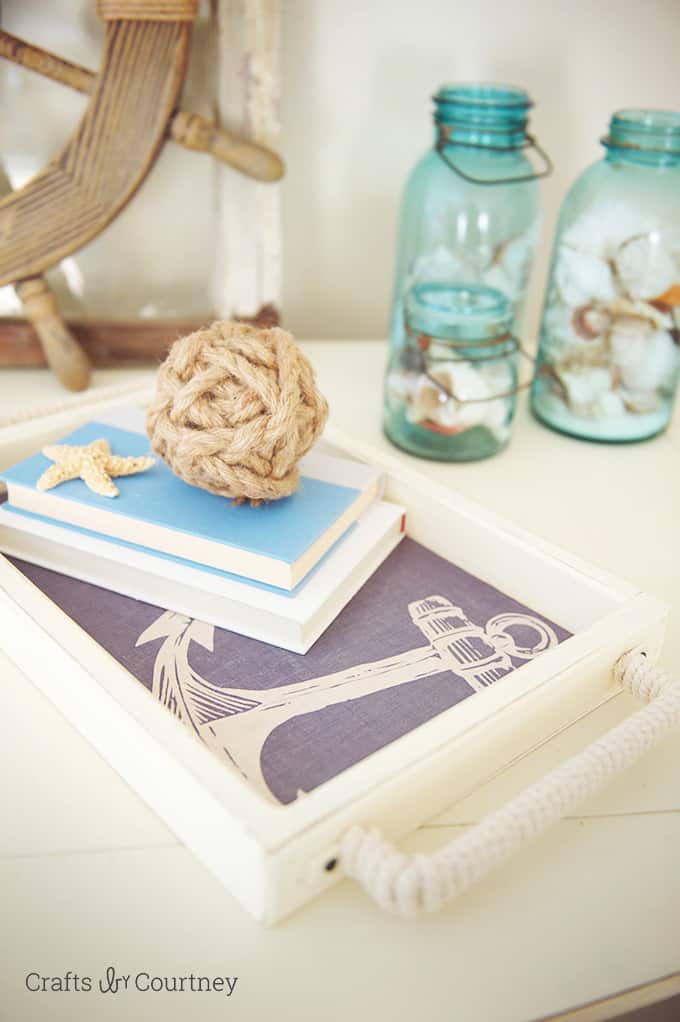 I love how my attempt to decorate a tray turned out (and hope you did too)! Gotta' give a big, "Thank you!" to Amy for letting me share! I really enjoyed myself 🙂
---
If you'd liked this craft idea, I'd love for you to check out these other great trays you can make at home: