Make DIY lace mason jars in less than an hour! This project is perfect for fall decorating and goes with a variety of themes.
Skills Required: Intermediate Beginner. You'll need to be able to spray paint or paint glass without runs. This typically requires a little bit of prior crafting experience. It's still a relatively easy project even with the painting.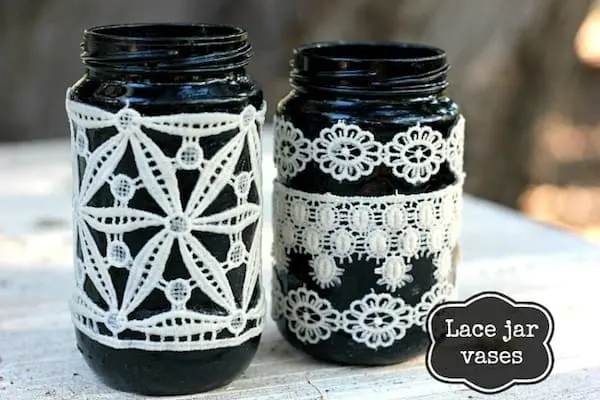 Hello Mod Podge Rocks readers! Justine from Sew Country Chick here again with a quick and fun way to spruce up some old mason jars for fall. If you enjoy Mod Podge on glass, you're going to love this simple idea. It will be perfect for your seasonal home decor.
My husband has always been sort of funny about saving our glass jars. With the mason jar craze happening, it certainly is handy having my husband's hoard/collection hanging around to experiment with. Because you just never know when you might need an empty jar for a recycled craft!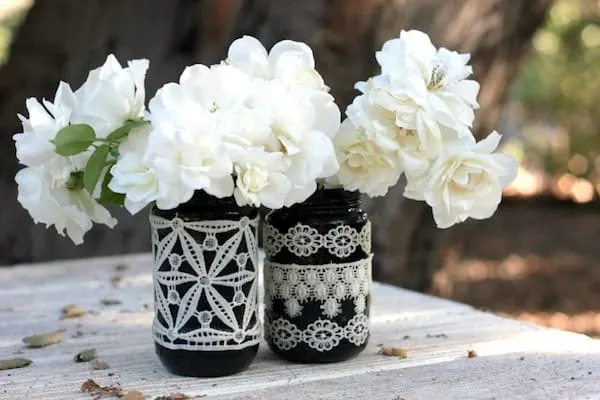 Decorating Glass Jars with Lace
These lace mason jars are perfect for fall decorating, and would also be fun for an elegant vintage addition to your Halloween decor. And think about a fall or black and white wedding? There are so many uses for these, and I love that.
They also took less than an hour to make at home. The longest part of the project involved letting the spray paint dry. Which takes forever when you are staring at it, don't you think?
Before we get into the lace mason jars, I wanted to give you a few tips based on questions I've gotten about this craft. These are some common topics that readers are wondering about, so hopefully these help you as you decorate your mason jars.
Preparing Glass Jars for Crafting
The first thing you need to do is make sure all of the adhesive labels are removed from your jars – you'll do that with a sticker remover. Click here to get our article with all-natural ways to remove the adhesive.
After the adhesive is removed, make sure the jar is clean and dry. You can wash away fingerprints and other oils with a mild soap and warm water. Some people use rubbing alcohol and cotton balls as well.
In this project I used spray paint, but you can also use acrylic paint to coat your jars. Spray paint will be more expensive than a bottle of acrylic paint. If you choose acrylic paint, make sure to get the multi surface, enamel, or something that is rated for glass.
I've got more information in my painting on glass post. Definitely something you need to see and bookmark!
Spray Paint vs. Acrylic Paint
So which one would I use – spray paint or acrylic paint? Well, personally I'm going to use acrylic paint if I'm painting the insides of jars. Painting the insides of the jars is fine if you're going to use faux florals for decor, because you won't put any water in the jar.
Not only that, but I think painting behind glass looks much nicer. It's harder to see imperfections and gives the paint a nice glassy sheen on top. Having said this . . . if I want to put water in my mason jars, I'll be spray painting the outsides. It's just quicker, and I'm lazy.
Using acrylic paint is more time consuming, and only worth it if I'm painting the inside of a jar. Plus let's be honest, it's hard to spray paint the inside of a jar and get all the cracks and crevices!
Which Mod Podge Should I Use?
You can use any type of Mod Podge, though I'd choose from Gloss, Matte, or Satin based on the type of finish you like. With glass I typically use Gloss Mod Podge, just because glass is shiny, and the formula is too. But, matte glass looks great as well. You can decide!
Are you ready to learn how to make this project? Let's get started.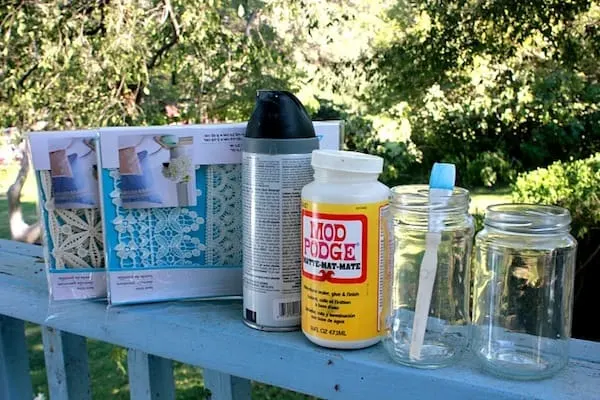 How to Glue Lace to Glass Jars
To make this project I used:
Black spray paint
Mason jars or recycled jars – 2
Lace trim from the hobby store -I have loads of lace trim I've accumulated from garage sales, but this lace was from Michaels
Scissors
Paintbrush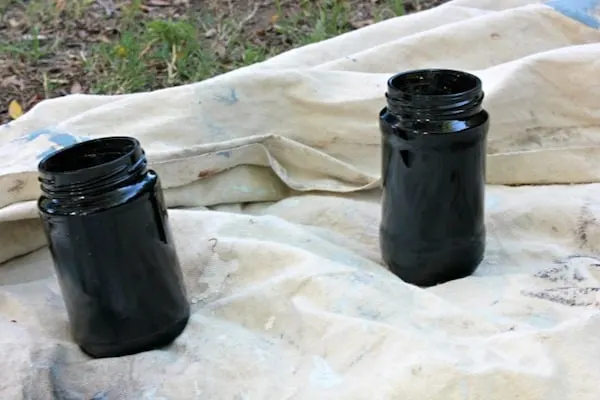 I spray painted my jars and let them dry. then I cut strips of lace to fit around the jars and glued them down with Mod Podge, using a paintbrush to apply the Mod Podge, and finished with a top coat to seal it. Simple!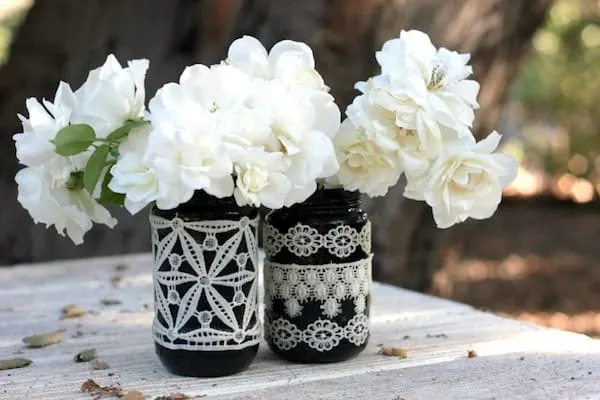 Yield: 2 jars
Black Mason Jars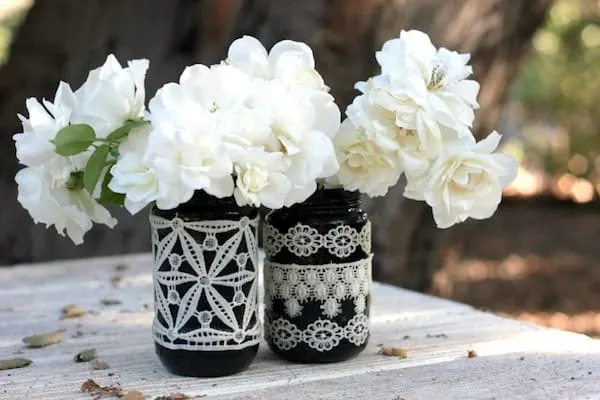 Learn how to make lace mason jars with a stunning black and white theme! Perfect for party or wedding.
Total Time
1 hour
15 minutes
Materials
Mod Podge Matte
Black spray paint
Mason jars or recycled jars - 2
Lace trim - enough to cover your jars
Instructions
Remove the labels from your jars. Clean the jars with mild soap and water let dry.
Place the jars on a protected surface. Spray with black spray paint. You'll want to spray lightly and let dry; use several coats and let dry.
When the spray paint is completely dry, apply Mod Podge to a jar. Wrap the lace around and apply more medium until the lace is secure. Let dry.
Apply Mod Podge over the top of the lace to seal and let dry. Repeat with the other jar(s) and let dry before using.
---
Thanks for stopping by and reading! If you liked these lace mason jars, check out this spring craft idea. We used a different type of lace and didn't paint the jars. You're going to love the tutorial!
This tutorial is also part of our decorative vases, easy crafts for adults, painted mason jars, and Halloween mason jars. Don't forget to take a peek of those as well!