Make beautiful home decor – decorate a vase! Get 15 quick and easy DIY vase decoration ideas using various supplies like paint and Mod Podge. Scroll down to get a video at the end of this post showing you how to decoupage on rounded objects.
Skill Level: Beginner to Intermediate. Some of these techniques are easier than others, but none of them are exceptionally hard. Basic crafting skills are necessary, like using a paintbrush or punches and stencils.
I love decorating vases! There's something about a simple, smooth (and typically glass) surface that says "decorate me." So that's exactly what I do. A DIY vase makes a great home decor items to keep, and of course you can also add flowers and give them as gifts as well.
How to Decorate a Vase
Before we jump into the projects, I wanted to go over a few basics. Make glass vase decor that is truly impressive using these tips!
Where to Buy
Glass and ceramic vases are readily available at craft stores like Michaels, Jo-Ann, Hobby Lobby, AC Moore . . . but you can get them on a budget at Dollar Tree or WalMart.
I am impressed with the glass selection at our local Dollar Tree. You can also use recycled jars as vases. Pretty much any vessel that is round and can hold water can be considered a vase!
Preparing Your Vase
When I'm dealing with glass or ceramic surfaces, I wash them with warm, soapy water and then rinse thoroughly (here's an article on removing labels). Then I let them dry. I also wash my hands before working with them so that I don't get oily fingerprints all over the surface.
DIY Vase – Paint to Use
I like to use FolkArt Multisurface paint to decorate all sorts of items (it's what I use to decorate birdhouses), and I use it for glass as well. There's also a FolkArt Enamel paint made specifically for glass. For my purposes the multisurface works just fine.
Which Mod Podge Should I Use on Glass?
You can use any Mod Podge formula you like – there are no "rules." However, I like to use Mod Podge Gloss on any vases I decorate because glass is shiny, and Mod Podge Gloss is shiny as well. So I feel that the finish most closely matches the sheen of the vase.
I should mention that I use Gloss if the vase is going to be for decorative purposes only. If you are wanting to be able to wash the vase, I'd use Dishwasher Safe Mod Podge. Be sure to follow the curing instructions on the bottle.
Are you ready to decorate a vase?
The fun part is that, because there are so many ways to adorn vases, you get to experiment with a ton of different craft supplies in the process.
---
If you'd like to complete a DIY vase project, read below for 15 pretty ways to do it. Let me know your favorite in the comments.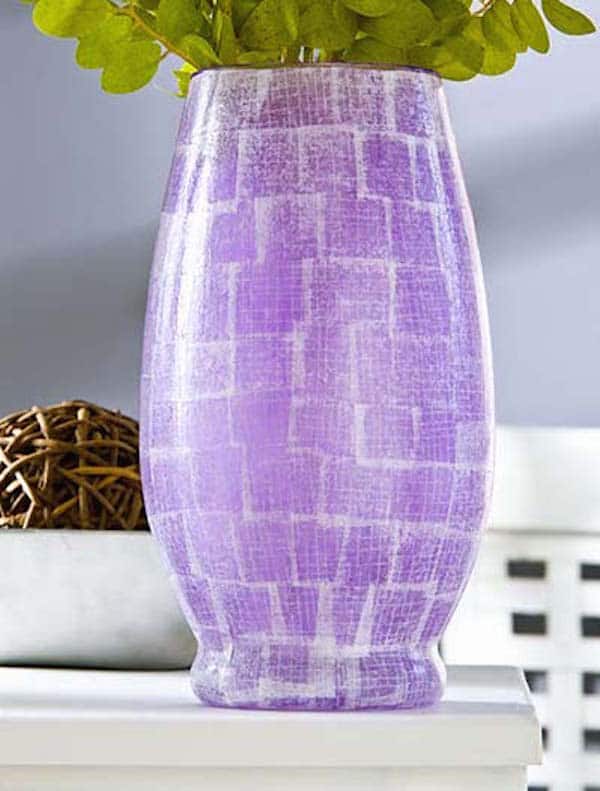 This DIY vase was made with Mod Podge sheer colors, which are harder to find these days. You can get the same effect with Mod Podge and food coloring. Cut rice paper into squares approximately 1".
Begin applying squares to vase with Mod Podge until entire vase is covered. Let dry at least twenty minutes. Seal entire vase with several coats of Mod Podge allowing dry time between coats.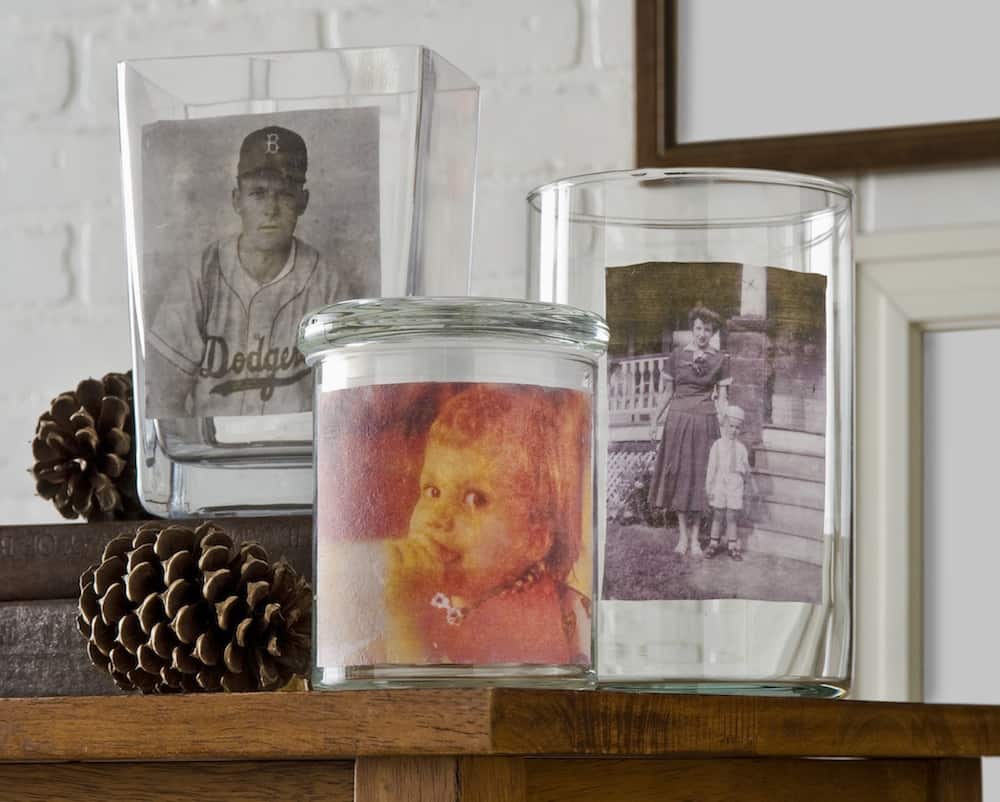 You can decoupage photos directly to a glass vase with Mod Podge, or you can use the photo transfer decal method.
The decal method basically creates a glass cling with a vintage look, and I think it's very cool! Learn how to do it here, and don't forget to read my top five tips for using Mod Podge photo transfer medium.
With a china marker, sketch out a design of your choosing using circles and lines. Use Redi-Lead strips to cover your china marker lines and create an area for the Gallery Glass to fill.
Use Gallery Glass to fill in those areas. Comb paint with a toothpick to remove air bubbles and smooth the surface of the paint. Let dry overnight.
I love turning old Coke bottles into DIY vases! They are perfect for that vintage look. Mine are party-ready because I used a coat of spray paint and then attached the confetti with Mod Podge. You can use any sort of tissue paper or napkins for the same effect.
Turn mason jars into vases! Using a flat brush, apply one coat of Home Decor Chalk to jars. Let dry and then apply a second coat of paint. Let dry thoroughly.
Lightly sand with sandpaper until the desired weathered effect is reached. Add raffia around top of jars (optional).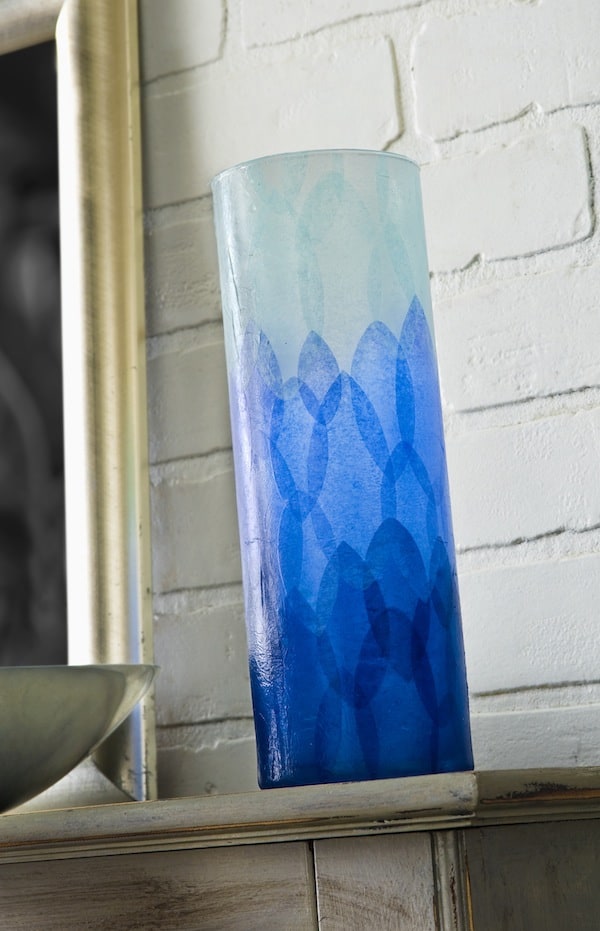 This is one of my favorite methods to decorate a vase because it's so dang easy! If you cut tissue paper into shapes, you don't have to worry about it wrinkling so much. Plus you can create unique textures and colors patterns like I did with the DIY vase above.
7. Simple Lace Doily
Sometimes you want a look that is pretty and not too complicated. Maybe you're making a small piece to go on a decorative table or a mantel.
This DIY vase requires a paper doily and some Mod Podge – and not a lot of skill. You simply paint on the Podge, roll, and let dry. I love the simplicity.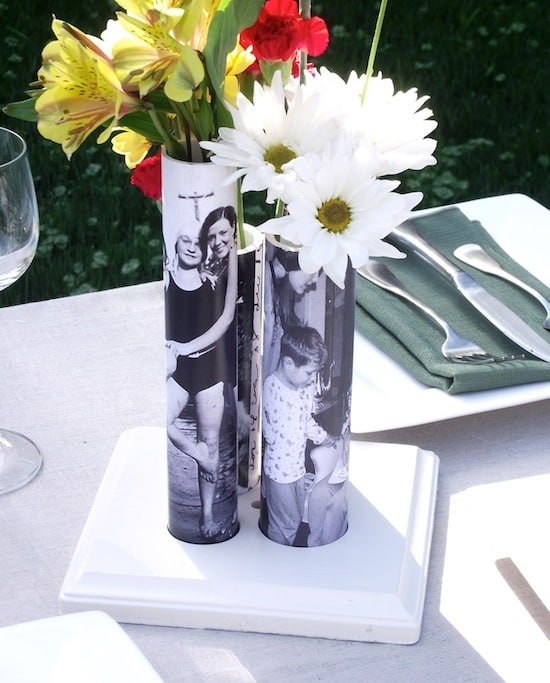 If you are inclined to decorate a vase with photos, this is a great way to do it so that 1) it looks great but also 2) the project is outdoor friendly!
David made these vases with PVC pipe and then sealed them with Mod Podge Outdoor. Perfect for a Mother's Day brunch to show mom how much you appreciate her. Wouldn't these be great for a wedding too?
If you're not afraid of stenciling, this painted vase is perfect. Have you ever seen those large wall stencils? You can wrap one of those puppies around a vase (use stencil adhesive or spray) and get an all-over pattern in one swoop. I like it because it's attractive but also efficient!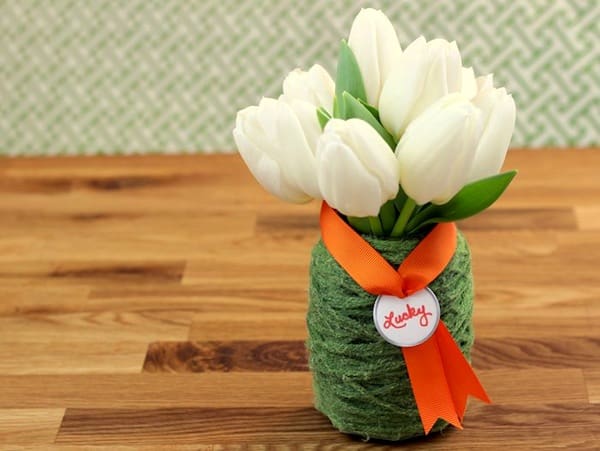 If you have a craft stash and the inclination, decorate a vase with a skein of your favorite yarn! If you can wrap, you can make this DIY vase. In fact, it's so easy that even a child can do it. This would be perfect for a kids' summer camp craft.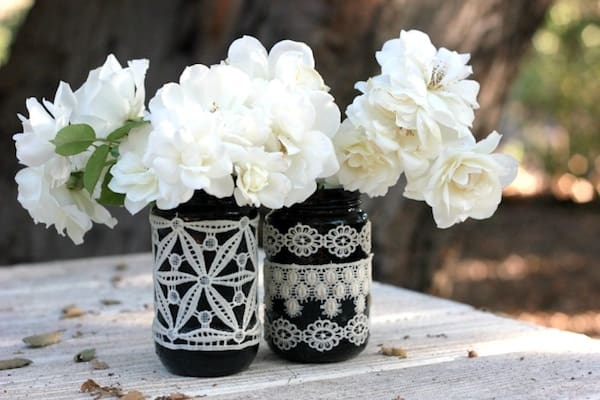 I wouldn't say that I'm a very "lacey" person generally speaking, but it's one of my favorite ways to decorate a vase. This works for old jars or any glass or ceramic vessel. Just spray paint or paint and then add the lace with Mod Podge. Done and done – and beautiful.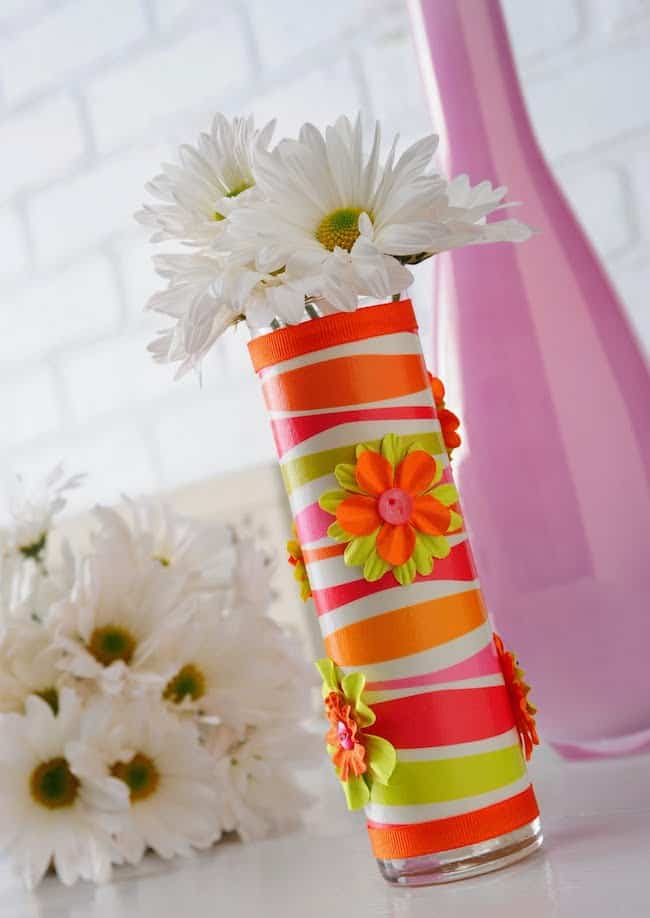 This particular surface came from Dollar Tree. I had a piece of scrapbook paper that was begging to be used, and then I found this flower vase for a buck. So all I did was use Mod Podge and roll the paper. It's pretty dang easy!
I used tissue paper in pieces for project #6 above – but this project uses whole sheets. This is more of an intermediate project if you've never worked with Mod Podge before, so just a warning.
If you're ready to jump in, the translucent nature of the tissue paper makes a beautiful DIY vase – especially with flowers! You can even add Dimensional Magic in some areas for unique detail.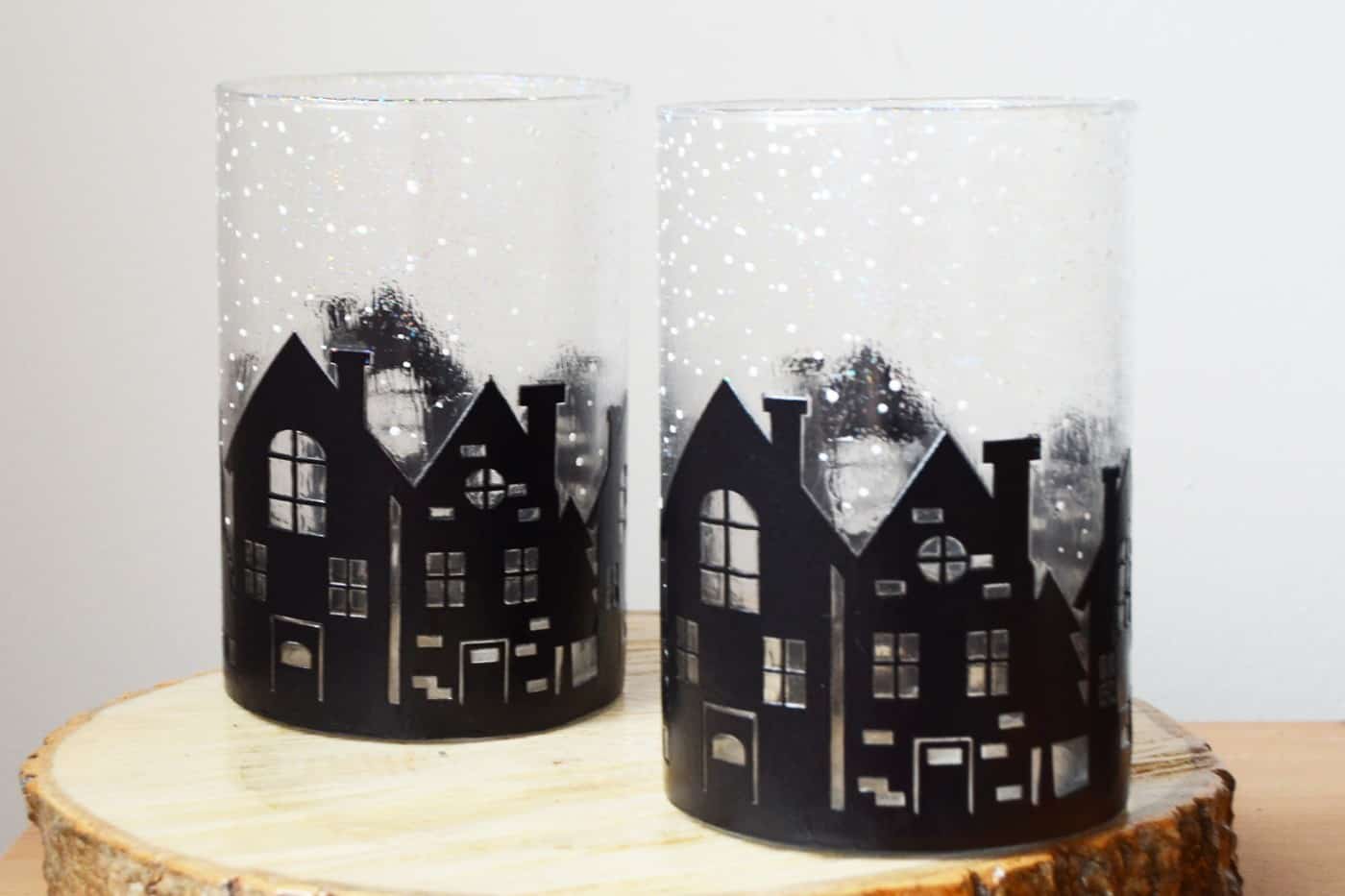 These DIY vases were made specifically for winter, but you can change the paper cuts used and make them for any time of year! I particularly love the touch of Sparkle Mod Podge. Can't wait to make something like this for the holidays.
These were decorated using Martha Stewart Crafts Glass Silkscreens! First, use glass paint to color block the vases. Let dry. Then use a squeegee and glass paint to apply the designs to the vases (following the instructions on the package). SO easy.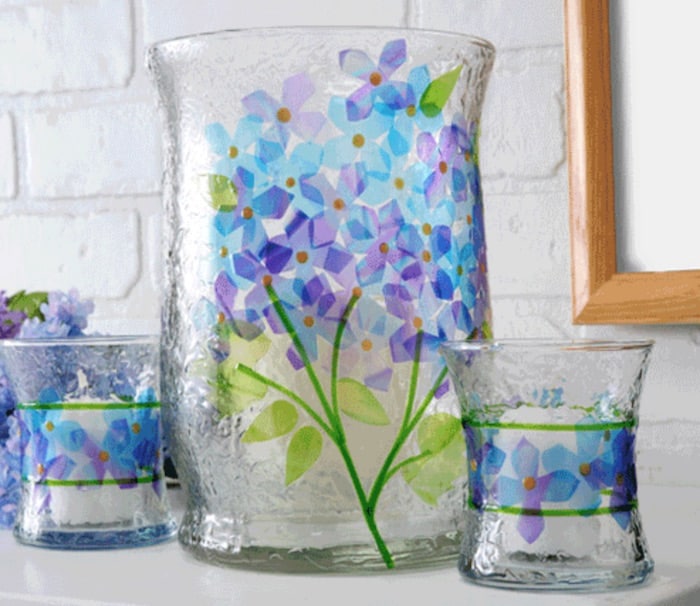 Okay, one more bonus project because I couldn't help myself! Decorate a vase with Gallery Glass, but this time you'll spread several colors (separately) on Leading Blanks in a medium layer and let dry overnight.
Peel off the Leading Blanks and cut out leaf and flower shapes using a craft knife. You can cut out lines, too! I love the color and texture of these vessels.
---
Are you ready to decorate a vase? Before you do, watch the video in this post that shows you how to decoupage on rounded objects. It's very useful!