Learn how to decorate envelopes that are perfect for sending as happy mail! These ideas also make great party or holiday invites. So fun!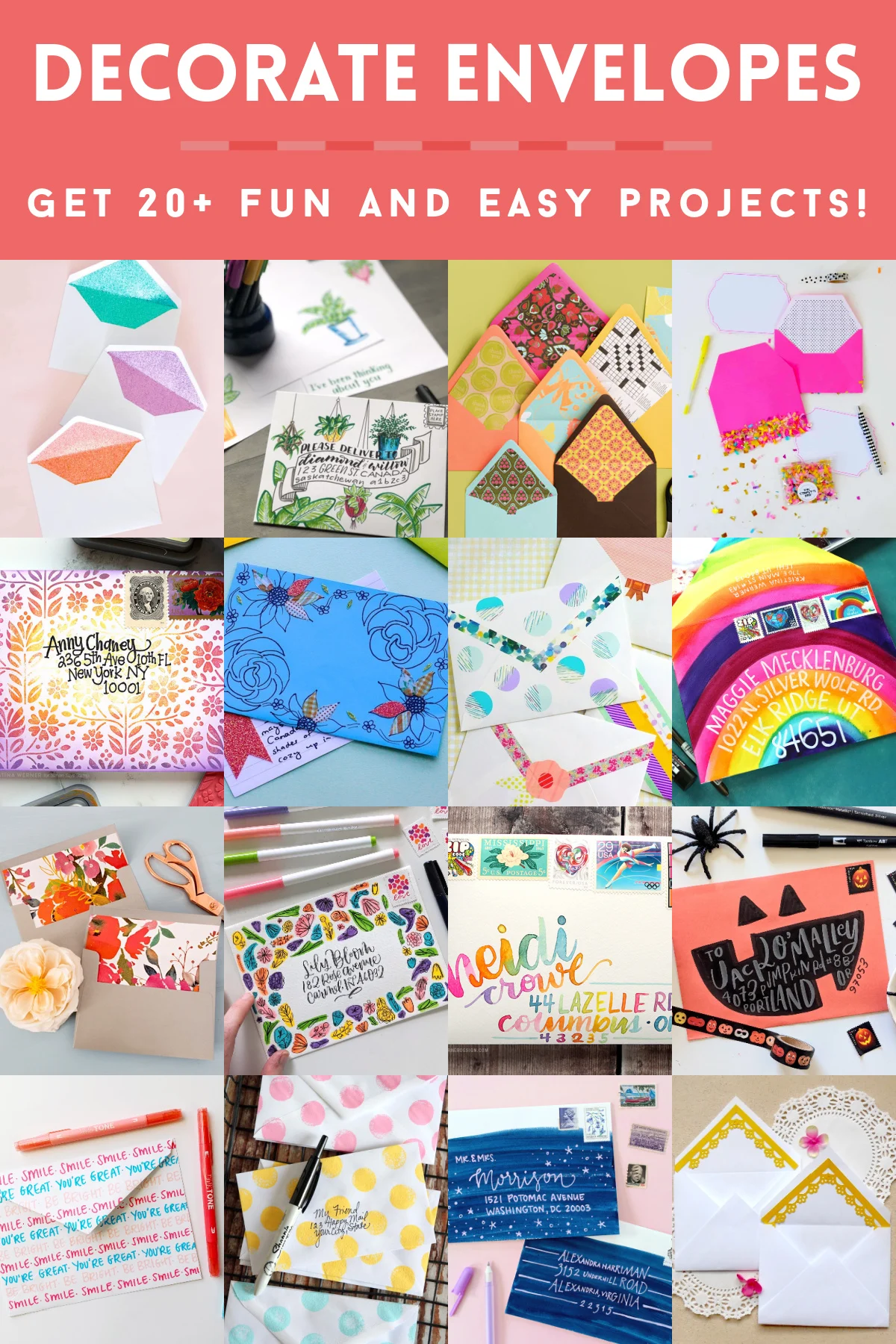 I don't know about you, but I don't really enjoy getting the mail these days. I don't even have a mailbox at my house anymore! I live in the Northwestern United States and here we have boxes in the middle of our neighborhood.
Packages are delivered at the front door (yay!) but everything else gets shoved into my mailbox. And it isn't good stuff either . . . it's bills, catalogs (I need to get off those lists), and flyers.
So not very awesome.
Nobody sends cards anymore, or fun letters. Every once in awhile there's an invitation to a party or wedding, but a lot of those have gone digital too. It's tragic, really. So can I propose something? We need to bring back happy mail!
That doesn't mean we have to go crazy. Maybe just sending one nice note to a friend, at least once a month? That sounds like a fun idea to me and something I'm willing to try. Because if I'm making a suggestion to you, I need to be willing to give it a go myself.
So today I'm going to show you fun ways to decorate envelopes so we can get this party started!
There are a variety of ways to decorate an envelope ranging from easy to a little more involved. You can use glitter, confetti, markers, watercolors, washi tape, paint, scrapbook paper, wrapping paper, and more.
My guess is that one or more of these ideas will inspire you and that you already have the supplies for several in your home. Plus they're for all levels, so don't be intimidated.
The next time you send out a Christmas card, a party invitation, a congratulations card, or even your utility bill payment – decorate the envelope!! You know that no matter who sees it, you're going to put a smile on someone's face.
And don't we all need that kind of light and love these days? I say yes.
Take a peek at the envelope decorating ideas below and let me know which ones you'd try (or have tried) in the comments. There's always a reason to celebrate when you get to be creative as far as I'm concerned.
Happy crafting!
Decorate Envelopes
You're going to love these unique envelope decorating ideas! Send happy mail by try one of the tutorials below.
---
If you enjoyed these envelope decorating ideas, I'd love for you to check out these other posts: