You'll enjoy making these DIY napkin rings, perfect for a dinner party at home or a holiday gathering! All of these are easy and inexpensive.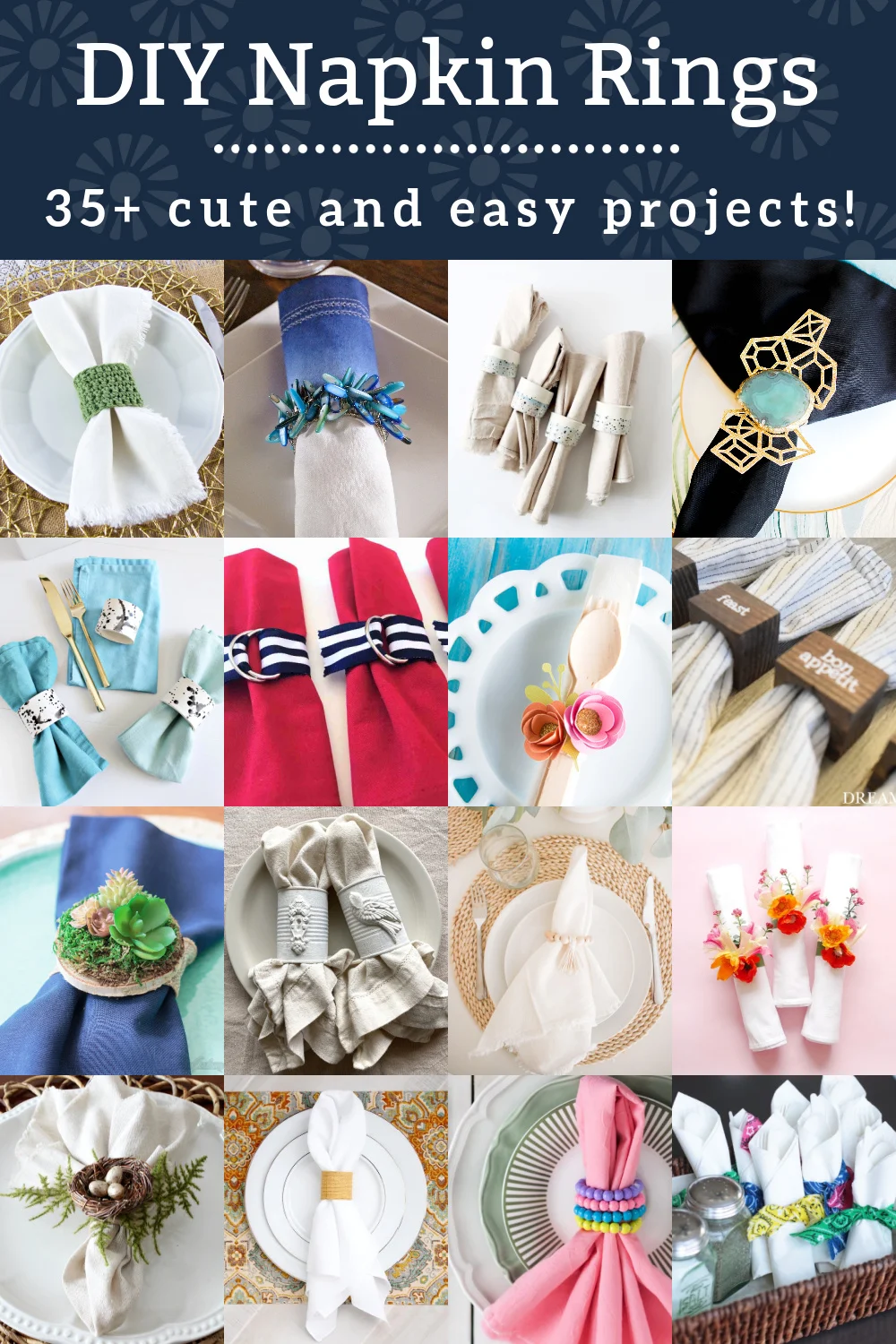 I don't come from a family of people that know how to host parties. I don't say that to be judgy; we're just not fancy, by any means. Plus I grew up in a family with five children. Sometimes it's enough just to get the nice plates out! Plus my mom just isn't a party type gal. I think she would admit this to you as well.
We did have a china cabinet growing up, and my mother used to bring out the silver and the handpainted-by-my-great-grandmother plates and bowls for Thanksgiving and Christmas only.
Those holidays were the two times of year that we'd actually use cloth napkins along with silver napkin rings. And we felt like royalty!
It was amazing how, even as a child, I noticed that just those two things (the cloth and the silver) made such a huge difference in the vibe of our gatherings. Feeling fancy doesn't take much, especially when you aren't party people by birth or trade.
Making Napkin Rings
As an adult, I've brought those "fancy feelings" into my own gatherings as much as possible. One thing I always do when people come over (whether it be for something casual or more involved) is bust out the placemats, the cloth napkins, and the napkin rings. Sometimes I will incorporate a table runner.
It's not much, but just like when I was little, it doesn't take much to upgrade a celebration just by adding simple items. That's why, in this post, we're going to focus on DIY napkin rings!
Napkin rings are the central "pièce de résistance" of a place setting, and here's the great news: you can make your own. On the cheap. And they look great! I've put together a collection for you so that you can get a ton of ideas for the next time you're feeling fancy!
What can I use for homemade napkin rings?
There's no end to the materials you can use! If you take a peek at the projects I've pulled together, you'll see the bases are made from toilet paper rolls (which are the perfect size), wire, ribbon, clay, wood beads, yarn, felt, wood, and more.
I highly recommend hitting the Dollar Tree to get supplies. Most of these are made on a crazy low budget!
What is the diameter of napkin rings?
As long as you make them around 1.75″ to 2″ round, you should be fine for most napkins (whether they be cloth or paper). A lot of these use an inexpensive ring as a base for a larger project, which is nice if you don't want to worry about sizing.
Are you ready to jump into the DIY napkin rings? Scroll down and get the ideas. Then I'd love to hear in the comments if you have ever made your own napkin rings, and how they turned out. Let me know!
DIY Napkin Rings
Learn how to make napkin rings that are perfectly pretty and inexpensive! The great thing about these projects is you can customize them. Use them for holidays or any gathering that you want to make a little fancy.
---
If you enjoyed these homemade napkin rings, I'd love for you to check out these other craft ideas: