These beautiful painted trays will be a perfect addition to your home decor! Grab a paintbrush and try one of these easy DIY projects.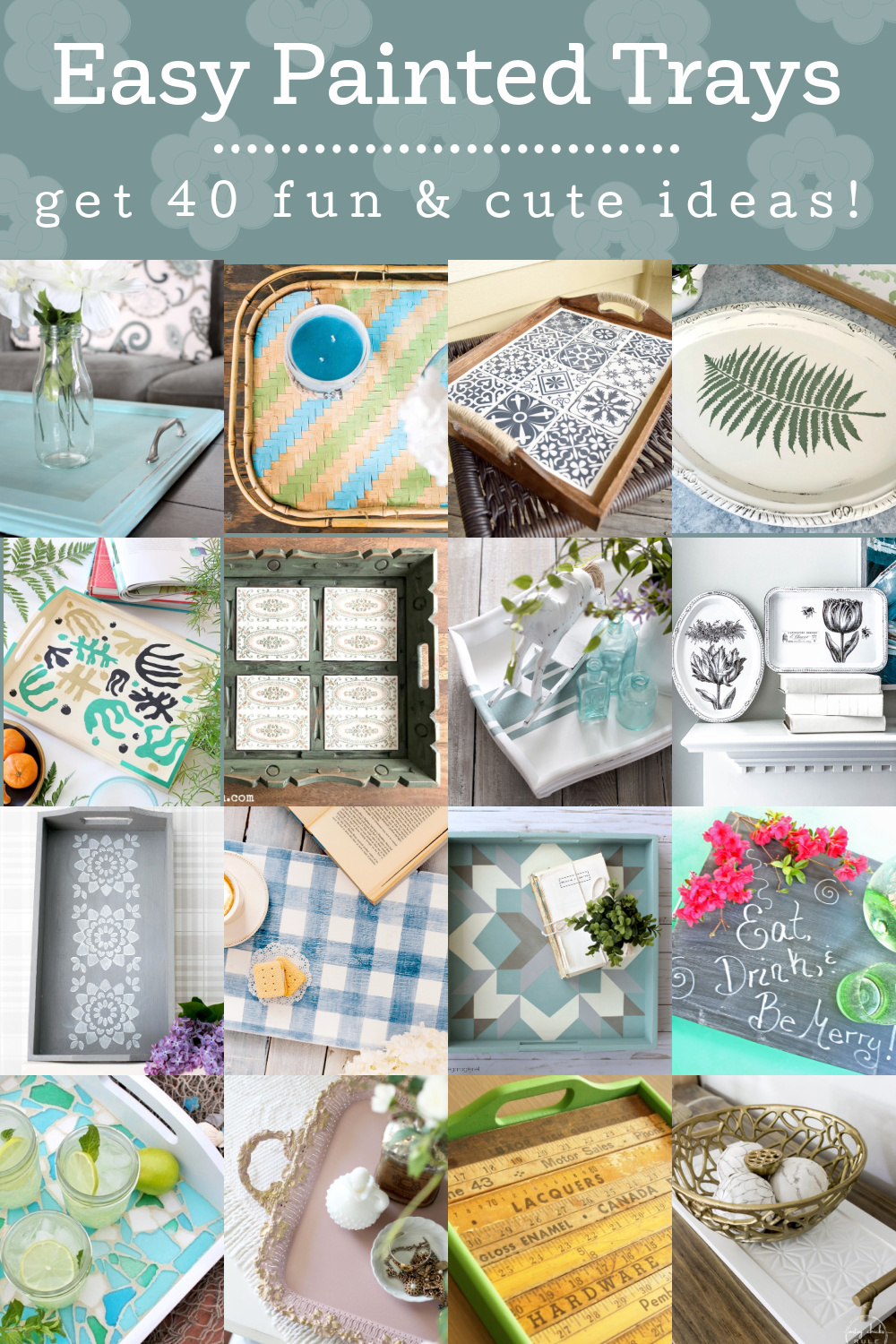 If you've been to the surface section at the craft store, you've certainly seen glass vases, photo frames, birdhouses, wood slices, wood boxes, plaques, and wood trays.
I don't know about you, but I get excited when I see all those unfinished surfaces. To me they are like an unpainted canvas! What can I do with them?? The possibilities are endless.
Because I love easy things to paint, and because we decorate so many trays here on Mod Podge Rocks, I pulled together a collection of my favorite painted trays so that I could show you a bunch of ideas all in one place.
I truly believe that little touches make a big difference in home decor, and painted trays are one way to add that pop of interest or color. They are also great for creating vignettes or simply helping things stay sorted in your home.
DIY Painted Tray
If you want to decorate a tray, I want to share the basics with you before you get started. If you'd like the ideas and want to skip the small talk, just scroll down to the list. Otherwise I hope this section helps you get ready!
Supplies Needed
The supplies I always like to have on hand are as follows: a tray, sandpaper, tack cloth, mild soap and water for cleaning, paint (chalk paint or acrylic), paintbrushes, paper/fabric and Mod Podge (if decoupaging), scissors.
Where to Get Trays
I already mentioned craft stores, but there are two other great places: Goodwill and Facebook Marketplace. Sure, some of the trays are going to be used or have a design on them, but that doesn't matter.
You can give any tray a new lease on life. You might have to use a little elbow grease, but you won't pay much for your surface.
One thing I like about reusing a tray that has been previously painted or has a design on it is that you can get a lot of interesting shapes and styles, more so than at the craft store. You'll see a lot of Goodwill action in this post!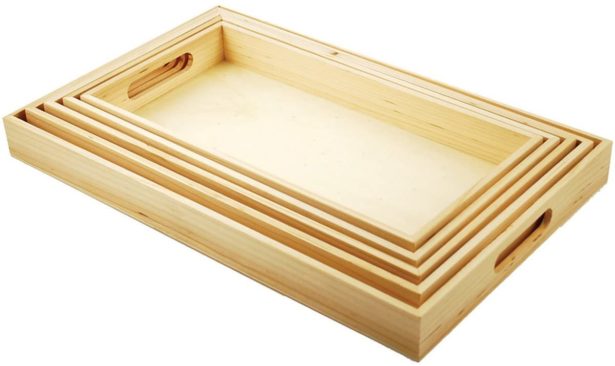 How to Prep a Tray for Painting
Before you begin, remove any stickers with adhesive remover. If it's a metal (used) tray, you can wash it with mild soap and water and let dry. For wood trays, sand out any rough spots and use wood filler to fix if necessarily. Sand and remove all sanding dust before doing any painting.
If your tray is dark and you are decoupaging or painting a lighter color on top, you might want to prime. I always use Kilz primer for just such situations, as it goes on very smoothly and works well with paint and Mod Podge. I've only had great experiences with Kilz personally.
What Type of Paint to Use
I'm pretty predictable when it comes to trays – I use one of three things: acrylic paint, chalk paint, or spray paint. You can use Mod Podge with any of these, so it really depends what you have on hand or what you want the finished look to be. I like spray paint with metal because it produces such an even finish.
With wood I like to use FolkArt acrylic paint OR FolkArt Chalk finish. I love the color selection and also the finish. Note for the chalk paint . . . you won't have to prime with chalk paint. It has such amazing coverage. It's also perfect for a more distressed look.
How to Finish a Painted Tray
Once you're done painting and decorating your tray, you need to finish the project by sealing it. Maybe you decoupaged paper or fabric into the tray as well. I use one of two things for the finishing: Mod Podge Resin or Minwax Polycrylic.
Resin provides a nice thick and glass-y looking finish that I really enjoy. But just plain polycrylic works well too. The nice thing about the resin is that it is waterproof if you put cool drinks on a tray. Remember to let your painted tray dry for 24 hours before using.
---
Are you ready to get a bunch of ideas for transforming a plain tray into something special for your home? Scroll down and enjoy them!
Painted Trays
Painted trays are a perfect addition to your home decor! You're going to love these 40+ ideas for painting wooden trays. These projects are great for beginners.
---
Did you enjoy these painted trays? I'd love for you to check out these other project ideas I think you're going to enjoy: