If you want to attempt a Mod Podge table project, check out this collection of 15+ great ideas. They're all unique – which one will you try?
Watch the video in this post of an IKEA lack makeover with Mod Podge! Cathie and Steve show you an easy way to DIY a table – you're going to love it.
Have you ever Mod Podged a table? Re-doing furniture is pretty much my most favorite thing ever, and I don't get to do these projects nearly as much as I like.
My apartment is small, but soon I'm going to be moving into a new space which will allow me to makeover as much furniture as I want! I'm going to start with a large desk table first, and I can't wait.
Mod Podge Table Ideas
To get inspired, I put together this roundup of Mod Podge table projects. I'm not sure which one I'll use yet, but I'll let you know when I figure out what I'm doing.
In the meantime, I think you should attempt a Mod Podge table as well. You'll need ideas, so scroll down to see my picks. I think you'll like them/
How to Re-Do a Table with Mod Podge
If you're just getting started with furniture and decoupage, I highly recommend reading how to prep furniture for decoupage as well as how to Mod Podge fabric to furniture.
You might also want to read about Mod Podge Hard Coat. That is formula I recommend for these tables. Now scroll down and enjoy the projects!
Glass Top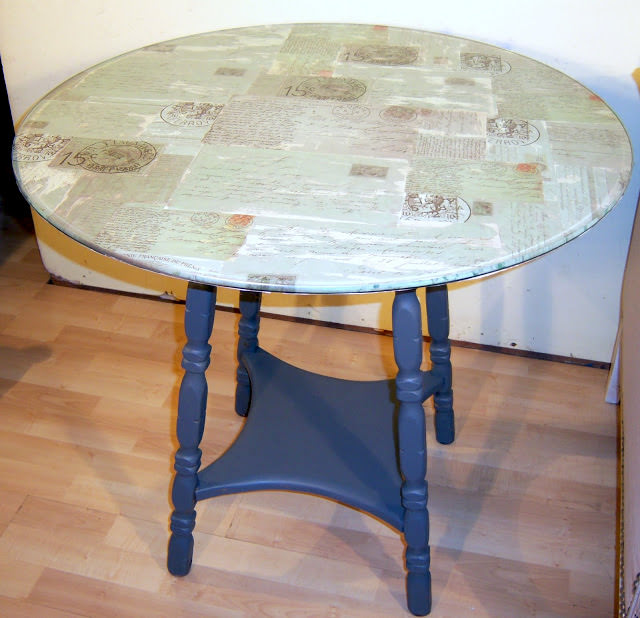 Karen used vintage graphics to decorate a glass tabletop and added it to an old side table.
See how it was done at Shabby Sweet Cottage
Daring Dahlia
Jessica took an IKEA table and added a bold floral pattern to the top with fabric.
Learn more about the project at Juicy Bits
Fabric Table Top
I revamped this fabric table in this unique upcycled furniture project! Learn how to do it yourself with Mod Podge. So easy!
See how it was done here at Mod Podge Rocks
Baseball Themed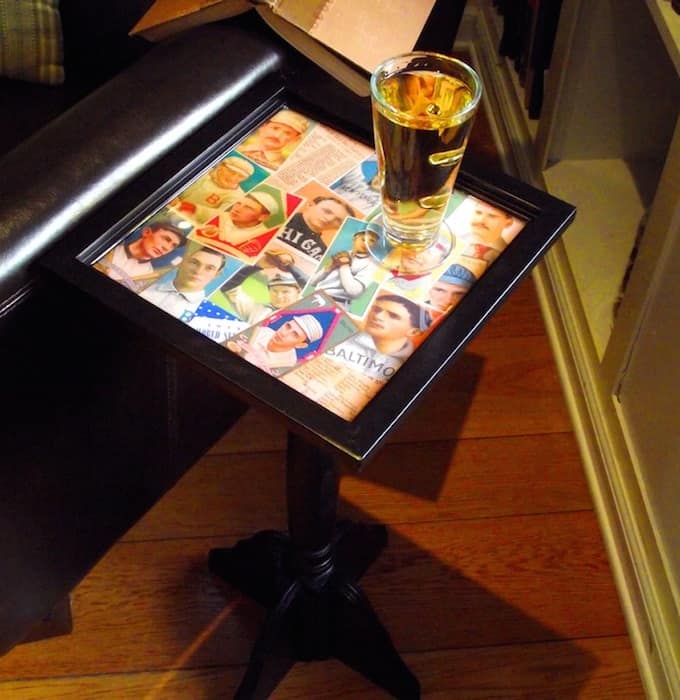 Learn how to build your own Mod Podge table from scratch, and then add manly graphics on top to finish.
Learn how to do it here at Mod Podge Rocks
Modern Moroccan
Cathie and Steve used paint and a large scale design to give a new look to the top of this IKEA end table.
See how they did it at Cathie Filian
Simple Applique
Use Mod Podge and a pillowcase (yes, a pillowcase!) to decoupage a design onto a tabletop. This table revamp is really easy!
Learn how to do it here at Mod Podge Rocks
IKEA Glam
Lizzie gave her IKEA Lack table an upgrade with wallpaper, Mod Podge and nailhead trim.
Learn more about the project at Living Pretty
Luggage Rack Table
If you are into salvaged furniture, this DIY end table is perfect for you! It was made using an old luggage rack and cabinet door.
Learn how here at Mod Podge Rocks
Dressing Table
You can revamp a dressing table with paint and wallpaper – just use Mod Podge!
Photo Transfer Top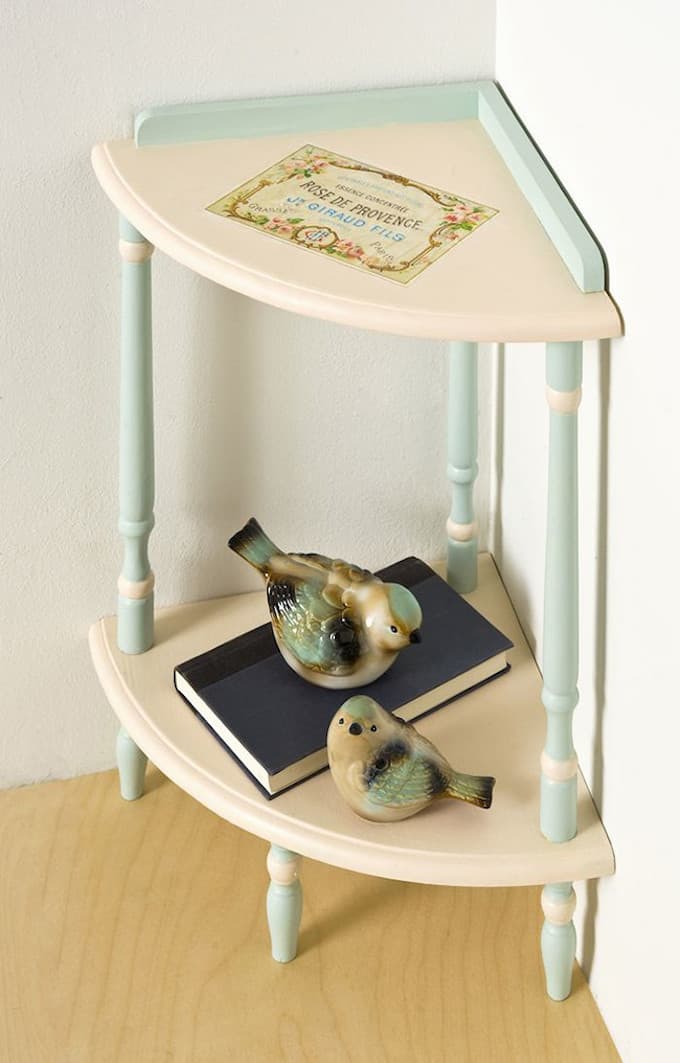 Try an upcycled furniture project with this piece from the Goodwill – this table was made over with paint, Mod Podge photo transfer and a vintage graphic!
Get the how-to here at Mod Podge Rocks
Outdoor Table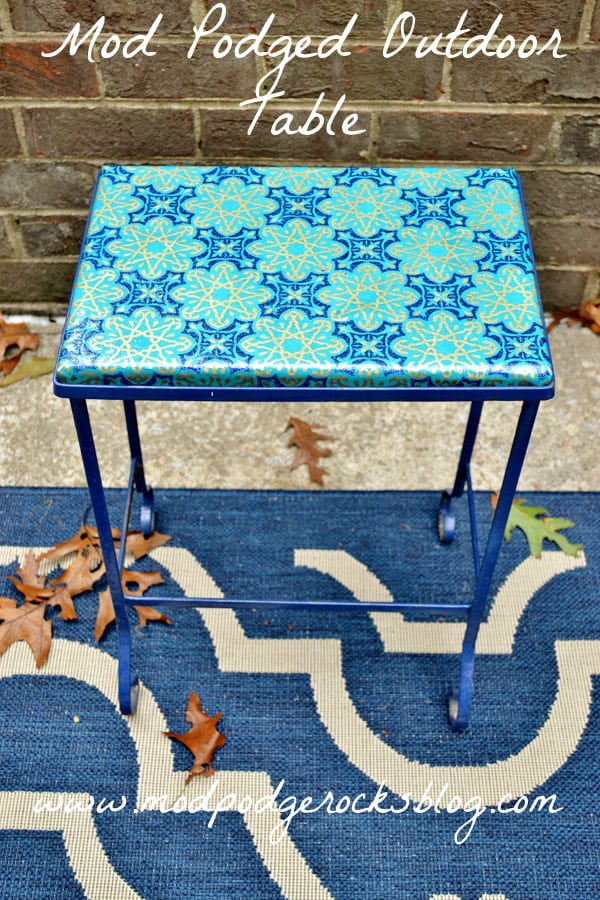 Learn how to make decoupage table with wrapping paper! It's easy to do with Mod Podge Outdoor and this tutorial. Such a unique project.
Get the how-to here at Mod Podge Rocks
Book Pages
Karen shows you how easy it is to makeover a coffee table with Mod Podge – and it didn't take that long to do.
Get the instructions at Sew Many Ways
Bright Endtable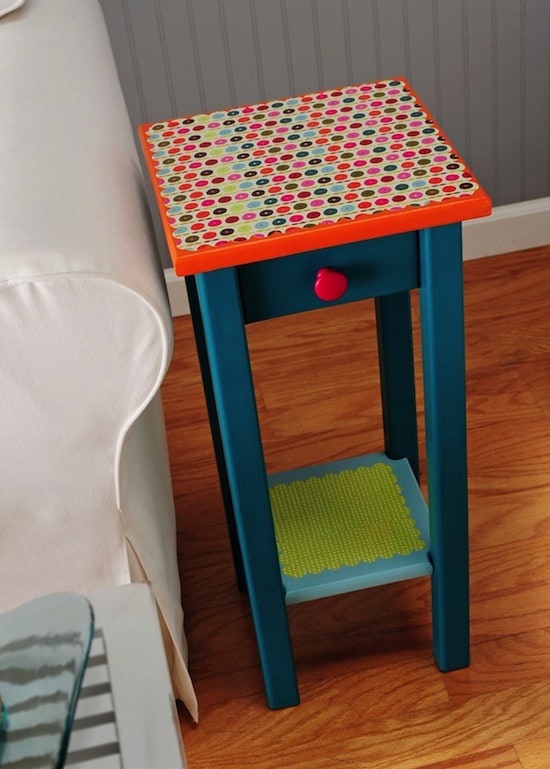 I loved revamping this old endtable using bright paint colors and scrapbook papers.
See how I did it here at Mod Podge Rocks
Metal Makeover
Any metal table can become a surface that you love with some spray paint and paper scraps.
Find out how to do it at Sweet Rose Studio
Dining Room
If you are worried that decoupage might not look nice enough for a dining room, check out this post.
See how it was done at Parlour
TV Tray Table
Don't throw out that used TV tray – turn it into a DIY craft table using fabric and Mod Podge! Just cover the top with your favorite pattern: so easy!
Find out how here at Mod Podge Rocks
---
Ready to see one of these Mod Podge table top ideas in action? Check out the video in this post!