Turn antique metal butterflies into pretty magnets with wallpaper and Mod Podge. Use these easy butterfly decorations in your home decor!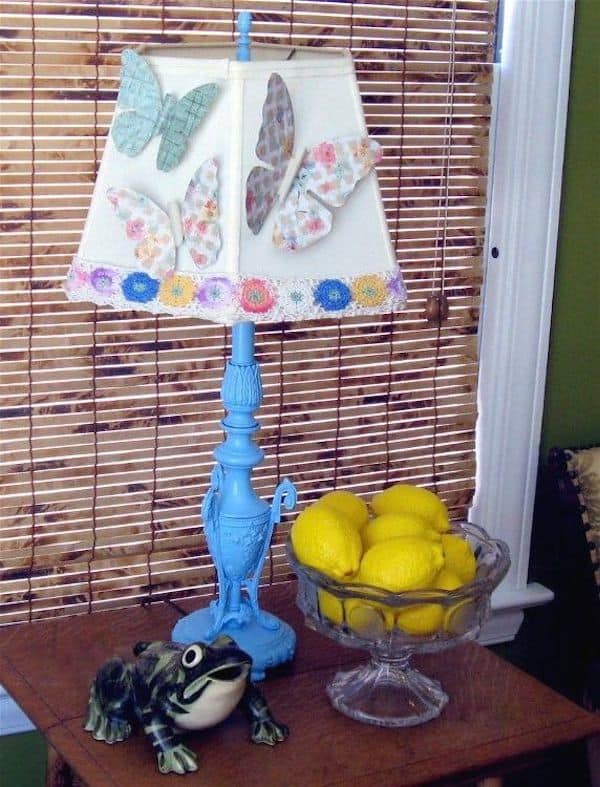 I'm going to be honest – I just love Mitzi from Mitzi's Collectibles and I'm happy to share her butterfly decorations here today. I've featured her several times, and she's one of the most talented Mod Podgers out there.
She specializes in antiques, and she always thinks of something new and unique I've never seen before. I think you'll like her upcycled butterfly magnets, decoupaged with vintage wallpaper. Here they are.
—————————-
Howdy Mod Podgers, I'm Mitzi Curi from Mitzi's Collectibles and my crafting specialty is "up-cycling" vintage items so they can be used and appreciated in our modern lifestyle.
Today I'd like to show you how to make wallpaper butterfly decorations – I turned them into magnets. These are made from brass butterflies than many of your grandmothers or aunties have hanging on their living room walls.
Made by Homco, they were often sold as a grouping of butterflies on a branch, or as single butterflies that could be sprinkled amidst a persons' wall decor. If Grammy won't give them up, you can look at flea markets or eBay for them.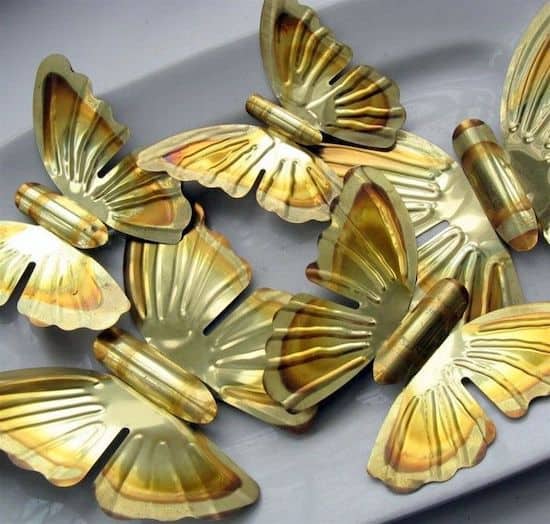 With some Mod Podge and some beautiful papers, you can have these: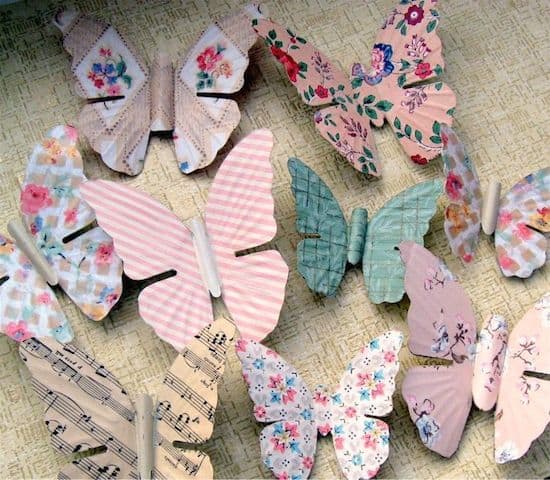 They will attach to anything metal in your home.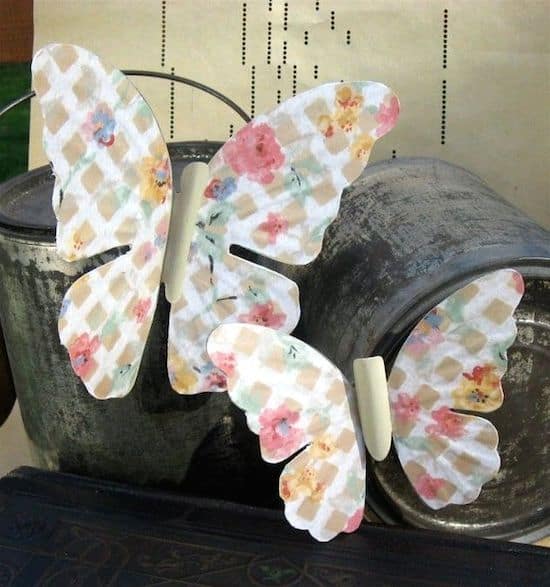 Or you can use them on a lampshade with a second magnet on the inside of the shade: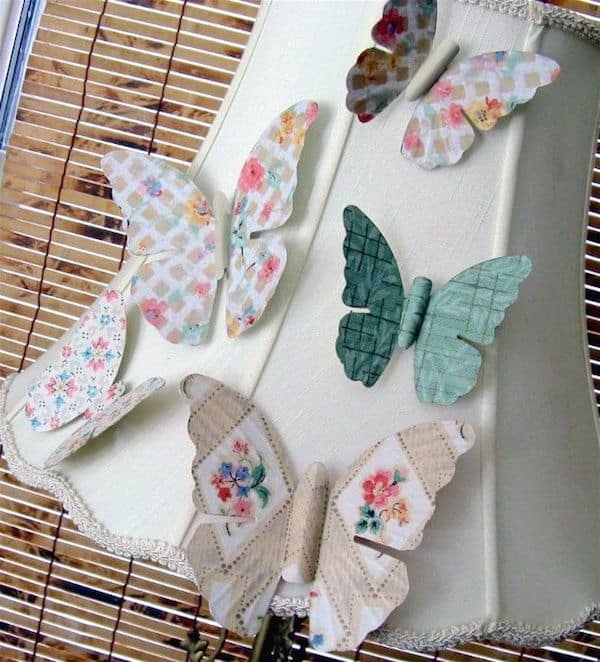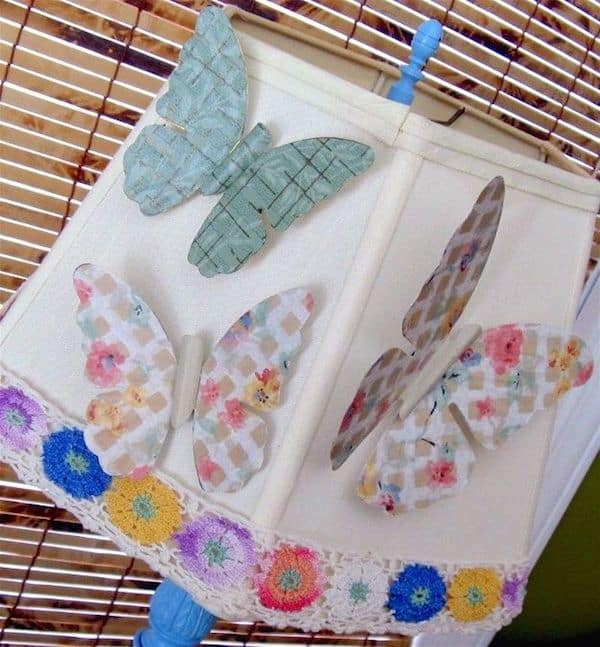 DIY Butterfly Decorations
Gather These Supplies
Brass butterflies
Vintage wallpaper, sheet music, or patterned scrapbook paper of your choice
Sponge brush or paintbrush
Scissors
Super strong magnets (at the craft stores you can find them in a package of 8)
Craft paint or spray paint (optional)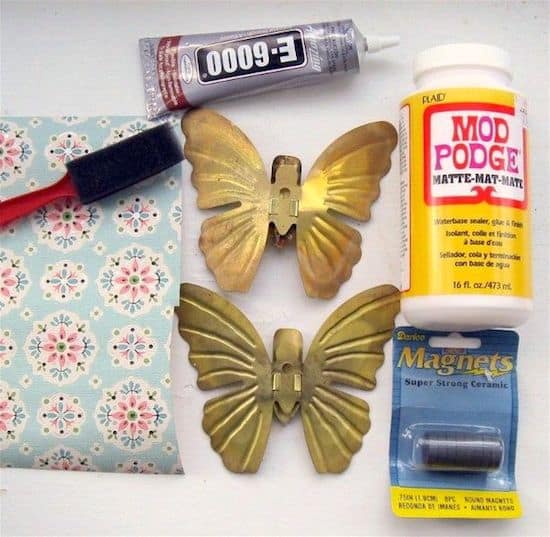 To prepare your butterflies, take some wire cutters and snip them off the branch if they are attached to one. If your butterflies have a detachable body, like mine, gently bend the metal tabs and remove the body.
I like to spray paint the undersides to give them a finished look. I've tried craft paint, but it requires several coats to cover the brass. If you wish to paint your butterflies, coat the undersides and let dry.
Lay the butterfly and the little piece you removed from the body on your paper of choice, and trace around them with a sharp pencil. (My examples below haven't been painted on the undersides):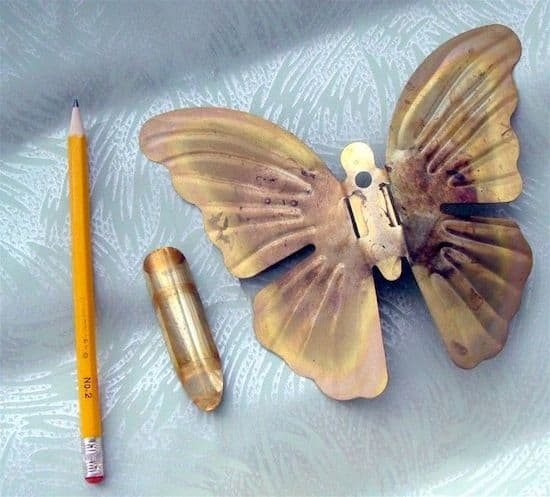 Cut out your paper. I like to end up with three separate pieces, so when cutting the paper, I cut the wings apart at the juncture where they attach to the body. There might be some guess work involved here, because you won't be able to trace completely around the wings.
Coat the back of the paper with decoupage medium, and apply the paper to your brass butterfly decorations.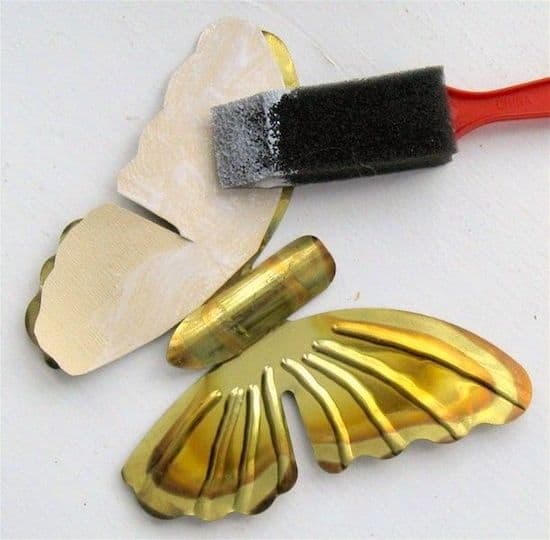 I find it effective to smooth the paper with my fingers. Sometimes a brayer can be used to roll out the lumps too. Once the paper is firmly attached, topcoat with Mod Podge.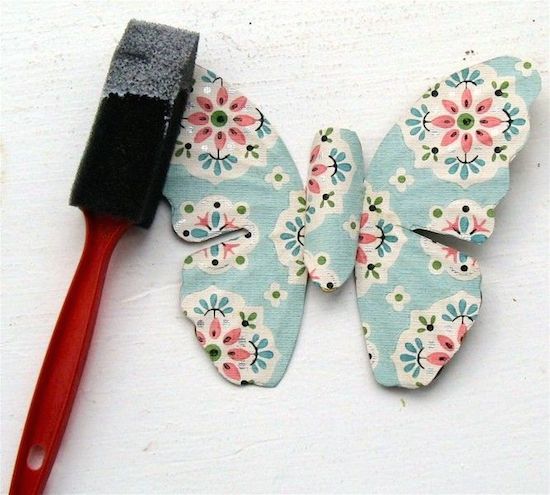 Once dry, you can snip the edges with scissors if there is any paper overhang. An emery board can also be used if you want very smooth edges.
Re-attach the body to the wings, then flip over and glue a magnet to the underside. A small glob of E-6000 will create a strong bond. Leave the butterflies to dry overnight.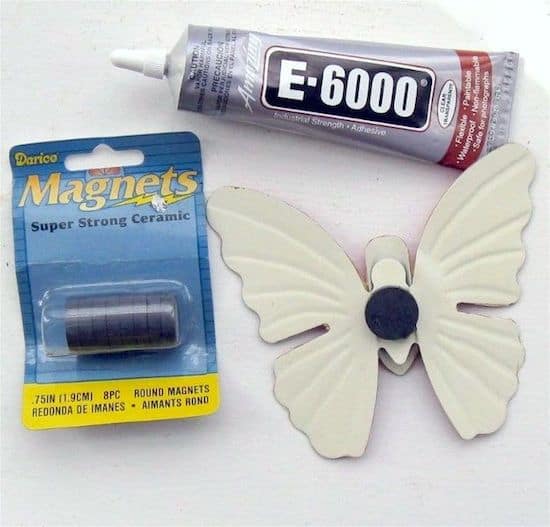 You're done with your upcycled butterfly decorations! If you wish to use for a lampshade, I have found that gluing a bit of thin fabric or paper to the magnets will insure that they won't leave any residue on the lampshade.
Now you need one loose magnet to put on the underside of the lampshade and you attach the butterfly to the outside. It should hold securely in place if super strong magnets are used.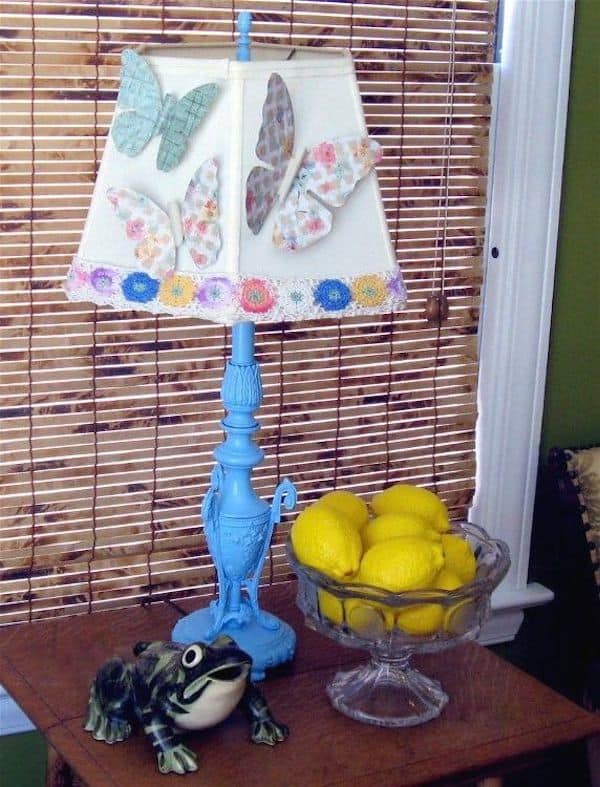 Just a word about my turquoise lamp base. I pick up inexpensive lamps at garage sales. Most of them are brass, and might have cool shapes or details but look out of style because of their brass finish. I spray paint them bright colors to make them more appealing and fun. Here are four I painted last summer: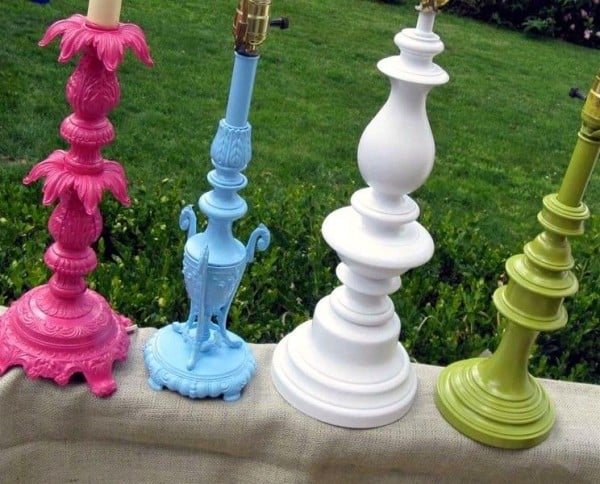 I then use trims I've collected to gussy up the lampshades. A butterfly or two is the finishing touch!
If you love vintage inspired decoupage projects, check out this other project from Mitzi – decoupaged bottles.