Check out our collection of awesome spring crafts – ideas for adults and for kids! Bring in warmer weather with these great ideas.
I know there's still snow on the ground in some areas of the country, and even as I look out the window right now I'm seeing some freezing rain.
We've already had several spring showers and warm weather is on the way. That means it's time to change out the winter decor for items that are more colorful and floral. Yep, it's time for spring crafts!
Spring Crafts
When I think about spring craft ideas, I think about flowers, pastel colors, plants (you should check out our garden crafts!). Here are some of my favorite craft supplies to use during the season:
Tissue paper
Scrapbook paper
Lace
Clay pots
Felt, wood letters, and other embellishments in spring colors
My secret for surfaces is to head to Dollar Tree and Michaels and see what they have that's new for the season. I also really love Jo-Ann spring craft surfaces . . . they are so cute!
One place my mom shops from every year is Wood Connection. She's always making spring crafts for her tables and mantels, and she's a huge fan of their surfaces. I have to say, all of them are really fantastic for Mod Podging.
Spring Craft Ideas
I don't know about you, but I'm excited to get creative for the change of seasons – and I'll be using my favorite craft product ever, Mod Podge.
In fact, I've pulled together 10 projects that you can make for spring using Mod Podge. Check them out below – click on the titles to go to the full tutorial.
Cut tissue paper to fit around the glasses vases. Brush Mod Podge onto the glass, apply tissue paper and lightly press down (do not rub). Once you have "tapped" down tissue paper, apply second coat of Mod Podge. Let dry.
Apply Dimensional Magic over desired areas for dimensional detail.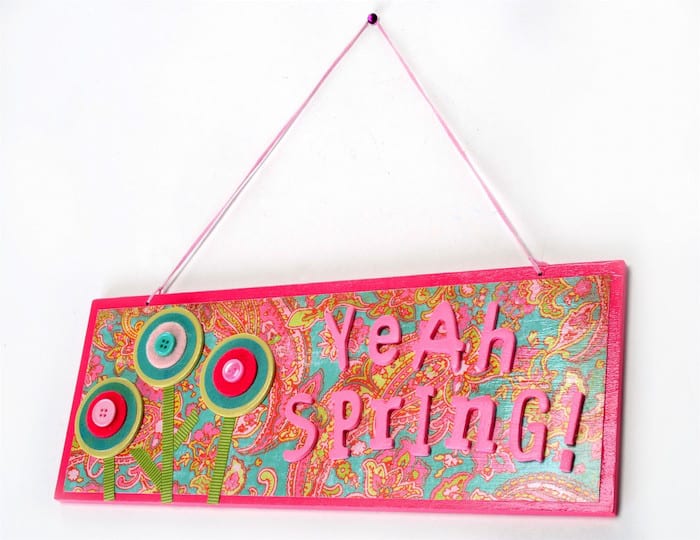 Paint an old sign (or new one) with your favorite, bright acrylic paint color. Decoupage a rectangle to the front using scrapbook paper.
Add painted wood letters to the front using craft glue . . . and make your flowers from painted wood circles. The stems are ribbon and the centers are buttons. Hang on a ribbon to display.
Decoupage small paper doilies to the center of floral chipboard shapes, then hang on a bright ribbon. You can string anywhere in your home for a pop of spring!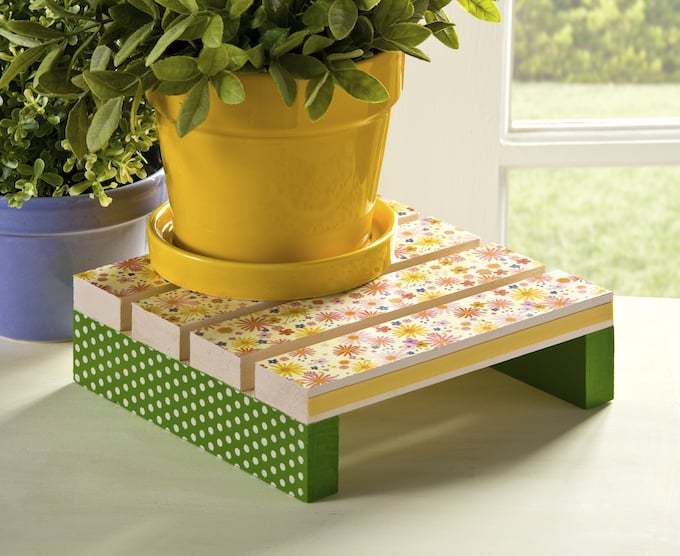 I made this project by painting an unfinished wood plant stand with acrylic paint – then decoupaging floral scrapbook paper to the top slats. I added polka dots to the side with a Mod Podge Rocks peel n' stick stencil. Coat the whole thing with Outdoor Mod Podge to make it weatherproof.
Create a template of the headband by tracing it on a piece of scrap paper. Using the template as a guide, cut the headband shape from the decorative paper. Coat the back and front side of the paper with Mod Podge and attach.
Hot glue rickrack trim to the edges of the headband. Hot glue silk flowers to the mid-top section. Hot glue a rhinestone to the center of the flowers. Hot glue a scrap of ribbon around the two ends of the headband to secure the rickrack. Allow to dry.
Pretty Lacy Vase
This vase was made with Dishwasher Safe Mod Podge – which means you can wash it! A paper doily was attached using the Mod Podge and a paintbrush.
Let dry and then put several coats of the Mod Podge over the top. Display with fresh flowers.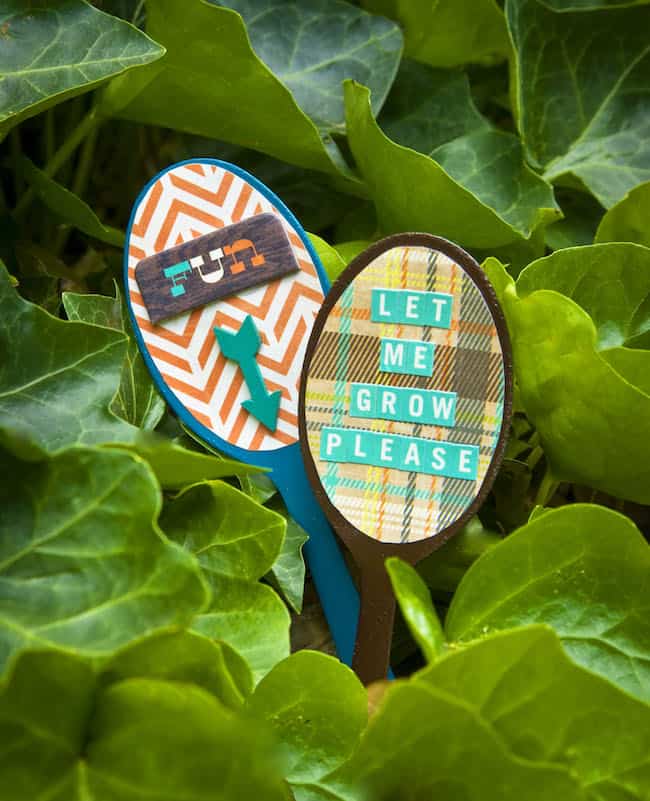 Pound thrift store spoons out using a hammer until they are flat. Spray paint any color that you like, then cut scrapbook paper to fit the oval portion at the top.
Mod Podge your paper down, let dry, and then paint several coats over the top. Add stickers and embellishments as desired.
Trace each letter on scrapbook paper using a pencil and cut out. Set aside. Paint each letter with a basecoat of paint to match your scrapbook paper – let dry.
Decoupage the paper to the top of the letter and let dry . . . then add accents such as ribbon, rhinestones, and flowers with craft glue.
You have a few options here! Paint the pots with regular acrylic paint or chalkboard paint. Then tear pieces of paper or cut out fabric shapes and decoupage to the outside of your pots.
Glue down scrapbook embellishments, ribbon, and paper flowers to accent. then plant your flowers!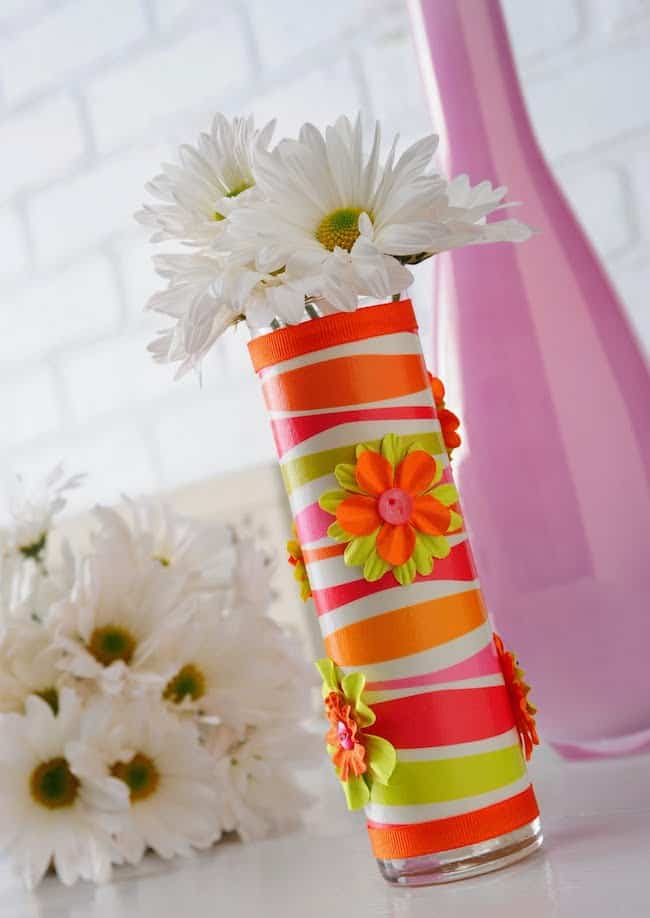 This project is SO easy to make! Simply cut a piece of scrapbook paper to fit your mini vase and decoupage with Mod Podge. Let dry for 15 – 20 minutes and put a coat on the outside. Let dry and then glue on layered paper flowers and buttons to finish.
---
I hope you enjoyed these spring craft ideas! I'd love for you to check out even inspiration here:
Which of these Mod Podge spring crafts will you try? Let me know in the comments!