If you're looking for an EASY DIY summer wreath, this is your project! This summer door wreath uses dollar store supplies.
Skills Required: Beginner. You don't need prior crafting experience to make this unique summer wreath. It's so simple that even a kid could do it.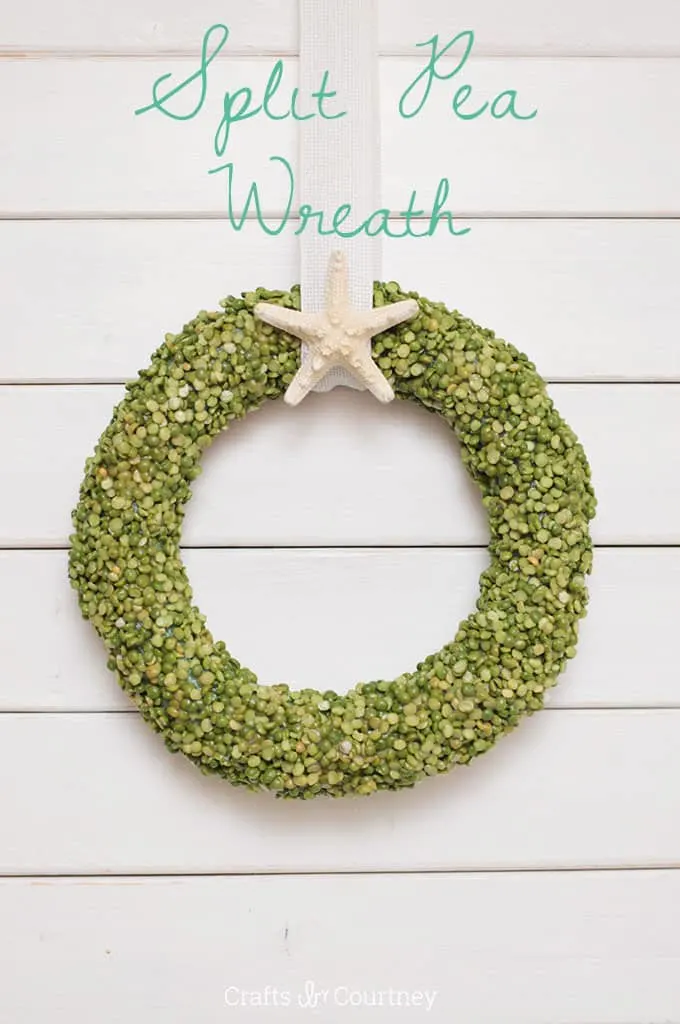 I'm really excited to share today's DIY beach decor with all of you. I made a split pea wreath for my back door and I'm LOVING it – so much so that I plan to make a few more for around the house. They go really well with my coastal theme, but are neutral enough to go with other styles of decor as well.
DIY Summer Wreath
This summer door wreath was a pretty easy project to make, and I feel that it makes a big impact on my decor without being too overwhelming. To be honest . . . it's a great spring craft too. You can keep this on your door six months out of the year!
Summer Door Wreath Supplies
Before I get into the details of the wreath, I wanted to talk a little bit about the supplies. You're going to want a smooth wreath form, also called an "extruded" wreath form. My form was purchased at Dollar Tree for (shocker) $1. It's 10″ and is green.
What I love about the green wreath form is that if you miss some spots when you are adhering the split peas, it won't really be noticeable. Michaels has green wreath forms as well as some of the other craft stores.
You can purchase white wreath forms in other craft stores as well (and online), but obviously you're going to pay more. However, you can get a variety of sizes and shapes online which is pretty handy if you want to do something a little different.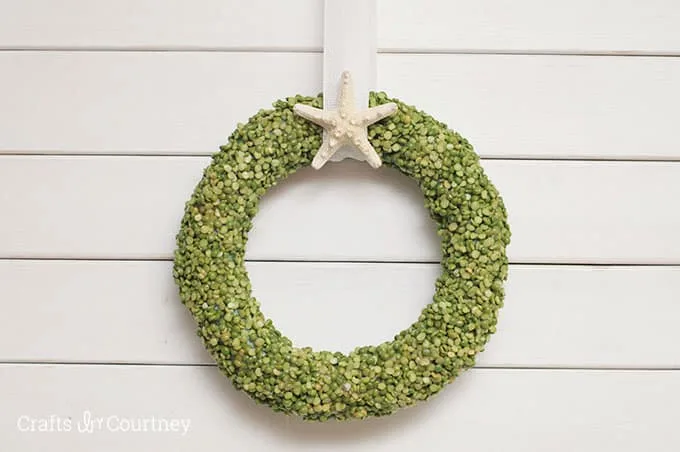 In addition to the wreath form, I got two bags of split peas for $1 each at the grocery store. I already had the Mod Podge and decorative accessories on hand, so if you're into math you can quickly calculate that I spent $3 on this project.
If you need to purchase ribbon and accessories (like the starfish), it shouldn't cost you much more. I highly recommend digging into your stash.
What I love about this wreath is that it goes with a variety of themes – farmhouse, rustic, vintage, etc. The natural look of the split peas compliments a lot.
Painting the Wreath
If you're so inclined, you can change the wreath color after it's done. You'll want to attach the peas first, but then simply give it a coat of acrylic paint or spray paint!
It's absolutely fine to apply paint over the split peas. Changing the color could be a good idea depending on the color of your decor. It will have a cool texture.
If you're looking for a pretty DIY summer wreath that is budget friendly, this is your project. So if you're ready, let's get started!!
How to Make a Summer Wreath
Gather These Supplies
Craft foam wreath form (size of your choice)
Split Peas – 2 bags is perfect for a 10″ wreath form
Paint Brush
Ribbon
Starfish – or other decorative accents
Getting Started
There's nothing you have to do to prep for this project besides making sure that your wreath form is clean and dry. Otherwise, you can use everything as-is, including the peas.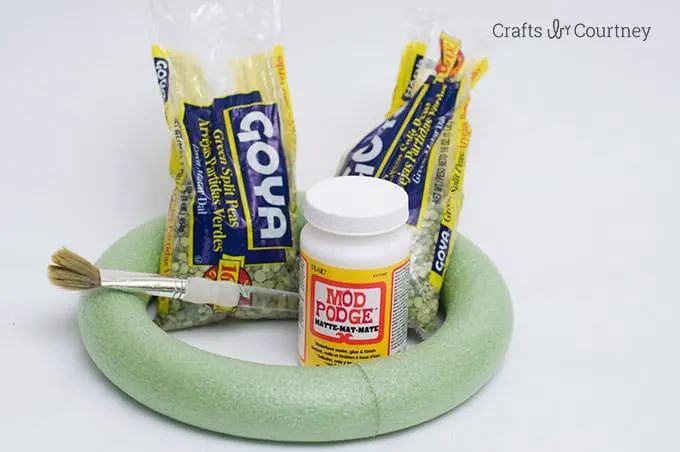 Step 1 – Add Mod Podge and Peas
I found at perfect container to put my split peas in, which was a bowl I already had. This bowl makes the project quite a bit easier!
If you don't have a bowl like this one, you can also use a cookie sheet with wax paper on the bottom (so the Mod Podge doesn't touch it). Simply spread the peas out as shown.
I just set my wreath inside and started painting on the Mod Podge. Once I painted on a section, I started sprinkling on my split peas. Once I got past the sprinkling, I started pushing the peas into the wreath.
Once my summer wreath was covered, I let it dry 30 minutes.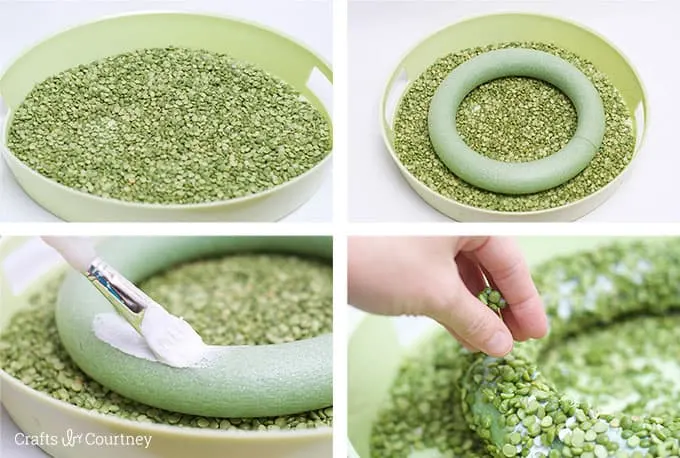 Step 2 – Fill in Bare Spots
Once the wreath had dried, I started filling in the bare spots. I did this by adding my Mod Podge and peas again. You might need to go on thicker with the Mod Podge to get the peas to stick. Just don't add too much – otherwise you'll get clumping.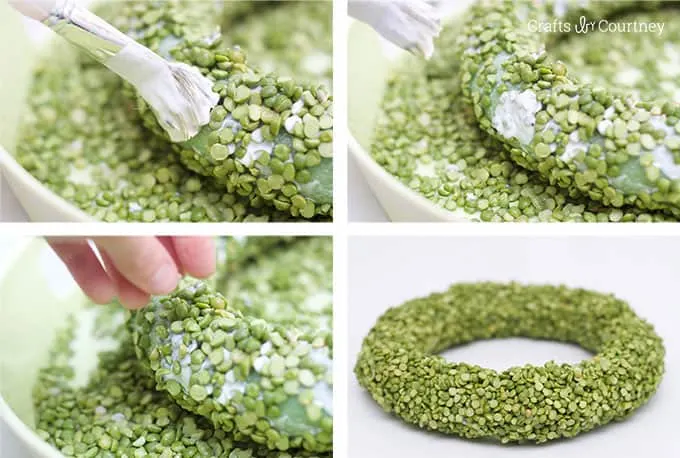 Step 3 – Seal in Split Peas
So this last step is important. At first when I picked up the wreath, the split peas started falling onto the ground. I couldn't have that.
Since Mod Podge dries clear, I thought covering my entire summer door wreath would work perfectly, and guess what . . . it did!!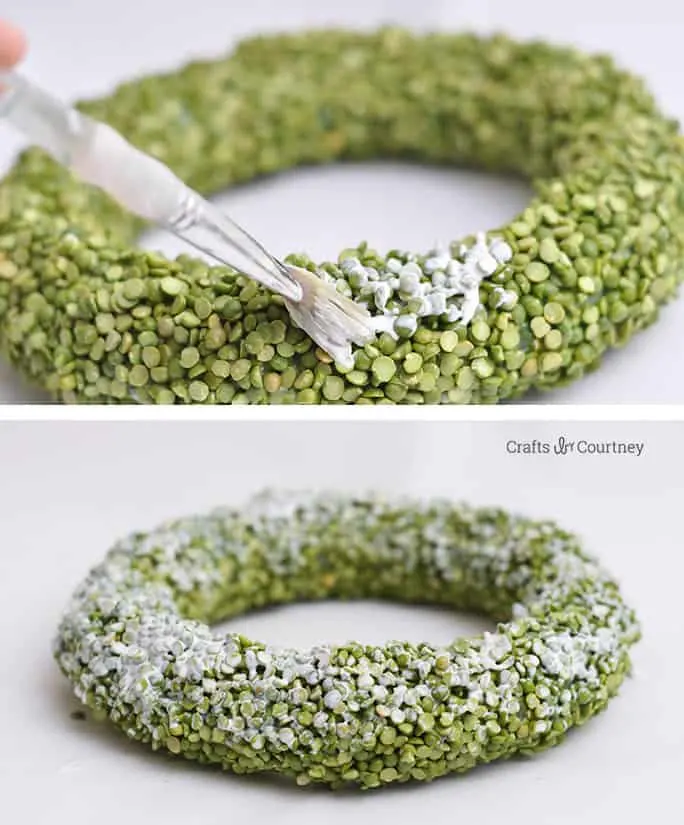 After it dried I didn't have to worry about any of the split peas falling off. I've shaken the wreath several times, and nothing.
Step 4 – Finishing Touches
I decided on some white burlap ribbon and, of course, also had to add some coastal feel with a shell. I think the shell looks perfect at the center of the top. Very simple and clean.
I will be making another summer wreath and adding it to my french doors in the kitchen. Or maybe two wreaths. Don't you think they'd look perfect there?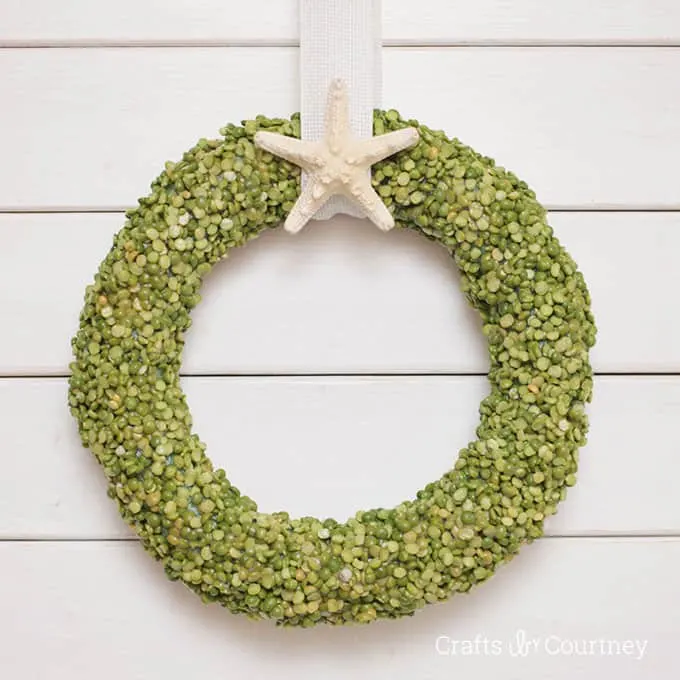 I hope you enjoy making a summer door wreath for yourself. There will be a time that you think, "what did I get myself into?" because it's going to take some time.
But take a "woosa" moment and continue on! Put a movie on the television and keep working. Believe me – it's worth it in the end.
Yield: 1 wreath
DIY Summer Wreath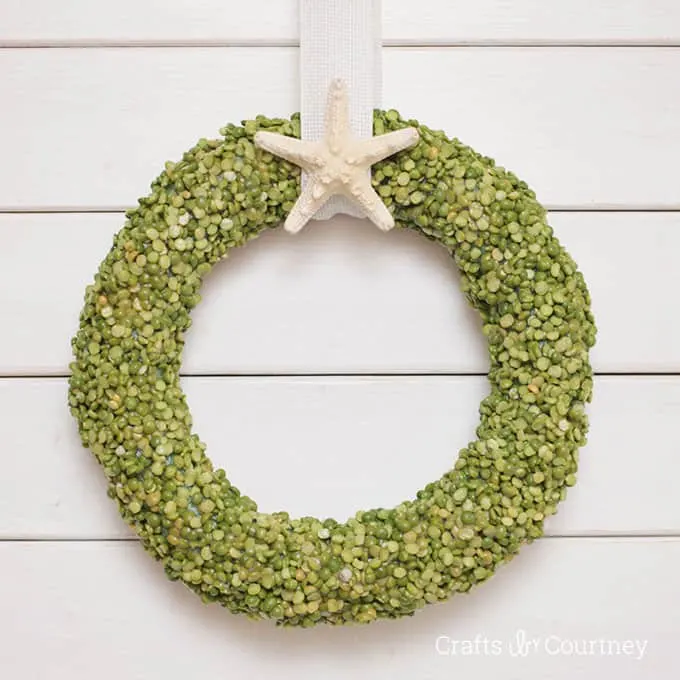 Learn how to make a door wreath for summer - with split peas! This easy wreath making tutorial is perfect for beginning crafters.
Total Time
1 hour
35 minutes
Materials
Craft foam wreath form (size of your choice)
Mod Podge Matte
Split Peas – 2 bags is perfect for a 10″ wreath form
Ribbon
Starfish – or other decorative accent
Tools
Paintbrush
Scissors
Bowl or wax paper
Instructions
Place the split peas in a bowl large enough to fit your wreath. If you don't have a bowl, put wax paper down on the surface and spread the peas around.
Set the wreath down in the peas and paint on the Mod Podge. Paint a section and sprinkle peas on that area. Keep going until the entire wreath is covered. Let dry for 30 minutes.
Fill in the bare spots by adding Mod Podge and peas in those areas. You might need to go on thicker with the Mod Podge to get the peas to stick. Just don't add too much – otherwise you'll get clumping.
Add two final coats of Mod Podge to seal the split peas to the wreath.
Add ribbon and an embellishment to the top to finish, and to hang.
---
If you like this summer door wreath, you'll love these other coastal and warm weather inspired crafts as well: