Grab a list of easy Christmas crafts for kids of all ages! Get creative this holiday season with over 50 projects they'll love making. Great ideas for older children but also preschool age and toddlers as well.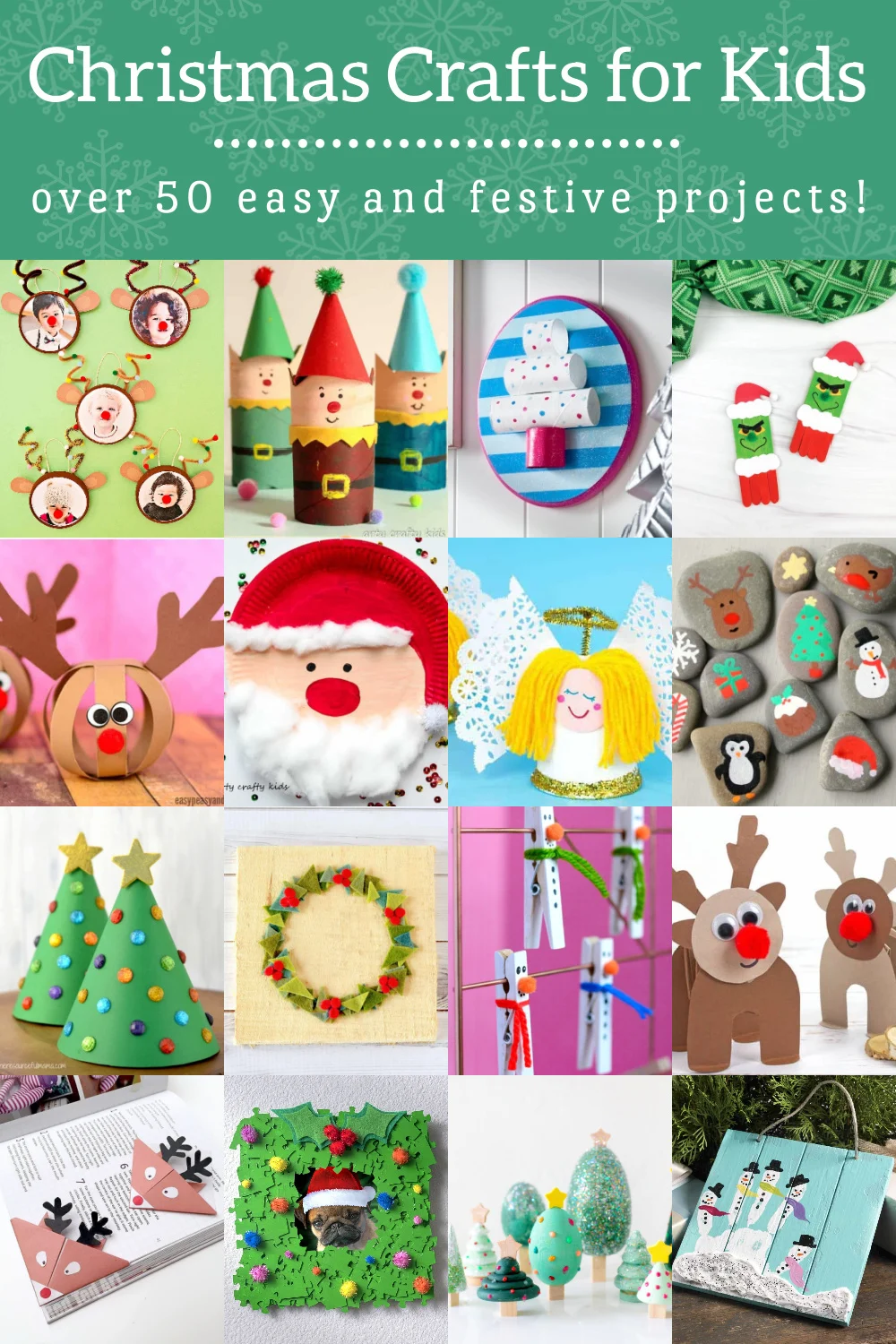 One of my favorite things about Christmas is visiting "projects past." If you go to your parents house during the holidays and sit with your mother while she pulls out the decorations, inevitably you'll find something you or your siblings made within the box.
Every year, that macaroni ornament you made when you were four looks just a little bit rougher – but that doesn't change the look of glee on your face nor does it prevent the "awww" as it comes out of the storage container. Those are some serious holiday memories!
Now that you're an adult with children, it's time to do some Christmas crafts for kids that they can bring out of the decorations box in a few decades and squeal about. And I've got some great ideas for you!
On this list of kids Christmas crafts is a little bit of everything, with lots of different materials and themes represented. There are Christmas ornaments, festive trees, snowmen, reindeer, wreaths, elves, and more. No matter what your holiday fancy is, you will find something that you and the littles love.
Not only that, but the Christmas craft ideas on this list are fun and easy for a variety of ages. Not only will older children love these projects, but there are some great crafts for toddlers and preschool age children as well. I know for a fact that you're going to find something – this is a tried and true list of the best projects!
While I have you, I'm going to encourage you to dig into your stash of craft supplies to make some of these. You can make a lot of substitutions with what you already have on hand, so let your (and your child's!) imagination go to town.
These can be very budget friendly holiday ideas for kids. So don't blow the bank – work with what you have. Here are some of my favorite supplies for crafting with children:
Air Dry Clay
Pom Poms
Glitter Glue
Mod Podge – of course!
Are you ready for the craft projects? Check out the list below. Let me know which ones you try with the kiddos in the comments. I'd also love to know what your mother brings out of the holiday archives. What did you make when you were little? Let me know that too. Happy Holidays!
Christmas Crafts for Kids
Kids love crafting during the holidays! Get over 50 ideas for kids Christmas crafts below - fun and easy ideas for children of all ages.
---
PS – don't forget to check out our Christmas crafts for adults. You can make goodies right alongside your children . . .