A Santa mason jar makes a perfect Christmas gift or holiday decor! Learn how to do this easy project with basic supplies from the craft store.
Skills Required: Beginner. It helps to have some experience with Mod Podge so you don't get frustrated with the tissue paper. A newbie should be able to do this though; just follow my tips!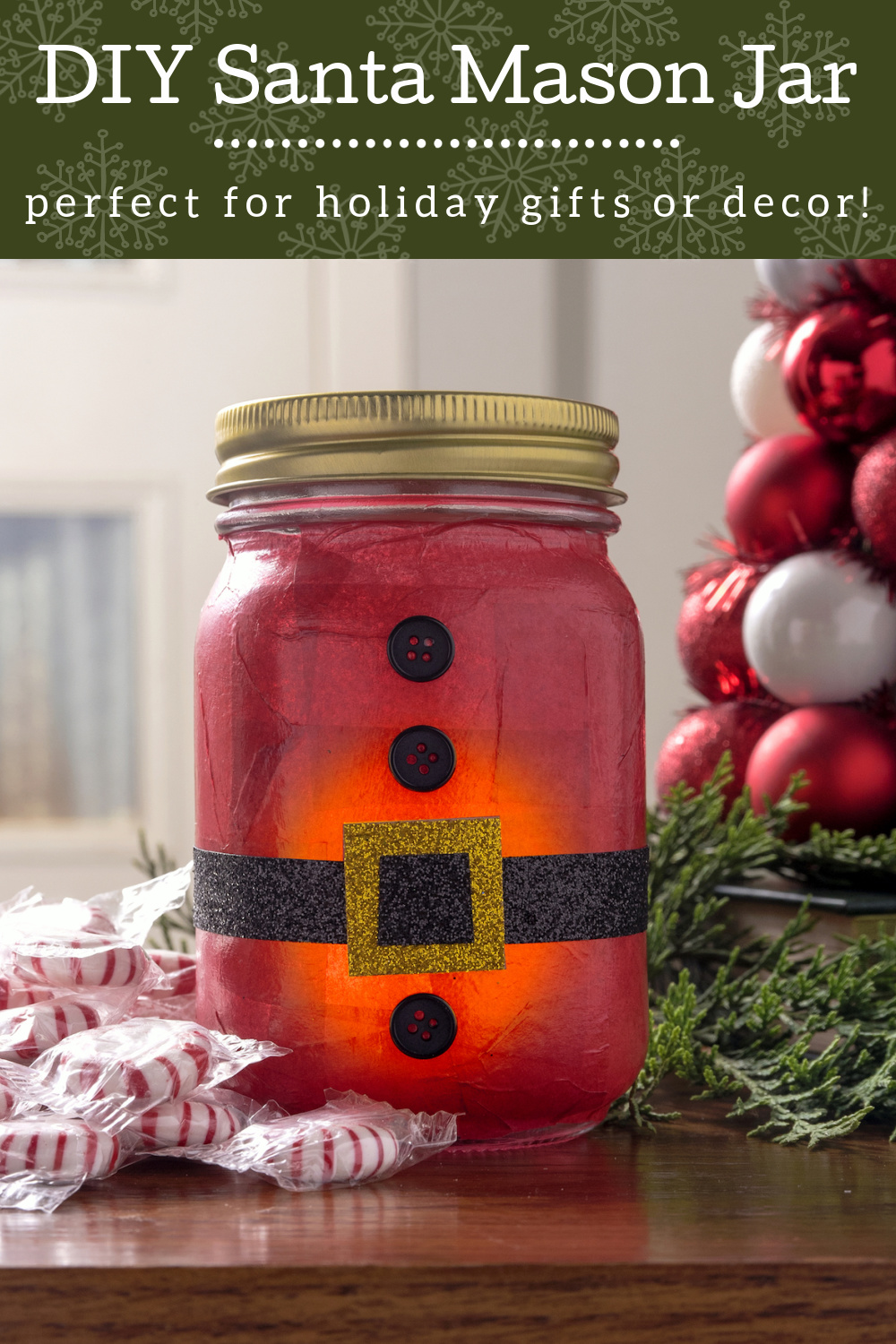 If you know me, you know that I love crafting with mason jars! There are so many things I love about them. They're a small surface, so usually fantastic as a craft for beginners.
In less than an afternoon, you can have a finished project that you can give as a gift or use for a homemade decoration (or organizing, or other purposes).
It's really fantastic, and that's why I never get tired of crafting with mason jars.
SO, my latest foray into the world of glass jars is actually a Christmas mason jar craft – a Santa mason jar! I made this project using simple supplies from the craft store. It's a perfect holiday craft for adults or Christmas craft for kids.
This guy makes me really happy, and is perfect for placing on the mantel with a little LED light inside that glows during dark winter evenings (you'll want to see my mason jar snowman too if you like lanterns).
But you can also fill with any type of candy and give as a Christmas gift. This Santa holds a lot less than the real Santa, but you'd be surprised at how much candy it does hold! It's quite a lot. If someone handed me this jar filled with sweet treats, let's just say I wouldn't turn it away.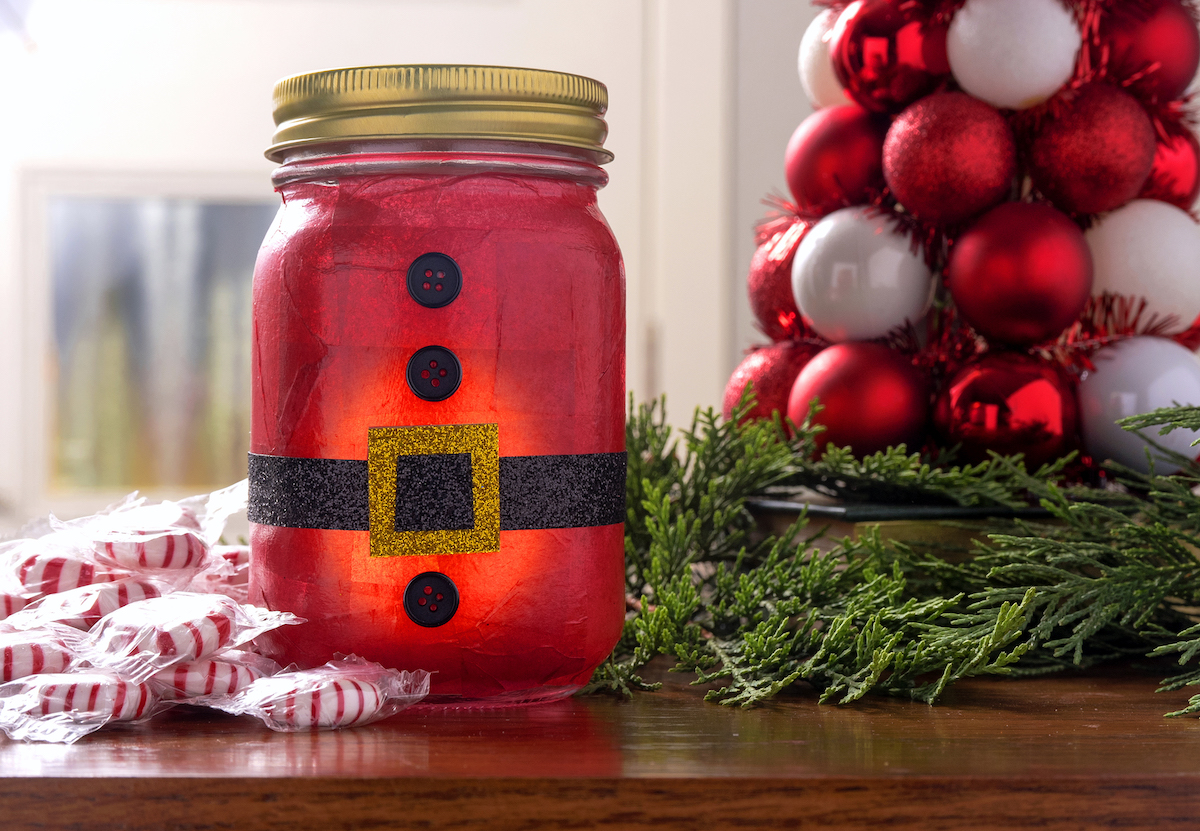 Santa Mason Jar Craft
You're going to complete this project in four simple steps: clean the jar, cut the tissue paper, apply it to the jar with Mod Podge, and then add embellishments with glue.
Before you jump into the craft, I want to mention something about Mod Podge and tissue paper. It's very difficult to use decoupage medium and tissue paper without wrinkles, which is why you'll cut the tissue into squares.
While this doesn't completely eliminate wrinkles, it helps diminish them significantly. And if you do get wrinkles in your project? Embrace them. It doesn't take away from the finished project – trust me.
Learn how to make this cute Santa mason jar below!
---
Gather These Supplies
Mason jar
Red tissue paper
Mod Podge Satin – you can use any formula
Black glitter ribbon
Gold glitter foam (or paper, or ribbon)
Black buttons – 3
Craft glue
Scissors
Craft knife
Clean the Mason Jar
Before you begin, you're going to want to clean the mason jar. You are removing oils from fingers – oils that repel Mod Podge. That is why you are cleaning the jars in this manner.
Either clean the jar with mild soap and water and let dry, or use rubbing alcohol and cotton pads to clean the glass. While the jar is drying, you can move onto the next step.
Cut the Tissue Paper
So that the tissue paper is easier to apply, you're going to cut it into squares. Start with a half sheet of tissue paper and go from there. You can always cut more!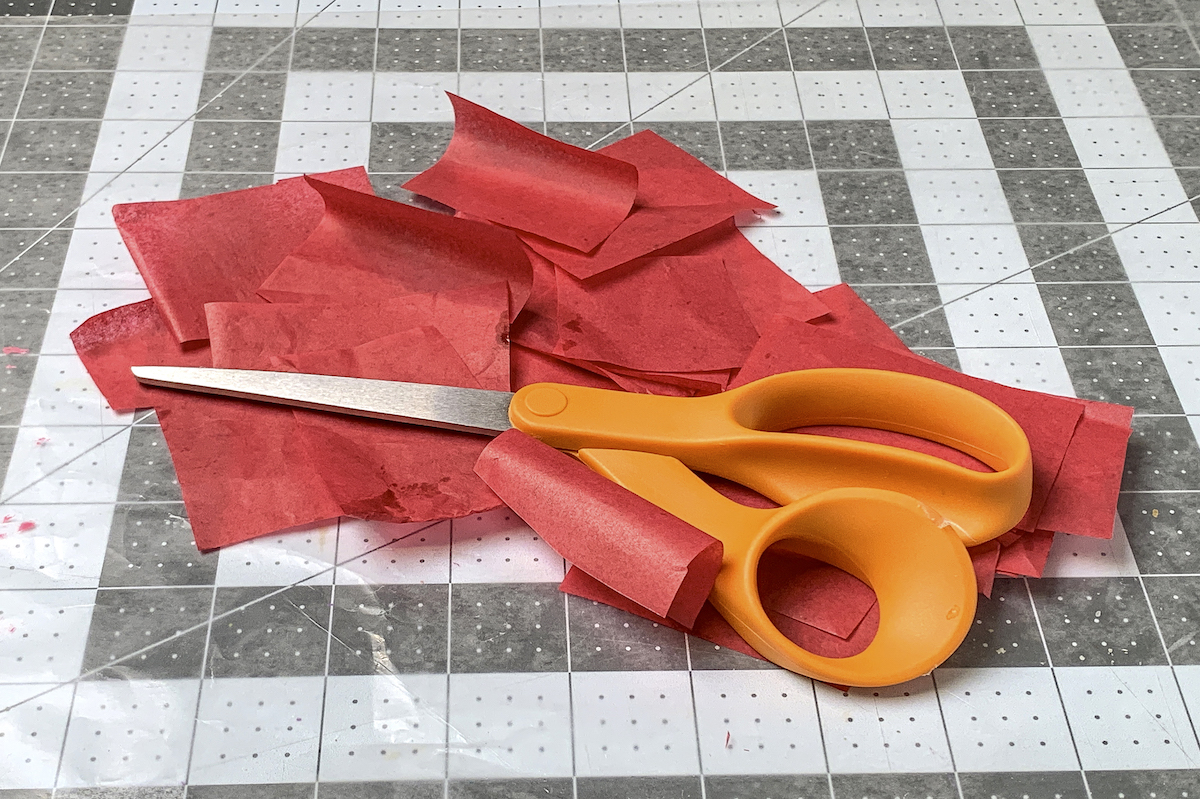 Select your Mod Podge. I used the Satin on this project because I happen to have a big bottle of it, but you can use any formula. Gloss or Matte work fine too. If you're feeling extra sassy, you could use Sparkle!
Mod Podge Tissue to the Jars
Apply a medium layer of Mod Podge to the glass, in just one area of the mason jar. Place the tissue paper down into the Mod Podge, and smooth. Not too rough, or you'll tear the paper.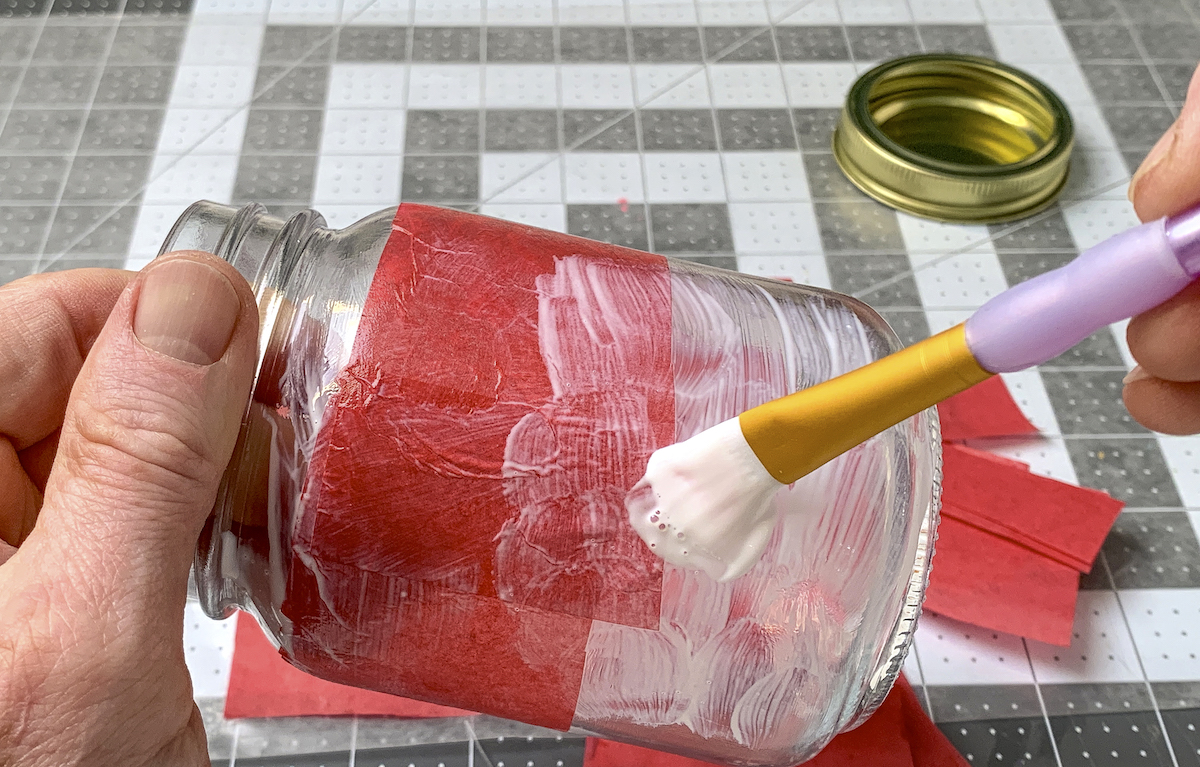 In fact, you can use the brush to lightly smooth out the tissue paper. Then repeat with additional pieces. Work one portion of the jar at a time.
Continue to apply tissue paper, overlapping, and smooth down with the brush and additional Mod Podge. Keep in mind that it's going to wrinkle a bit at the bottom of the mason jar, where the glass tapers.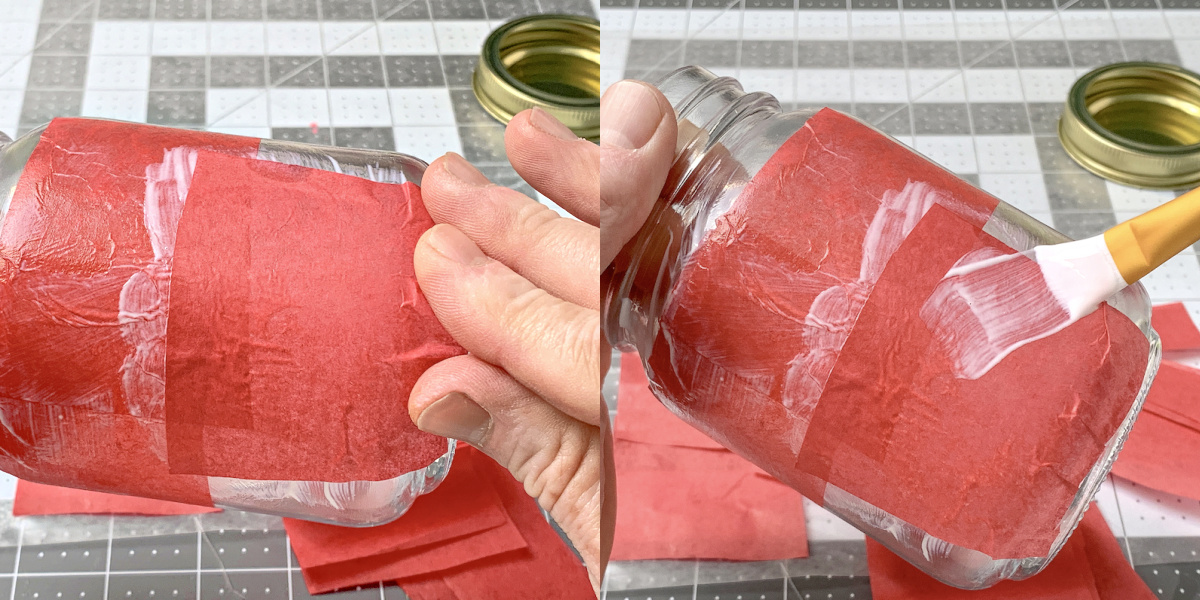 Once you're done, apply a layer of Mod Podge over the tissue paper and let dry. If you see some red from the tissue paper come off into the brush, it's okay. A little bit of the dye might come out, so don't overbrush and you'll be fine (and you'll avoid tearing the paper).
Let your Santa mason jar completely dry before moving on.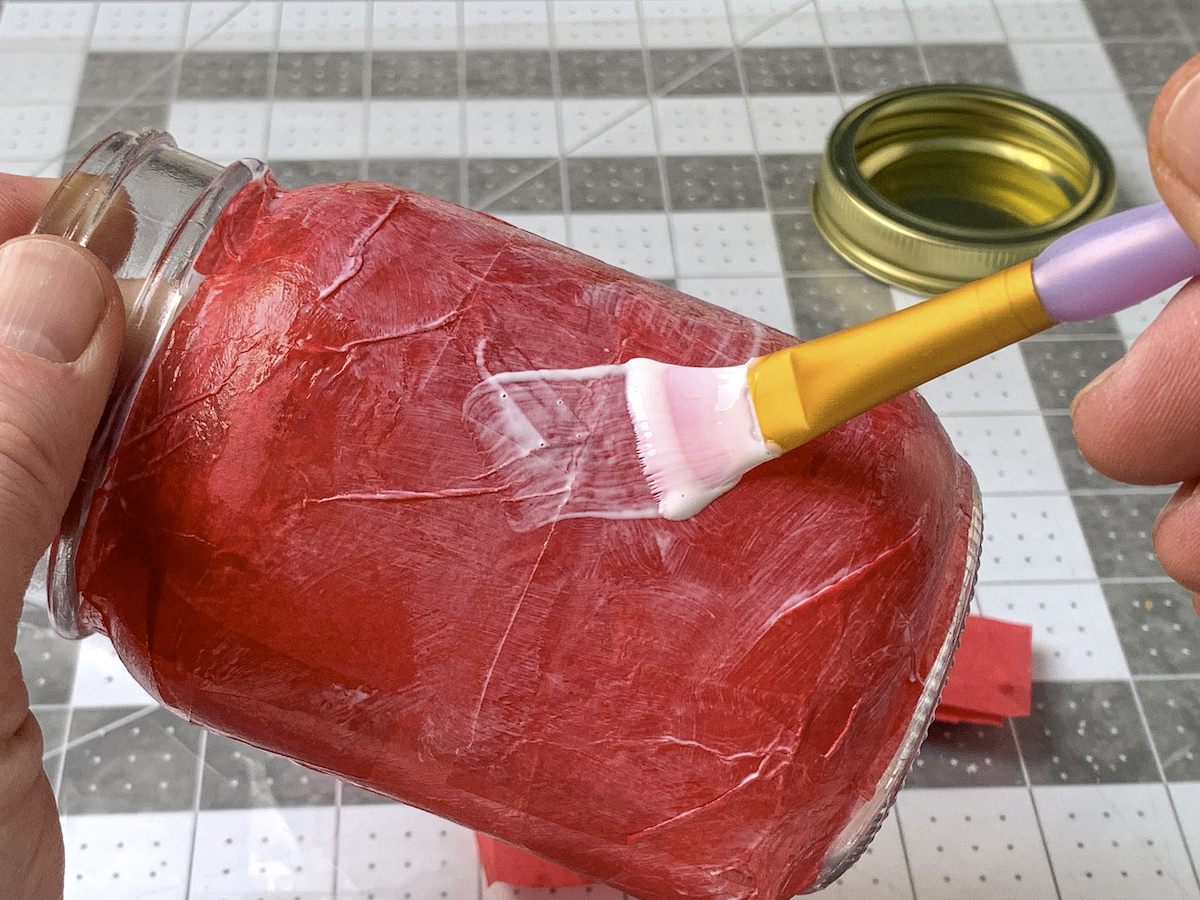 Add the Embellishments
In my mind's eye, Santa wears a sparkly belt. So I used black glitter ribbon to make his! Cut a section of ribbon to fit around the middle of the jar.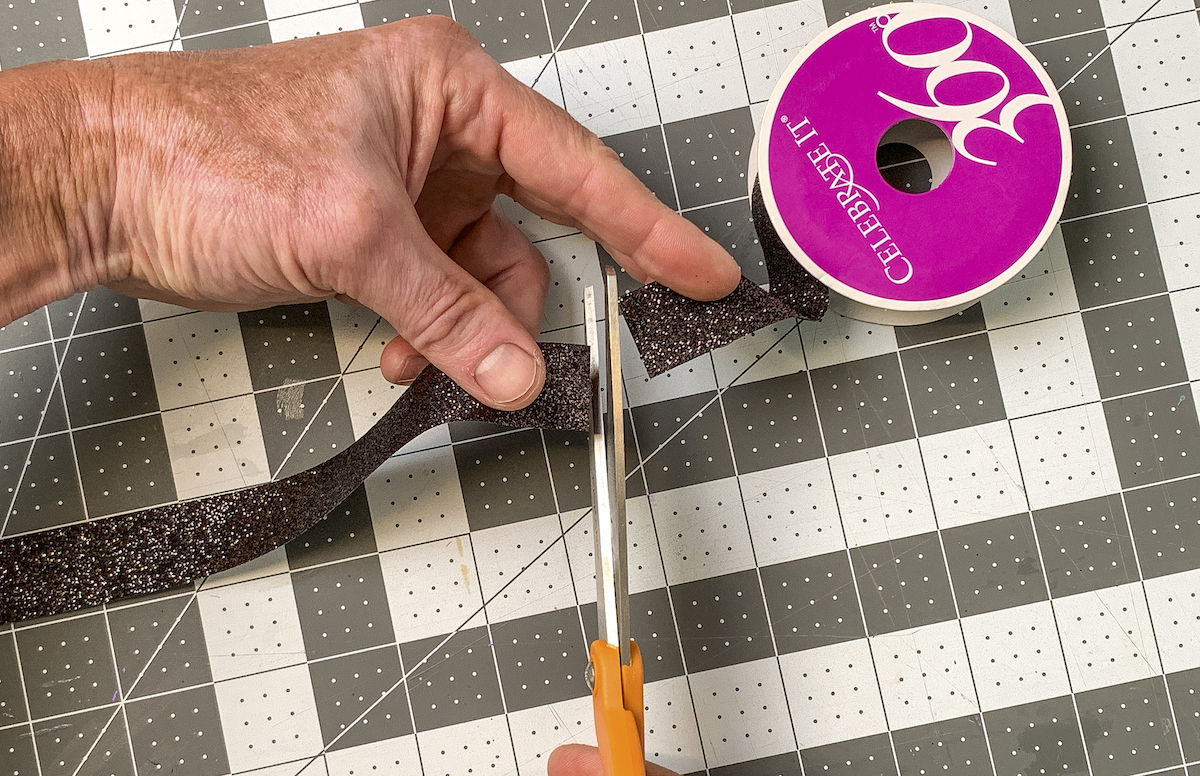 My ribbon was a little bit wide, so I used a craft knife and ruler to cut it down to 1/2″ so that it fit a bit better.
Use the craft knife to cut a square of gold craft foam to use as a belt buckle.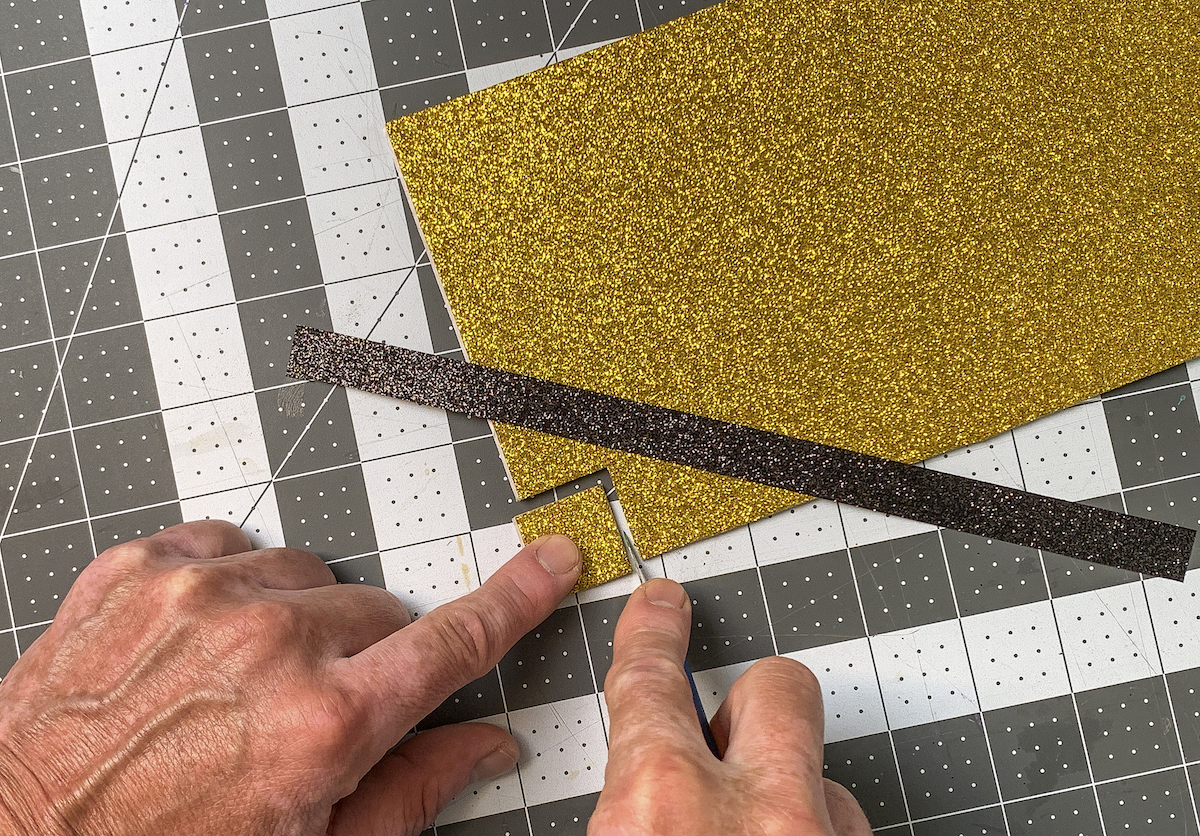 Cut a small piece of black ribbon to fit in the middle of the buckle, so that it looks like it's woven through.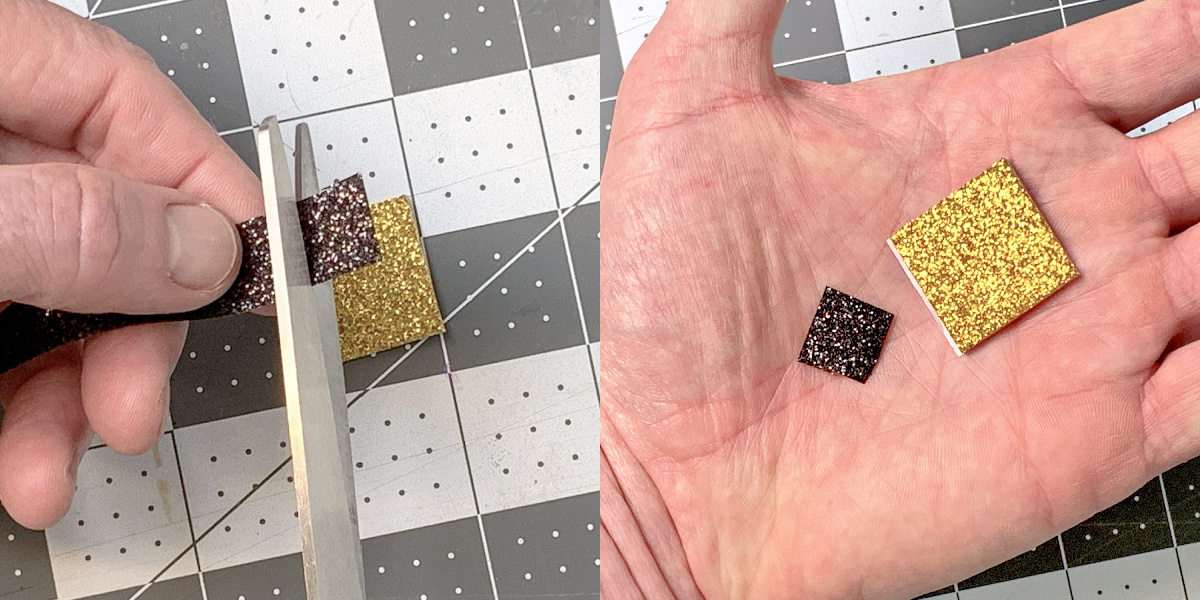 Use the craft glue to adhere the ribbon to the Santa mason jar, about 2/3 of the way down the jar or so. You can leave an open space at the front because that's where the buckle will be. Let dry.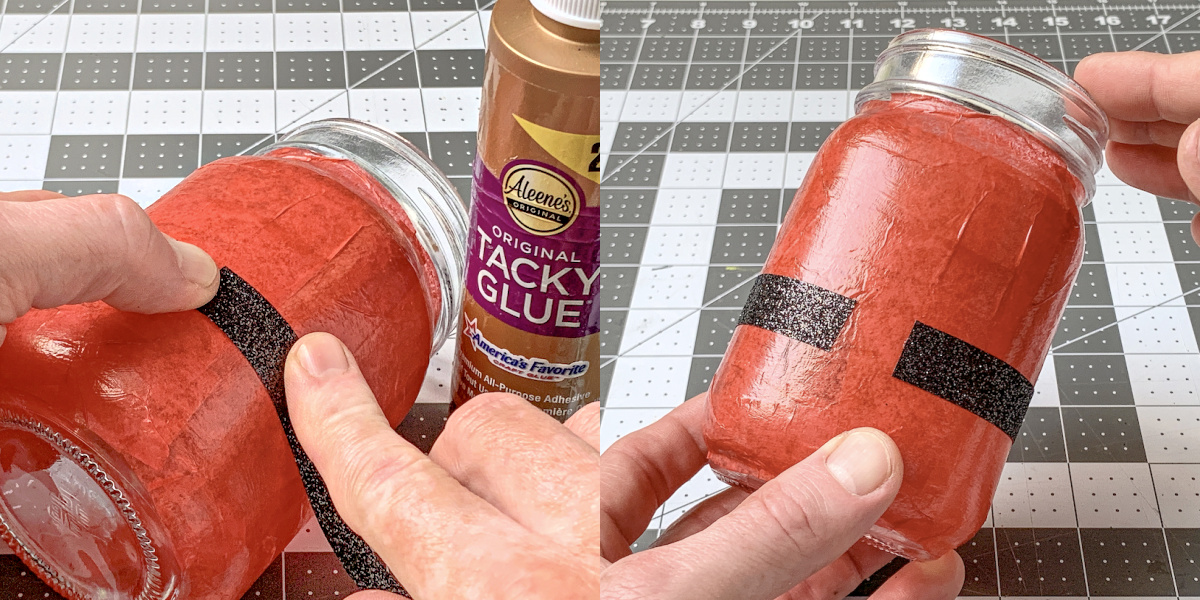 Glue the craft foam down. Then glue the black ribbon on top. Let dry.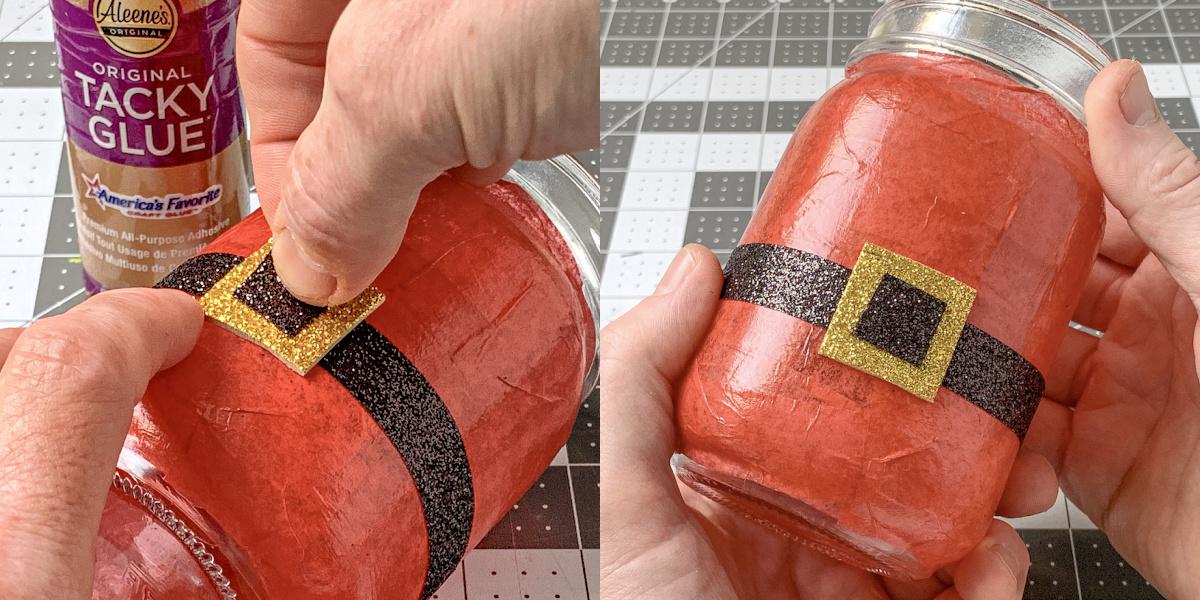 Your final step will be to glue three black buttons down to the front. Glue two above the belt and one below. Let dry.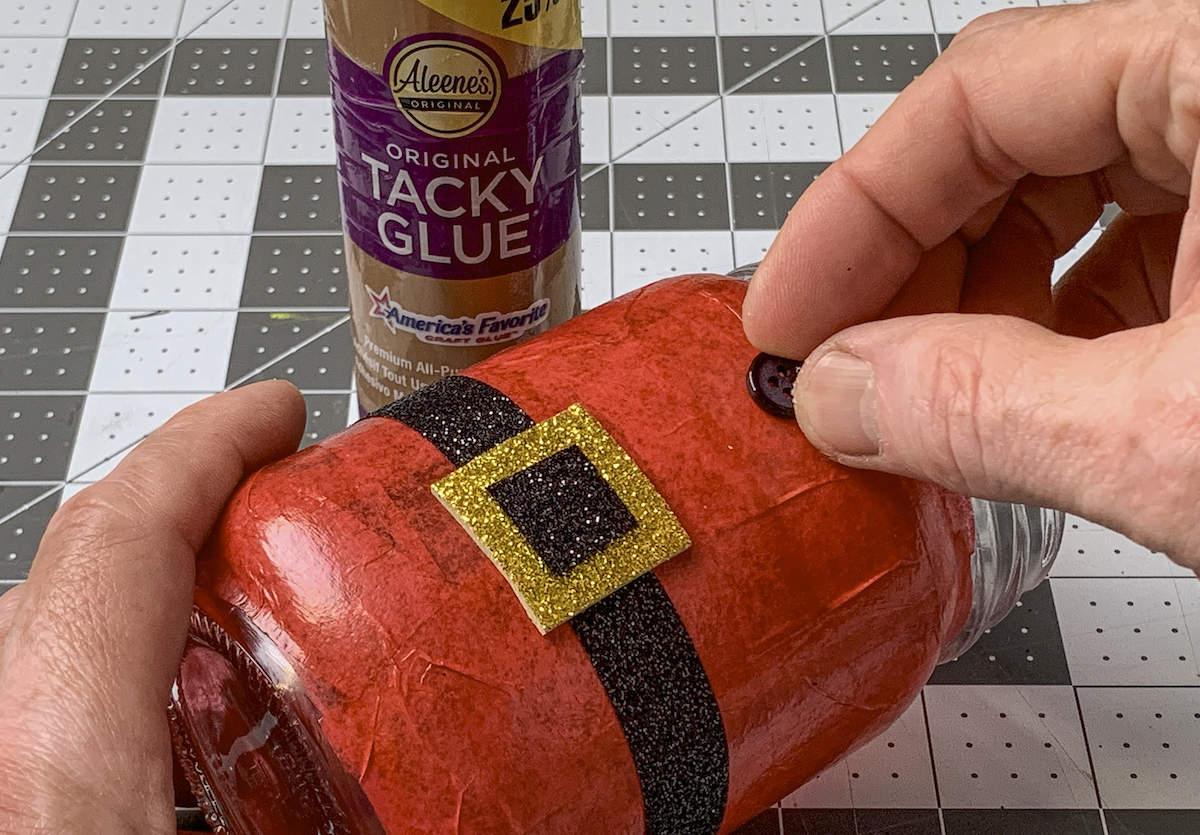 Your Santa mason jar is done, and you can use an LED candle to light it up! Or obviously, add candy. If you use a real tealight, don't put the circle in the middle of the ring when you screw it on. Yes, you can use a real tealight. Mod Podge is non-flammable, but also it's on the outside of the jar!
Note: please never leave real candles unattended due to fire danger. Safety first!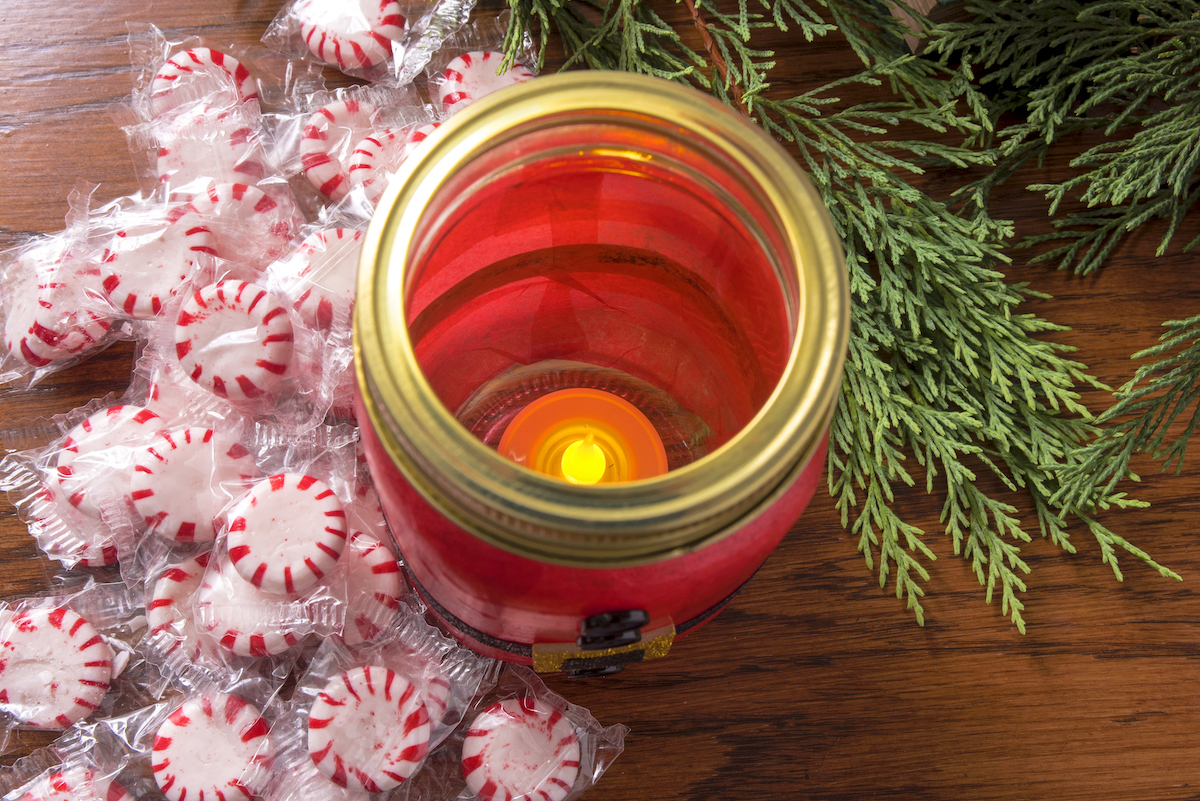 This is one of my favorite Christmas mason jars of all time – so easy to make, and so festive!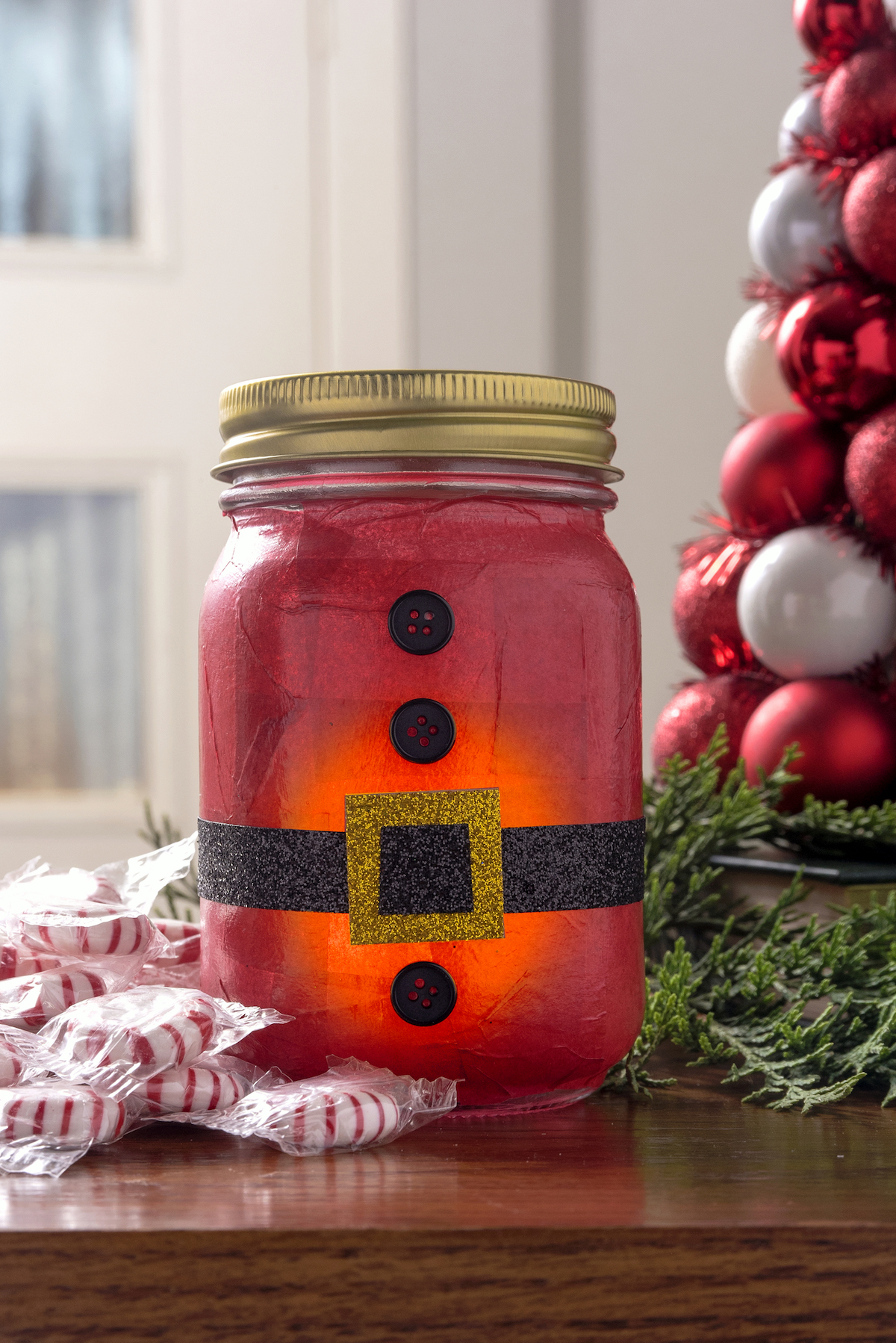 I'd love to know if you make this project. Let me know in the comments and happy holidays!
Yield: 1 jar
Santa Mason Jar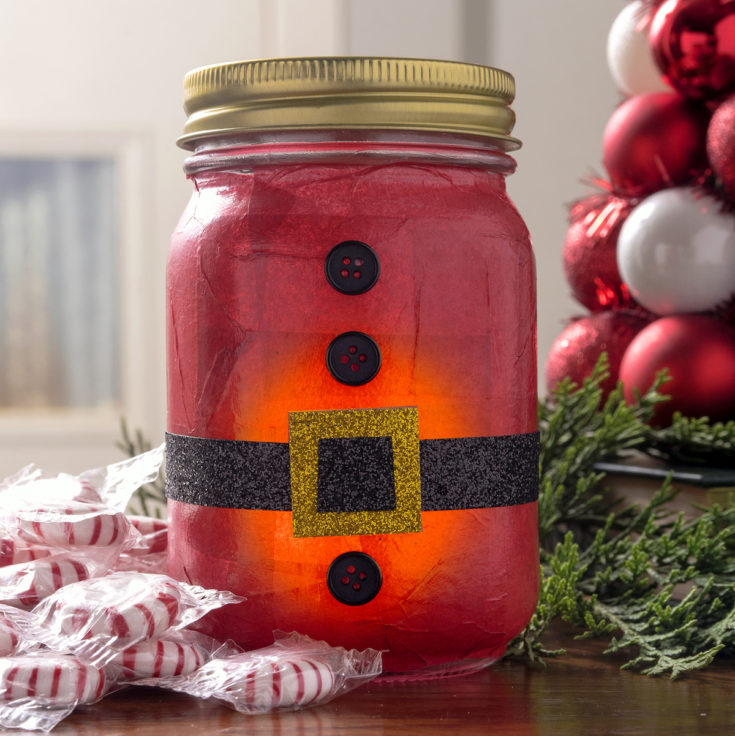 Make a Christmas gift or unique decor with this cute Santa mason jar! It's really easy, even for beginning crafters.
Materials
Mason jar
Red tissue paper
Mod Podge Satin
Black glitter ribbon
Gold glitter foam
Black buttons - 3
Tools
Craft glue
Scissors
Craft knife
Instructions
Clean the mason jar with rubbing alcohol or mild soap and water. Let dry.
Cut the red tissue paper into several squares to cover the jar.
Apply a medium layer of Mod Podge to one section of the jar; place a piece of tissue paper and lightly brush down.
Continue this process of adding Mod Podge and tissue paper squares, then brush down. Let dry completely.
Cut a piece of black ribbon into a Santa belt. Glue around the jar and let dry.
Cut a piece of gold glitter foam (or similar) as well as a small square of black ribbon to fit in the center, to mimic a buckle.
Gue both of these down and let dry.
Finish the Santa mason jar by gluing three buttons into place on the front. Let dry before using.
---
Did you enjoy making this Santa mason jar? Take a peek at these other related craft ideas!