Learn the easiest way to make a handprint ornament! Christmas handprints are a favorite with small children! Make special memories with these three cute and easy Christmas craft ideas. So fun for kids and they make great gifts. Santa, Christmas tree, and Reindeer ornament options.
Skills Required: Beginner. You'll be rolling out clay, adding a child's handprint, and then painting. You can choose to paint or your child can paint these Christmas handprints. It's really up to you!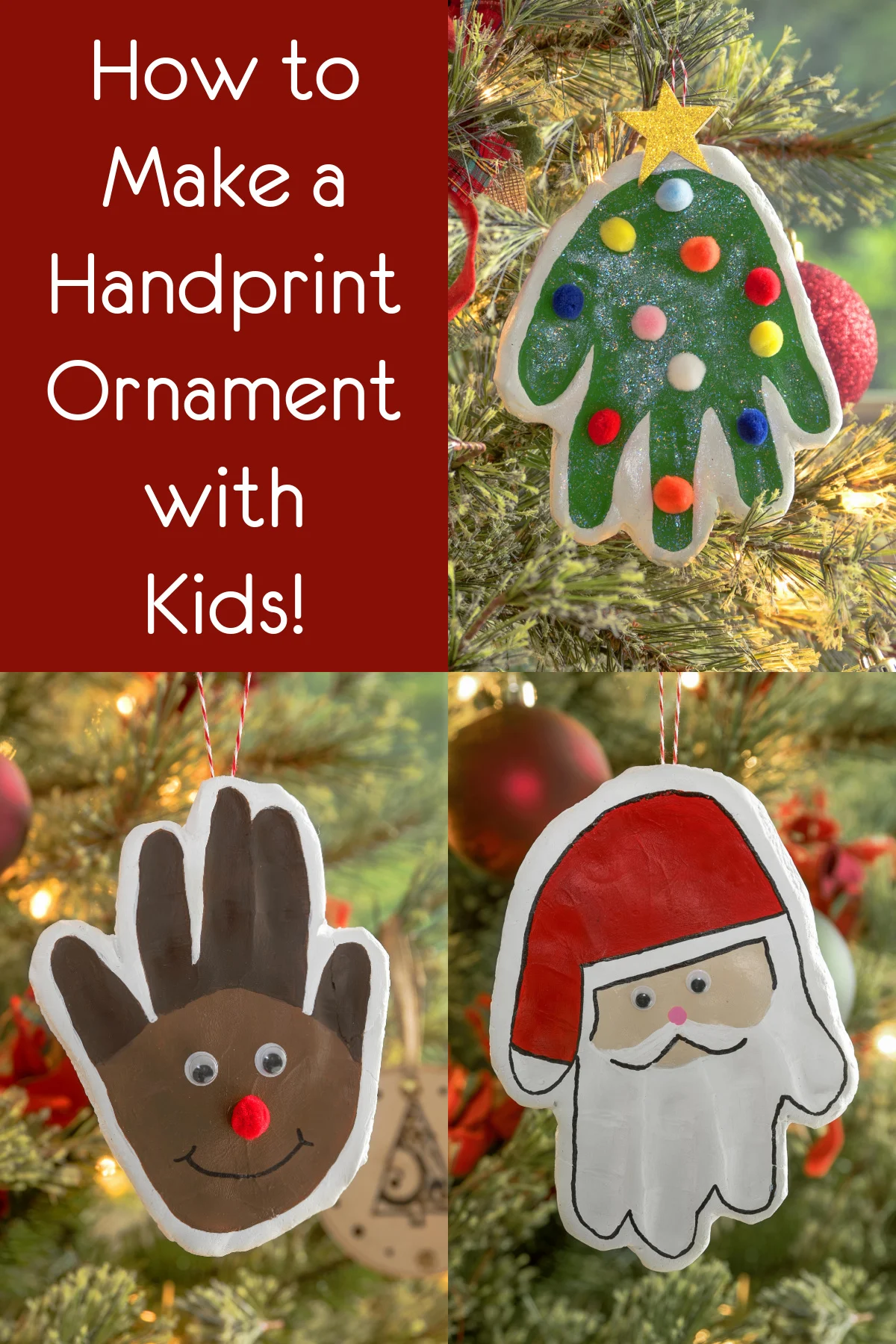 I've got an awesome tradition that you absolutely need to start for Christmas – while your children or grandchildren are young. Make a handprint ornament!
This is a Christmas tradition that my mom and I started with my niece this year, and we wish we would've started when she was very young (she's 5 now).
We have dreams of a Christmas tree with tons of handprint ornaments all over it that start small and get bigger. I wonder if my niece would let us make ornaments with her hands until she is 18?
That might be cute but I don't know that she'd be up for it! It's a fun idea though, don't you think?
In this tutorial, you're going to learn how to make a Santa handprint, a reindeer handprint, and a Christmas tree handprint – the easiest way possible. These are such a fun memory for the holiday season.
Hand Print Ornaments
I'm going to show you the easiest way to make this kids Christmas craft below. You don't have to mix anything, which is okay by me! I'm showing you how to make a Santa handprint, a Christmas tree, and a reindeer ornament the easy way. These are SO cute! Here's how it's done.
PS – we have a salt dough recipe if you want one!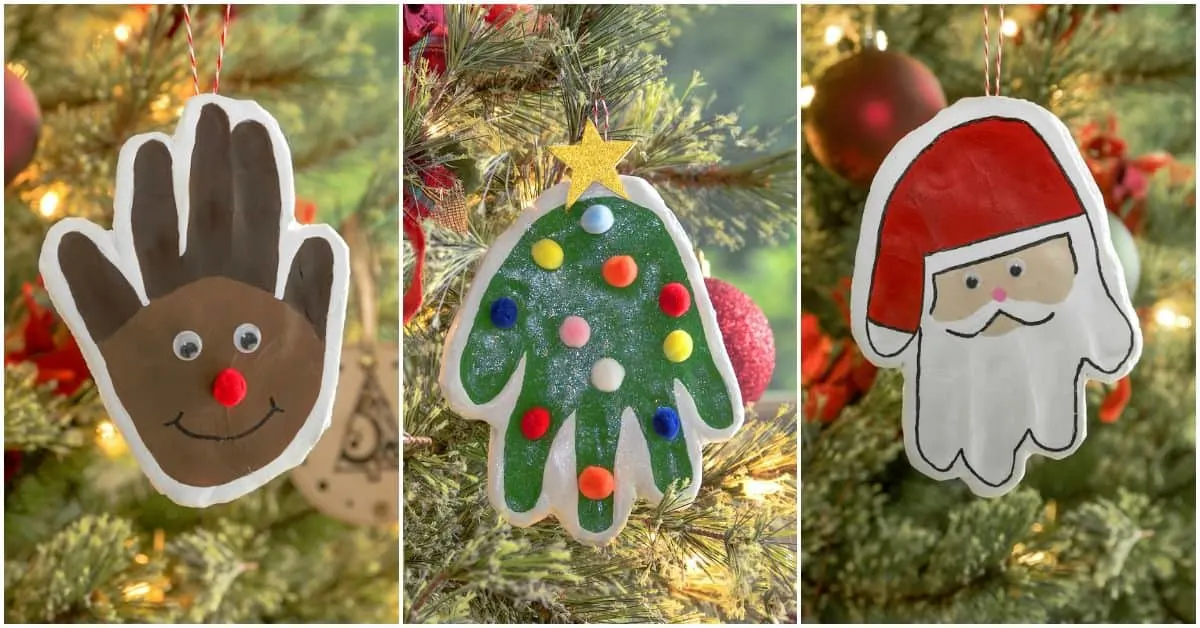 (don't forget to check out our other easy holiday handprint crafts!)

Gather These Supplies
Thoughts On This Project:
To add additional clay, I actually picked up the piece, added more and mushed it around with my hands, and then rolled it out again. I did this as opposed to smushing another piece on the end and creating a line.
You can give your littles non-sharp knives (there are clay specific ones) and let them do the cutting part depending on their ages. Otherwise, mom or dad or another adult should be cutting.
For the handprints, we did a handprint reindeer, Santa handprint, and a Christmas tree handprint. The only real change we made was to spread my niece's fingers a little differently for the reindeer (you can see in the photo of the finished ornament).
The reason I slid them onto the cookie sheet was so I could easily transport them from location to location in my craft room if needed.
The air dry clay is NOT white – so if you want the edges white like I did (to make the painting pop), then you'll have to use white acrylic paint.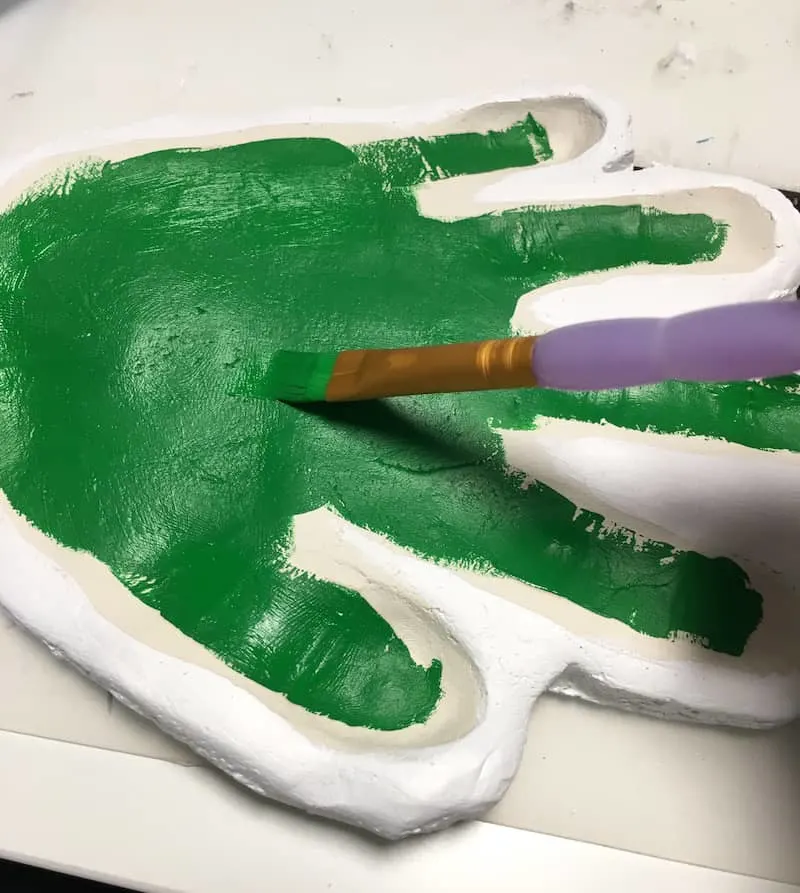 Paint your handprint ornaments with the acrylic paint colors as shown in the photos. Of course you can use any colors you like, and you can paint them or your kids can do them. I'll leave that up to you!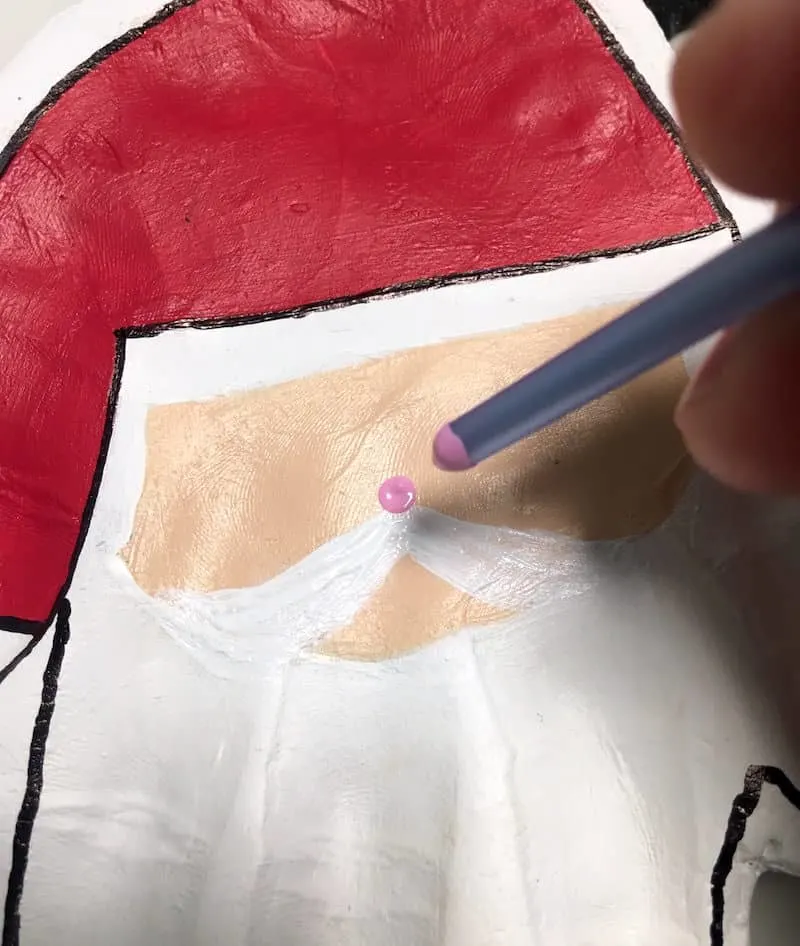 Don't forget to add accents like Santa's nose. I also used a Sharpie on the Santa handprint as you can see, to trace around the edges and accent the beard and hat. Then I used the Sharpie to draw a face on the reindeer ornament.
Seal your handprint ornament with Mod Podge. I used regular Gloss on the reindeer and the Santa, but I used Mod Podge Sparkle on the Christmas tree!
To embellish, add wiggly eyes, pom pom noses, pom pom ornaments, and even cut a star out of craft foam for the tree.
To finish your ornaments, cut a length of baker's twine and hot glue to the back. One thing I did was stick the baker's twine into a hot glue dab I put on the back of the ornament, then put more hot glue on top to really secure it. They are kind of heavy and I didn't want them falling off the tree.
Check out the final results below.
Christmas Tree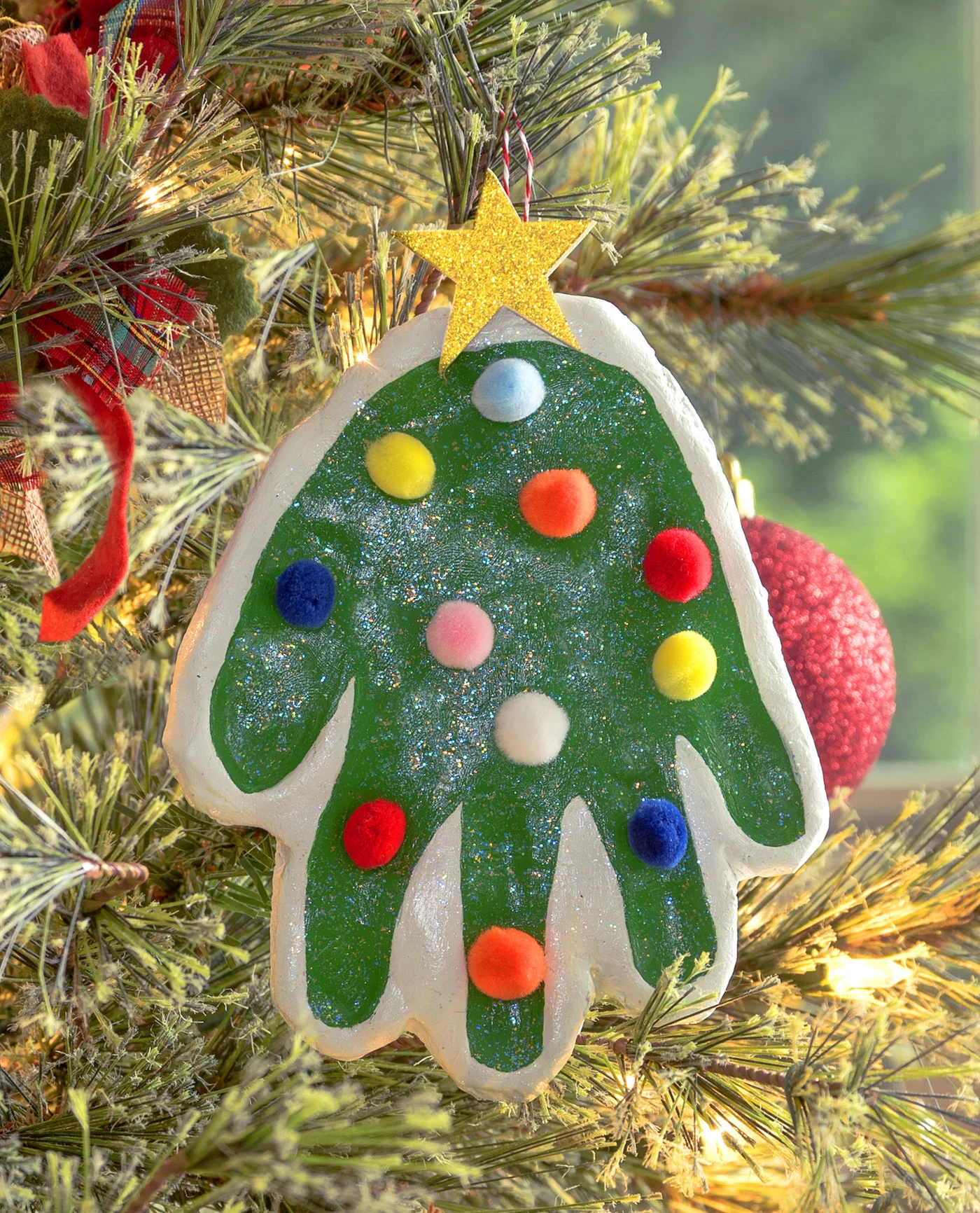 Reindeer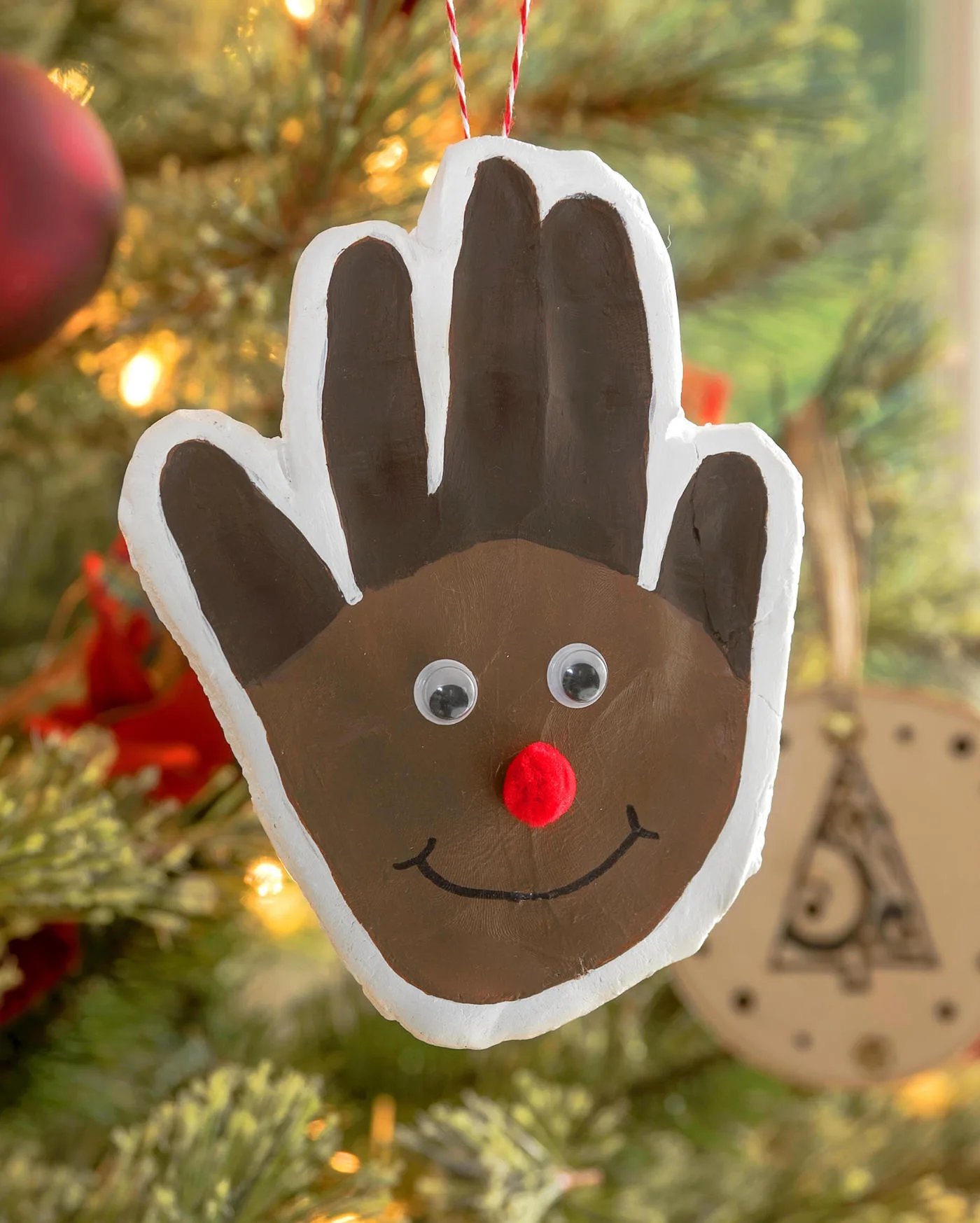 Santa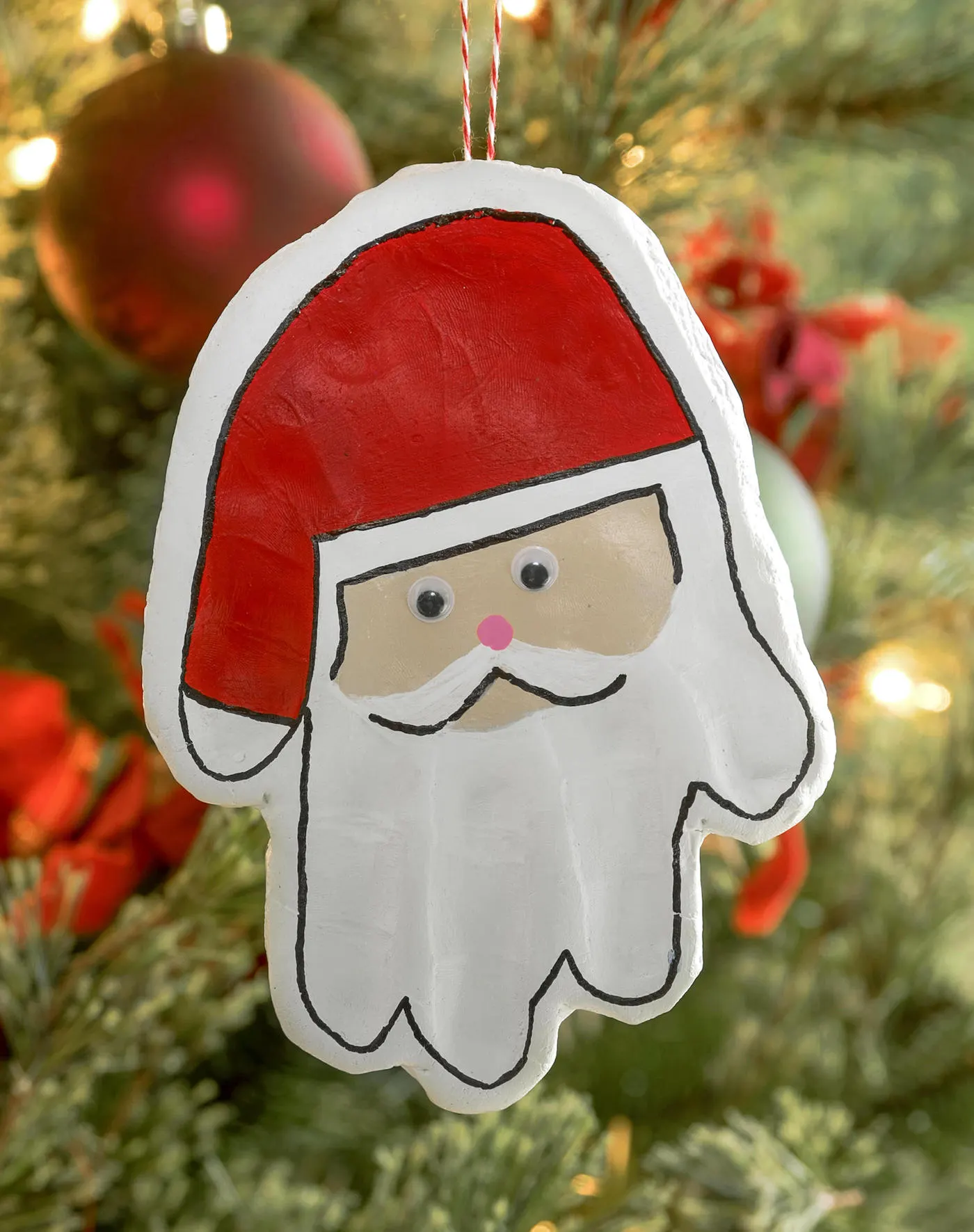 Get the printable how to card for this project below!
Yield: 1 ornament
Handprint Ornament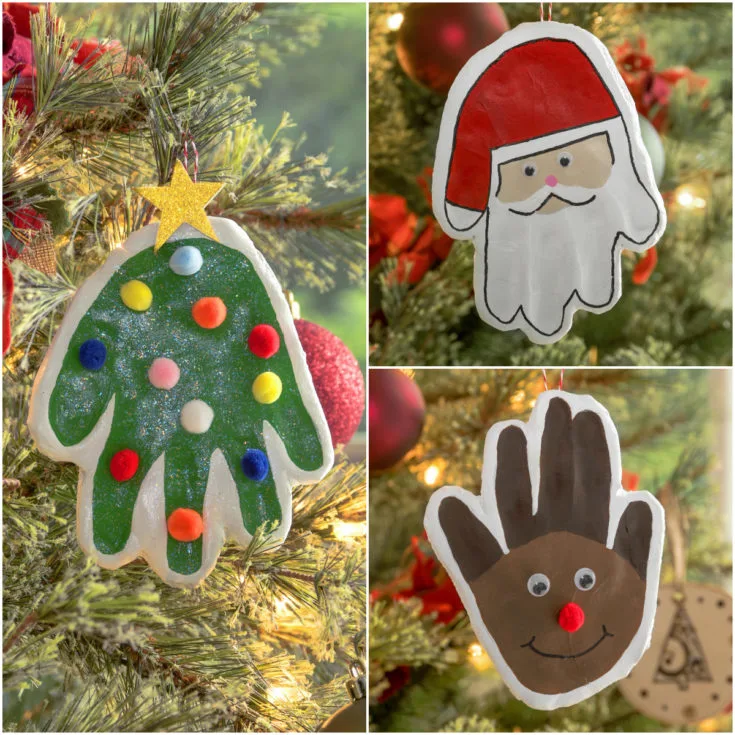 Make these hand print Christmas ornaments using this simple tutorial! This is a very easy craft to do with children, and you'll also be making holiday memories.
Total Time
13 hours
10 minutes
Materials
Air dry clay
Acrylic paint – washable/kid safe
Mod Podge
Mini pom poms
Sparkly foam
Wiggly eyes
Baker's twine
Sharpie
Wax paper
Tools
Rolling pin
Paintbrushes
Knife or craft knife
Scissors
Hot glue gun
Cookie sheet
Instructions
Break off a large piece of clay and place it on the wax paper. The amount you'll need depends on the size of the hand or foot you're imprinting.
Roll out the clay to about 1/2″ thick. If you find the clay you've rolled out isn't big enough, add more.
Place the hand down into the clay and push. Help toddler age or small children with this by pushing each individual finger and then the base of the palm down.
Pull the hand out of the clay and then cut around the edge.
Lay the clay ornaments out on the wax paper, then on top of the cookie sheet. Let dry overnight (this can take longer if you live in a humid area). DO NOT BAKE.
Once the handprints are fully dry, paint them with acrylic paint. Use any colors you like; let dry.
Seal the handprint ornaments with Mod Podge and let dry.
Add embellishments with the hot glue gun and craft glue.
Cut a length of baker's twine and hot glue to the back to hang.
Notes
I also used Mod Podge Sparkle on the Christmas tree.
---
What do you think of these Christmas handprints? Which handprint ornament is your favorite? I'd love to know in the comments! I'd also love for you to check out the following projects: