Learn how to make over 25 cross crafts that are great for any age group! Use these ideas for Easter, Sunday school, VBS, and other religious events.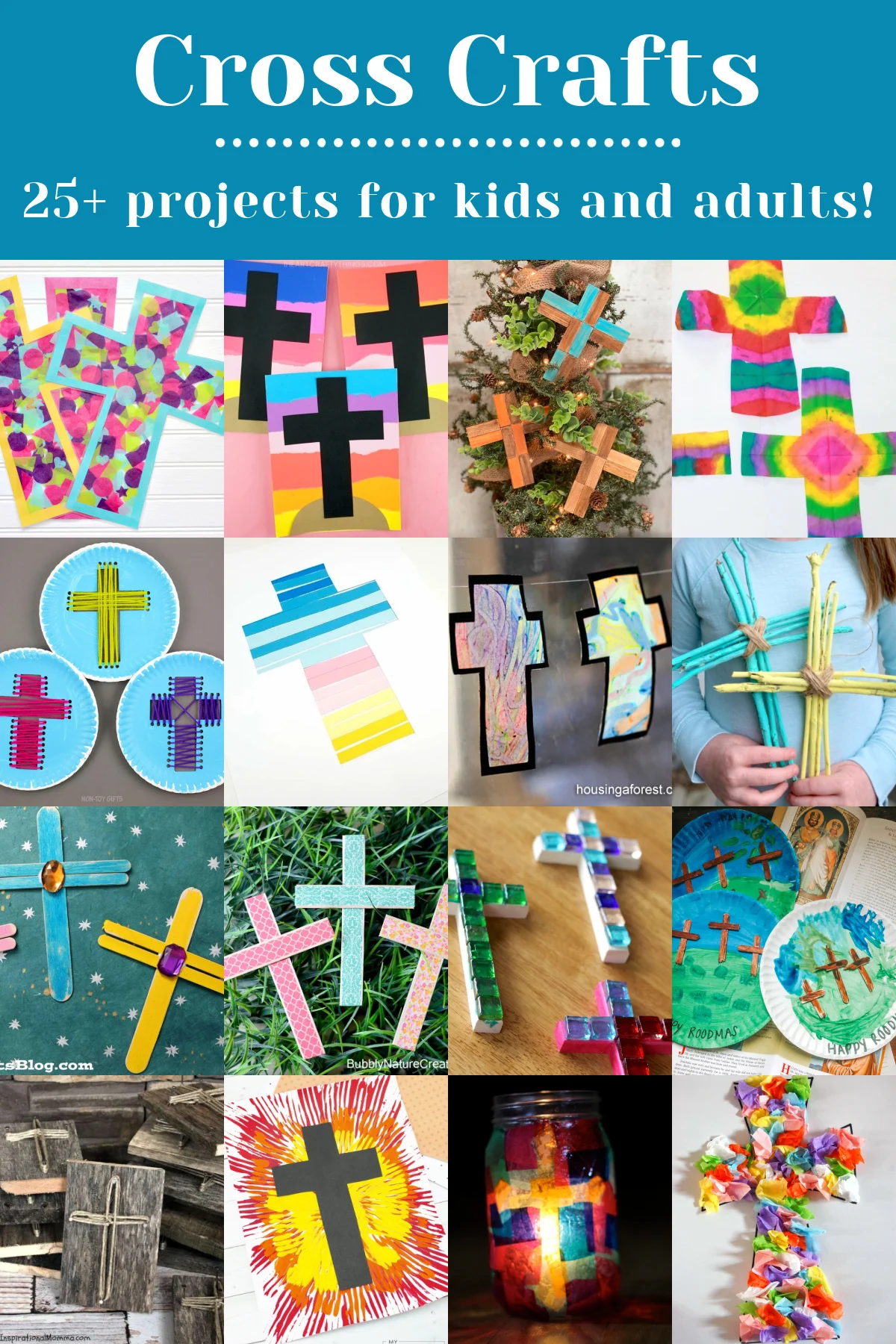 I know a lot of you grew up in church, and so did I. The Lutheran church is where I started out, primarily due to my Scandinavian roots. Lutheran is the dominant religion in Scandinavia, having spread throughout the area in the 16th century.
And eventually reaching little ol' me in Louisville, Kentucky in the 80s. My family moved from the northwest to the midwest in the 80s for a time, and while I was there I attended a Lutheran school as well as church.
I always went to church at least two times a week, and for the two years I was taking confirmation classes I went three times a week. I was an acolyte and often helped with Sunday school or in the nursery during church. After all, I had four younger brothers, so I was good with the littles.
Helping with youth Sunday school was probably my favorite, because you learn the teachings of Jesus while at the same time executing a fun kids' craft with popsicle sticks or toilet paper rolls. What could be better, right?
Back in the day we didn't have a lot of sources for projects to do with the kids, so we relied on the old standbys: let's make a cross out of twigs and call it a day. But times have changed, ideas are more readily available, and crafts that are perfect for church days are way easier to find.
Today I'm sharing a collection of cross crafts I'm excited for you to see. If you're big on creativity but short on ideas for Sunday school, Easter, VBS, etc. then you're going to enjoy these projects. There are a variety of materials used, and I know you will find something you want to try with your kids!
Something that I noticed while pulling together these crafts is that the ideas are easy. Even the ones that are "for adults" are suitable for older children (and you can probably modify to make them even easier).
So what I'm saying is that there is a project on this list for everyone – any age level!
Take a peek at the ideas below and let me know what you think. Give them a try and leave a comment sharing which is your favorite! Have fun celebrating the message of God while getting creative at the same time. Enjoy!
Cross Crafts
You're going to love these cross craft ideas that are perfect for celebrating Easter, Vacation Bible School, and beyond. Get projects for preschoolers, kindergarteners, elementary age, and even adults.
---
If you enjoyed these cross craft ideas, I'd love for you to check out these other spring and Easter posts: