Your littles are going to have a blast this Fall and Halloween with these no carve pumpkin decorating for kids! So easy; any age can do them.
No so long ago I did a post about painted pumpkins, and I'm still basking in the glow of those fun ideas. Still looking for a unique way to decorate pumpkins?? This confetti pumpkin idea is the perfect fall kids craft! Great for parties, too.
Here's a quick no-carve idea that will turn ordinary pumpkins into party pumpkins . . . and it's so easy even the kids can do it!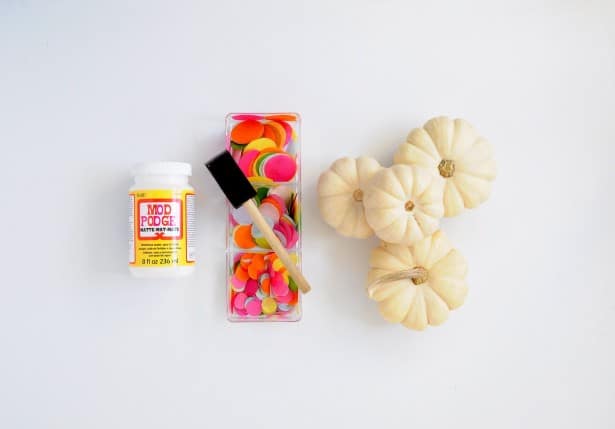 No Carve Pumpkin Decorating for Kids
You'll need:
small white pumpkins
confetti (thin, tissue paper kind is best)
Matte Mod Podge
sponge applicator or paint brush
Working in small sections, coat pumpkins with Mod Podge, and layer on single pieces of confetti.
Continue until entire pumpkin is covered, smoothing as you go.
Allow to dry and apply a second coat of Mod Podge as a sealant, if desired.
That's it! Enjoy your party pumpkins!
If you're looking for another fun way to use confetti and Mod Podge, here's a gift wrap idea I used last Christmas.