While looking through the Pottery Barn website (which I do religiously), I spotted these cute Gauze Mummy Luminaries. I thought they were super cool, BUT they were $25.00 each. YIKES! I knew I could totally make these Halloween luminaries myself. I checked my craft supplies to see if I had some cheese cloth and I DID! This is such an easy project to do, you could even turn it into a kids craft. I know my boys would really enjoy making one too. So I grabbed some mason jars and Mod Podge to begin.
Supplies
Mason Jars
Cheese Cloth
Circle Punch
Black Cardstock
Foam Brush
Getting Started
I decided to do three different sized jars. I'm a mason jar hoarder, so I had a TON on hand to use. Time to get crafting!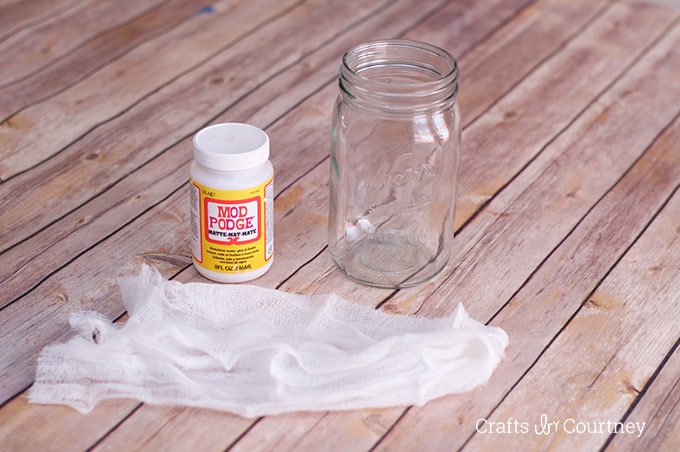 Step 1 – Wrap Cheese Cloth Around Jar
I started off by cutting my cheese cloth into strips. Then, I added a little Mod Podge and started wrapping it around my jar.  I was trying to keep a layered effect going. Next, I applied Mod Podge down the inside of the jar and the bottom. Then went around the outside of the jar adding more Mod Podge in spots (to keep it nice and stiff).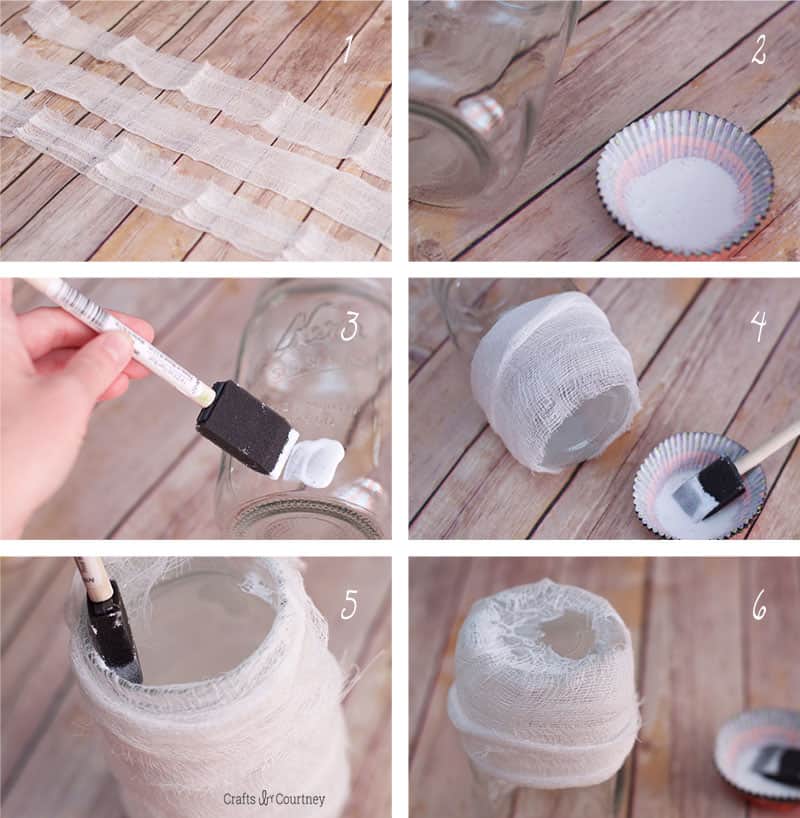 Step 2 – Add Your Eyes
Now, I cut some eyes with my circle punch. I think these eyes look pretty similar to the ones in Pottery Barn. Plus, you can always use some googly eyes if you want to turn it into a kids craft! I added my eyes with more Mod Podge and let them all dry for about 2 hours.
Finishing Touches
Finally, pick up some flameless candles and you're ready to display. They would look perfect on a mantle, front steps or even a night light for the kids.
Here's a quick look at what Pottery Barns Mummy Luminaries look like. I think they look pretty similar and mine are way cheaper!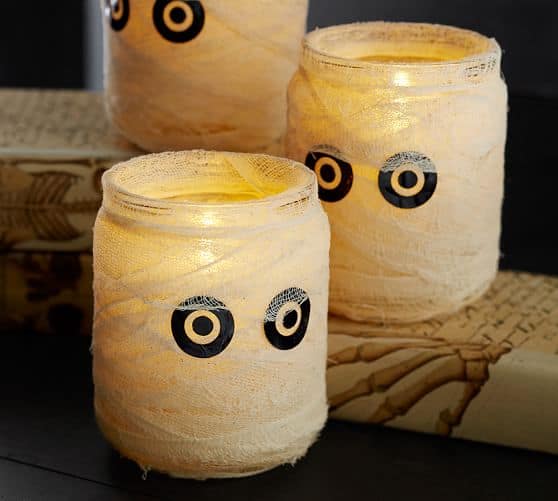 See how easy they were to make? I had all three done in about 15 minutes. It took me longer to find the cheese cloth than it did to make them. I really think they turned out cool and it's something I can keep for a long time. Since I had all the materials on hand, it didn't cost me a thing. Woohoo!
I have some more really cool Halloween crafts coming up so stay tuned (here's a spoiler, they're all gonna use Mod Podge).
I hope you loved this craft. If you'd like to get more craft project ideas and inspiration, be sure to sign up for my newsletter! Get my best ideas, right to your inbox.
Wanna' keep up with all my craftiness, follow me!
Facebook | Pinterest | Google+ | Twitter | Newsletter