Learn how to make cabochons using clear glass gems, printed pictures, and Mod Podge. These are perfect for jewelry projects and so easy.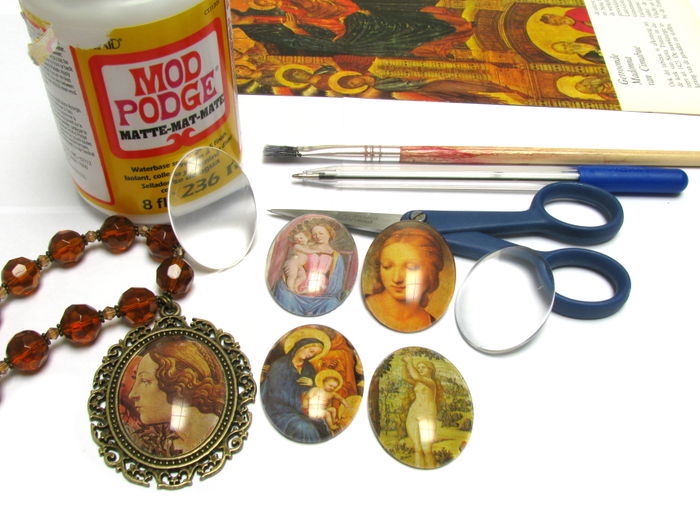 We get about five minutes into October when I realize I'm going to be in a time crunch to make gifts for the holiday season. It's like a tornado or Godzilla – I can just see it coming!
So what I try to do is tackle something that is going to be reasonable . . . not too hard or overwhelming . . . but will still make an impact, and the recipient will enjoy.
This year, I'm all about those cabochons. It's not a secret I love decoupage jewelry, and these are right up my alley. Plus I can personalize to what the recipient likes.
Do you want a plump pug cabochon necklace? How about Grumpy Cat? I can deliver. If you want to learn how to make cabochons, read the tutorial below. Then scroll down and watch the video. Enjoy!
Yield: 4 cabochons
Cabochon DIY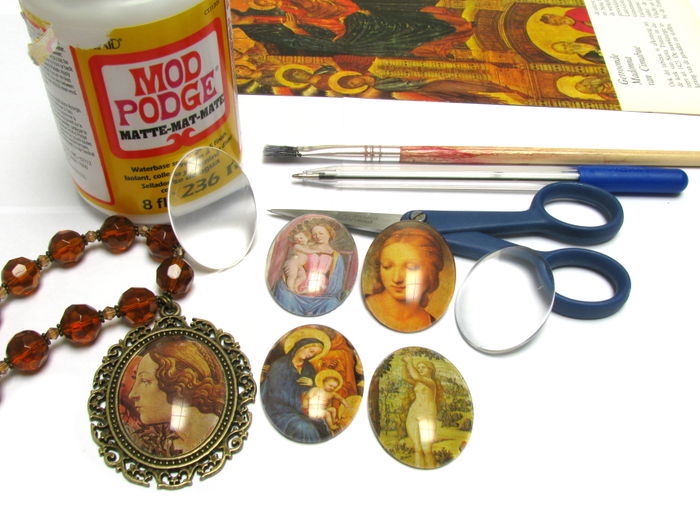 Learn how to make glass cabochons using Mod Podge and the images of your choice. Perfect for jewelry making.
Materials
Magazine pages or graphics
Mod Podge
Tools
Pencil
Paintbrush
Scissors
Instructions
Select an illustration to match the size of your cabochon.
Apply a layer of Mod Podge to seal the print. This will protect the print once you glue it to the cabochon. Leave to dry for 15 minutes.
Place the cabochon on the print, and trace the outline.
Cut out the print just within the trace line. You want the print to be a fraction smaller than the cabochon itself.
Apply a layer of Mod Podge on both the glass cabochon and the print. Cover the surfaces entirely.
While the Mod Podge is still fluid, place the print to the back side of the cabochon. Smooth thoroughly and wipe away excess medium that comes out the sides.
Turn the cabochon over and leave to dry. The Mod Podge will dry clear.
Cover the back side of the illustration with a layer of Mod Podge, to seal the print. Let dry.
Use a wet towel to remove Mod Podge from the cabochon.
Allow to dry for 24 hours before putting into a jewelry setting.
Notes
When you apply the Mod Podge, you may notice tiny air bubbles appearing. You will want to minimize this effect, so try to pop the largest bubbles with your brush.
---
---
If you enjoyed this craft idea, I'd love for you to check out these other projects: