Learn how to create a crazy cat lady costume for Halloween! Complete your costume with a kitty litter scoop, fun socks, and a shower cap.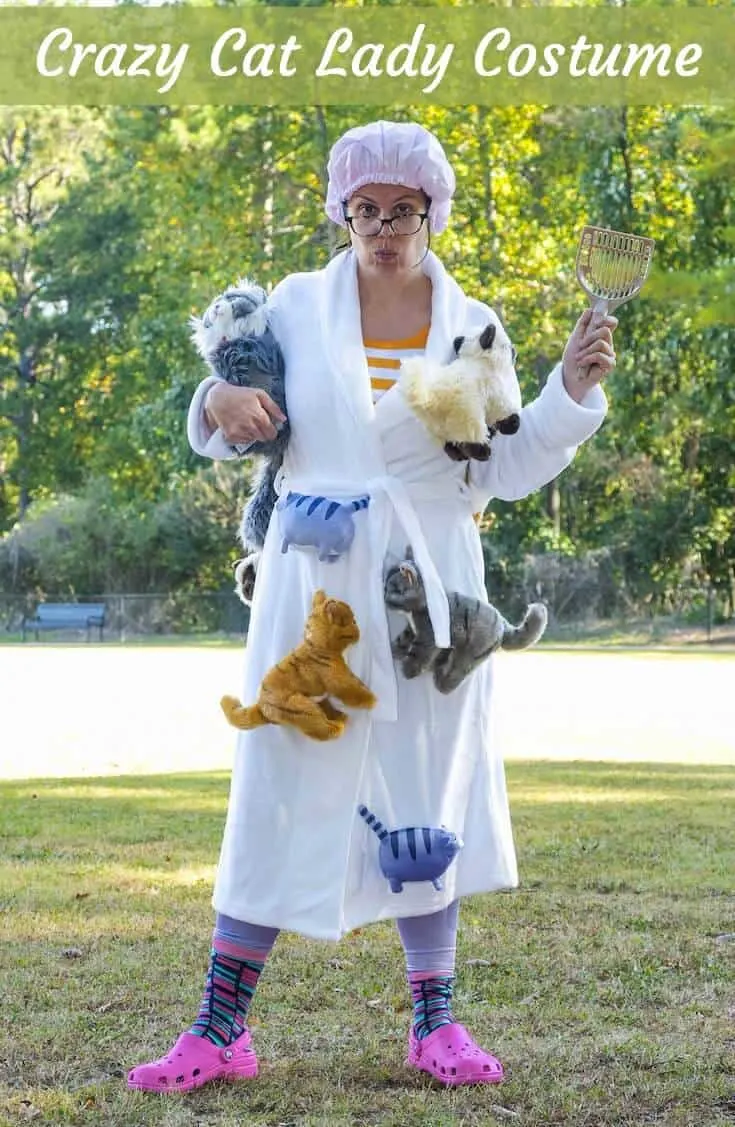 This is one of my most favorite Halloween costumes of all time, my friends. Yes – I did it. I became a crazy cat lady this year! We all know the "crazy cat lady" joke, right?
The single woman . . . tons of pet kitties . . . a comfortable robe with comfy shoes. She needs to take a shower but there's plenty of litter to scoop before then. You might say she looks like a bit of a "catastrophe!"
Crazy Cat Lady Halloween Costume
I'm going to show you how to make your own DIY crazy cat lady costume! It's not hard to do. Because looking disheveled yet comfortable is not hard to achieve. Trust me! Let me know show you how to put this funny Halloween costume together.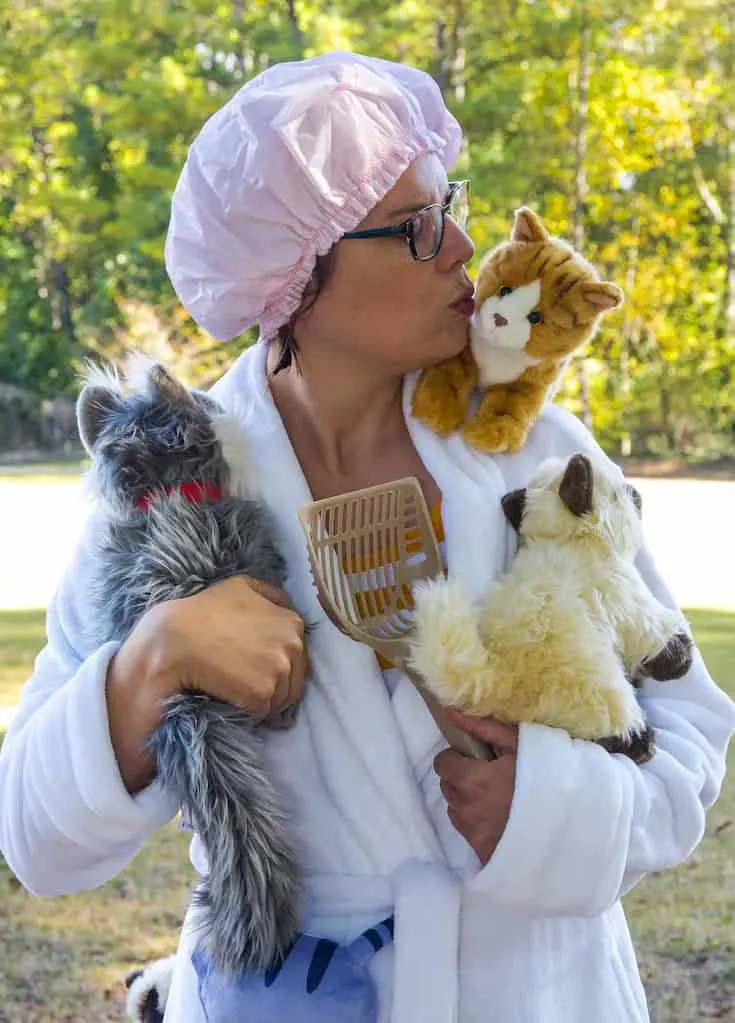 Make a Cat Lady Costume
Gather These Supplies
Robe
Cat stuffed animals – 8 or 9
Crazy socks
Crocs – mine are Neon Magenta (I suggest a bright color!)
Hair net or shower cap
Kitty litter scoop
Hot glue gun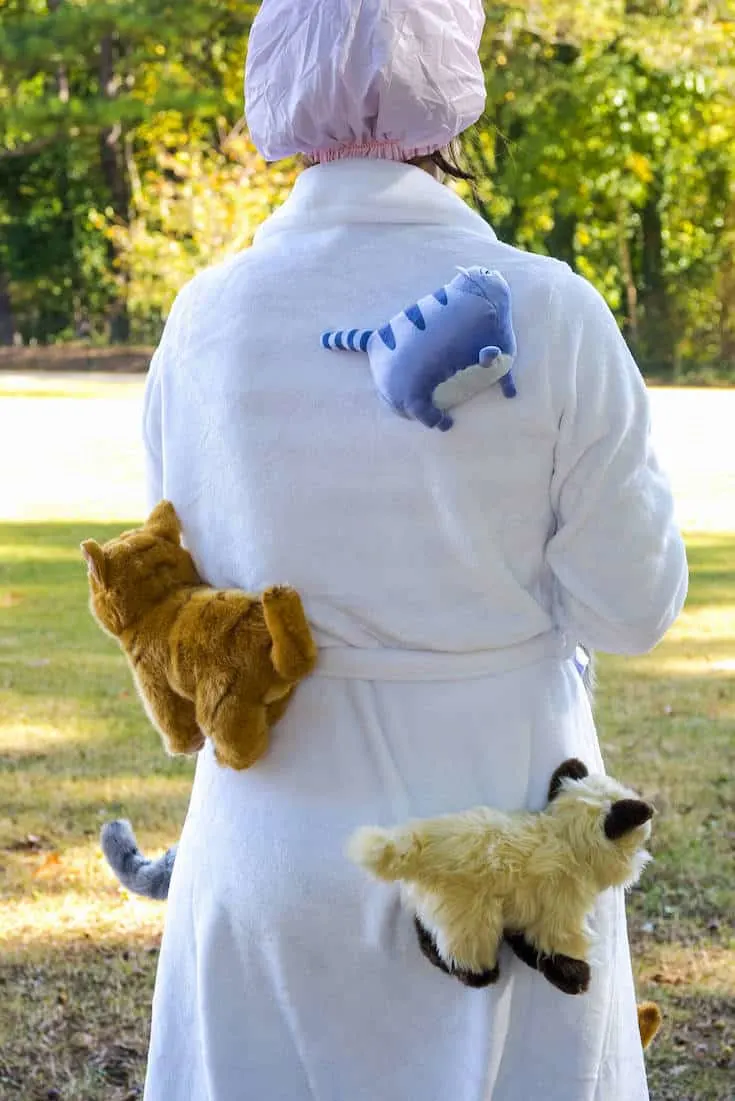 This crazy cat lady costume is REALLY easy, my friends. Simply hot glue the kitties around the robe. You're going to use quite a bit of hot glue so keep that in mind! I used about one mini stick per cat.
Tip: if you want to use your robe again, you *could* use thread and a needle to sew the cats to the robe loosely, and then cut them off when done. I'll leave that up to you!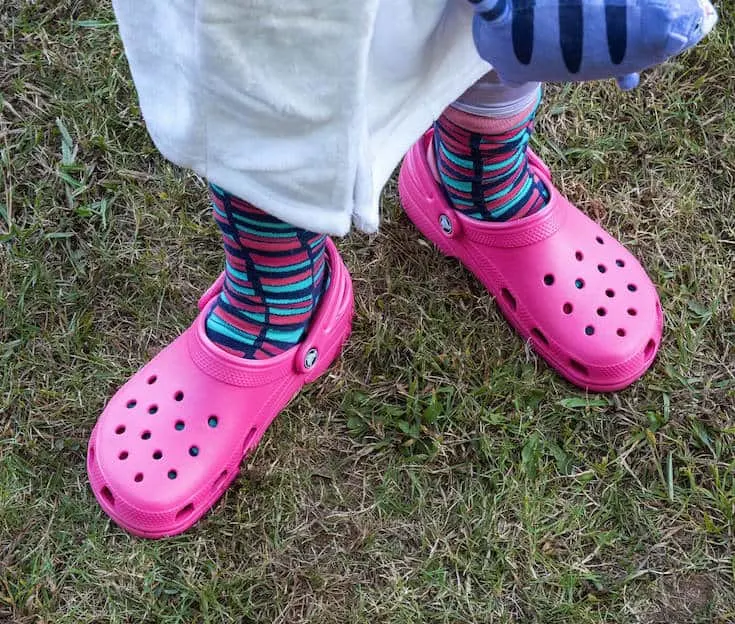 The cats make the robe, but I feel like the "pièce de résistance" to my outfit is the Crocs! Not only do they come in bright colors and go well with fun socks – but they are comfortable.
Have you ever tried a pair of Crocs? You can dance away on Halloween night or walk blocks to collect your candy and it's like walking on air. I love my Crocs!!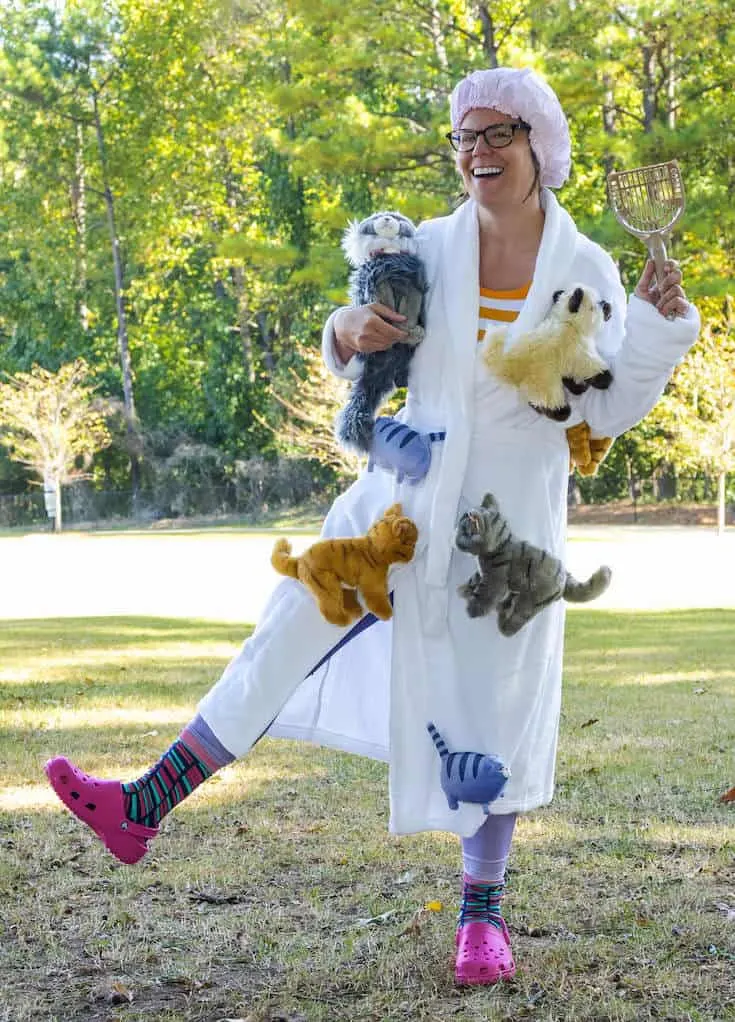 I think my Crocs make this kitty costume "purr!" I had so much fun dressing up with my cats!
Yield: 1 costume
Cat Lady Costume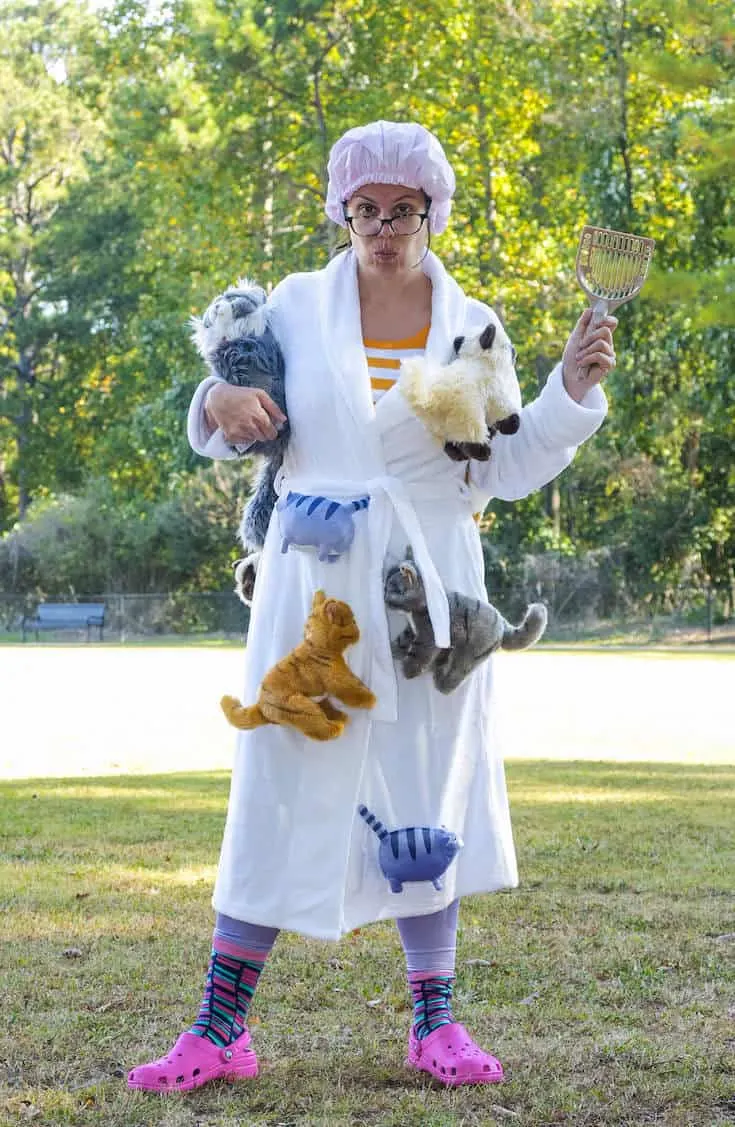 This crazy cat lady Halloween costume is so easy to make! Learn how to do it with this two second tutorial.
Materials
Robe
Cat stuffed animals - 8 or 9
Crazy socks
Colorful shoes
Hair net or shower cap
Kitty litter scoop
Tools
Hot glue gun with glue sticks (optional)
Needle and thread (optional)
Instructions
Lay your robe out and design where you're going to place the stuffed animals. I don't recommend too many on the back if you're going to be doing a lot of sitting.
Attach the stuffed animals in one of two ways - either using the needle and thread (if you'd like to reuse the robe) or with the hot glue gun and sticks. I used one glue stick per cat.
Notes
You can greatly reduce the cost of this costume by shopping for your robe and stuffed animals at the thrift store! Just be sure to give yourself enough time to find plenty of cats.
Would you ever dress like a crazy cat lady? Let me know in the comments!
---
I'd also love for you to check out some of my favorite Halloween craft posts from here on the blog, as well as on DIY Candy: