If you are looking for simple no carve ideas, try to decorate a pumpkin with confetti and Mod Podge. So easy even a kid could do it!
Skills Required: None. You don't need to have any crafting experience to try this! You can do it with either real or faux pumpkins.
Scroll down to the bottom of the post to get a video of the pumpkin decorating in action. You're going to love it!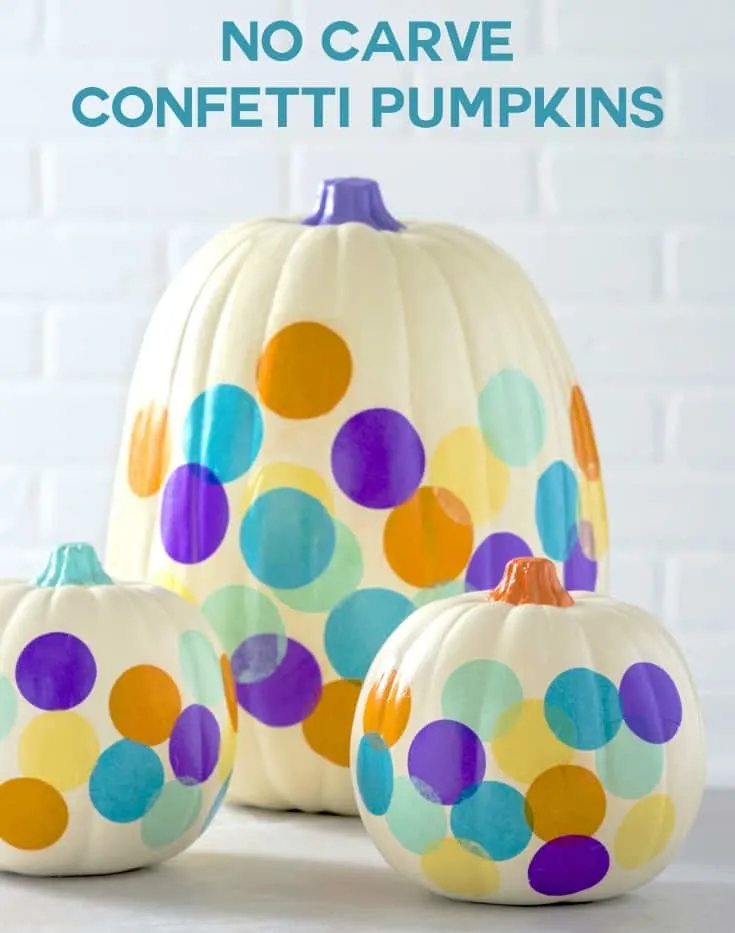 I'll never forget carving pumpkins for Halloween when I was little. We had a furniture dolly that my dad used to take the trash cans out each week, and one day he brought home the largest pumpkin I've ever seen on that furniture dolly – for us to carve!
My brothers and I were excited until he opened it up. The smell and the squishy insides were enough to make us run squealing!
I'm much more into no carve pumpkin ideas these days. Decorate a pumpkin with no mess, no skill set . . . no knives. Though you can carve them with knives if you like.
But my preference is decorating them with Mod Podge! It's so easy to embellish pumpkins with decoupage . . . even a kid can do it.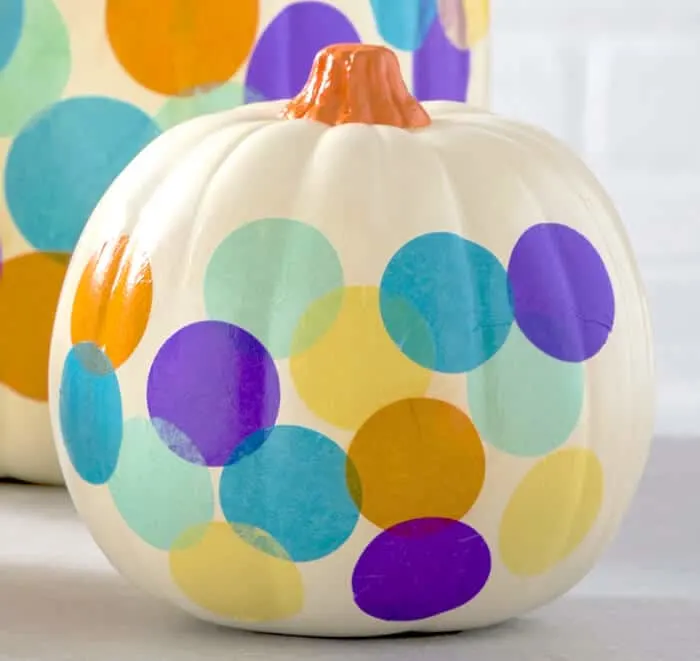 And this decorate a pumpkin project fits into that category. The only choice you need to make is your favorite paint and tissue paper colors. Learn how to decorate a pumpkin with Mod Podge below.
DIY Confetti Pumpkin
Gather These Supplies
Faux pumpkins, white, any size
Acrylic paint, colors of your choice
Circle punch or template and scissors
Paintbrush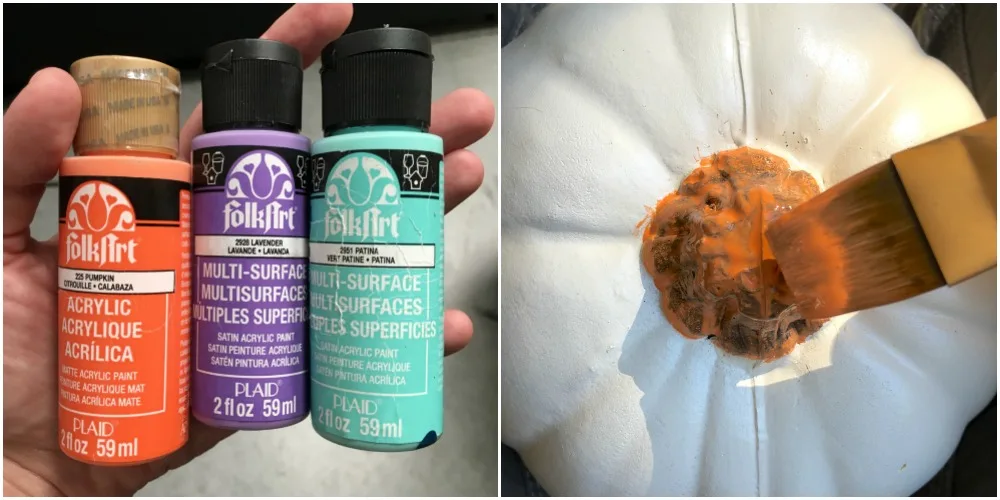 Step One: Select your paint and tissue paper colors. Paint the stems of your pumpkins with several coats and let dry.

Step Two: Punch a variety of circles out of your tissue paper. I used a 1 ½ inch punch. If you don't have a punch, print a circle template online and use it to trace and cut.
Tip for punching tissue paper: it's not going to work with one sheet. You need about six sheets or more for the smoothest cut. And gently pull the tissue out of the punch end as it's easy to tear!

Step Three: Apply your tissue paper confetti circles to the pumpkin in a random fashion as shown. Place a bit of decoupage medium on the pumpkin, place the circle on top, and lightly brush it down.
You don't want to brush too much on your first layer because you can start rubbing some of the ink out of the paper; so be gentle!
Let dry and then give your pumpkins a final coat of Mod Podge. Display for the fall and holiday season. Too wild for Thanksgiving? I don't think so.
---
Want to see this "decorate a pumpkin" idea in action? Check out the video in this post!
Do you want to see more no carve pumpkin ideas? Check out our painted pumpkins! Lots of paint, Mod Podge, and combinations of both: