Use Mod Podge and your favorite fabric pattern to create these unique fabric lined drawers – I love the special surprise every time you open one!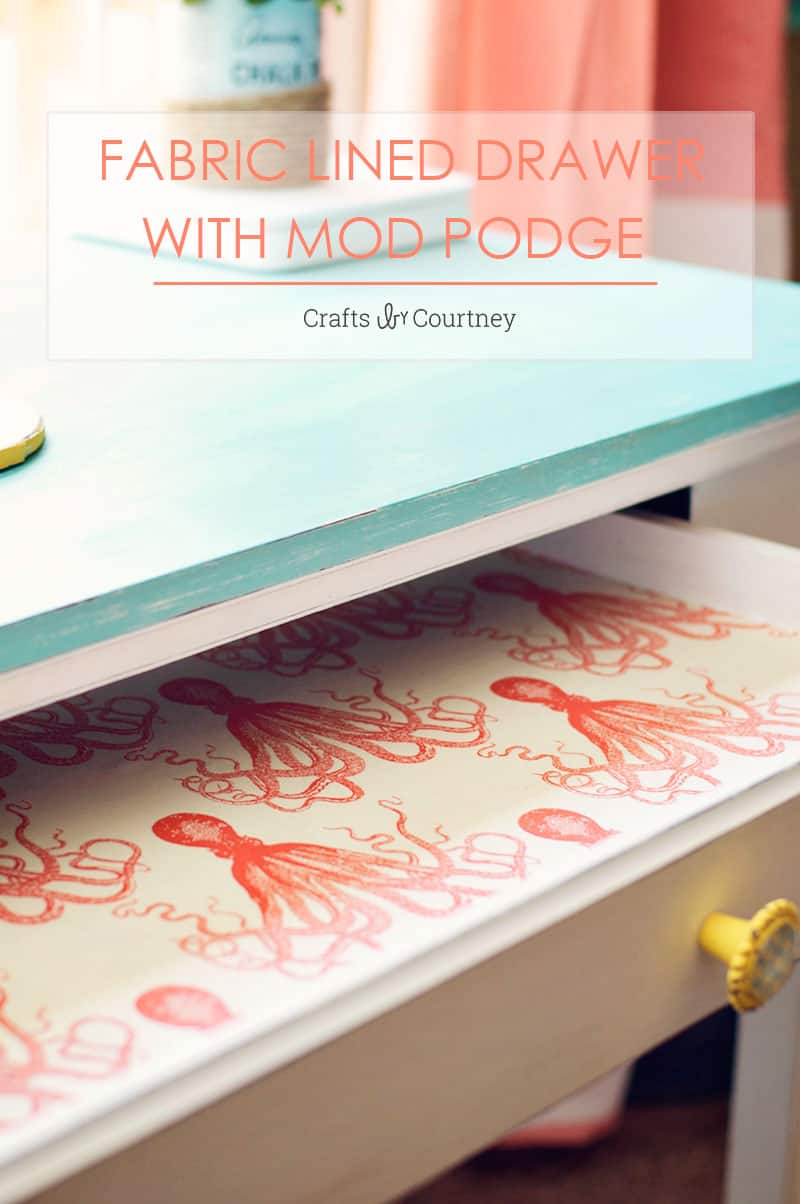 I'm so excited to share with you my newest Mod Podge project: fabric lined drawers!
It's funny – this desk makeover actually started back in November when I first painted it. I always knew I wanted to do something decoupage related on the inside of the drawer, but wasn't sure exactly what I wanted to do.
I recently got a bottle of Fabric Mod Podge and started thinking of things to do with it, and I came up with a few ideas related to furniture.
Then I went to JoAnn Fabrics and found some amazing coastal themed fabrics. As soon as I saw the fabric with the octopus, I knew EXACTLY what I wanted to do with it. Time for some DIY beach decor!
I just needed to see if the hubby was on the same page. I showed him my idea for fabric lined drawers and he really like it.
BUT he thought some people might think the octopus looks like an alien creature (I think he mentioned the one from Independence Day). I know not everyone will love it, but at least everyone can get an idea of how to make their drawers over and customize it to any pattern they like.
But I do think the octopus pattern is AWESOME. I have a couple more projects I plan on doing with it too. Okay, back to the DIY drawer project. Here's how this fun craft was done!
Fabric Lined Drawers
For this AWESOME fabric drawers project you're going to need:
Gather These Supplies
Foam brush
Scissors
Mod Podge brayer
Pencil
Getting Started
Since I just made a trip to JoAnns I had all the supplies on hand. Now I just needed to get the kids down for a nap and I could get started!!
I'm the nap time crafter today!!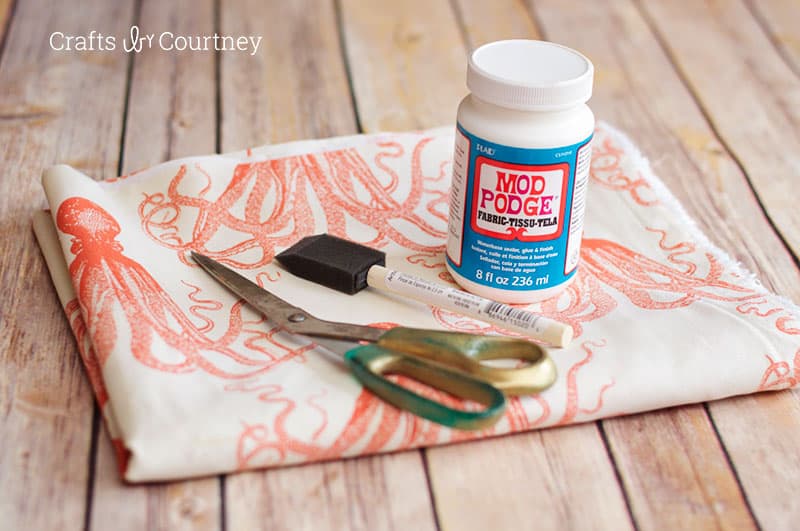 Step 1 – Prep Your Drawer
Prepping your drawer is super easy, I just cleaned my drawer out and wiped it down.
Hopefully that's all you have to do as well.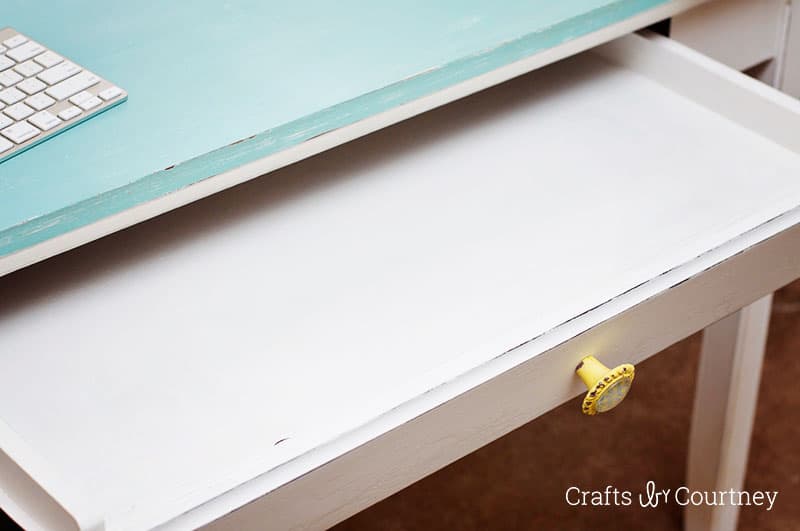 Step 2 – Measure and Cut Fabric
It took me awhile to figure out how I was going to cut my fabric. I didn't want to make any mistakes and mess up.
I finally flipped the fabric backwards, then used a pencil to trace out my measurements. Trim the fabric until it fits perfectly. YAY love it when something can be simple.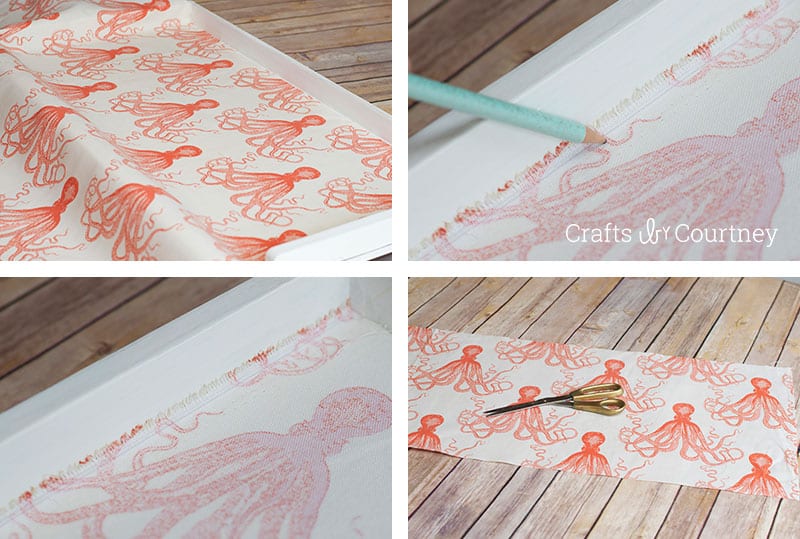 Step 3 – Add Your Mod Podge
Now it's time for the Fabric Mod Podge!! I added a little at a time, then placed my fabric on top. Working my way across the entire drawer.
Once I had the drawer covered I pulled out my "handy dandy" brayer to get any bubbles out. This is my first time using the roller and I can't believe I've waited so long. It's awesome!
As per the directions, you need to let the Mod Podge dry for 2 hours before the next step.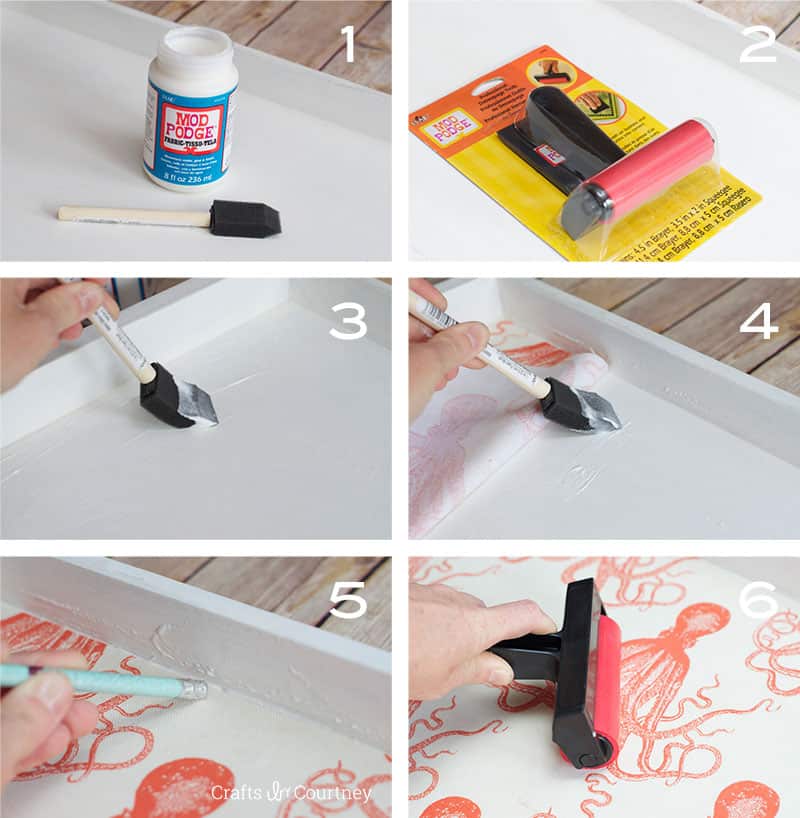 Step 4 – Seal in Your Fabric
Finally I added a coat of Mod Podge to the top of the fabric. Making sure ALL the fabric was covered with Mod Podge. Then I let dry overnight.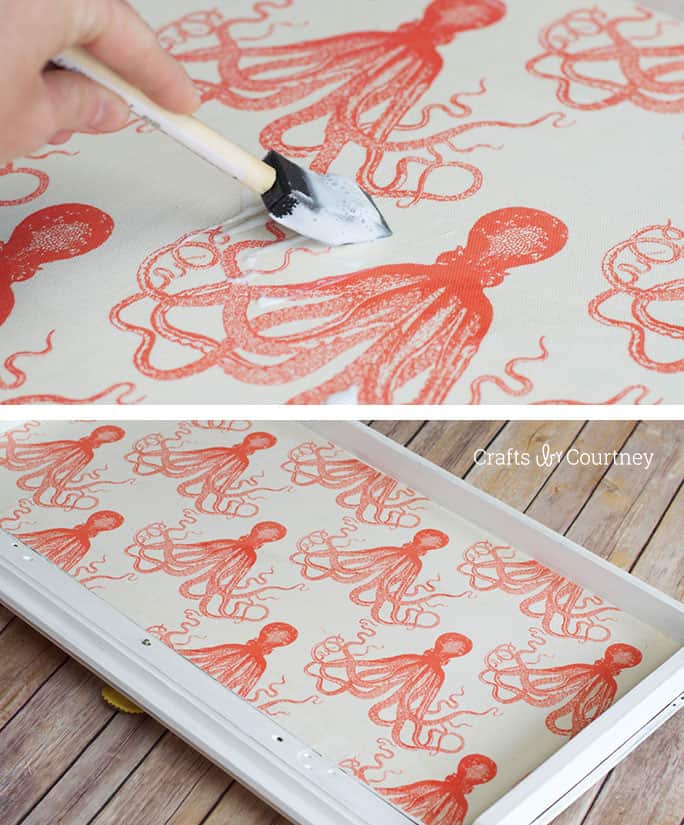 Finishing Touches
Finally I can start using it!!
I think this turned out really cool and the colors of the octopus really "POP" against the blue on the desk. It will be a fun surprise every time I open my desk.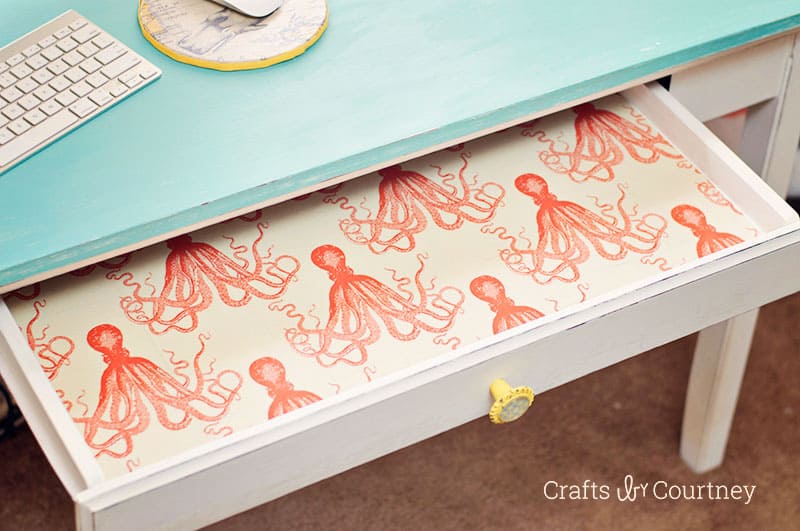 Next I need to make a couple storage containers for the inside of the desk. I'll keep you posted on those!!
Gotta keep organized.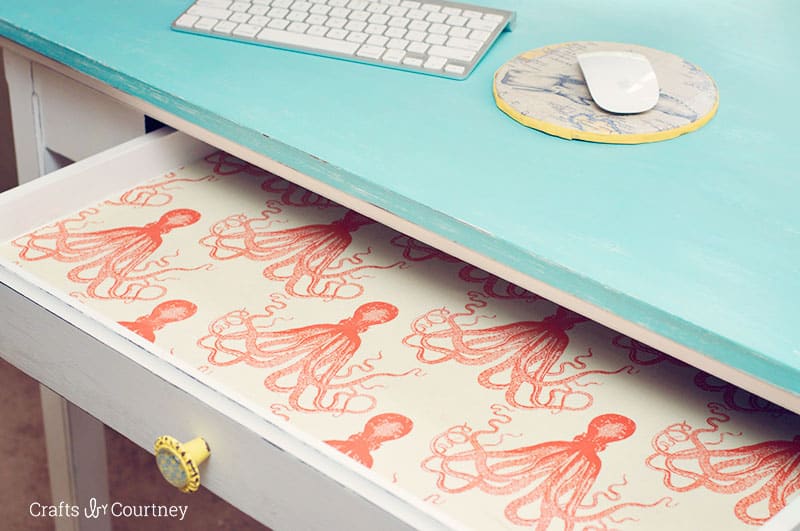 I hope you enjoyed this fabric lined drawers tutorial as much as I did. The desk is finally finished! Another project checked off my to-to list!
Yield: 1 drawer
Fabric Lined Drawers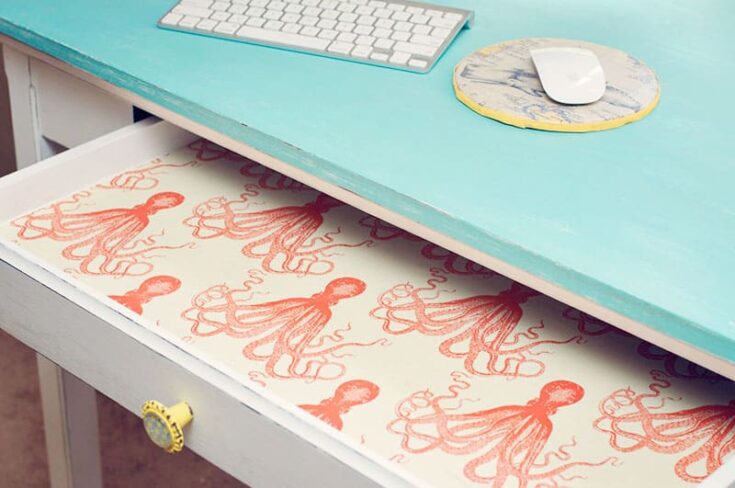 Learn how to Mod Podge a drawer with fabric - because fabric desk drawers are super cute!
Total Time
4 hours
15 minutes
Tools
Mod Podge brayer
Pencil
Paintbrush
Scissors
Instructions
Clean out the drawer completely and wipe it down. Let dry.
Flip your fabric upside down and place it in the drawer. Use a pencil to trace out the shape of the drawer on the back of the fabric.
Cut out the fabric and place it back into the drawer to make sure that it fits. If it doesn't, trim further until it fits exactly.
Add a little Mod Podge at a time, then place the fabric on top - working your way across the entire drawer.
Use your hands to smooth out any bubbles; if you have a brayer, that is preferable.
Let the Mod Podge dry for 2 hours before the next step.
Add a coat of Mod Podge to the top of the fabric. Let dry overnight before using.
---
It's truly amazing all the things you can do with a bottle of Mod Podge. I have a couple more fabric projects that I plan on posting soon.
Stay tuned . . .
---
Wanna' keep up with all my craftiness, follow me! You can also check out some of my other related and furniture projects below: