These fabric covered books make the perfect home decor pieces – and they are so cheap to make. Use old books, your fave fabric, and Mod Podge to make these.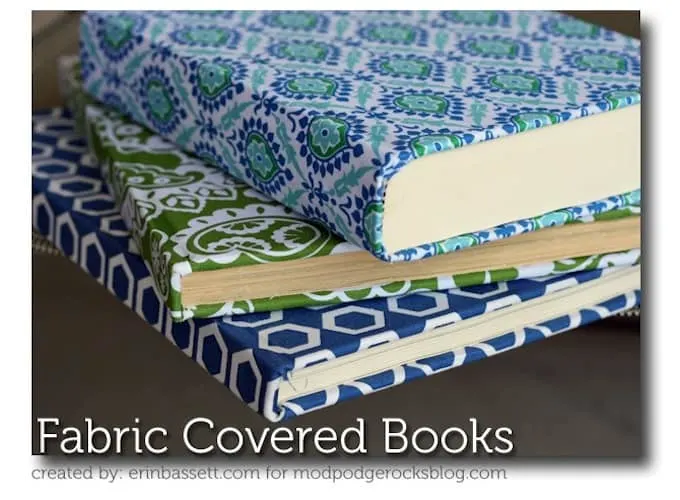 Are you wondering how to cover a book with fabric? And are you wondering why you might want to do that in the first place? Well, sometimes you need an interesting touch to your home decor.
You can do this with books you already own and they'll still be readable. This doesn't change your ability to open the book and read it! However, you can also go ahead and purchase some for this specific purpose.
And then there's the library! Some people don't know this, but they have broken books that are ready for the landfill (worn out from use). Instead of letting them go into the garbage, turn them into fabric covered books and add them to your decorating! Just go and ask!
Note: this is a permanent solution for covering books with fabric. Once you do this and it dries, you'll damage the book cover if you ever want to rip off the fabric. So I wouldn't do this with school books you need to return! Make sure they are books that you own/can alter.
---
Hi everyone! I'm Erin Bassett, and I'm going to share with you a quick project that will really spiff up your home: fabric covered books. I love to use books around my home as part of the decor covered in fabric, and I'm going to show you how to do it too.
How to Cover a Book
It's a great way to add visual interest and sometimes give a favorite item a boost in its height. My only problem is that the book covers don't always "go" with my decor . . . so here's a great way to change that.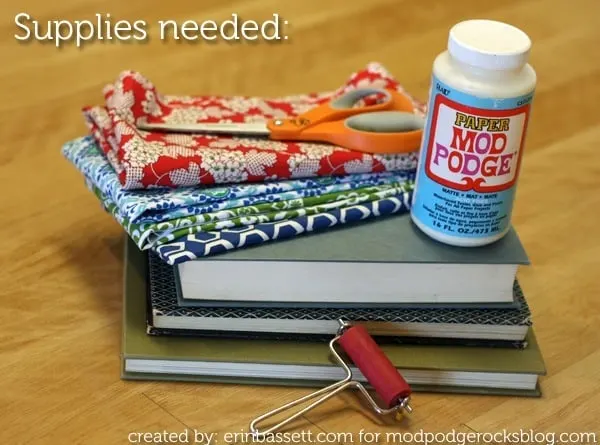 Just grab some books, Mod Podge, fabric, scissors, brayer, and an old hotel room key (or even a piece of cardboard will do), and some paper towels to clean up any excess. It doesn't have to be Paper Mod Podge; this is just what I had on hand. However, you can use any of the regular Mod Podge formulas like Gloss, Matte, or Satin.
Tip: if your fabric is thin and the book covers are dark, you might want to paint the book with white acrylic paint so that the fabric "pops." Mod Podge makes fabric somewhat transparent, so you'll see the dark cover if you don't paint. In this case, paint the cover, spine, and back cover and then let dry before Mod Podging.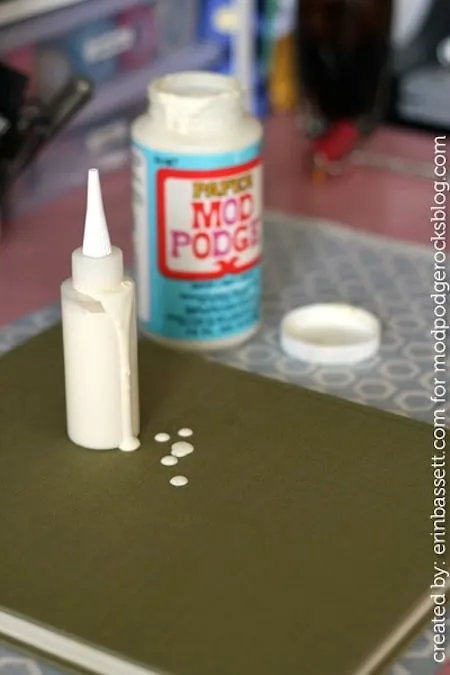 For projects like this I like to put some Mod Podge into a squeezable container so that it's easier to control and I'm less likely to dump out too much.
You can see that I'm not really a "clean" crafter and I already made a mess just transferring it. But I'm sure you'll be much neater about it. 😉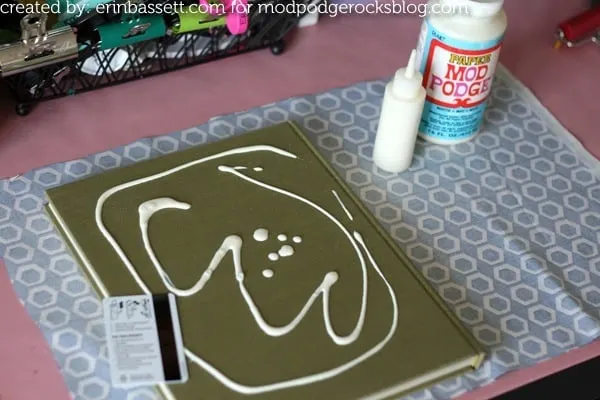 Start off by squirting out some Mod Podge all over one side of your book. Next use the hotel key to spread it all over. Make sure that you cover it completely, especially the grove near the spine.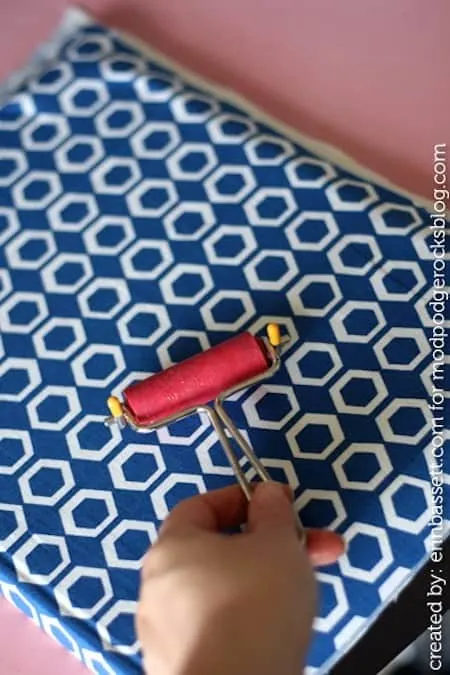 Then apply the fabric, smoothing it out with your hands and the brayer. If you happen to see that it's not sticking well somewhere, you can add a bit more Mod Podge under the fabric and smooth it down again. When you're done with one side, flip it over and do the spine and the other side.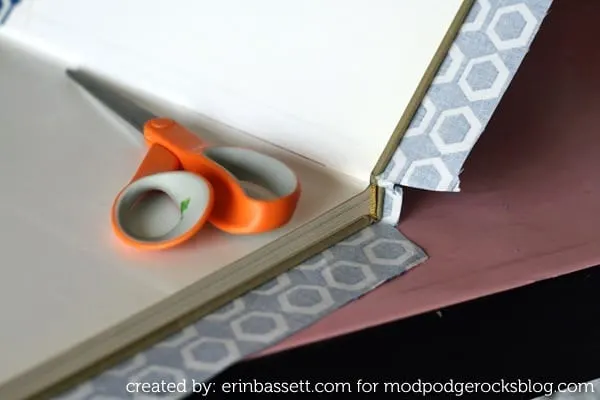 Next, open the book up. Cut small slits near the spine and trim down the spine piece.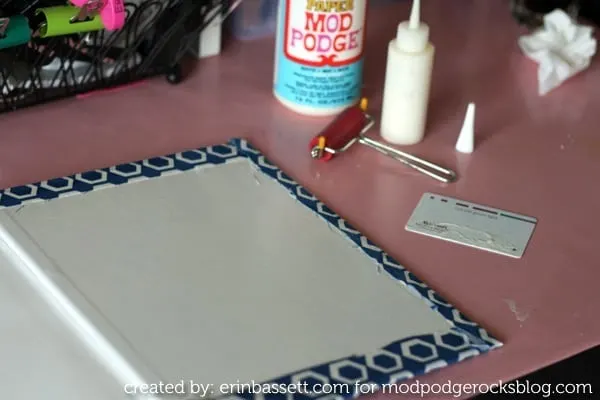 Then you're ready to adhere the "flaps" down to the inside covers. Since I am using these as decor, I'm not too worried about what it's going to look like on the inside. I glued the flaps down with Mod Podge.
If the look below is going to bother you, I have a solution. Cover up the inside cover with another piece of fabric after you glue down the flaps.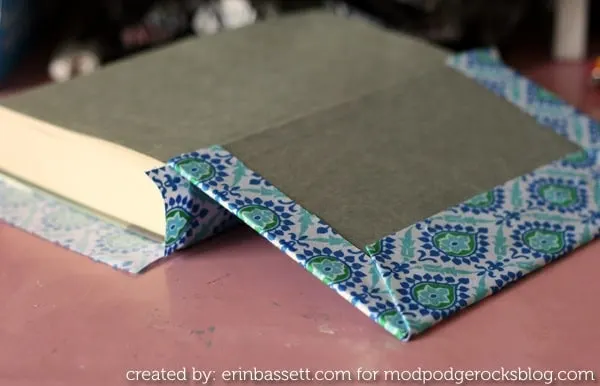 For the corners, I just folded them like I was gift wrapping a box and made sure that they had plenty of Mod Podge in the layers of the fabric.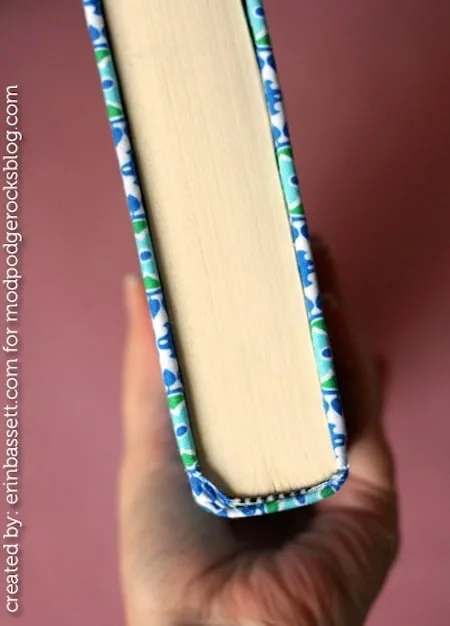 After the edges are adhered, apply some Mod Podge to the spine piece and tuck it down in the spine. You may have to use tweezers or some sort of tool to get it down there if it's tight. And that's it!! Let dry completely due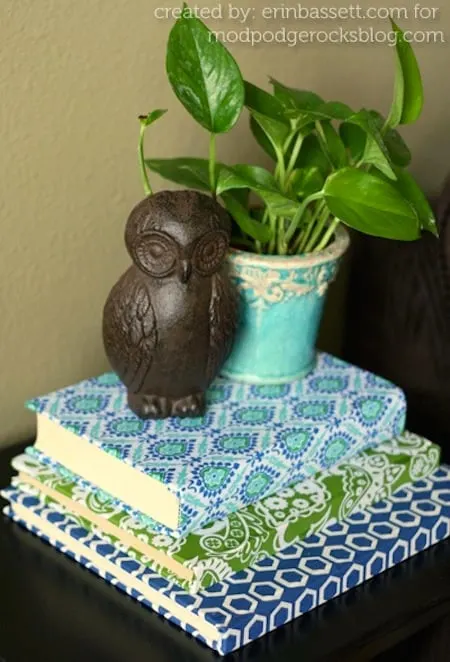 These fabric covered books are really quick to make and they don't take too much time to dry either. Go grab those damaged books you have just laying around and get them covered!!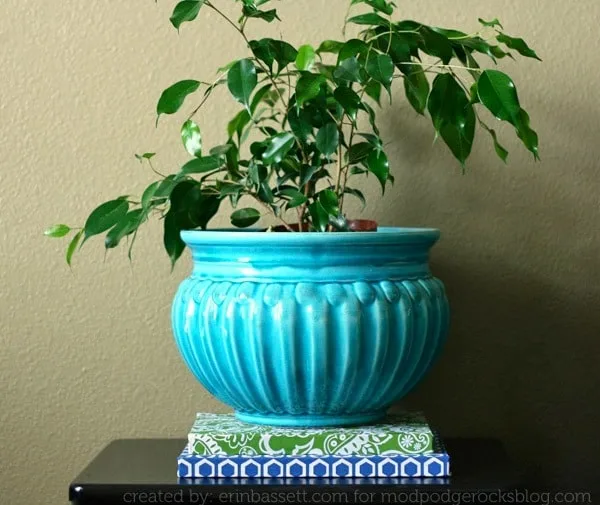 Don't these fabric covered books look great? Get the printable how-to card below.
Yield: 1 book
How to Cover a Book with Fabric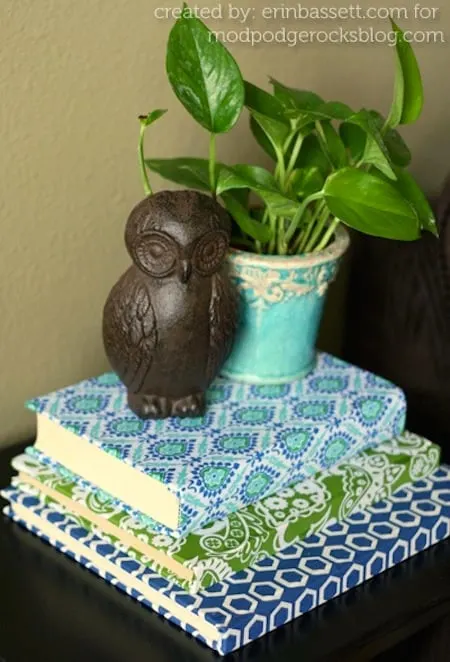 Learn how to cover books with fabric using Mod Podge! It's really easy and these will look great in your home decor.
Active Time
1 hour
30 minutes
Total Time
1 hour
50 minutes
Materials
Book
Mod Podge Satin
Fabric
Acrylic paint (optional)
Tools
Scissors
Paintbrush
Brayer or squeegee
Instructions
If the fabric is thin, prep the books by painting a coat of white acrylic paint on the cover, spine, and back cover of the book. Let dry.
Cut the fabric to be slightly larger than the book using the scissors. Make sure to have several inches of excess around the edge.
Apply Mod Podge to the front book cover and spread.
Press down the fabric on the cover, smoothing it out with your hands and the brayer. Let dry for 15 - 20 minutes.
Repeat with the spine and back cover cover. Let dry.
Open the book cover. Cut small slits near the spine and trim down the spine piece.
Adhere the flaps to the inside front cover using Mod Podge. To get it neat, fold like a present. Repeat with the back cover and let dry.
Apply some Mod Podge to the spine piece and tuck it down in the spine. Use tweezers if necessary to tuck in.
Let the book(s) dry completely before displaying.
Notes
While the books might be dry in 24 hours, it can take up to a month for the Mod Podge to fully cure. You can seal the Mod Podge with a clear acrylic sealer to prevent tackiness, or insert wax paper between the covers and pages until cured.
I'd also love it if you'd visit the following home decor projects I think you'll like: