Don't spend big bucks on a dollhouse – this cardboard dollhouse craft is really easy! Use Mod Podge to create this with your children.
Skills Required: Beginner. This craft is great for any age of children – or even adults! What I love is that it uses a recycled box . . . so if you "mess up," it's easy and inexpensive to just start over.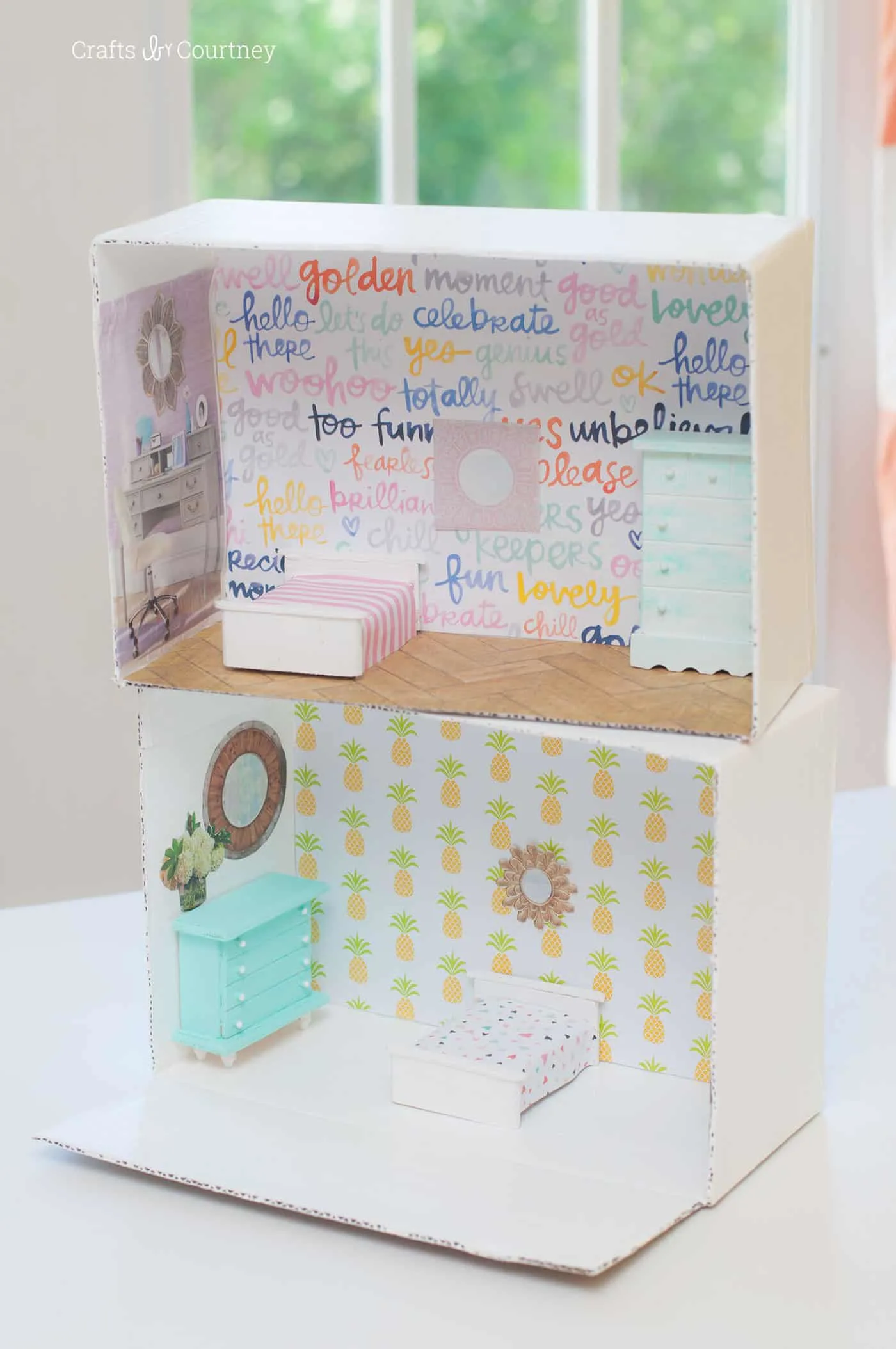 We've shown you easy craft ideas for kids, and this is yet another project that littles will really enjoy! If you love giving kids their creative freedom, this recycled craft is perfect.
I LOVE a dollhouse project, unfortunately I have three boys and they really don't care for dollhouses. BUT I still really wanted to make one.
So I thought creating a simple and easy cardboard dollhouse would be an awesome idea to share. I'll take any chance I can to work on a girly kids project.
I also think this DIY dollhouse is a really fun and pretty inexpensive project that the kids can work on this summer. It's a great project to keep them busy (think boredom buster). Learn how to make it below.
Dollhouse Out of Cardboard
Gather These Supplies
Mod Podge Gloss or Matte
Small Cardboard Box
Paint
Painters Tape
X-Acto Knife
Paint Brush
Step 1 – Create Your Dollhouse Shape
First I ran to Wal-Mart and grabbed some boxes. These were around .50 cents each. BARGAIN!!!!
I cut the end flaps off with my "trusty" X-Acto knife for the back wall. Then I cut all four flaps off for the front opening of the dollhouse.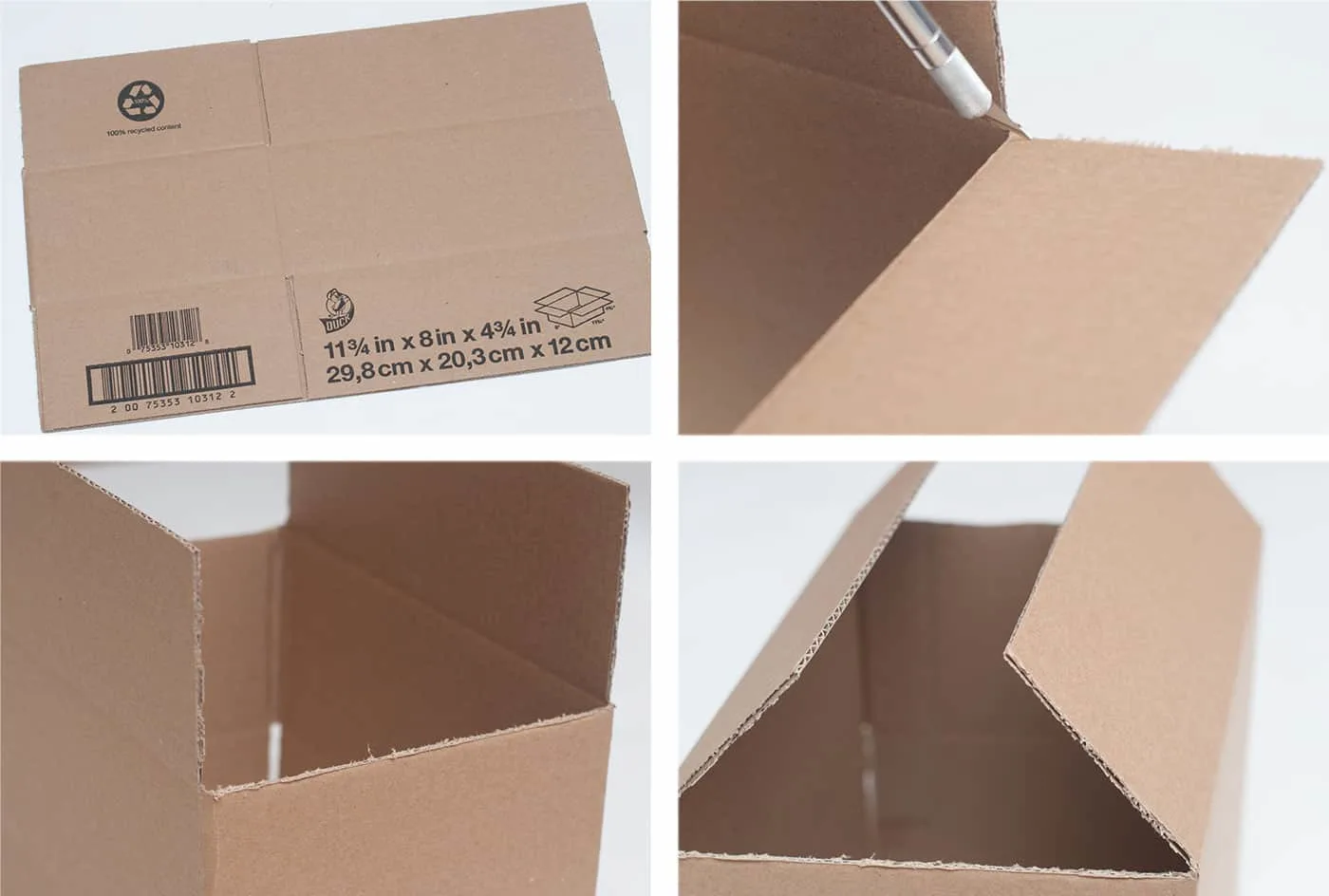 Step 2 – Tape Up Box
Next I taped up the back with painters tape. I love using painters tape for projects like these; it's flexible and easy to paint over.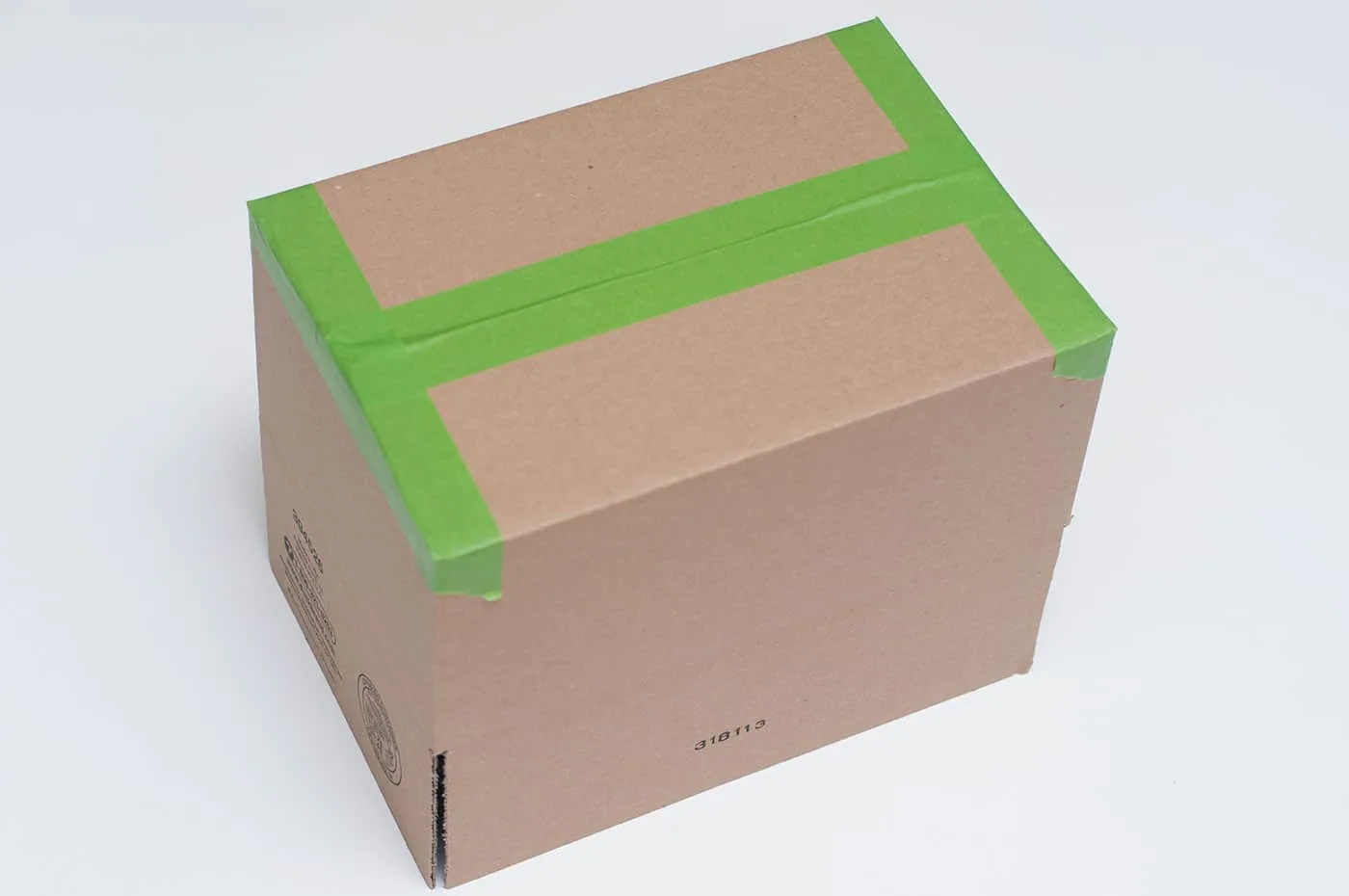 Step 3 – Paint Box
Now it's time to paint!! When I paint boxes, I love using those sample size paints you get at Lowes or Home Depot. You can pick any color you want and get a good amount for around $3.00.
I did a total of three coats and let each one dry 20 minutes. I also used a blow dryer to prevent any warping. Spray painting is a great option too, but that could get a little pricey at $4.00 a can.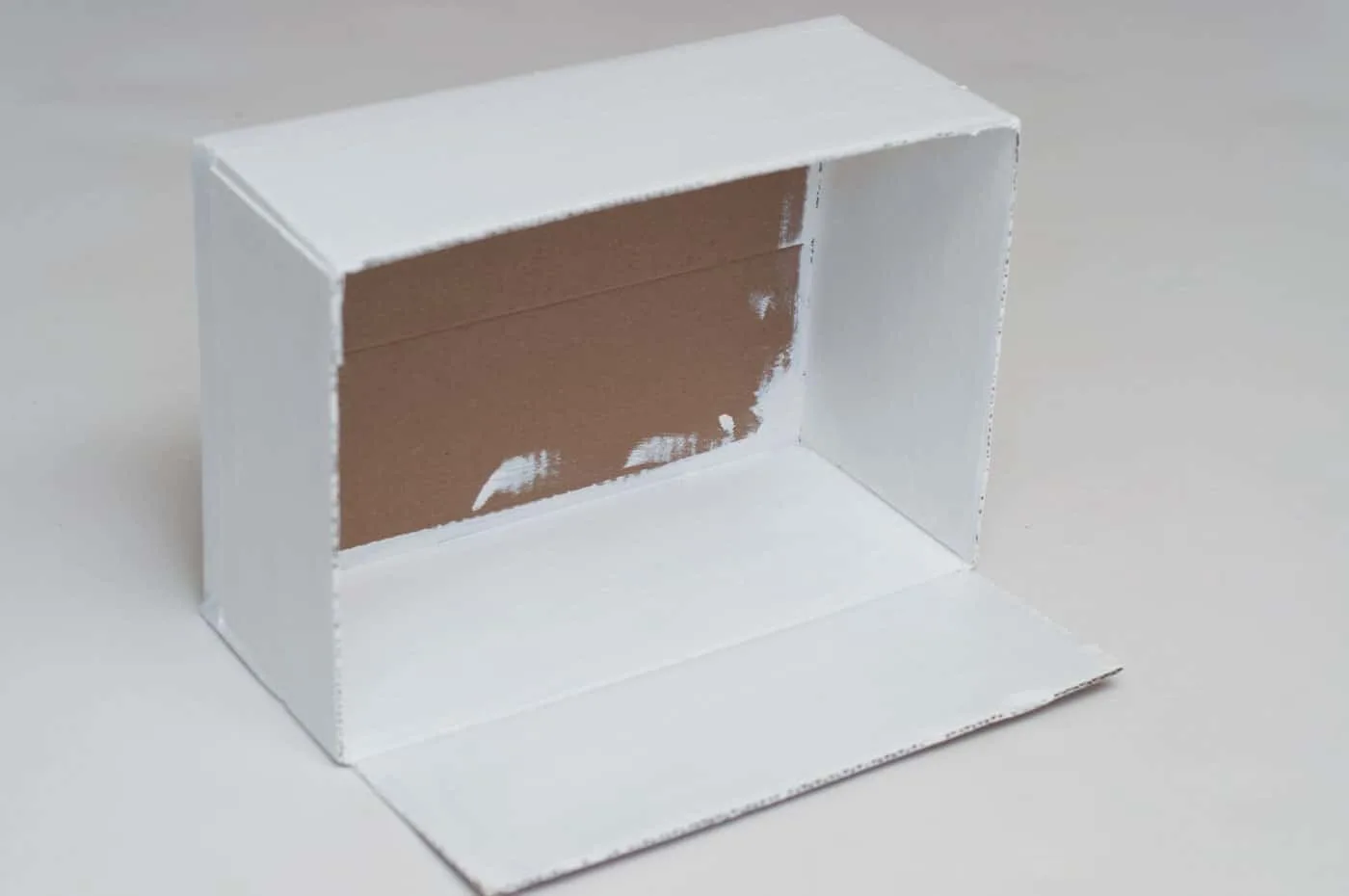 Step 4 – Add Back Wall
Now the FUN part!! Adding our cool back wall. Of course I grabbed some funky/cool patterned pieces from Michaels.
Measure and cut your scrapbook paper to fit the back wall. I started at the top of the back wall, by adding some Mod Podge and laying my paper on top. Then working my way down. You don't need to over Mod Podge with this, just paint on a thin layer.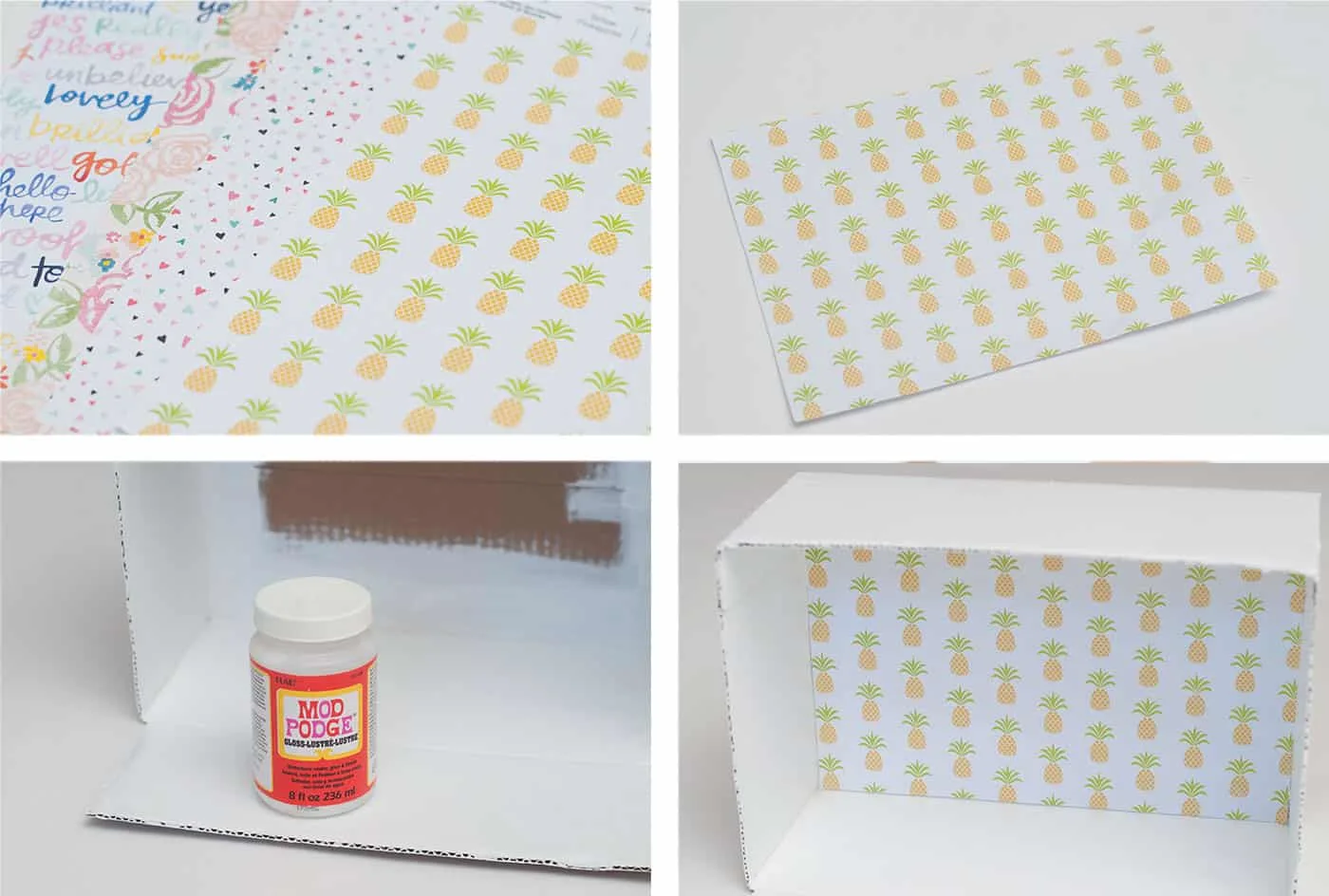 Step 5 – Add Details
So this was a step I was pretty excited about. I think a little girl or boy would have a blast going through magazines and picking out fun accessories. Mirrors, pictures, flowers, etc. My Pottery Barn catalog had a TON of great options.
I painted on a little Mod Podge to the back and gently placed it on the wall. I also added a little Mod Podge on top.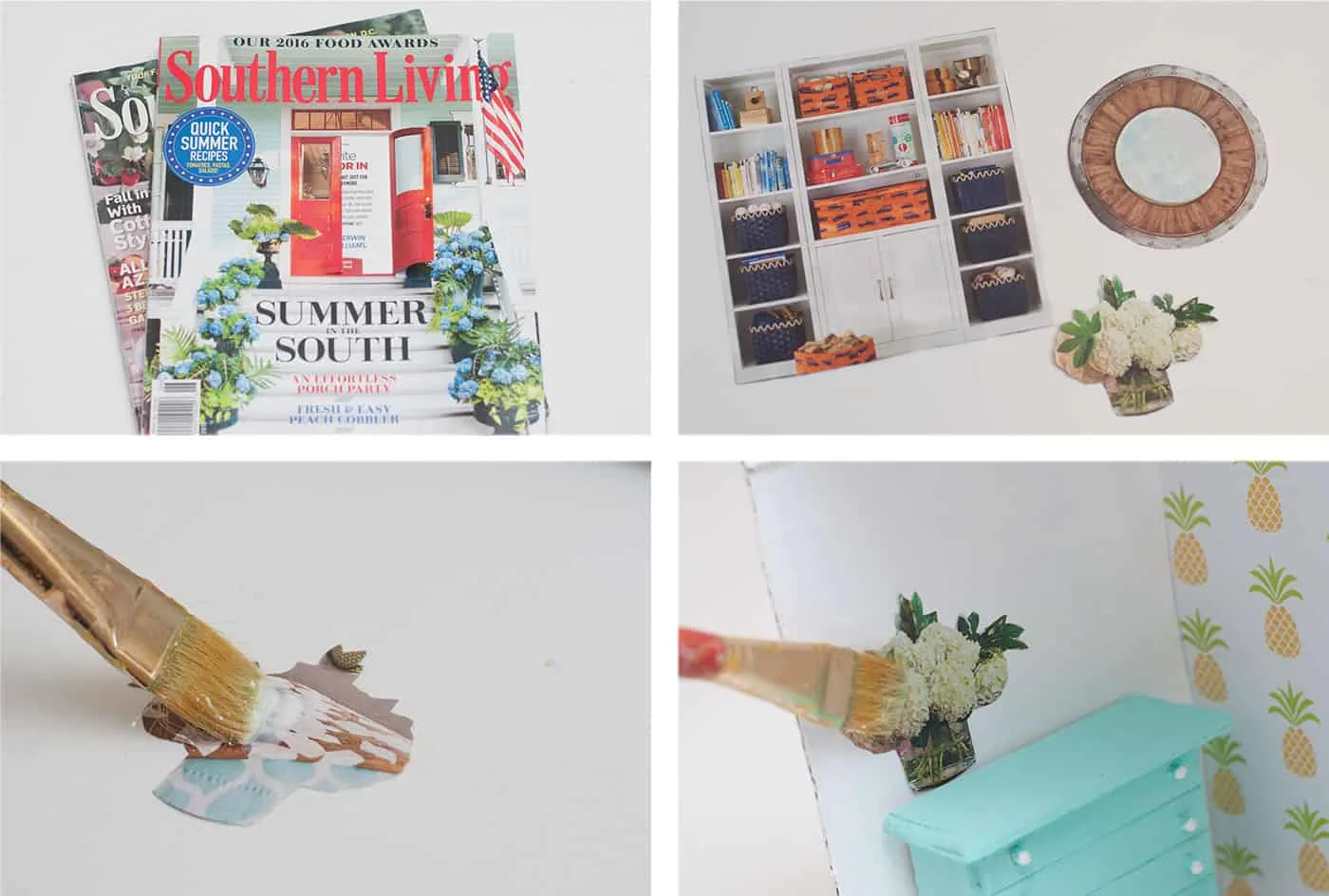 Finishing Touches
I added a couple pieces of wooden furniture that I got from The Dollar Tree. I tried to paint them up to match and I think it's a cute touch!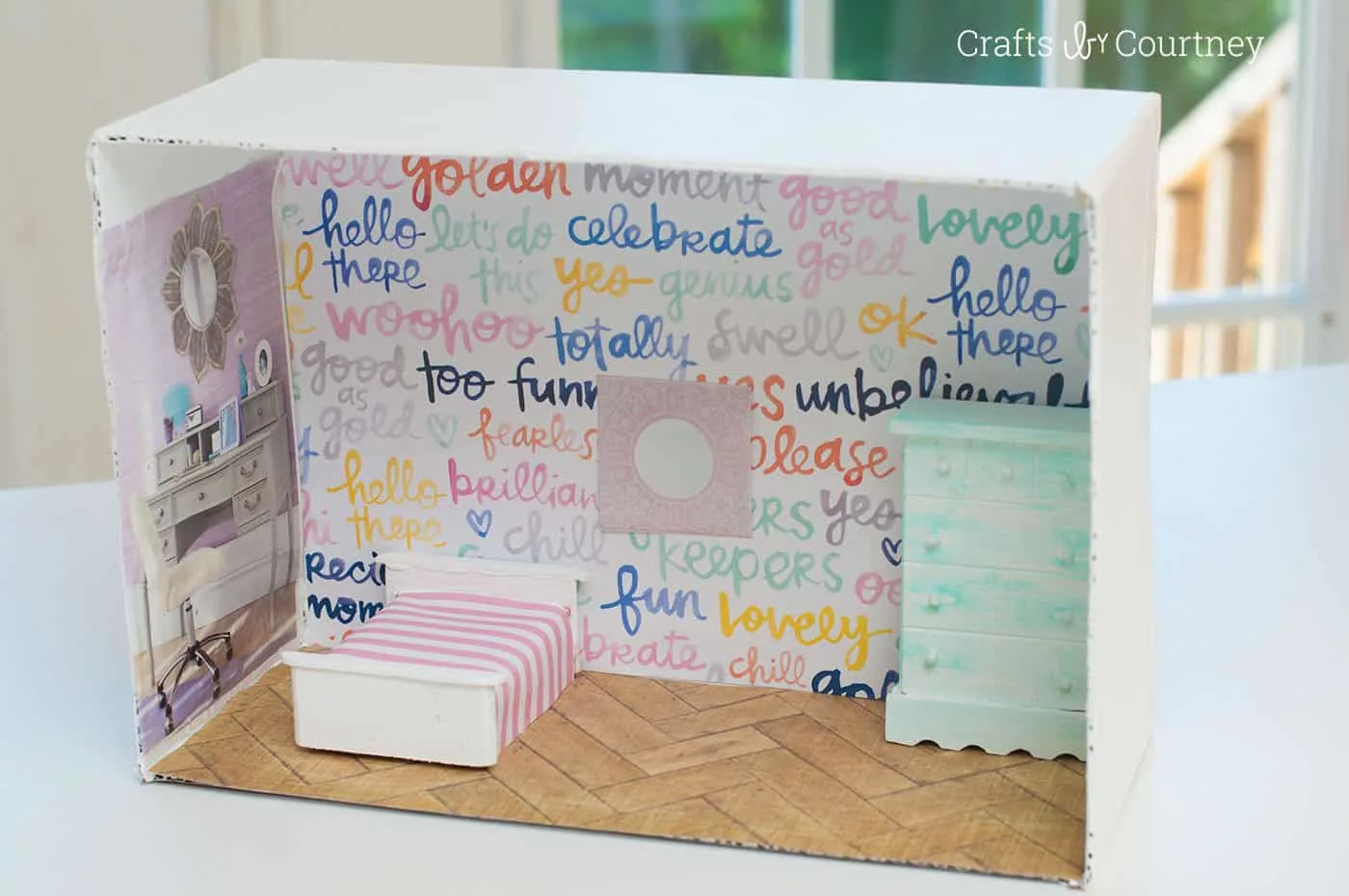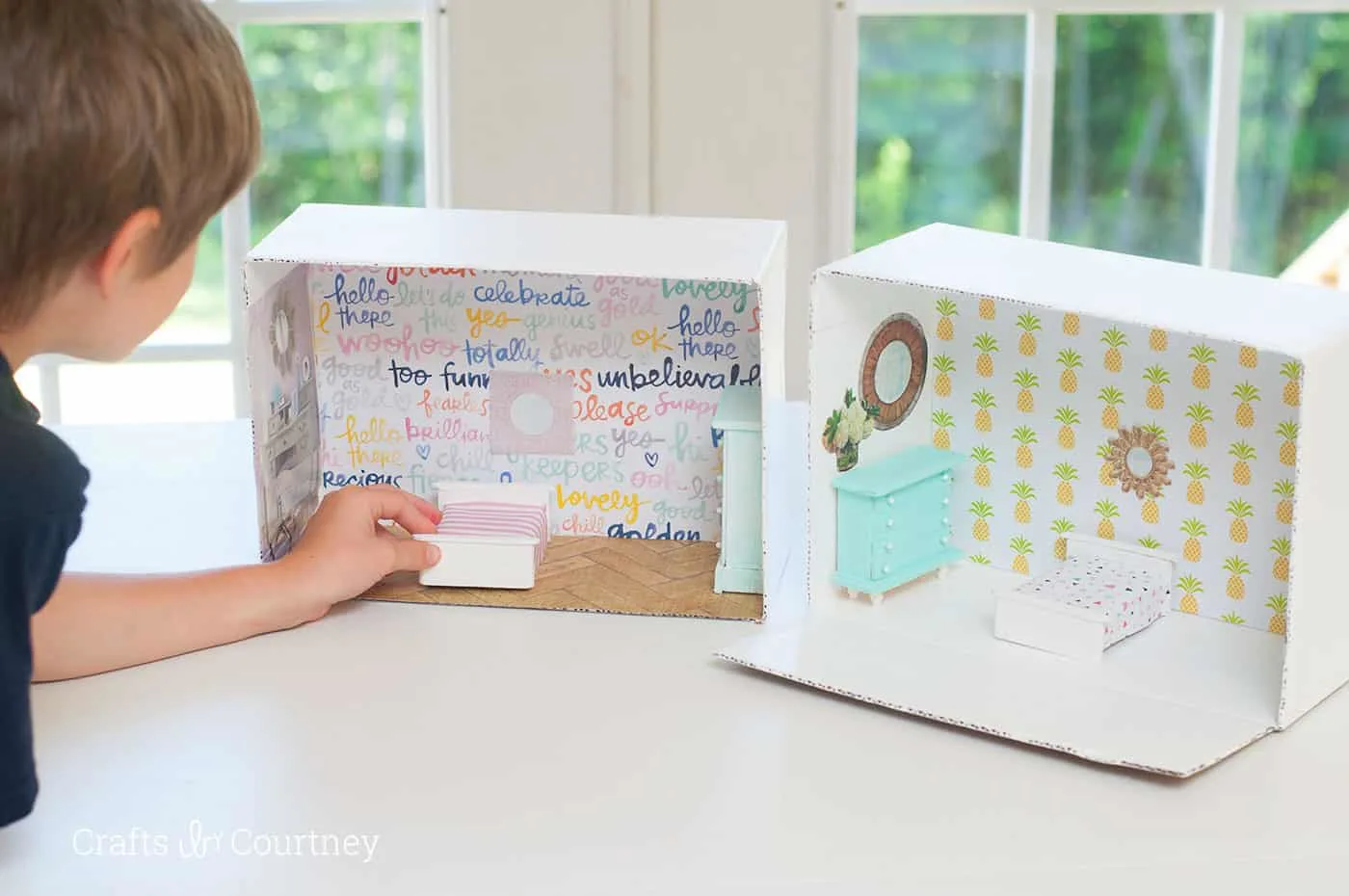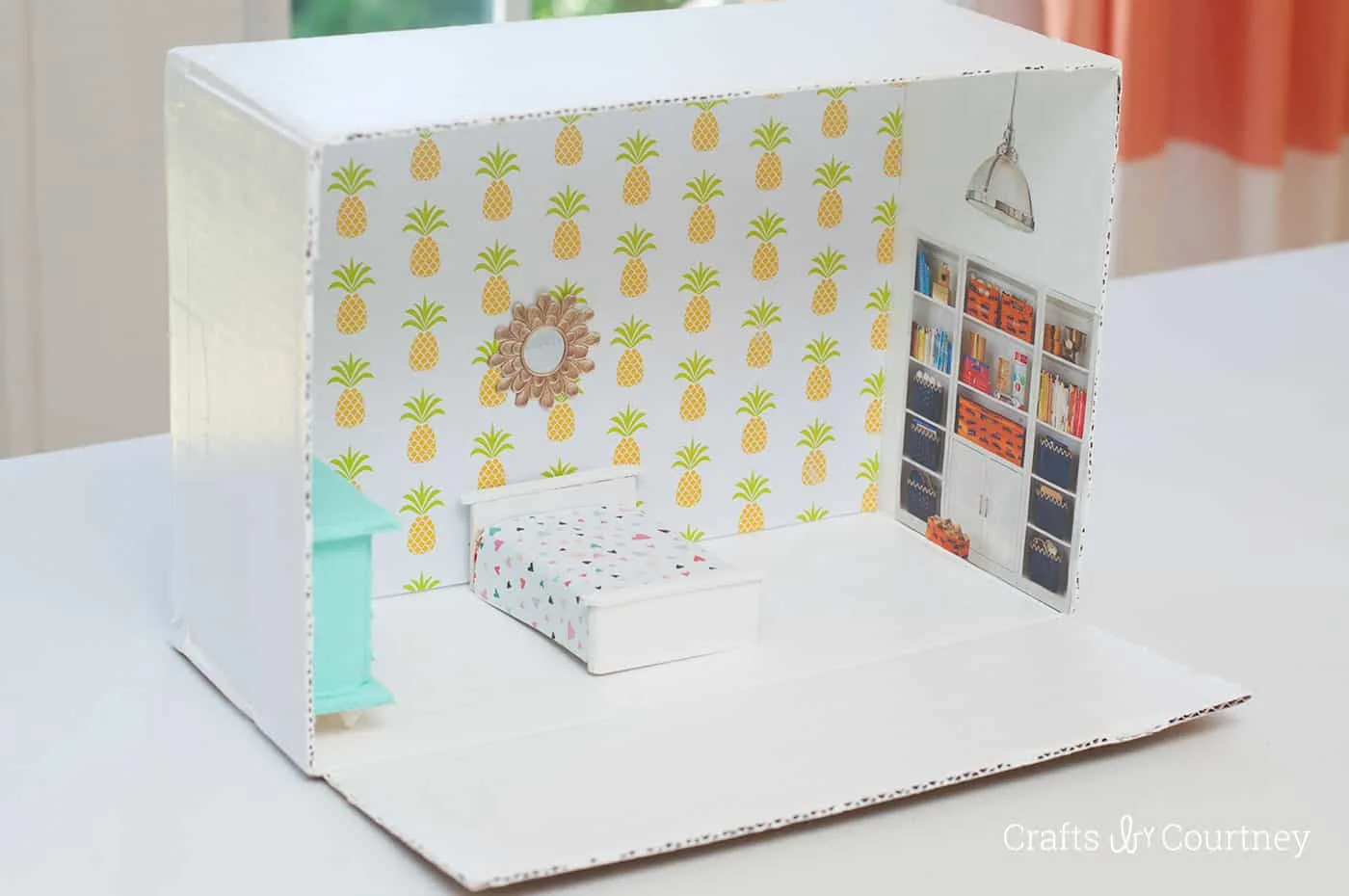 Since I have three boys I didn't have any small dolls to display in my cardboard dollhouse. I didn't even have small superheroes! Very weird.. 😉
Like I said at the beginning, this is a perfect craft to keep the kids busy this summer. They will have a blast putting their house together and playing with it all summer. Would you try a DIY doll house?
Yield: 1 dollhouse
Cardboard Dollhouse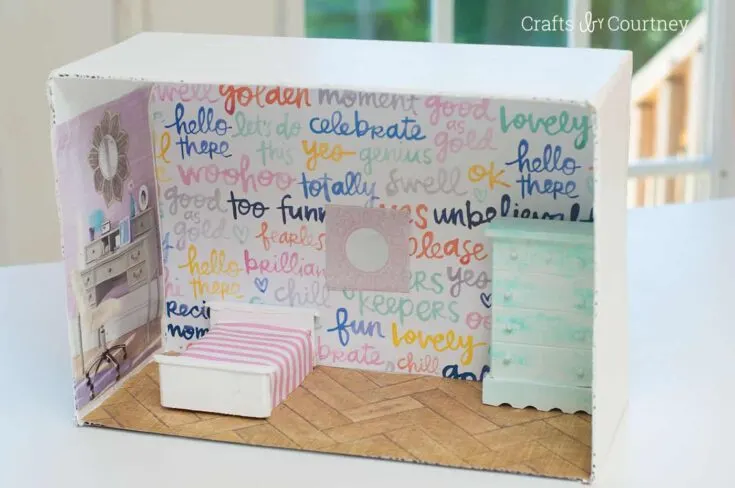 Learn how to make a dollhouse out of cardboard! It's really easy, inexpensive, and you can decorate it with Mod Podge.
Active Time
1 hour
15 minutes
Total Time
1 hour
35 minutes
Materials
Mod Podge Gloss or Matte
Small Cardboard Box
Paint
Scrapbook Paper
Magazines
Painters Tape
Instructions
I cut the end flaps off with my "trusty" X-Acto knife for the back wall. Then I cut all four flaps off for the front opening of the dollhouse.
Next I taped up the back with painters tape. I love using painters tape for projects like these; it's flexible and easy to paint over.
Now it's time to paint!! When I paint boxes, I love using those sample size paints you get at Lowes or Home Depot. You can pick any color you want and get a good amount for around $3.00.
I did a total of three coats and let each one dry 20 minutes. I also used a blow dryer to prevent any warping. Spray painting is a great option too but that could get a little pricy at $4.00 a can.
Now the FUN part!! Adding our cool back wall. Of course I grabbed some funky/cool patterned pieces from Michaels.

Measure and cut your scrapbook paper to fit the back wall. I started at the top of the back wall, by adding some Mod Podge and laying my paper on top. Then working my way down. You don't need to over Mod Podge with this, just paint on a thin layer.
So this was a step I was pretty excited about. I think a little girl or boy would have a blast going through magazines and picking out fun accessories. Mirrors, pictures, flowers, etc. My Pottery Barn catalog had a TON of great options.
I painted on a little Mod Podge to the back and gently placed it on the wall. I also added a little Mod Podge on top.
I added a couple pieces of wooden furniture that I got from The Dollar Tree. I tried to paint them up to match and I think it's a cute touch!
Since I have three boys I didn't have any small dolls to display in my doll house craft. I didn't even have small superheroes! Very weird.. 😉
---
If you guys want to get even more crafting inspiration, be sure and check out the following posts: