Make these mini Halloween decorations using a $1 plaque and $1 birdhouses from the craft store. Very easy, colorful, and fun!
Skills Required: None. Even if you've never crafted before, you'll achieve success. The pieces of paper are relatively small so you won't have to worry about wrinkles when applying them to wood.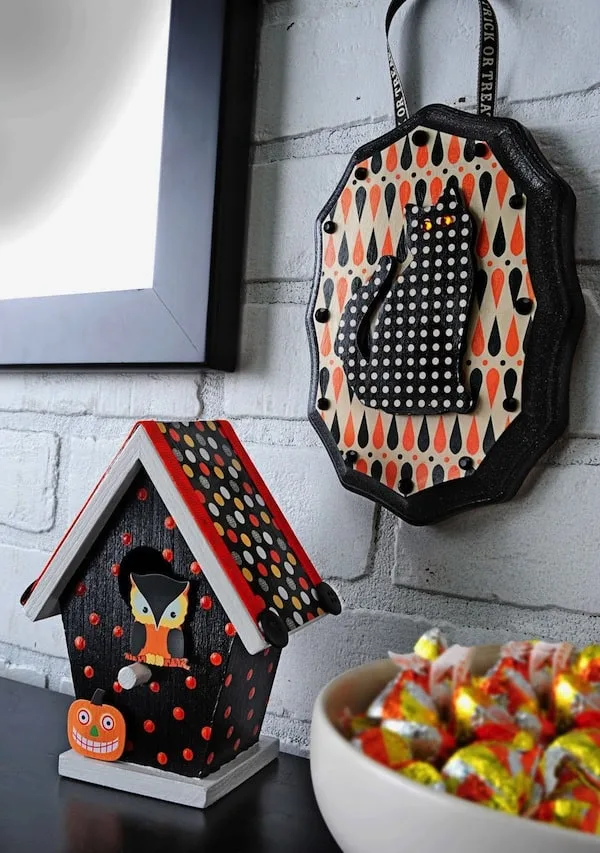 Yay! I've been waiting all year, and it's finally here – the week before Halloween. That means I'm going to post Halloween crafts for adults all week. I like Halloween because:
-Orange and black are nice together
-You can dress up like anybody or anything you want
-Candy is yummeh
-No gift giving pressure
–Mod Podge projects are the most funnest this time of year, duh!
Mini Halloween Decorations
I'm starting the week with a project of my own – mini Halloween decorations. I love mini things, and it only seems fitting that I combine minis with my favorite holiday. I'm abbreviating instructions here since I don't have tutorial images, but it's easy to follow.
I used Martha Stewart papers and embellishments from last year (she has some really cool ones this year at Michaels). Acrylic paint was used.
Halloween Birdhouse
Paint birdhouse black, roof, perch and base paint white.
Make orange polka dots on top of the black with the end of a paintbrush
Cut paper to fit the roof and Mod Podge down.
Seal the entire birdhouse with two coats of Mod Podge.
Add ribbon and embellishments (buttons and stickers) with craft glue.
Black Cat Plaque
Paint wood plaque and wood cat piece black.
Cut papers to fit the front of plaque and then the cat piece. Mod Podge the paper to the cat piece, coat it again and set aside.
Coat the outside edge of the plaque with FolkArt Extreme Glitter in black (this stuff rocks!).
Let dry and then Mod Podge the paper down to the top of the plaque. Mod Podge on top and allow to dry.
Glue down the cat piece, a ribbon on the top and some eyes (used orange rhinestones) with craft glue. Add black rhinestones around the edges on the points.
---
Did you enjoy this wood Halloween craft idea? I'd love for you to check out these other holiday projects: