These decoupage plates are so easy to make – and they don't have to be owls. Choose your favorite fabric and shape; just add Mod Podge.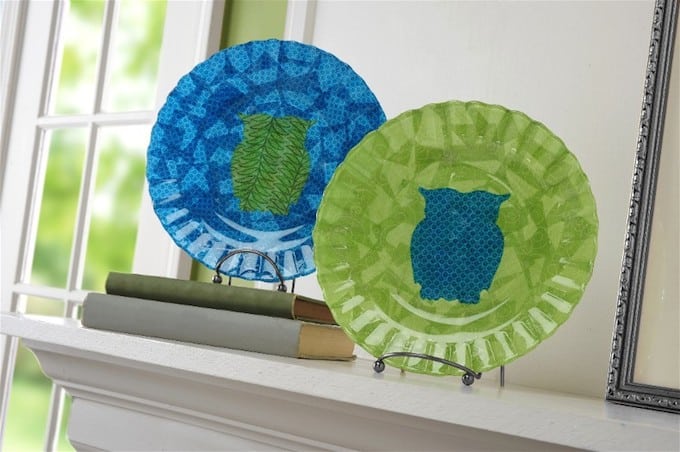 I get a lot of beginners on this site, asking me where to start. I also get another question a lot: "can I decoupage glass?" I feel like these decoupage plates are perfect because they address BOTH issues!
Not only that, but the holidays are coming up quickly, and there are lots of edible gifts to be given. My suggestion? Decoupage glass plates from the thrift store! Yes . . . Mod Podge a design on the back and you are good to go.
You aren't going to believe how easy this is, there are minimal ingredients and steps and you really can't mess this up. I know a lot of bloggers say that, but I'm serious. You can't. Here's how I made my fab decoupage plates.
Decoupage Plates
Gather These Supplies
Glass plates – at every thrift store in the world, or the dollar store
Fabric Mod Podge
Fabric scraps from your stash – as many bits and pieces as you like
Paint brush
Scissors
Design you would like to cut for the center of your plate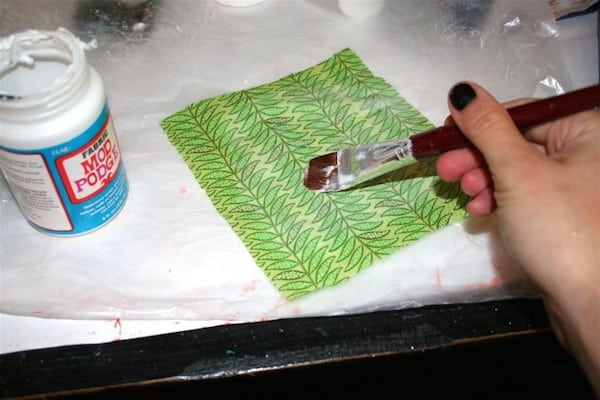 You'll first need to decide what you are going to put on the back of your plate. I just got fabric scraps and started going, which is what I recommend that you do. Pick through your stash and see what you have, then lay some things out. This is the fun part.
The key to successfully Mod Podging with fabric is preparing it first. This means you wash and dry the fabric to remove the sizing. Iron it and place it down on wax paper.
Coat the surface of your fabric with Mod Podge and allow to dry. This will allow you to cut your fabric with NO FRAYING. It's kind of awesome. Allow the fabric to dry for about 20 minutes before cutting.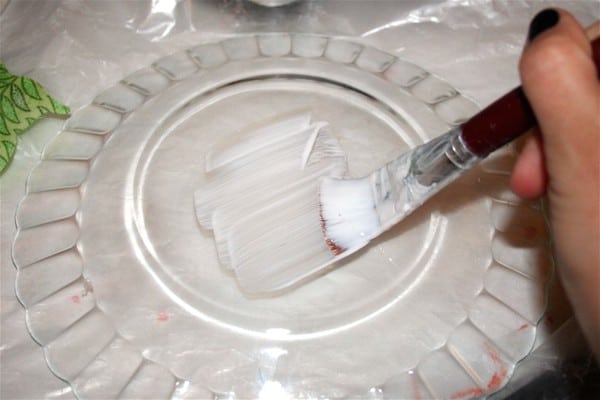 Make sure that your plate is washed and dried. Your fabric should be dry, so now cut a design for the center of your plate. I used the Spellbinders Nested Owls and my Sizzix Big Shot – yes, you can run Mod Podged fabric through a die cutter.
You can also cut a design freehand, or put pieces of fabric together to make a design. This is up to you.
Add a THIN layer of Mod Podge to the center of your plate. You don't want to add too much Mod Podge on this project because your plate will never dry (learned from experience).
Place the owl or shape of your choice into the center and smooth. Wipe away any Mod Podge that seeps out the side.
PS – Make sure your fabric is pattern side down. This is a mistake that I would totally make.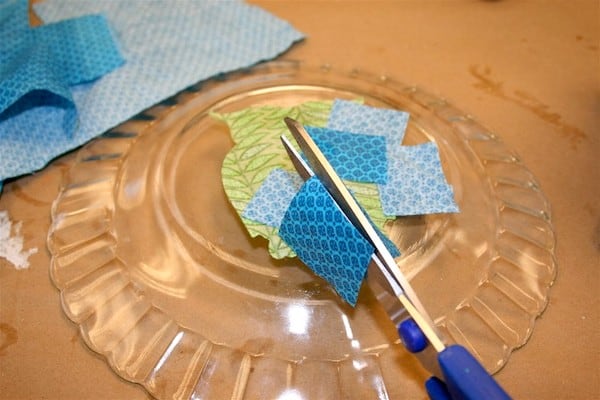 I decided to patchwork the back of my plate, so I grabbed my contrasting fabric (also prepared with Mod Podge) and kept cutting squares/rectangles/4-sided shapes until I had enough to cover the back.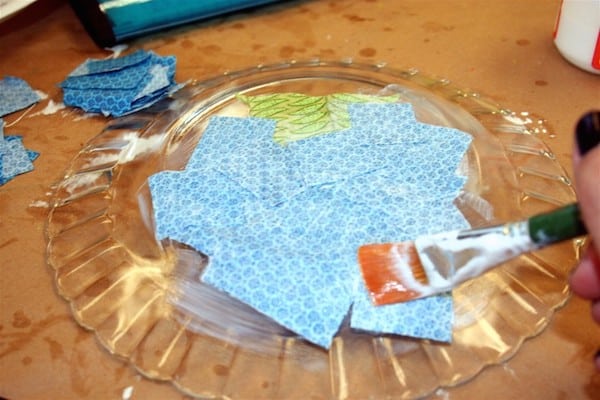 This part is so easy you will not believe it. Keep Mod Podging fabric down – add a thin layer of Mod Podge to the back of the plate and press down a square, over and over again until the back is covered. Remember, don't use too much Mod Podge.
Completely cover the back of the plate and then allow it to dry. For me it took two full days, because I probably used too much Mod Podge even though I told myself not to. So it shouldn't take that long for you, because you will likely listen.
Once the plate is dry, trim the fabric around the edges and add another coat to seal the plate over the entire back. Allow to dry and you are good to go.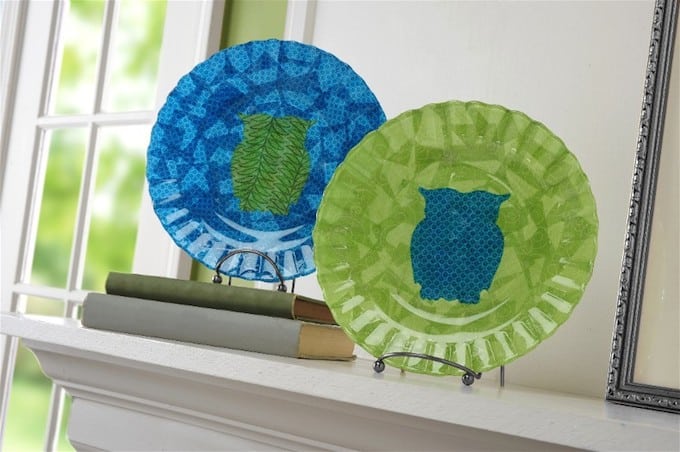 As I said, if you are a beginner, you should try this project. You'll love it and because there isn't much too it, wrinkles are easy to avoid. Enjoy, because you are going to be the hit of the party/gift-giving with your rad plates.
Oh, and one more note. Just hand wash these on the top, and don't soak them in water. You can use a damp cloth to wipe off the Mod Podged part – Fabric Mod Podge is not waterproof other than when not attaching fabric to fabric.
Note: this post was created before Dishwasher Safe Mod Podge was developed. Updating this post to say that you can now use Dishwasher Safe Mod Podge on this project. Learn more about Dishwasher Safe Mod Podge here.
If you're wondering how to decoupage on glass with single, large pieces of fabric – here are two options below!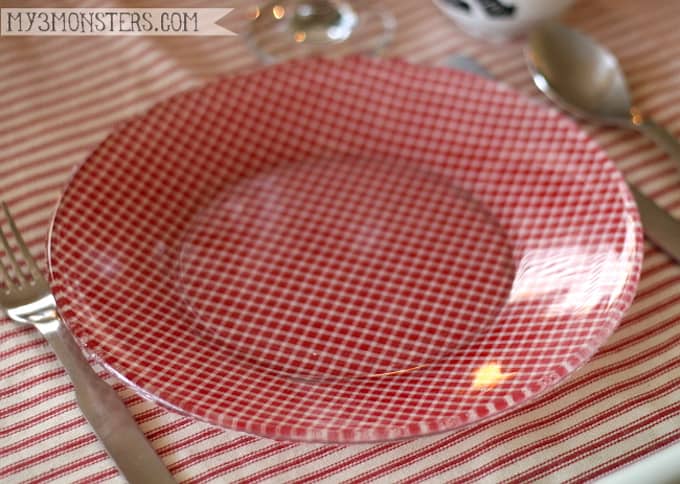 Custom holiday decoupage plates