I created this DIY cake stand using a plate from the dollar store and an old candlestick. This is the perfect budget craft idea for a party!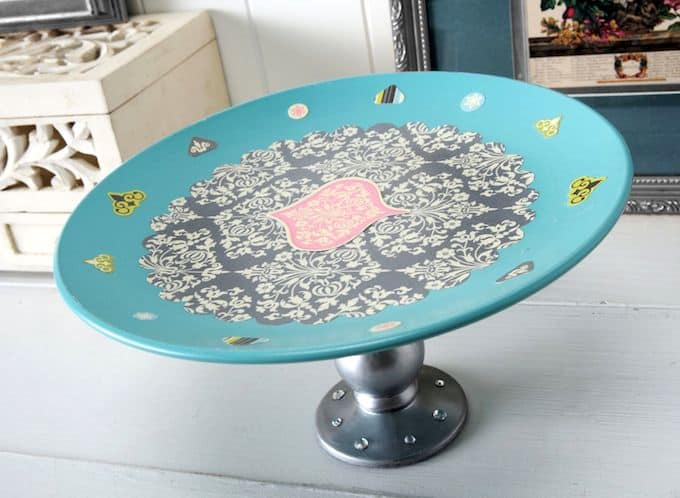 I actually did this DIY cake stand last year, but I wanted to share it again because I really like it. Vintage holiday-ish colors are my fav, and I think the blue and silver work in that regard – yet I could use this for a party all year round. If you love DIY cake stands for party or decorating . . . this is SO easy and inexpensive!
DIY Cake Stand
I assembled this DIY dessert stand for only $1. I had everything else on hand. I would love to do a series of these in coordinating patterns so that the party table I don't have yet looks cool.
One day I will have a party table, and this will be on it! Here's how I made this DIY cake stand.
Gather These Supplies
11″ blue plate ($1 from Dollar Tree)
FolkArt Enamel Paint – Silver Sterling
Candleholder (old one I had laying around the house but the dollar store has them)
One sheet of scrapbook paper with coordinating embellishments
E-6000
Clear rhinestones
Scissors
Paintbrush
Circle cutter (optional)
Scalloped scissors (optional)
I started with this plain candleholder. It wasn't really doing anything except sitting around, so I decided it needed a new life.
Before you paint anything glass with glass paint, you'll want to make sure to clean it with mild soap and water and then let dry. You can also use rubbing alcohol.
I took my flat paint brush and painted it silver with the Enamel paint. Make sure that you use a soft brush or the strokes will show in the paint. I painted several coats.
Instructions will tell you to bake or dry for many days – you can obviously complete the project and let dry while you are using it since the base won't be exposed to anything that will damage it.
Just be careful in the meantime! While your base is drying, move on to cutting the paper.
Next I grabbed my sheet of scrapbook paper and circle cutter. If you don't have a circle cutter, never fear – simply turn the plate over and trace onto the paper – then cut a round shape inside the circle.
My complete circle was about 8″ wide, so I had approximately 3″ of plate showing around the entire edge.
After I cut the circle I trimmed it with scalloped scissors. Again, you don't have to do this. Alternatives are to freehand a pattern or to use punches on the edge.
You can also print something off of the internet to use as a template. How you fashion your circle is up to you.
Here's my initial layout. I grabbed the plate and placed out my paper in the center – then added some embellishments from my stash. These were little paper cutouts that came with the larger pieces of paper.
Notice that I didn't end up using that center paper cutout in my final project. It's amazing how many times I change my mind during one project. Feel free to change your mind at this point too – you aren't locked in until the items are glued down!
The next step is to adhere the goodies to the plate with your Podge. Turn the center paper over and coat with a medium layer of Mod Podge. Make sure to get the edges well.
Place the paper in the center of your plate and smooth down thoroughly. If Mod Podge comes out the sides, that is okay – wipe away with your brush. Allow to dry for 15 – 20 minutes.
While you are waiting for the center circle to dry, you can go ahead and place your embellishments around the edge of your plate.
Put some Mod Podge down with your brush, place the piece and wipe the extra Podge away. Allow those pieces to dry for 15 – 20 minutes.
When everything has dried for 15 – 20 minutes, coat the ENTIRE top of your DIY cake stand with Mod Podge. Allow to dry for 15 – 20 minutes and then apply another coat. Let dry.
To adhere the stand to the plate, apply E-6000 (or a similar adhesive) around the edge of your stand. Press down onto the plate and allow to dry for as long as your adhesive instructions tell you to.
You'll notice that on the finished version of my DIY cake plate, I also applied some rhinestones around the base of the stand. Mine were self-adhesive so no glue was required.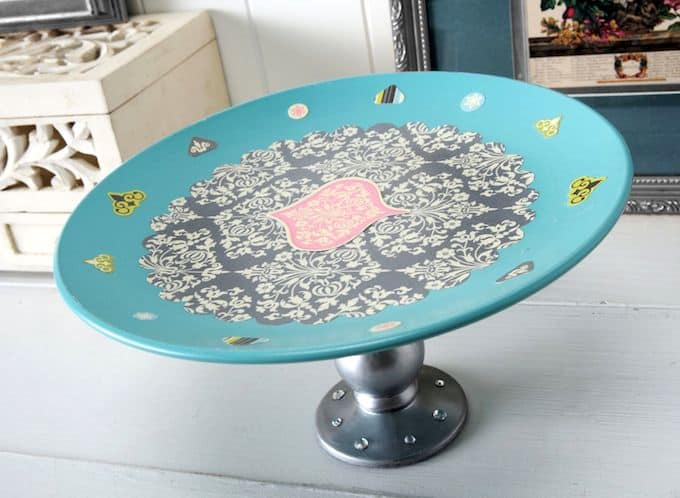 Since I'm basically a psychic, I can already predict your question. Can you put food directly on your DIY cake stand? You could, but then the decoupage police would come and arrest you.
The manufacturer recommends a clear glass plate on top of the decoupaged plate – though you can break the rules and I won't tell.
Yield: 1 stand
DIY Cake Stand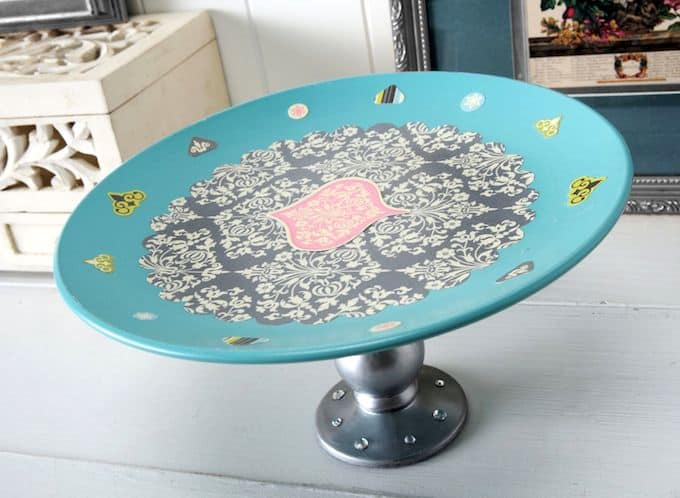 Learn how to make a DIY cake stand using items from the dollar store! This is easy and you can customize it for any celebration.
Total Time
1 hour
10 minutes
Materials
11″ plate
Mod Podge
FolkArt Enamel paint
Candleholder
Scrapbook paper
E-6000
Clear rhinestones
Tools
Scissors
Paintbrush
Circle cutter (optional)
Scalloped scissors (optional)
Instructions
Clean the glass candlestick with mild soap and water. Let dry.
Paint the candlestick using glass paint. Give several coats until desired color is reached, letting dry between coats. Set aside to dry.
Cut paper to fit the center of the plate, including embellishments for the edges.
Add Mod Podge to the back of the paper and then smooth onto the plate. Repeat with the embellishments. Let dry for 15-20 minutes.
Coat the top of the plate with Mod Podge. Let dry.
Glue the plate to the top of the candlestick using the E-6000. Add a bead of glue to the edge, press the candlestick down in the middle of the bottom of the plate, and let dry.
Add rhinestones to bling the base using E-6000 if desired. Let dry completely before using.
Notes
Set the cake on a clear plate or cake insert when using this stand.
---
Would you like another option for a DIY cake plate? Check out this one that David did using a thrift store tart plate! Get the tutorial here.