Learn how to decorate your own photo frame with a piece of scrapbook paper and Mod Podge! This is so easy, anyone can do it.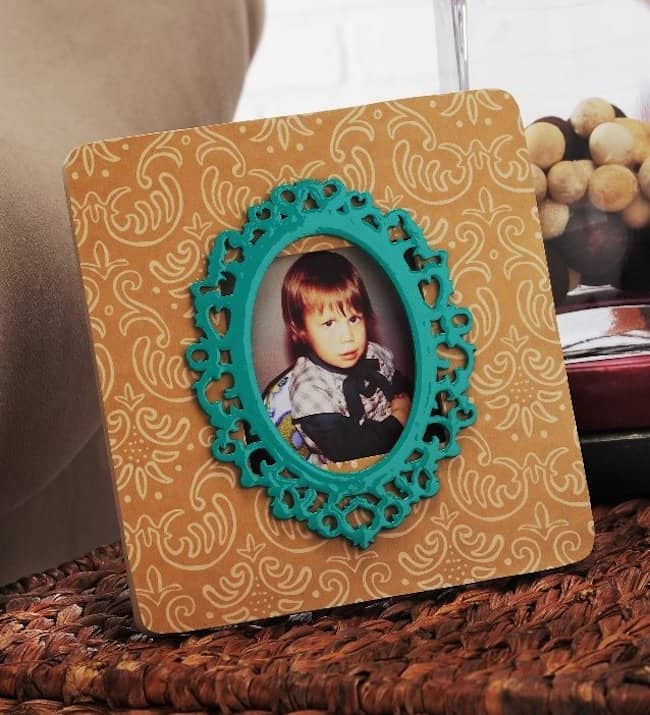 I'm crazy about Dimensional Magic lately, and I'm using on everything. So you're gonna have to bear with me; I hope I won't burn you out. But I just had to show you how it can be used on stuff other than jewelry.
This damask decoupage frame is super easy (hello beginners!), and the kicker is that the Dimensional Magic is on the wood accent piece in the center. You may have to enlarge the photo to see the detail, but the raised DM finish looks really neat in real life.
Who is that charming little one in the DIY photo frame? You'll just have to guess. In the meantime, here are the decoupage frame project instructions.
DIY Scrapbook Paper Frame
Gather These Supplies
Plain wood frame
Wood accent
FolkArt Acrylic Paint – Aqua, Parchment
Scrapbook paper – 1 sheet, I used American Crafts Hello Sunshine Splendor
Pencil
Craft knife and mat
Craft glue
Paintbrush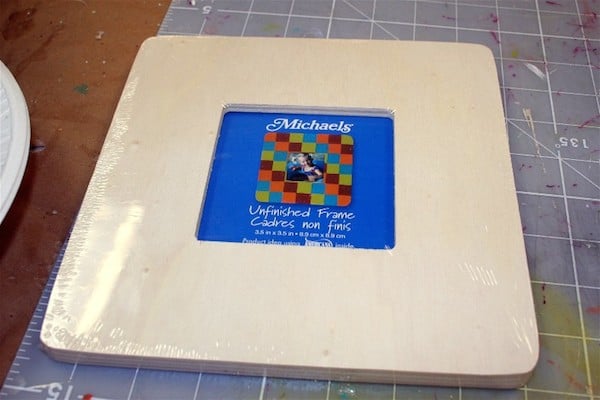 I love these Michaels frames. They are only $1! You could do a wall of them for so cheap.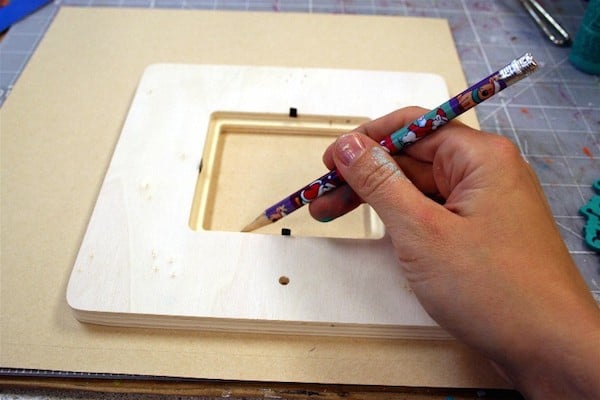 Flip the paper, design side down, and trace the frame onto it with your paper.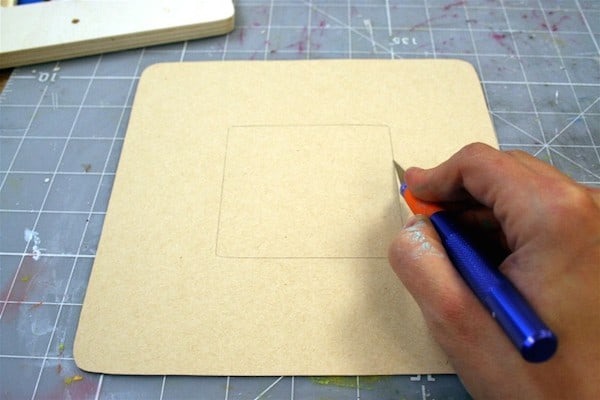 Cut the paper – I always use a craft knife on the inside piece.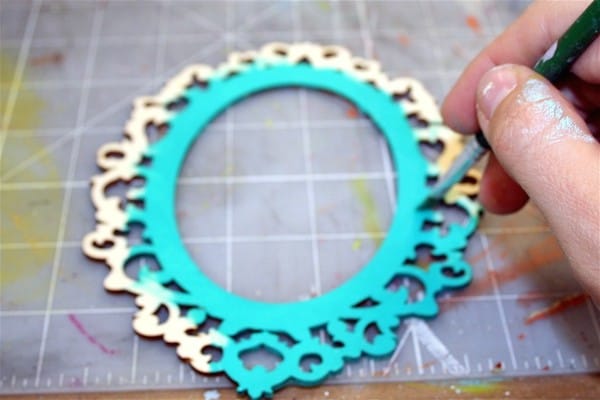 Paint your wood accent with the color of your choice. I used Aqua. I hope you are super impressed with my photo "skillz" as I focus on my fingers rather than the wood piece. Allow to dry.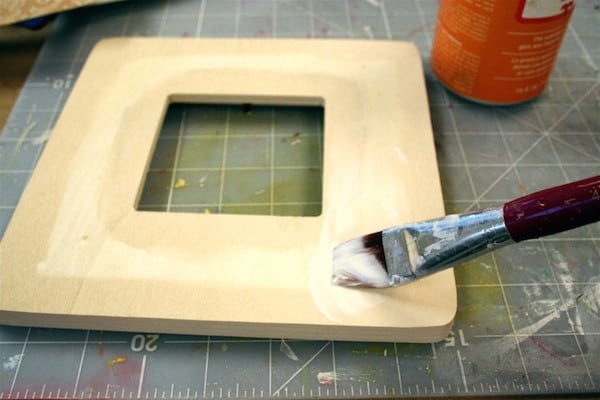 Paint your frame edges and back with Parchment and allow to dry. Then add Mod Podge to the front of the wood frame and then smooth down the paper. Let dry for 15 – 20 minutes.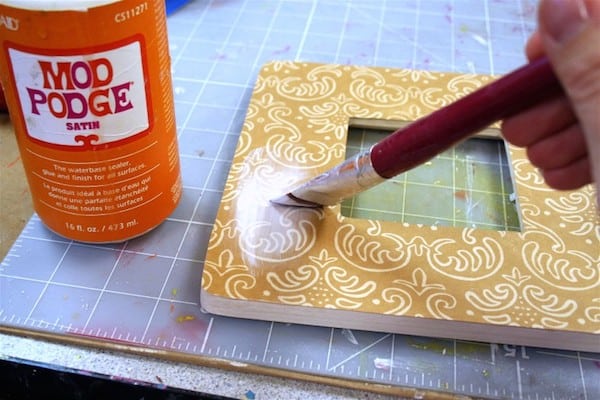 I have a secret, which is that I love Satin Mod Podge. It's my favorite finish – it's the same finish as the Hard Coat, except the Hard Coat is super duper tough for heavily used items. Regular Satin Mod Podge works since this frame is meant to be displayed rather than beat up. Give your frame a few coats of decoupage and allow to dry.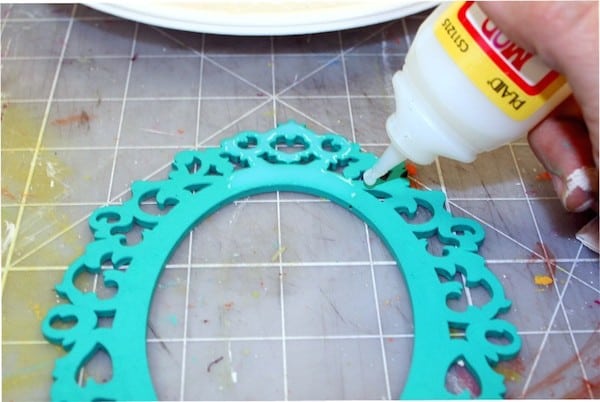 Apply Dimensional Magic to the wood accent. One thing I LOVE about DM is that it has great surface tension – meaning, it stays where you put it (as long as you don't squeeze too much out).
My #1 tip for DM is that it likes to dry in a warm place. I always put it on top of the stove and away from the windows. If it gets cold, it will crack.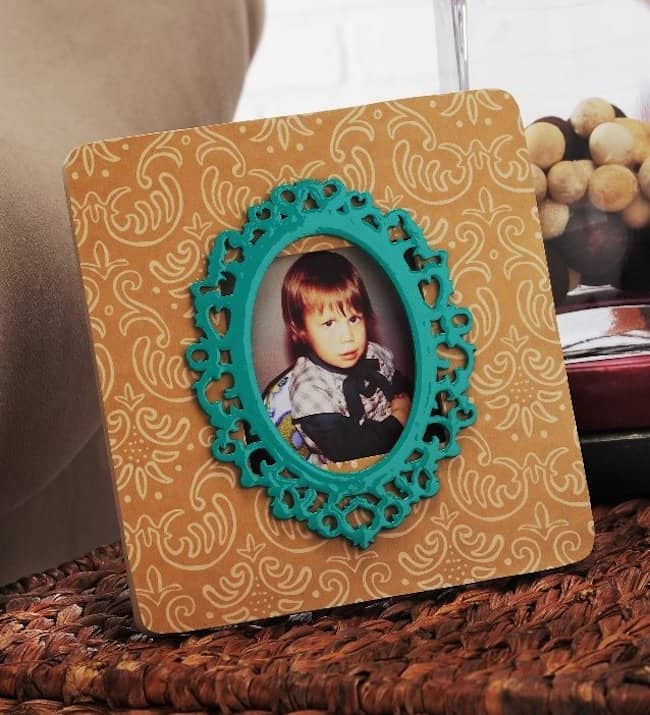 Glue your wood piece to the front of your frame, add a picture, and you are ready to roll. Hello to an inexpensive gift idea.
---
Now that you know how to decorate your own photo frame, what pattern of scrapbook paper will you choose? Let me know in the comments!