Have an old dresser than needs a bit of an upgrade? Learn how to decoupage a dresser! Here are 15 unique DIY dresser ideas . . . these will inspire you to get started!
Scroll down to the bottom of the post to get a video of a dresser project in action. Cathie and Steve will show you how to paint and cover a dresser with a post, using Mod Podge.
Have you ever decoupaged a dresser? I've only done it once – but it was one of my favorite Mod Podge projects of all time! Making over a piece of furniture is very rewarding.
And I know that many of you have that dresser you've been eyeing at the Goodwill but you don't know what to do with . . . or one that is out in the garage that you haven't brought inside because it looks ugly.
DIY Dressers
Before you jump in to revamping a dresser, you should know a few things. Two articles that are important for you to read are how to prep furniture for decoupage and Mod Podging fabric to wood furniture.
The first post is a must, and the second one is good even if you aren't using fabric (but especially if you are!).
In addition to the tips in those posts, I've got some other important things I think you should know:
If your dresser has an existing finish that's already smooth, sand with a 220-grit sanding sponge and then wipe clean with a moist cloth. For slightly rough surfaces, sand with 180- and 220-grit sanding sponges, and wipe clean.
Remove the drawers and tape off the furniture to paint. I like to use FolkArt Home Decor Chalk to cover my furniture pieces. It goes on smooth without a lot of prep work.
Use a roller (as opposed to a brush) to get the smoothest finish. Even with chalk paint, I like the way the roller finish looks. It's pretty flawless!
Are you ready to jump into the DIY dresser ideas? Learn how to decoupage a dresser with one of the projects below!
How to Decorate a Dresser
It's time to grab your Mod Podge and decoupage a dresser! It's hard to know where to begin, so I've found 15 ideas for you. Don't wait any longer to revamp that dresser.
I know this sounds like an infomercial, but I'm passionate about Mod Podging furniture – as you might be able to tell. Scroll down to see the inspiration!
Book Covers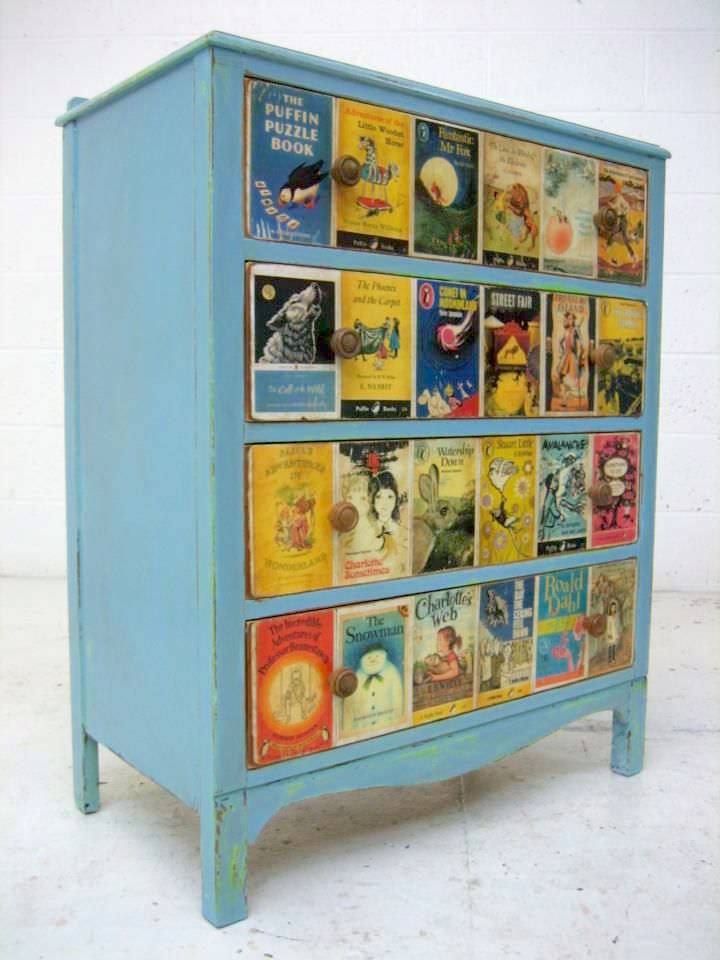 Use old book covers (or color copies) to decorate drawer fronts for a child's room.
Antique Dresser
Marian used sheet music to make over the dresser that she got from an auction for $6. If I were going to decoupage a dresser, this is how I'd do it!
Learn how she did it at Miss Mustard Seed
Painted Geometric
This dresser by Stacie was a labor of love – she painted the entire thing and then sealed with Mod Podge.
Learn how she did it at Stars for Streetlights
Black and White Damask
I love the contrast of the black and white damask with the painted turquoise of this dresser revamp.
Learn more about the project at Fussy Monkey Business
Modern Facelift
See how Chris made over his dresser with polka dots – he even includes a video.
Drawer Edges
This tutorial shows you how to use funky papers to decorate drawer fronts – AND get around the tough edges!
Learn more at Garage Sales R Us
Map Dresser
Pick a set of maps from a special place or your favorite trip to customize a dresser.
Find the step-by-step at Refresh Restyle
Family Photos
Use your favorite family photos to cover a dresser – the black and white looks really sophisticated.
Find the how-to at See Kate Sew
Comic Books
This dresser re-do is perfect for your favorite geek or in a kids' room.
Learn more about the project at Real Life Notes
Pretty Floral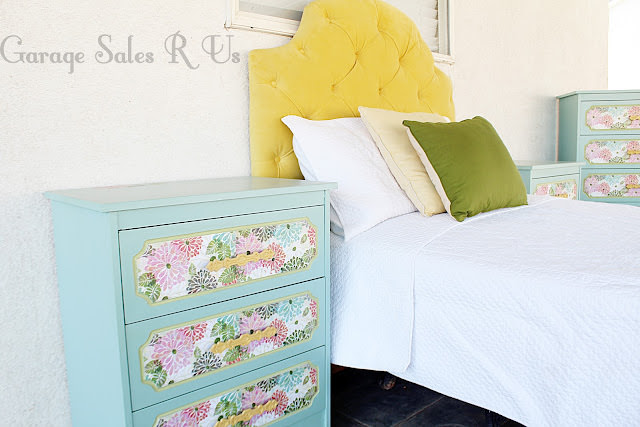 You'll be amazed when you see the before pictures of these dressers – the colors and papers that were chosen are really pretty!
See how they were made at Garage Sales R Us
Children's Drawings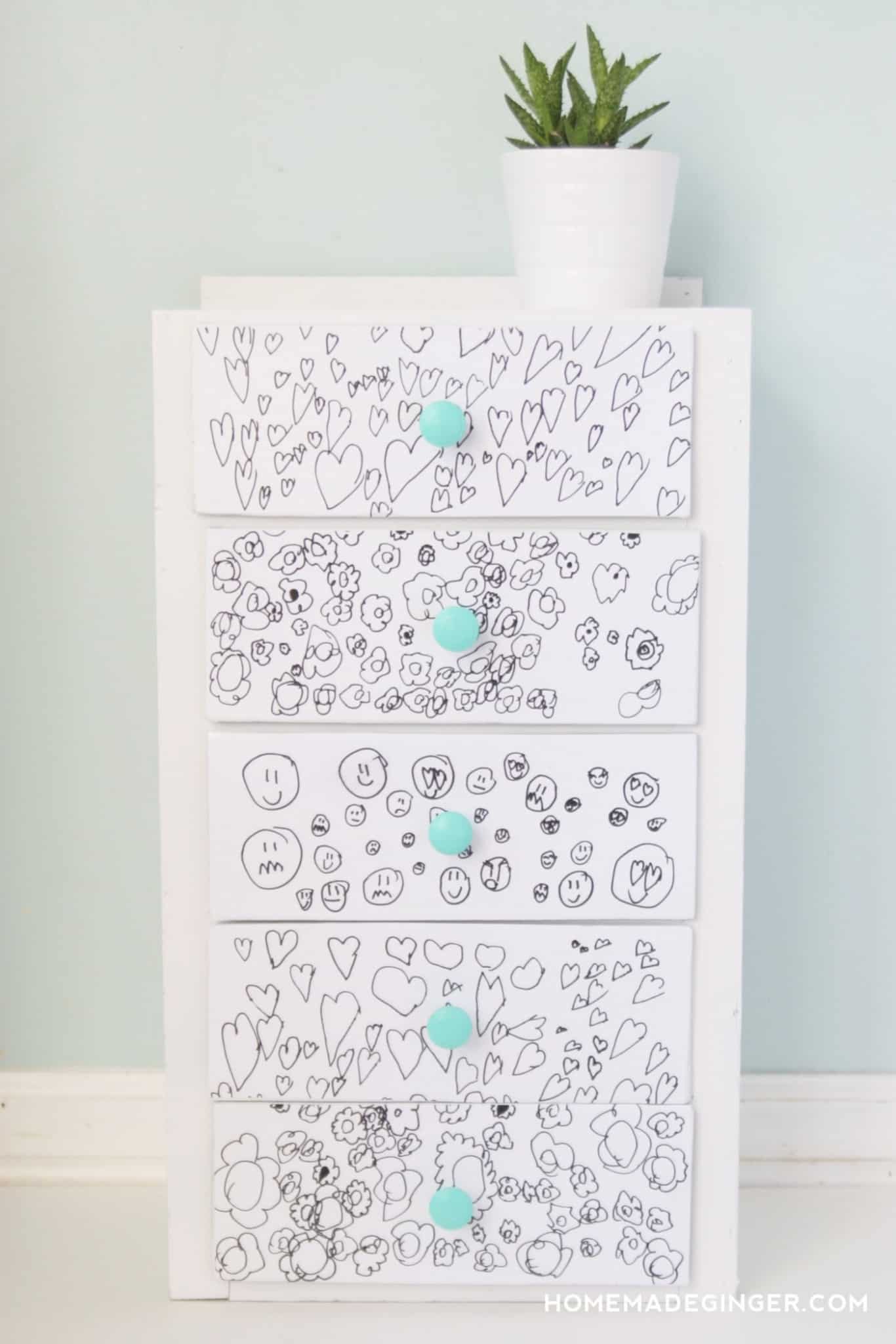 Use your kids' artwork to re-do a furniture piece in this fun dresser makeover. You'll love decoupaging as much as your children love the drawing!
Dresser makeover here at Mod Podge Rocks
Scrapbook Paper
You can re-do a dresser with just a few pieces of scrapbook paper – making this revamp cost pennies!
See how it was done at Kindershop Online
Wallpaper Birds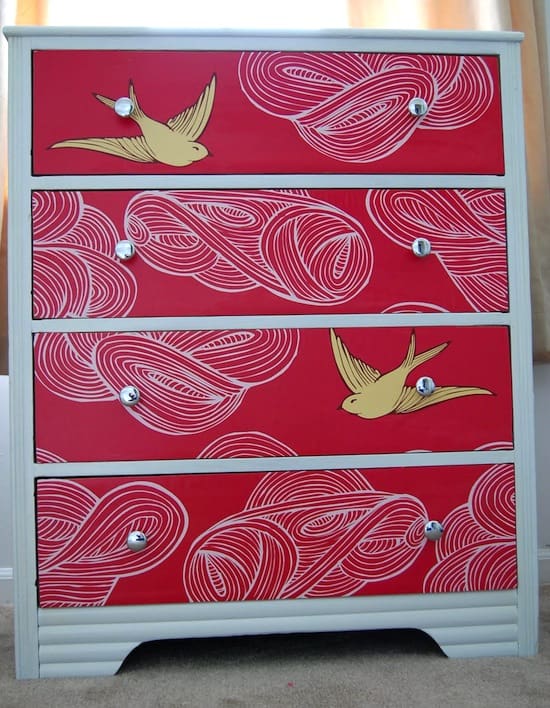 Fabric and paper are not the only thing you can use to Mod Podge a dresser – you can also use wallpaper.
Learn more here at Mod Podge Rocks
Fun Fabric
Choose your favorite fabric and add to the fronts of dresser drawers using Mod Podge.
Photo by Flickr user Sara Rodgers
Paper Butterflies
Use a selection of butterfly punches and your favorite papers to decorate the front of this dresser.
Vintage Postcards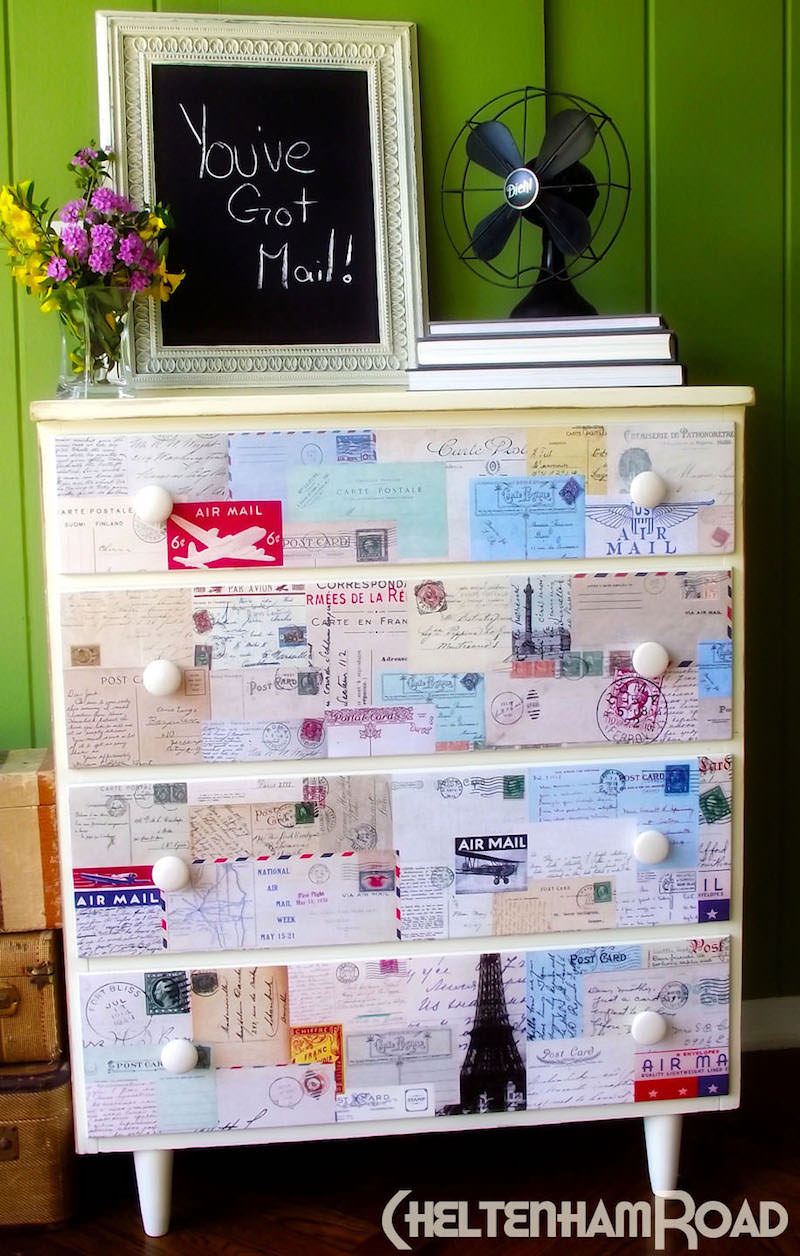 David carried over his love for vintage postcards into his revamped dresser project. Wouldn't it be fun to decoupage a dresser to commemorate your travels?
Learn how he did it at Cheltenham Road
---
Are you ready for your bonus project? Learn how to apply a poster to the front of some dresser drawers (using Mod Podge, of course!). Cathie and Steve show you how – just press "PLAY" in the center of the video in this post.
---
If you like these DIY dresser ideas, you're going to love these 15 decoupage furniture projects as well!