Have an old dresser than needs a bit of an upgrade? Learn how to decoupage a dresser! Here are 20+ unique DIY dresser ideas . . . these will inspire you to get started!
Scroll down to the bottom of the post to get a video of a dresser project in action. Cathie and Steve will show you how to paint and cover a dresser with a post, using Mod Podge.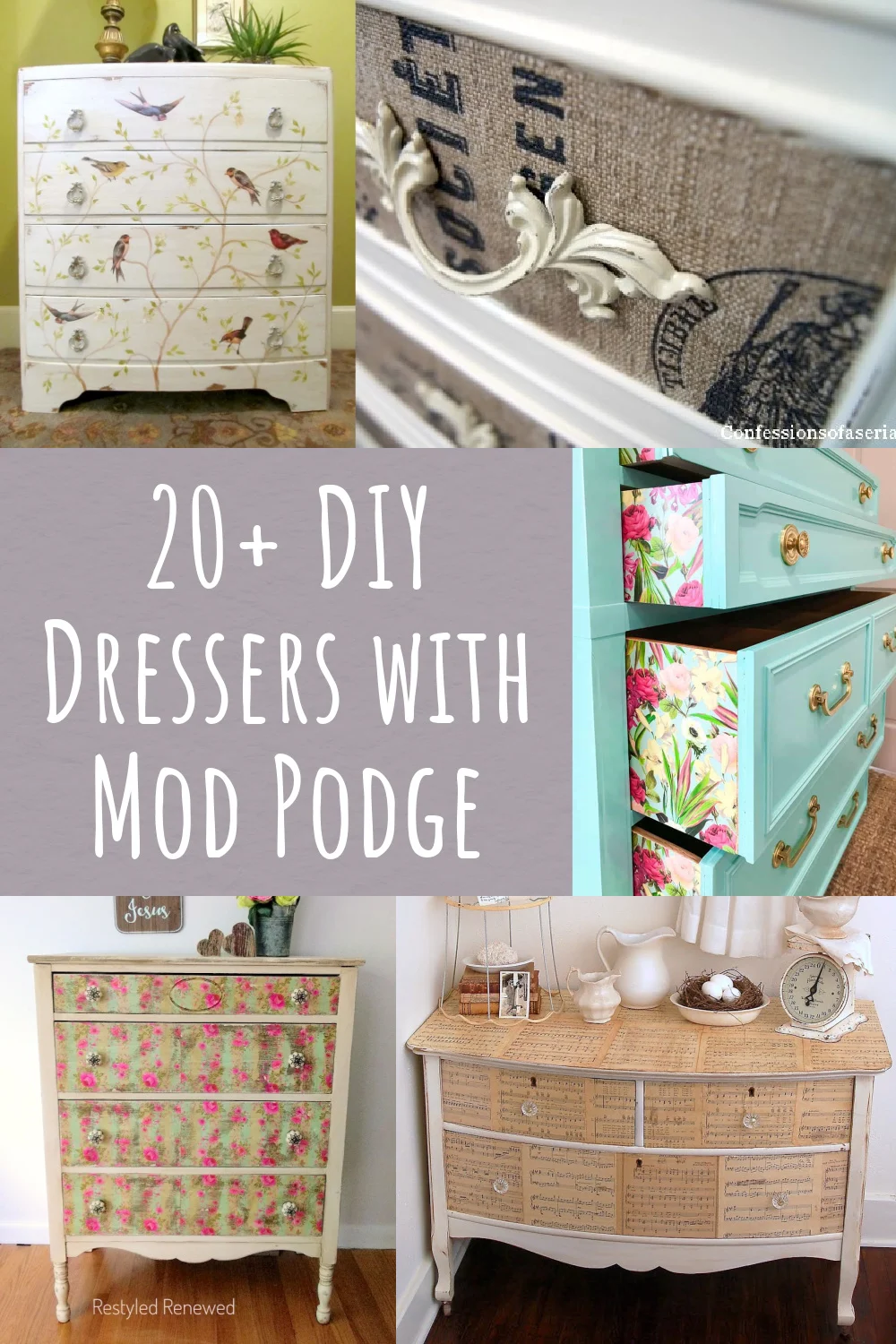 Have you ever decoupaged a dresser? I've only done it once – but it was one of my favorite Mod Podge projects of all time! Making over a piece of furniture is very rewarding.
And I know that many of you have that dresser you've been eyeing at the Goodwill but you don't know what to do with . . . or one that is out in the garage that you haven't brought inside because it looks ugly.
DIY Dressers
Before you jump in to revamping a dresser, you should know a few things. Two articles that are important for you to read are how to prep furniture for decoupage and Mod Podging fabric to wood furniture.
The first post is a must, and the second one is good even if you aren't using fabric (but especially if you are!).
In addition to the tips in those posts, I've got some other important things I think you should know:
If your dresser has an existing finish that's already smooth, sand with a 220-grit sanding sponge and then wipe clean with a moist cloth. For slightly rough surfaces, sand with 180- and 220-grit sanding sponges, and wipe clean.
Remove the drawers and tape off the furniture to paint. I like to use FolkArt Home Decor Chalk to cover my furniture pieces. It goes on smooth without a lot of prep work.
Use a roller (as opposed to a brush) to get the smoothest finish. Even with chalk paint, I like the way the roller finish looks. It's pretty flawless!
Are you ready to jump into the DIY dresser ideas? Learn how to decoupage a dresser with one of the projects below!
How to Decorate a Dresser
It's time to grab your Mod Podge formula (I recommend Hard Coat for furniture) and decoupage a dresser! It's hard to know where to begin, so I've found over 20 ideas for you. Don't wait any longer to revamp that dresser.
I know this sounds like an infomercial, but I'm passionate about Mod Podging furniture – as you might be able to tell. Scroll down to see the inspiration!
DIY Dresser Ideas
If you've never re-done a dresser, it's a fun project to tackle that you can be proud of! Get some great ideas for dresser makeovers using Mod Podge in this list.
---
Are you ready for your bonus project? Learn how to apply a poster to the front of some dresser drawers (using Mod Podge, of course!). Cathie and Steve show you how – just press "PLAY" in the center of the video in this post.
If you like these DIY dresser ideas, you're going to love these decoupage furniture projects and table top ideas as well!